Unique, Cool and Trendy Wall Tapestry Hangings
Wall tapestry hangings can really give your home much needed texture, color and ambiance. A well placed wall tapestry will draw the attention of your family and friends.  I constantly get compliments on a couple of my Thomas Kinkade wall tapestries.  There are many different styles of Wall Tapestry Hangings from ultra modern to more traditional.   In addition to styles, you can get different sizes, materials and shapes.
Below you will find some of my favorites and I even found some that are not only popular but super cheap.  I know with Thanksgiving and Christmas every penny counts when it comes to stretching the decorating budget.
Wall Tapestry Hangings – Thomas Kinkade Wall Tapestries
There is nothing more beautiful than Thomas kinkade wall tapestries as evidenced by the photo on the left. Thomas kinkade home decor and wall art have a magical way of taking us to another world. I have seriously found myself getting lost in his wonderfully hypnotic art. Another reason I like to use Thomas Kinkade home decor is because its timeless.
Equally important is this fabulous piece of art is made here in the United States. You will also appreciate that this is easy to hang. The decorative rod you see is sold separately but is worth it to complete the look.
Overall, you can not go wrong with this beautiful large wall tapestry and lets not forget these make great housewarming gifts.
Currently Trending , Popular and Cute Wall Tapestries and Hangings
Home decor trends can give great inspiration and motivation to make your home an oasis.  Therefore I wanted to include some of today's most popular wall tapestry hangings so that you will know what is stylish, crazy-popular and cool.   Indeed check out these trendy tapestries below and let me know what you think.
Nascita di Venere by Sandro Botticelli Italian Tapestry Wall
Ornate Bold Summer Flower Power Collection by xpressio
wall Art Tapestries – elegant modern wall wart tapestries
Corona Decor Garden Bounty Tapestry Wall Hanging
Vintage Pink Floral Rose with Pearls Print by xpressio
Fine Art Tapestries – Tapestry Modern Wall art
wall art beautiful – modern wall art Art Tapestries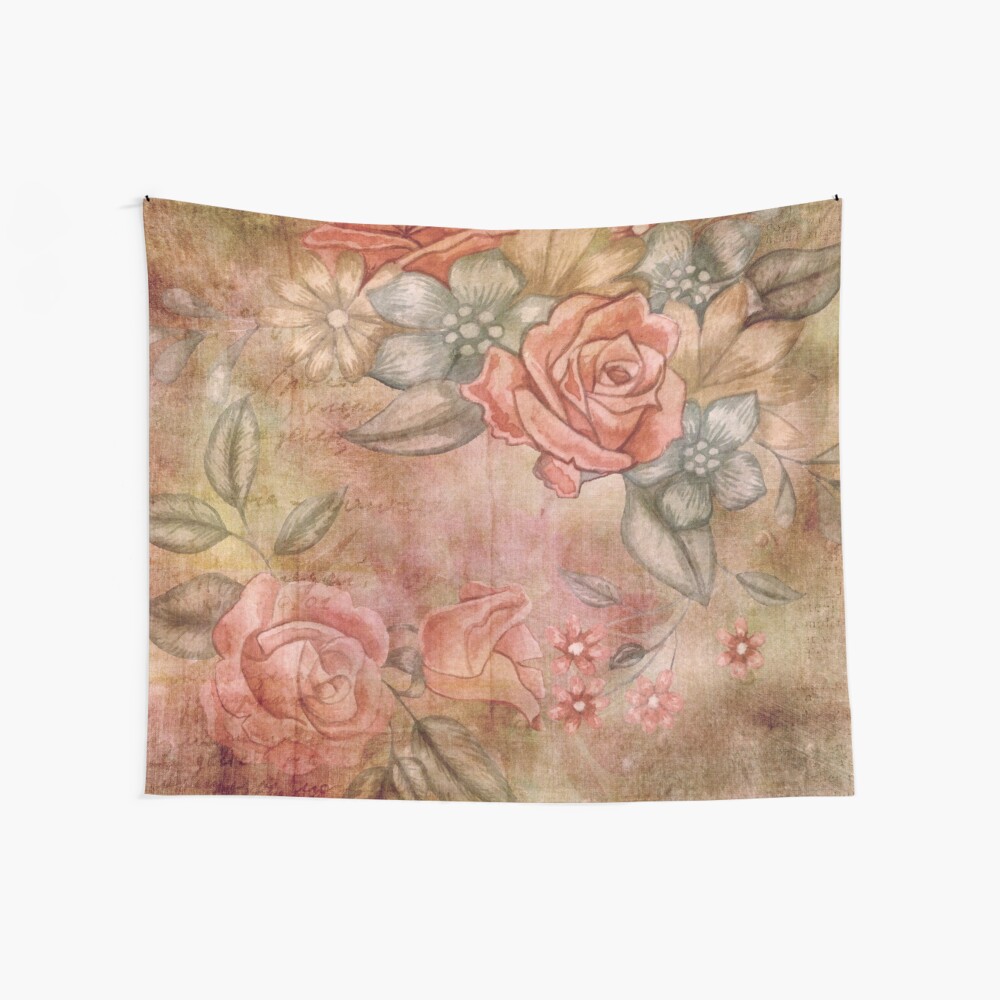 French Country Roses Artwork Shabby Chic Decorative Print
Wall Tapestry Hangings – Nautical Compass Wall Tapestry
Where are all my nautical home decor lovers at? I absolutely love this multi purpose wall tapestry / beach towel / yoga mat. You can never be to versatile. This is also really cool looking if you like abstract geometrical patterns.
In addition to this large wall tapestries look is the price, a steal for less than 10 bucks. This would look so amazing in a college dorm room, den or even an office. I have even seen these used as table cloths, ceiling cover art and curtains.
Overall this is one of the best wall hanging tapestries based on style, versatility and most importantly affordability.. This combines the best of eastern culture and modern style for a truly unique wall tapestry.
Since this is canvas it is very easy to care for and is stain resistant which is even better.   So this is a home decor must have for anybody.
Fine Art Tapestries – green fabric tapestry
Mystic Fairy Tree of Life Enchanted Forest Mystical
Beautiful World Map Antique Fine Tapestry
pretty wall tapestry home wall art decor
Art Tapestries – sunflower floral home wall art decor
Manual Iris Fields Grande Tapestry Wall Hanging
Fine Art Tapestries – bird wall art decorations
Blue Elephant Mandala Hippie Wall Hanging,
Wall Tapestry Hangings – Mandala Large Wall Tapestry
You have to admit this hanging wall tapestry looks amazing. This is the perfect choice for someone who loves to relax and meditate. Where would you place this wall hanging? I have one kind of like this, in my meditation space and it really helps set the mood. Any Yoga lover would also appreciate getting this as a gift as it makes any room feel more zen.
In addition to being great for those who love to meditate this is a great choice for bohemian wall decor lovers.
Wall Tapestry Clearance
As a savvy shopper, you appreciate a killer sale. There are some fantastic finds below so enjoy the wall tapestries sale listings below. Please don't forget to drop by and say hi in the comments section.
Red, Pink and Yellow Flowers of Summer Floral Print
Neon Psychedelic Floral Flower Power Fantasy Rainbow Print
Light watercolor beautiful flower garden paradise print
Dark Pink and Black Liquid Effect Print by xpressio
Psychedelic Jungle Floral Flower Power Abstract Print
Bright Floral Dreams Neon Flowers by xpressio
Rustic Pink and Copper Flower Power Floral Print
Pink Purple and Green Pastel Flower Power Hippie Print
Green Purple and Blue Metallic Holographic Geometric Mandala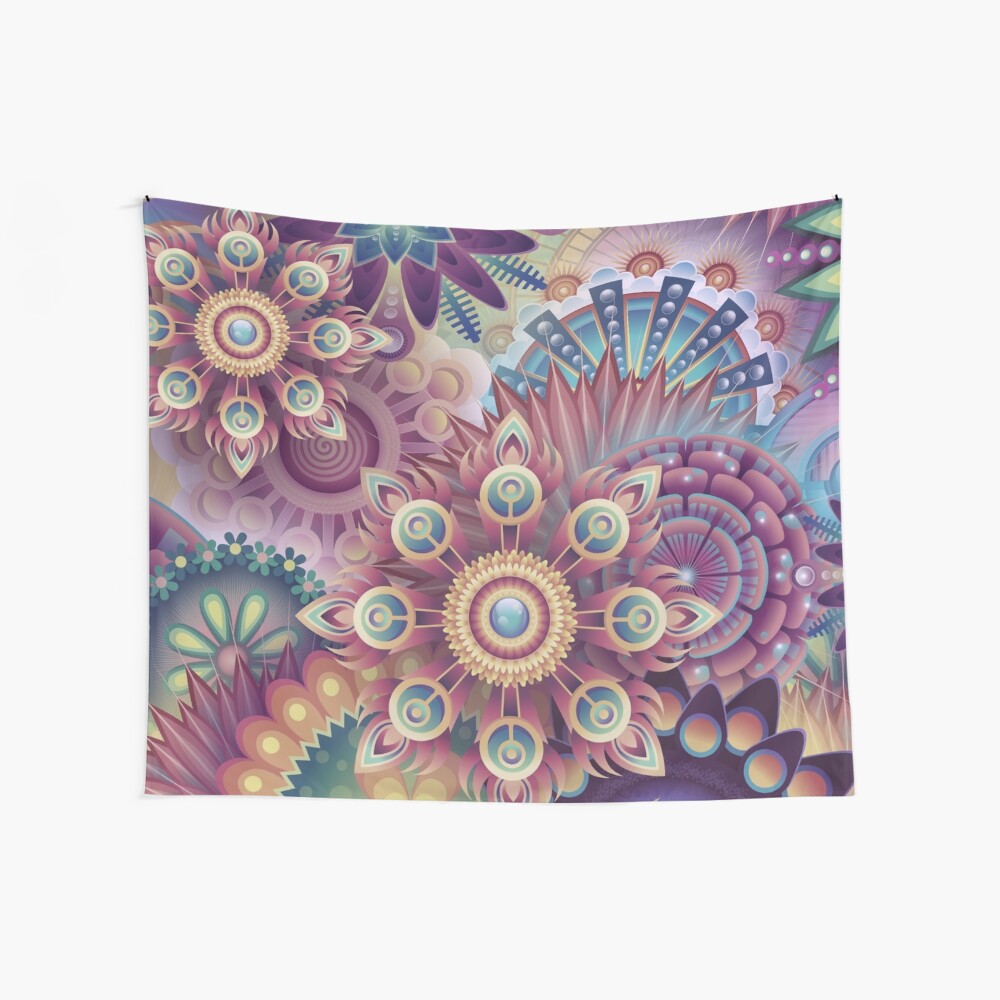 Psychedelic Kaleidoscope Abstract Wilderness Print
Copper, Sapphire and Gold Geometric Decor and Style Collection
Floral Elegance Vintage Roses Shabby Chic Home Decor and Style Collection
You may enjoy these other Home Wall Art Decor Posts