Are you dreaming of a serene oasis that captures the vibrant spirit of tropical paradises? Look no further than the enchanting world of tropical wall art and interior decorating ideas that can transform your living spaces into lush havens of relaxation and rejuvenation. Let's dive into the rich history, cultural influences, captivating motifs, and creative suggestions for incorporating the essence of the tropics into your home.
Embracing a Tapestry of History and Culture
Tropical wall art isn't merely decorative; it's a journey through time and culture. The history of this art form is steeped in the lush landscapes, vibrant flora, and diverse fauna of tropical regions around the world. From the lush rainforests of the Amazon to the tranquil beaches of Bali, the aesthetics of these areas have inspired generations of artists and decorators.
Tropical interior decorating draws inspiration from the cultures of regions such as the Caribbean, Polynesia, and Southeast Asia. These cultures have a deep connection to nature, incorporating bold patterns, rich colors, and natural materials into their art and decor. By infusing your space with these elements, you're creating a homage to the vibrant tapestry of traditions and histories that make up the tropical aesthetic.
Captivating Motifs that Transcend Boundaries
Tropical wall art encompasses a wide array of motifs that evoke the allure of the tropics. From palm fronds swaying in the breeze to exotic birds taking flight, each motif carries with it a sense of escape and adventure. The lushness of the rainforests, the tranquility of the ocean, and the vibrant hues of tropical flowers come to life on your walls, transforming your space into a sanctuary of serenity.
One of the most iconic motifs in tropical art is the palm leaf. Its graceful shape and vibrant green color bring an immediate sense of calm and freshness to any room. Pairing palm leaf patterns with neutral backgrounds or earthy tones can create a balanced and inviting atmosphere.
Creating Your Own Tropical Retreat
Now that you're captivated by the allure of tropical wall art, how can you infuse your home with this invigorating aesthetic? Here are some inspiring ideas to bring the essence of the tropics into your living spaces:
Color Palette: Opt for a color scheme inspired by nature, including shades of lush greens, ocean blues, sandy beiges, and warm sunset oranges. These colors create a soothing and harmonious ambiance reminiscent of tropical landscapes.
Natural Materials: Incorporate natural textures like rattan, bamboo, and jute into your decor. These materials not only reflect the tropical aesthetic but also add an element of tactile appeal.
Botanical Prints: Adorn your walls with botanical prints that showcase the beauty of tropical plants and flowers. These prints can serve as focal points or subtle accents, depending on your preference.
Statement Artwork: Invest in a standout piece of tropical wall art that captures the essence of the tropics. This can be a large canvas depicting a lush rainforest or a stunning coastal scene.
Accessories: Scatter tropical-inspired accessories like decorative cushions with palm leaf motifs, ceramic vases filled with vibrant blooms, and woven rugs that evoke the feeling of sandy shores.
Indoor Plants: Integrate live plants into your decor to bring the outdoors in. Consider tropical plants like monstera, ferns, and orchids to enhance the tropical atmosphere.
Discover the Magic of Tropical Wall Art and Interior Decorating
Embarking on a journey into the world of tropical wall art and interior decorating is an opportunity to bring the beauty and tranquility of tropical paradises right into your home. By immersing yourself in the rich history, embracing diverse cultural influences, and adopting captivating motifs, you can create a haven of relaxation and rejuvenation.
Whether you're revamping your living room, bedroom, or even a home office, the tropical aesthetic offers endless possibilities for transformation. So, why wait? Embrace the allure of tropical wall art and infuse your spaces with the vibrant spirit of the tropics. Experience the magic firsthand and turn your living spaces into extraordinary tropical retreats that reflect your unique style and appreciation for the beauty of the natural world.
Enlivening Spaces with Tropical Wall Decor and Autumnal Touches
As the seasons change, so does the ambiance within the home. Transitioning from summer to autumn does not mean saying goodbye to the lively and lush feel of the tropics. On the contrary, one can beautifully merge the two to create a visually harmonious environment. In this piece, we shall delve into tropical interior decorating ideas, with a particular focus on wall art, that can effortlessly blend the exuberance of the tropics with the warm and cozy appeal of autumn.
To begin with, tropical wall decor is a splendid way to capture the essence of a rainforest or beachside retreat. One can introduce botanical prints, featuring palm leaves or exotic flowers, to bring in the lushness associated with the tropics. However, in paying homage to the autumnal vibes, consider incorporating elements such as earthy tones or artwork that includes fallen leaves and autumn blooms.
Imagine the bedroom, for example, adorned with an opulent tropical wall art piece as its centerpiece. Think of a wall canvas that captures the depth of a rainforest with shades of oranges, reds, and yellows to signify the colors of fall. This kind of Tropical wall art can act as an instant mood lifter and a cozy backdrop for the bedroom.
Now, let's not ignore the significance of textiles. Enhance the walls further by adding complementary fabric wall hangings. Rich, warm-hued textiles can serve as the perfect juxtaposition to the vivid greens and blues of the tropics.
Moreover, don't forget the impact of statement mirrors. An ornately framed mirror, perhaps one with a leafy or floral design, can amplify the tropical feel while also adding a touch of luxury. When placed strategically, it can even reflect your autumn wall art and create a cohesive look.
Lastly, an assortment of shelves displaying an eclectic mix of tropical ornaments, small plants, and autumn-inspired trinkets can tie the entire room together. The key is to balance the vividness of tropical wall decor with the warmth and earthiness of autumn wall art.
In essence, it's all about blending two worlds to create a space that feels both lively and cozy. Through a well-thought-out combination of tropical wall art and autumnal elements, your interiors can exude elegance, warmth, and vibrancy all at once.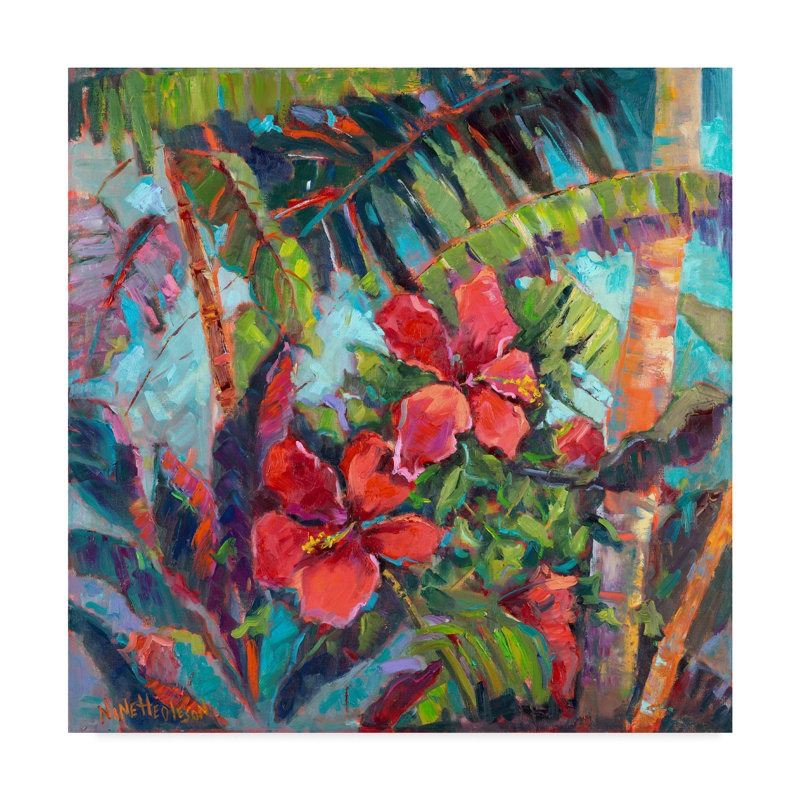 Splash Of The Tropics II On Canvas by Nanette OlesonView Details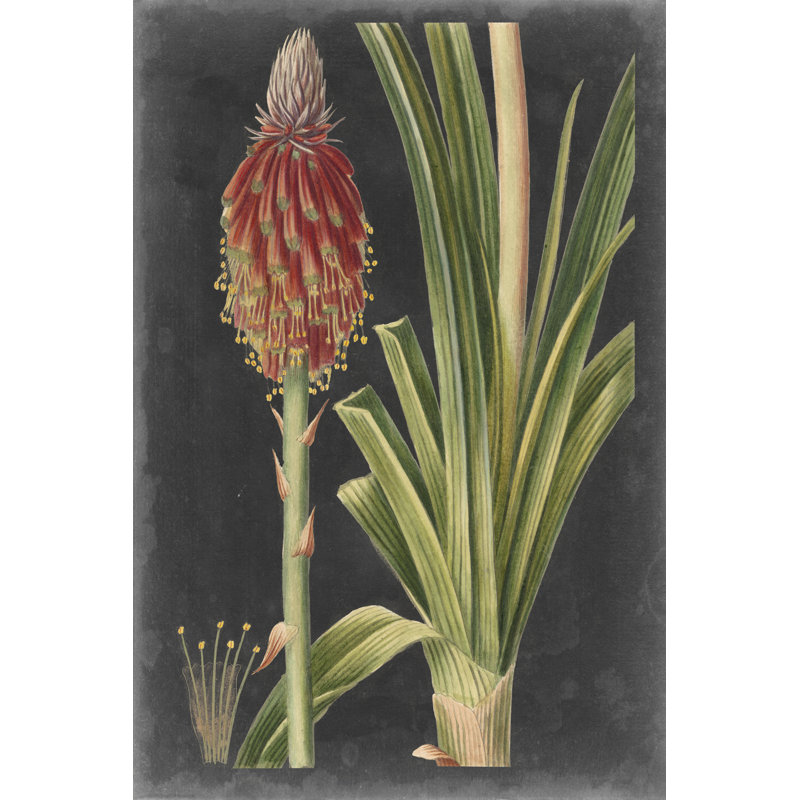 Dramatic Tropicals IV On Canvas by Vision Studio PaintingView Details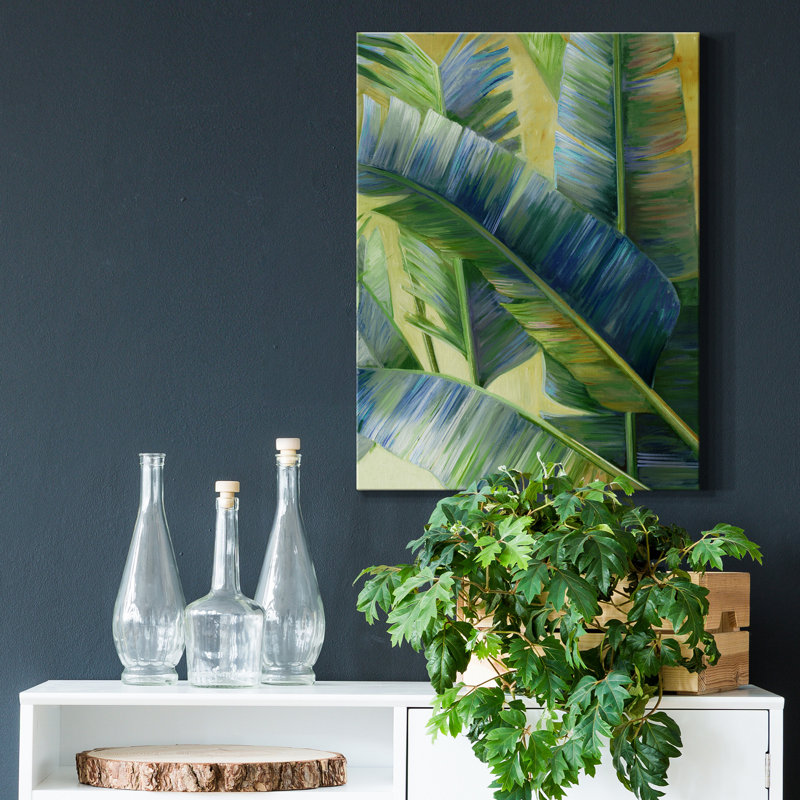 Blue Tropic Framed On Canvas by Elaine Lane PrintView Details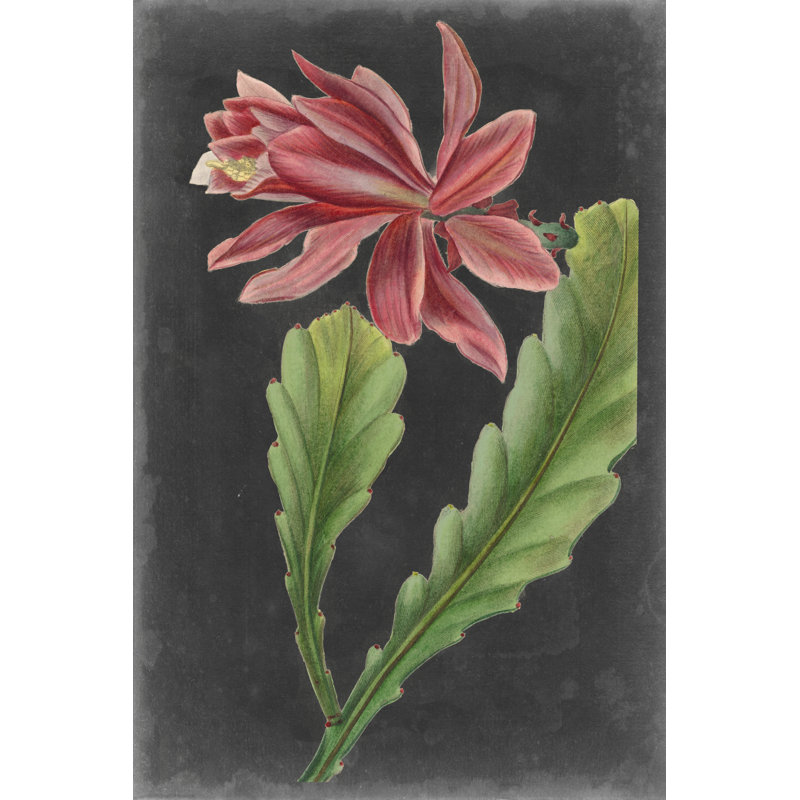 Dramatic Tropicals I On Canvas by Vision Studio PaintingView Details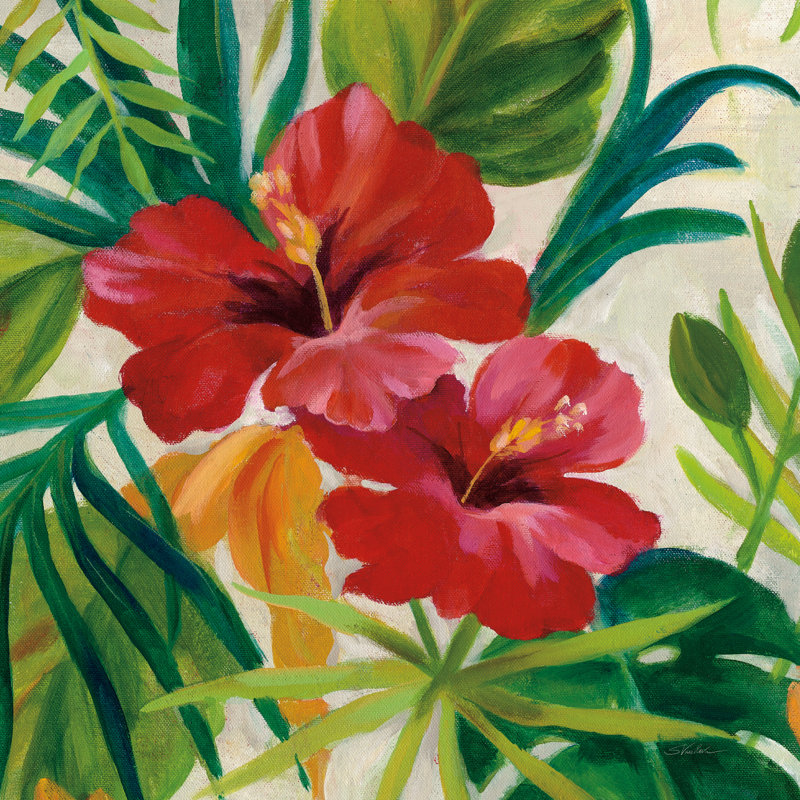 Tropical Jewels II V2 Crop On Canvas by Silvia VassilevaView Details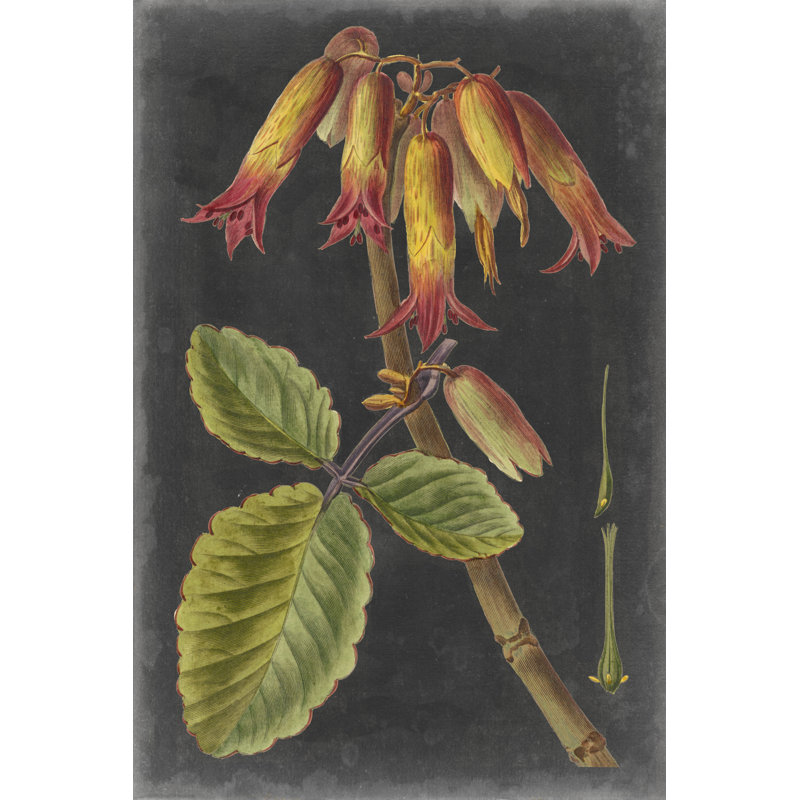 Dramatic Tropicals III On Canvas by Vision Studio PaintingView Details
Infusing Living Spaces with a Medley of Tropical Wall Decor and Autumnal Elegance
As we embrace the golden hues of fall, it's an ideal time to play with textures and colors, blending the exuberant tropical vibes with the mellow tones of autumn. In this section, let's explore how we can ingeniously integrate Tropical wall decor and Autumn wall art to revamp living spaces. Specifically, let's focus on the living room – the nucleus of many homes – where wall art can make a resounding impact.
Begin by selecting Tropical wall decor that exudes the vivacity of tropical flora and fauna. Imagine giant palm leaves, toucans, or vibrant hibiscus flowers adorning your walls. But here's the twist: Infuse it with a touch of autumn by opting for tropical elements that incorporate shades of burnt orange, deep reds, and golden yellows. You can opt for paintings or even fabric wall hangings that reflect this blend.
Now, let's move to texture – an often overlooked aspect that can remarkably transform a space. Consider a tapestry with palm leaves, but woven in warm autumnal tones. This will not only be a nod to the tropics but will also resonate with the cozy allure that autumn brings.
Lighting also plays an integral role in accentuating wall art. Position warm-toned lamps strategically so that they cast a golden glow on your Tropical wall art, creating an intimate autumn ambiance.
Adding to the tapestry of designs, don't shy away from incorporating Autumn wall art in the living room. Think of landscapes with falling leaves, pumpkins, and twilight scenes. While these speak autumn, having them alongside your tropical pieces creates an intermingling of cultures – a tropical island that experiences fall!
Remember, it's not just about wall paintings. Shelves with a blend of tropical and autumn ornaments, photo frames that combine the two themes, and even mirrors with frames inspired by elements from both worlds, can augment the space.
Another often overlooked aspect is the positioning of plants. While your wall art creates the background, real plants can add depth to the theme. Place tropical plants in autumn-toned pots or vases to bring the walls alive.
And, don't forget the soft furnishings. Complement your Tropical wall decor with cushions, rugs, and throws in autumn colors. The textiles will create a rich setting that's visually stimulating and homely.
In conclusion, through careful curation and placement of Tropical wall decor and Autumn wall art, your living room can become a wondrous fusion of the two themes – a place that's vibrant yet cozy, contemporary yet traditional, and above all, uniquely yours.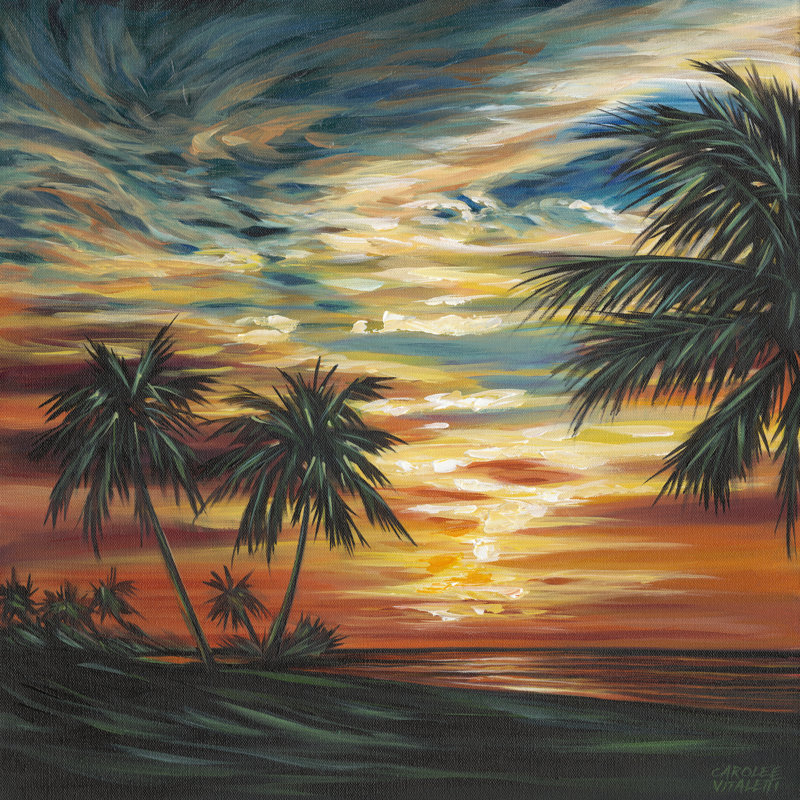 Stunning Tropical Sunset I On Canvas by Carolee Vitaletti PrintView Details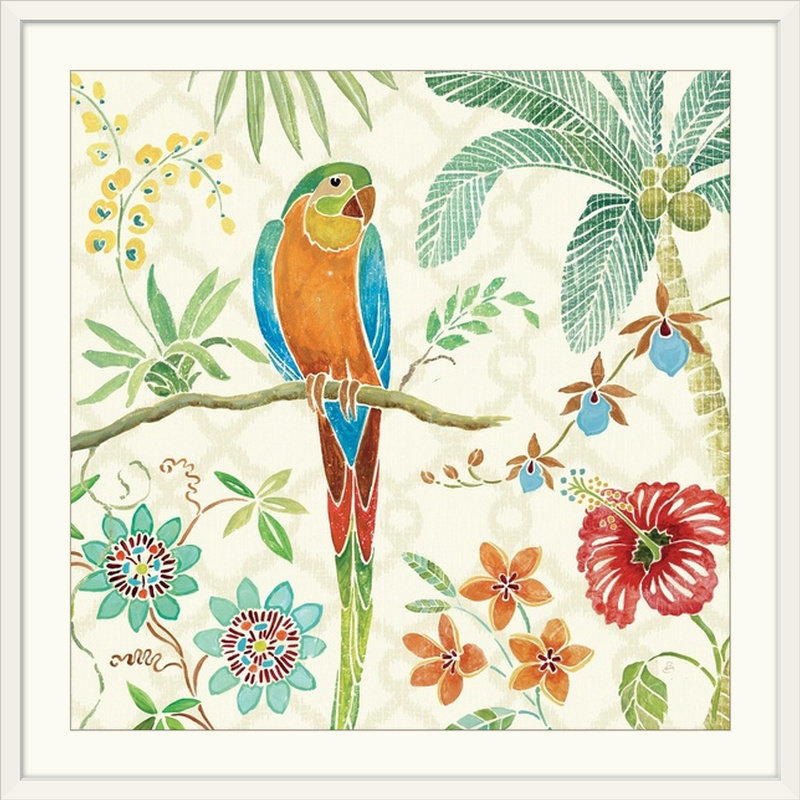 Tropical Paradise IV by Daphne Brissonnet PrintView Details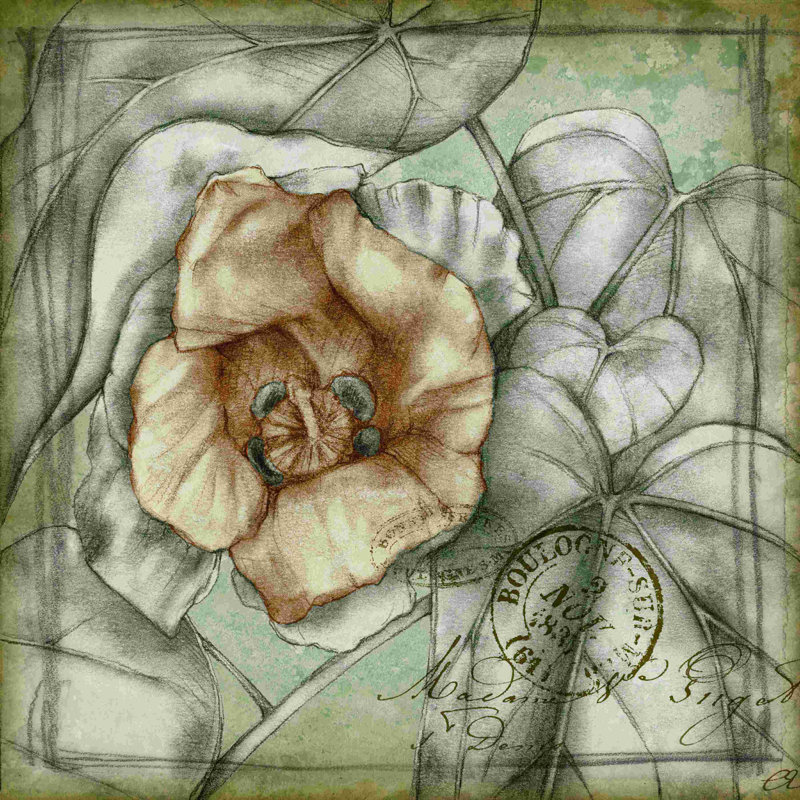 Postmark Tropicals IV On Canvas by Jennifer Goldberger PrintView Details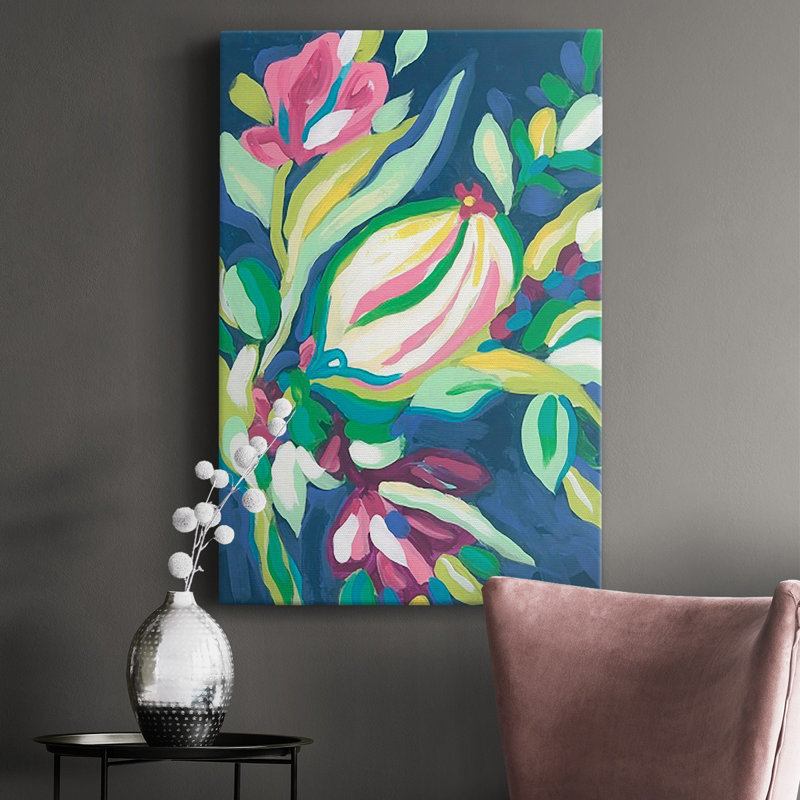 Blue Tropics III On Canvas PaintingView Details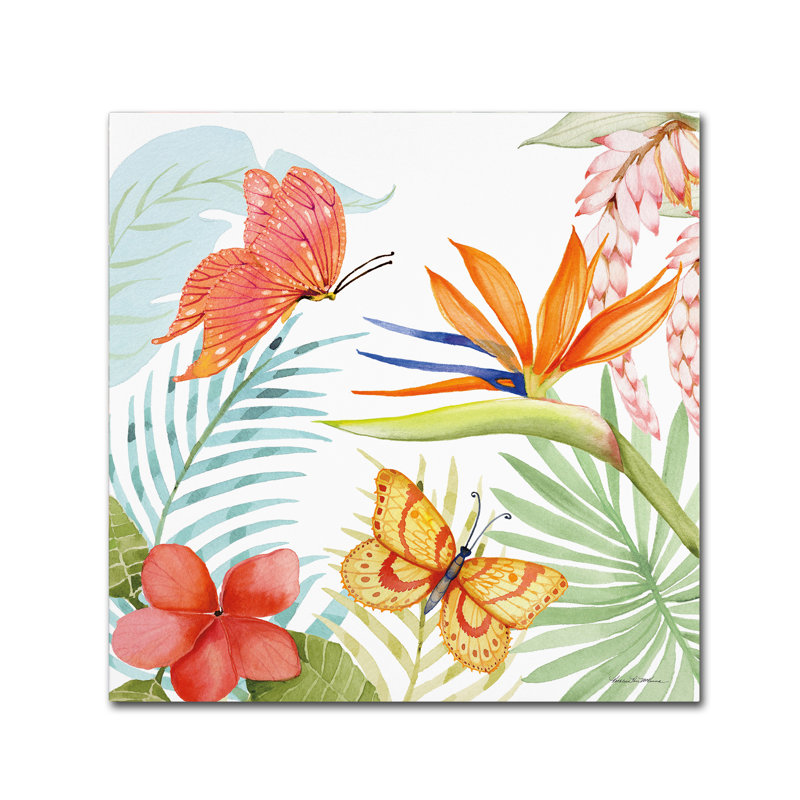 Treasures Of The Tropics IV On Canvas by Kathleen Parr McKennaView Details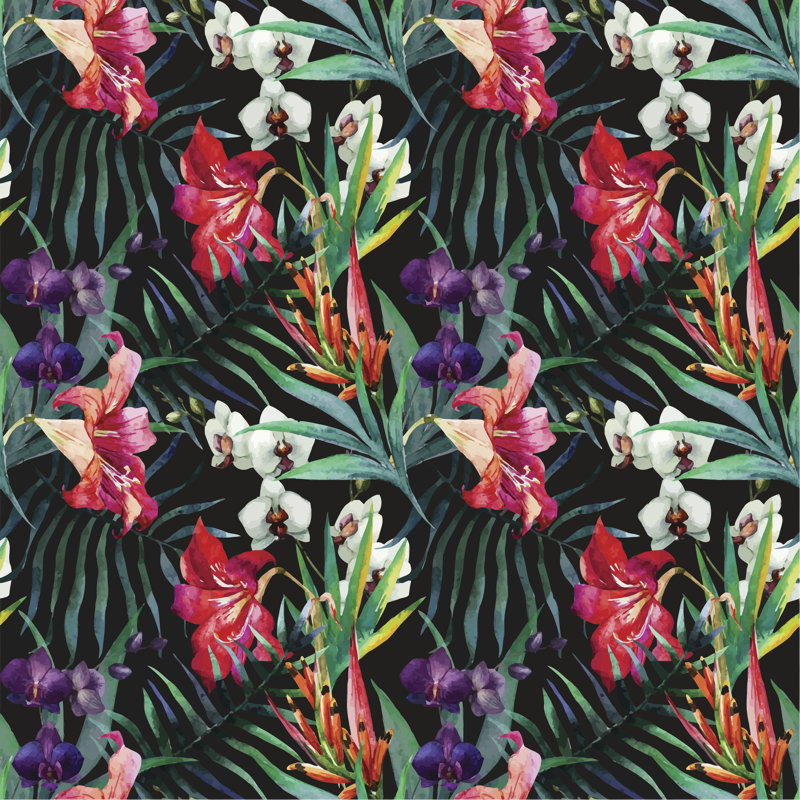 Toph Tropical Pattern On Canvas Graphic ArtView Details
Cultivating a Culinary Paradise: Melding Tropical Wall Decor with Autumnal Flair in the Kitchen
The kitchen, often referred to as the heart of the home, deserves to be adorned with as much love and creativity as any other space. In this segment, let's embark on a journey to curate a kitchen that not only tantalizes your taste buds but is also a feast for the eyes by integrating Tropical wall decor with Autumn wall art.
Begin by considering the ample opportunity that kitchen walls provide for creativity. Tropical wall decor in the kitchen can take many forms – from botanical-themed tiles and wallpaper to paintings and prints. Opt for lush, vibrant designs with palm leaves, tropical fruits, and flowers. While the tropics may invoke thoughts of summer, it's the color palette that can seamlessly bring in the autumnal aspect.
Now, let's weave in the magic of autumn. Autumn wall art can be a refreshing addition to the kitchen space. Consider art pieces depicting bountiful harvests, fallen leaves, or even serene landscapes in deep oranges and browns. Place this art in close proximity to the tropical elements to forge a harmonious blend of the themes.
Don't overlook the utility aspects of the kitchen either. Wall-mounted shelves and racks can be customized with tropical and autumn motifs. For instance, a spice rack with leaf patterns in fall colors, or a set of tropical-themed dishes displayed on a wall-mounted shelf, can significantly contribute to the overall decor.
Additionally, the kitchen window is an often-underused canvas. The drapery and window treatments can be instrumental in tying the themes together. Use curtains with tropical patterns, but in a color palette that evokes the coziness of autumn.
The kitchen island and countertops also present a chance to merge the themes. Place a selection of tropical plants interspersed with seasonal autumn fruits and vegetables. This touch of real-life elements can amplify the Tropical wall art and Autumn wall art you have adorning the walls.
Moreover, elements such as the kitchen rug, tea towels, and even the pot holders can be chosen to complement the Tropical wall decor and autumn theme.
In summary, the kitchen can be transformed into a space that is not just functional but also aesthetically pleasing and welcoming. Through an inventive amalgamation of Tropical wall decor and Autumn wall art, your kitchen can become a culinary paradise that transports you to a land where the tropics and autumn coexist beautifully.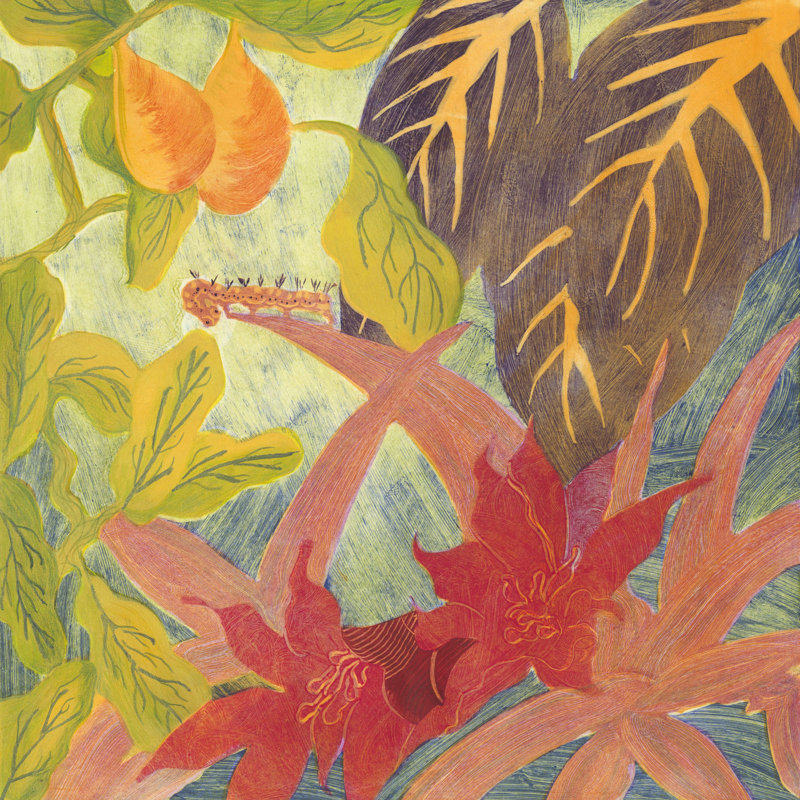 Tropical Monotype IV On Canvas by Carolyn Roth PaintingView Details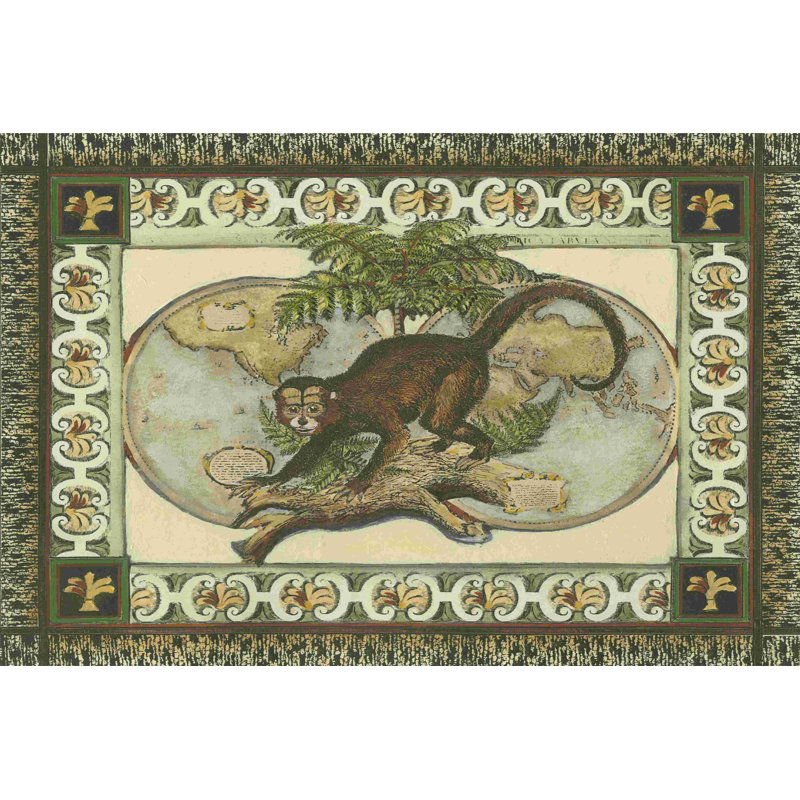 Tropical wall art: Tropical Monkey I On Canvas PrintView Details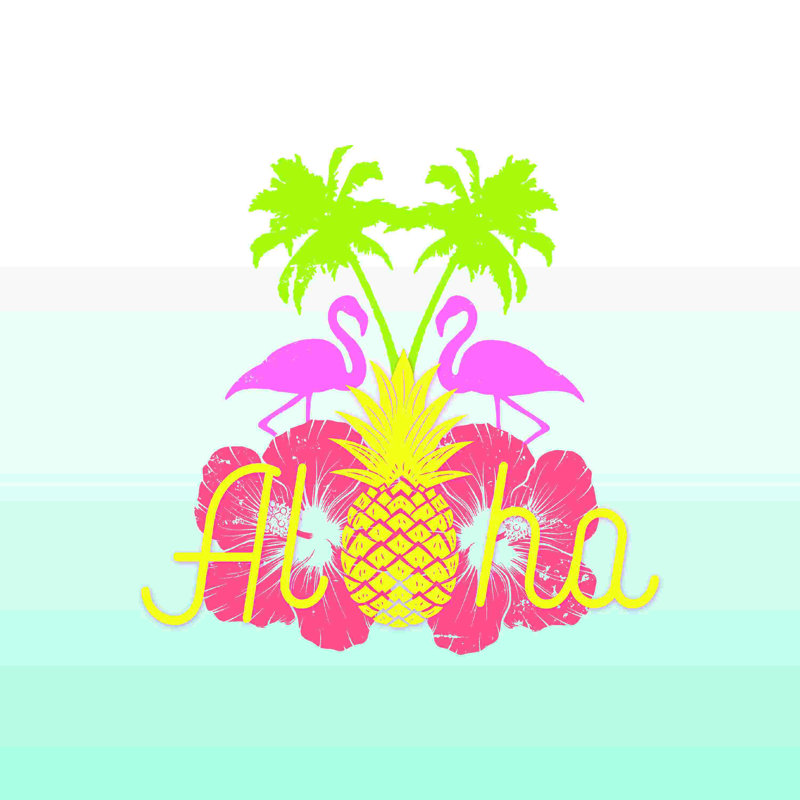 Aloha Tropics On Canvas Graphic Art: Tropical wall decorView Details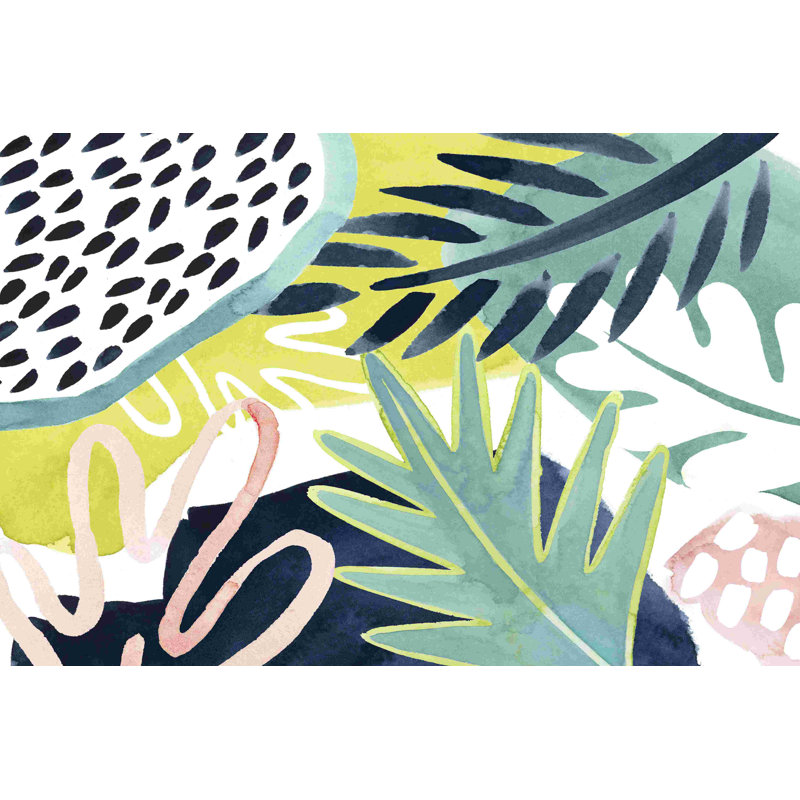 Tropical Salve I On Canvas by Grace Popp PaintingView Details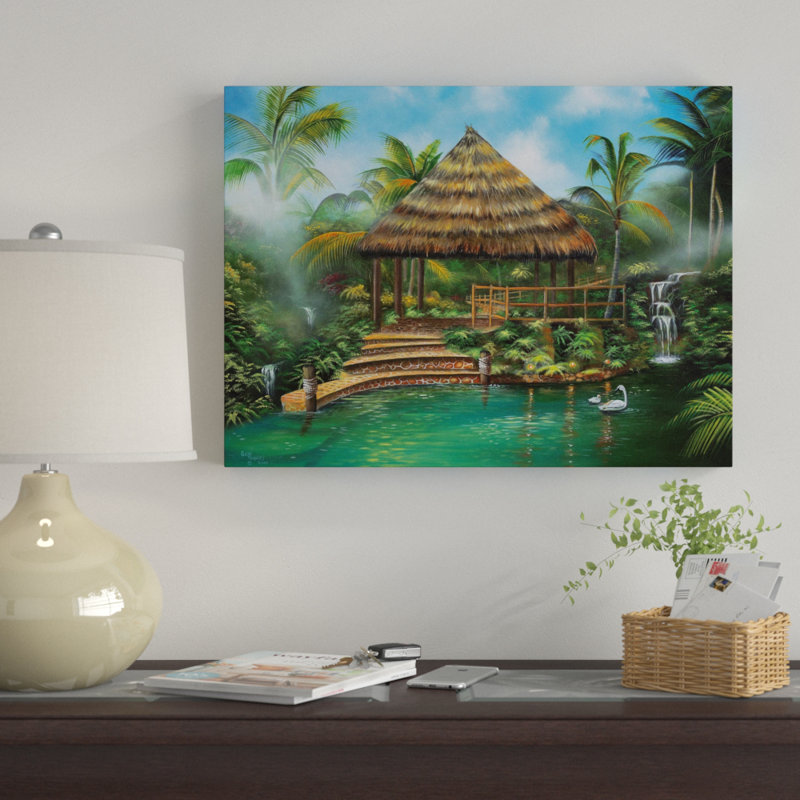 Tropical Paradise On Canvas by Geno Peoples PrintView Details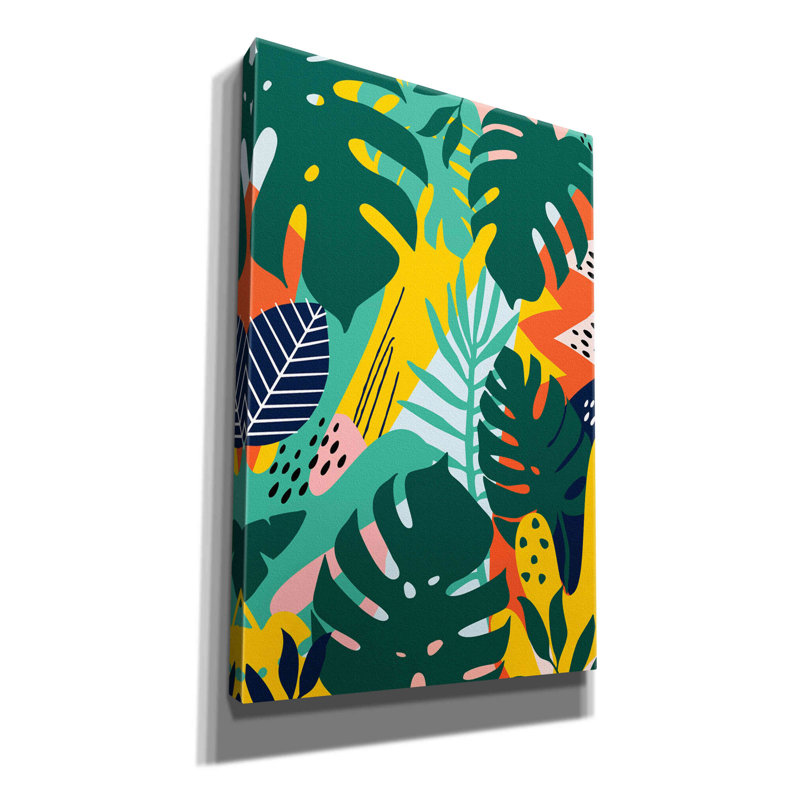 Tropical Leaves One On Canvas by Ayse Graphic ArtView Details
Crafting a Sanctuary: Infusing Tropical Wall Decor with Autumnal Elegance in the Bathroom
Creating a sanctuary that allows for relaxation and rejuvenation is essential, and what better place to focus on than the bathroom? In this section, let's venture into the realm of the tropics and the golden autumn to construct an exquisite escape within your own home by blending Tropical wall decor and Autumn wall art in the bathroom.
Kick-off the transformation by focusing on the walls. Tropical wall decor is undoubtedly a natural fit for the bathroom. Think large, leafy patterns, exotic flowers, and even island scenes. Consider the use of wallpaper or tiles with tropical designs for a portion of the wall to create a striking feature.
To weave in the autumnal elements, embrace earthy tones. Where the tropical patterns evoke a sense of lushness, let the Autumn wall art bring in the serenity. Select art pieces that depict scenes with autumn leaves, or even abstract art that incorporates autumnal color palettes.
Moreover, let's talk about mirrors – an indispensable part of any bathroom. Opt for a mirror with an elaborate frame that intertwines elements from both worlds, such as leaves in autumn hues or tropical motifs rendered in warm colors.
As for the shower curtains, opt for designs that complement the Tropical wall decor and Autumn wall art. Choose motifs that reflect the flora of both themes, with a color palette leaning into the warm, cozy side.
Moving on, your choice of bathroom fixtures can also contribute to the theme. Antique bronze or copper faucets and fixtures can invoke the warm, rustic feeling of autumn, while a bathtub in a vibrant color can reflect the tropical exuberance.
The ambiance is crucial in a sanctuary, and lighting can make or break it. Utilize lights with a warm temperature and consider a pendant light with leafy designs or tropical patterns.
Last but not least, accessorize with plants and candles. Place potted tropical plants around the bathtub or sink, and incorporate candles in autumn scents. The greenery combined with the warm glow and scent of candles will create an atmosphere that's both invigorating and comforting.
To conclude, by artfully merging Tropical wall decor with Autumn wall art, your bathroom can be transformed into an oasis that is not just functional but also a therapeutic space to unwind and rejuvenate your senses.
Dreaming in Color: A Symphony of Tropical Wall Decor and Autumnal Tones in the Bedroom
The bedroom is a refuge, a sanctuary where dreams take flight. How then, should one adorn such a special space? Let us weave a tapestry of opulence and warmth by combining the vivacity of Tropical wall decor with the subdued elegance of Autumn wall art in the bedroom.
For the walls, consider an audacious yet tasteful marriage of tropical and autumnal elements. Tropical wall decor can come to life through bold patterns, such as exotic birds, lush foliage, and vibrant flowers. Position these pieces as a focal point above the bed.
As we aim to balance the dynamic tropical elements, let's incorporate Autumn wall art to introduce a sense of calm. Opt for pieces with delicate leaf motifs, forest scenes, or even abstract patterns in rich earthy tones.
The headboard can serve as a canvas to further cement this confluence of themes. Choose a design that echoes the tropical, such as a carved wooden piece reminiscent of balmy island nights, and adorn it with fabrics in autumnal colors.
Moving on, the choice of bedding is essential. Complement your Tropical wall art with rich, textured fabrics that echo the colors of fall. A mix of vibrant prints with the coziness of autumnal-hued throws and cushions will create an inviting ambiance.
The lighting in the bedroom should be an amalgamation of both worlds – the zest of the tropics and the tranquility of autumn. Consider a statement chandelier that incorporates natural elements, and use warm-toned bulbs to mimic the golden embrace of the fall.
Lastly, do not forget the flora. Potted plants with lush green leaves placed strategically around the room will echo the Tropical wall decor. Complement them with vases of seasonal flowers in deep oranges and reds.
In conclusion, your bedroom can become a dreamy haven that resonates with the pulse of the tropics and the gentle embrace of autumn through a harmonious blend of Tropical wall decor and Autumn wall art.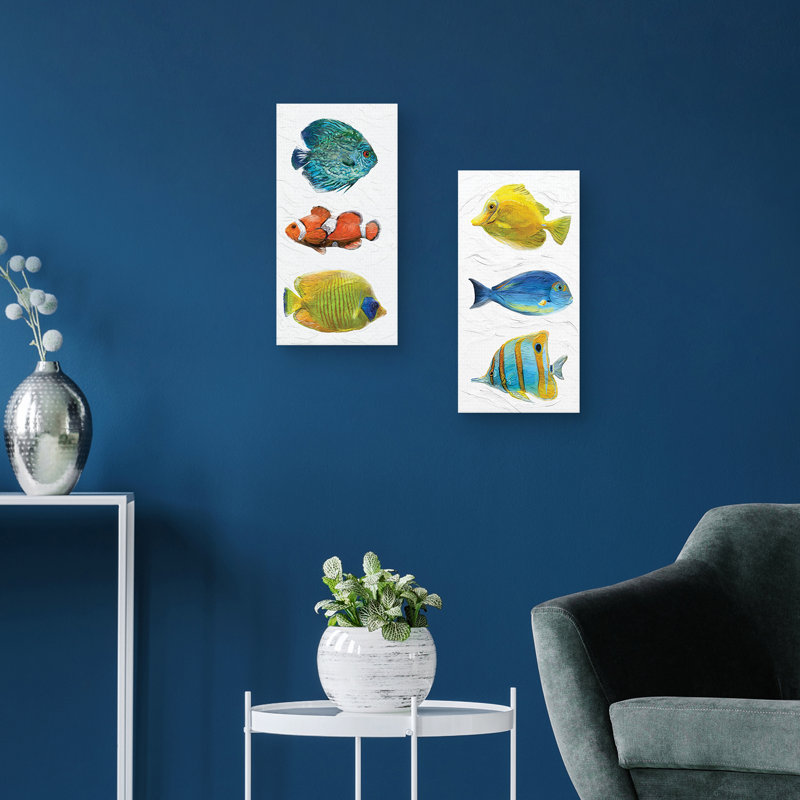 Tropical Wall Art Decor – Tropical Trio I, II On Canvas 2 Pieces PrintView Details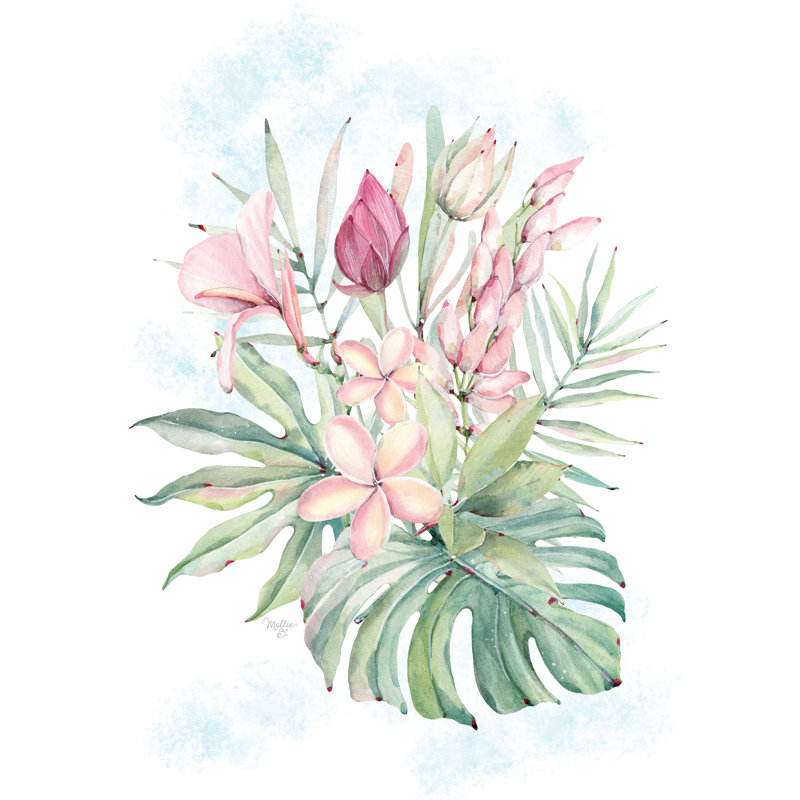 Pastel Tropical wall art: Bozek Tropical BeautyView Details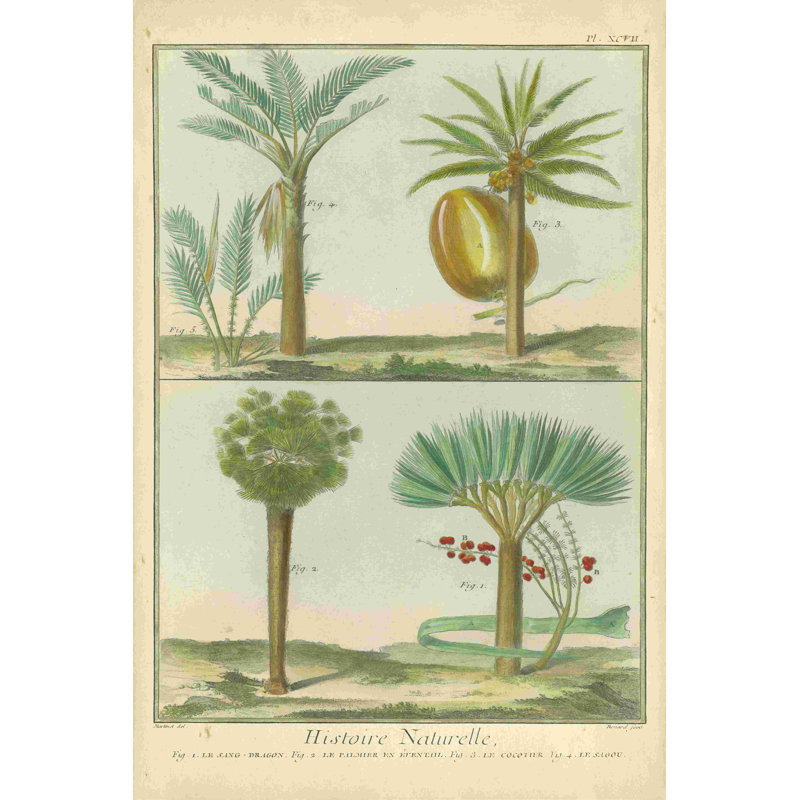 Histoire Naturelle Tropicals I On Canvas by Martinet Graphic ArtView Details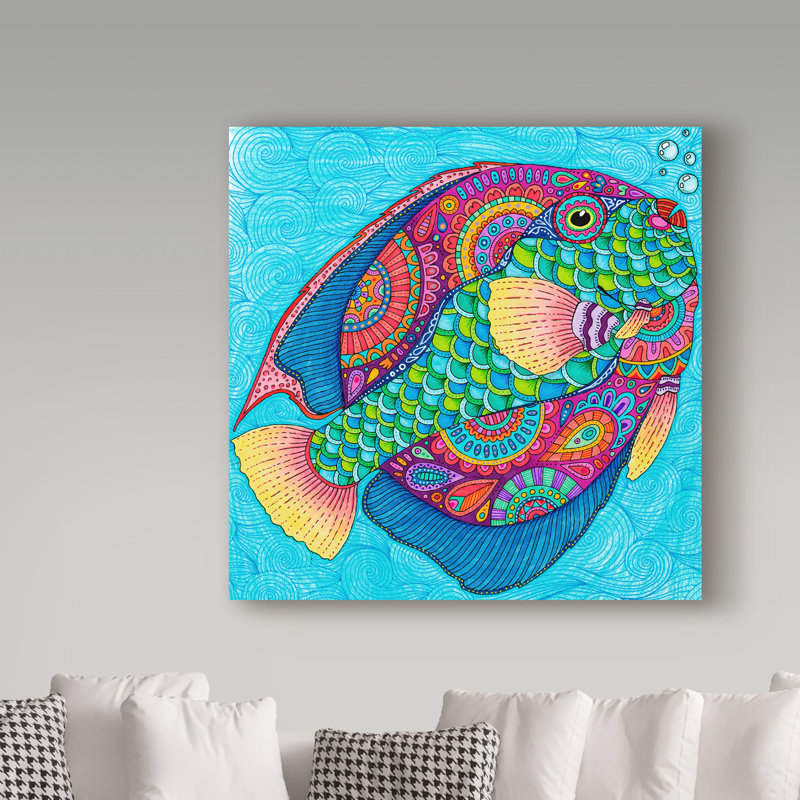 Hello Angel Tropical Paradise 1 On Canvas by Hello Angel PrintView Details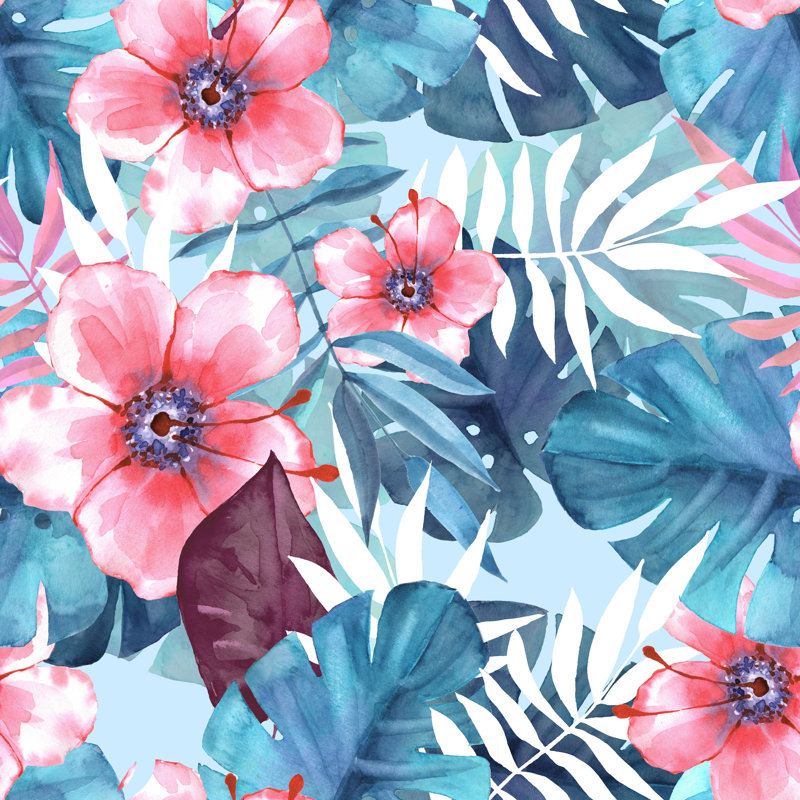 Tropical wall art: Tropical Pattern On Canvas PaintingView Details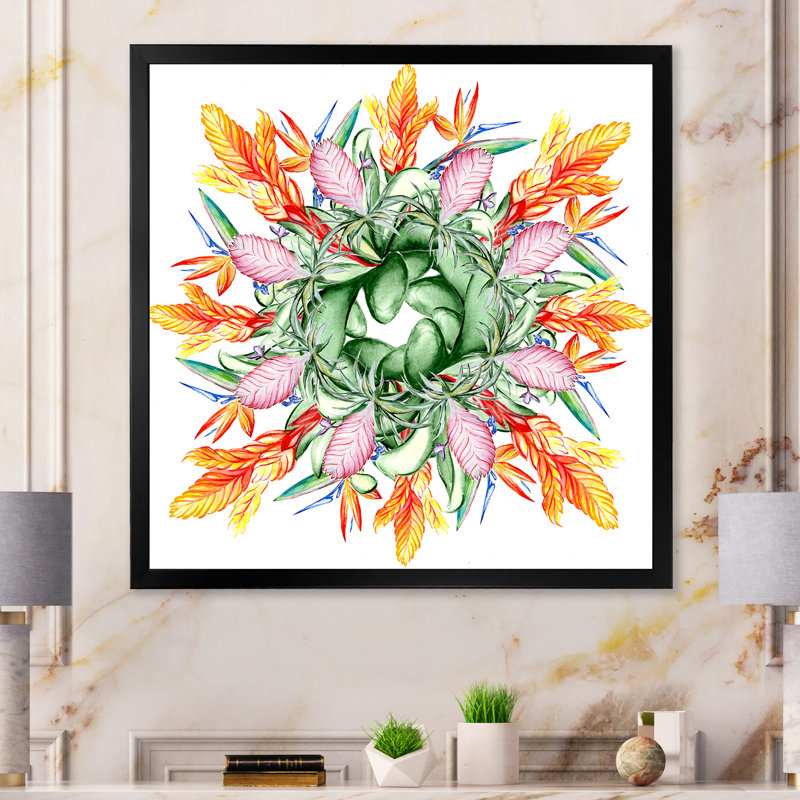 Tropical flower- Tropical Flower Botany Art III On Canvas PaintingView Details
Home Wall Art Decor Index