Welcome to the world of contemporary glam decorating, where sophistication meets opulence to create stunning interiors that captivate the senses. In this article, we will explore the allure of contemporary glam interior design ideas, with a particular focus on the exquisite realm of wall art.
Contemporary Glam Decorating Trend:
The contemporary glam decorating trend has captured the hearts of design enthusiasts around the globe, and its popularity continues to soar. One of the reasons for its immense appeal is its unique ability to seamlessly blend modern elements with luxurious aesthetics, creating a harmonious and visually stunning ambiance. Drawing inspiration from various iconic styles like Hollywood Regency, Art Deco, and Mid-Century Modern, contemporary glam interior design offers a fusion of classic elegance and contemporary allure.
Incorporating elements of Hollywood Regency, with its plush fabrics, bold patterns, and metallic accents, adds a touch of drama and sophistication to contemporary spaces. The opulence of Art Deco, characterized by geometric motifs and luxurious materials, infuses a sense of lavishness that is hard to resist. Meanwhile, the clean lines and organic forms of Mid-Century Modern bring a harmonious balance to the overall design, creating spaces that are both inviting and refined.
Contemporary Glam Wall Art:
When it comes to contemporary glam interior design, wall art plays a pivotal role in elevating the aesthetic of any room. The carefully curated selection of wall art can transform a mundane space into a dreamy, opulent haven. Elaborate mirrors, adorned with intricate frames and gilded accents, not only serve as functional decor but also reflect light, making the room appear more spacious and radiant.
Metallic accents are a quintessential element of glam wall art, adding a touch of glamour and luxury. Bronze, gold, and silver accents can be incorporated through sculptural wall pieces or elegant sconces that cast a warm glow across the room. These metallic touches lend a sense of grandeur and timelessness to the space.
Bold and abstract paintings make a powerful statement in contemporary glam interiors. Large-scale artworks with rich colors and expressive brushstrokes infuse the space with energy and personality. These captivating pieces serve as conversation starters and create a sense of intrigue and fascination among visitors.
Fashion and Glam Infinite Glam Gold, Glam Gray – Graphic ArtView Details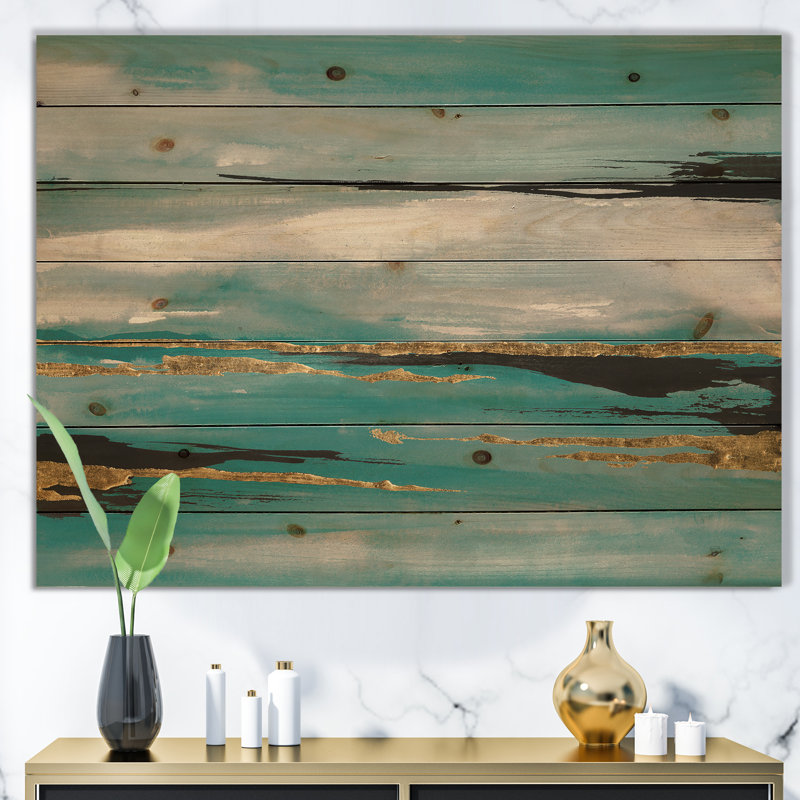 Glam Teal Watercolor I Modern & Contemporary On Wood PrintView Details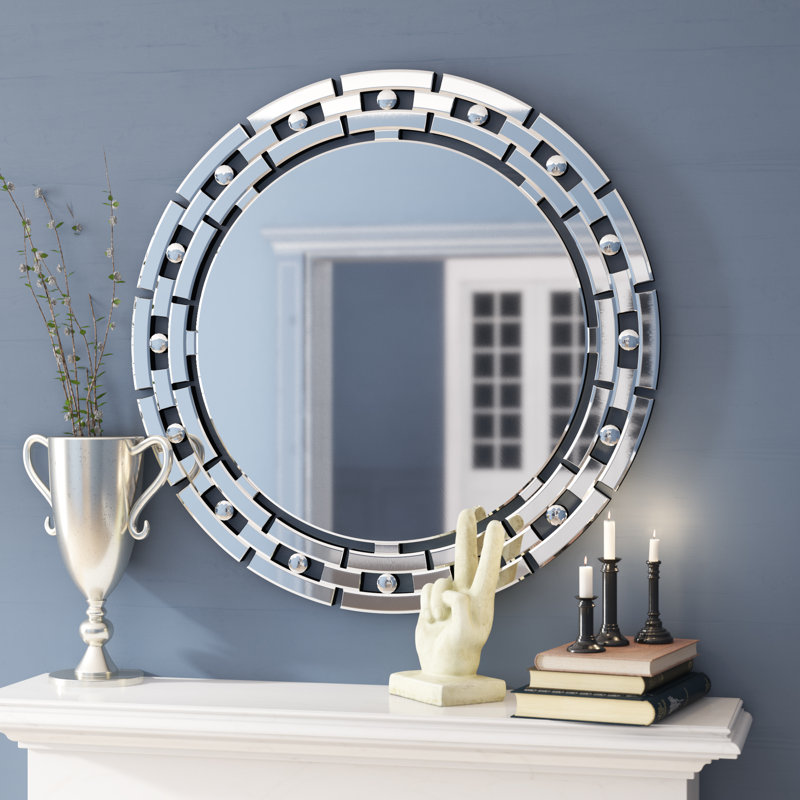 Contemporary Glam wall art – Stillings Round Wall MirrorView Details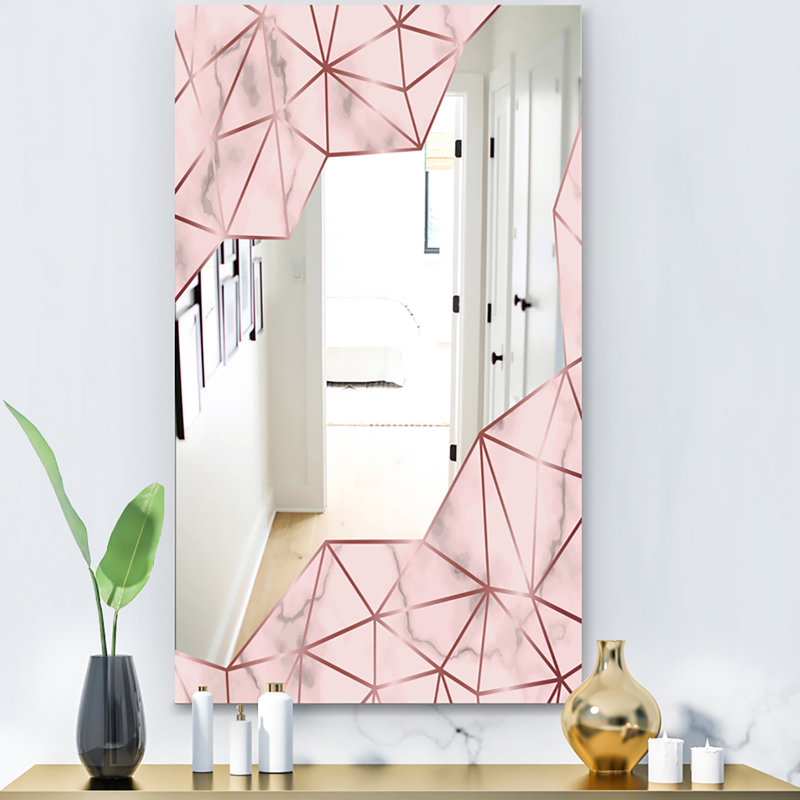 Capital Sleek Glam Ultra Modern Accent MirrorView Details
Contemporary Glam Wall Art – Glam On Canvas PrintView Details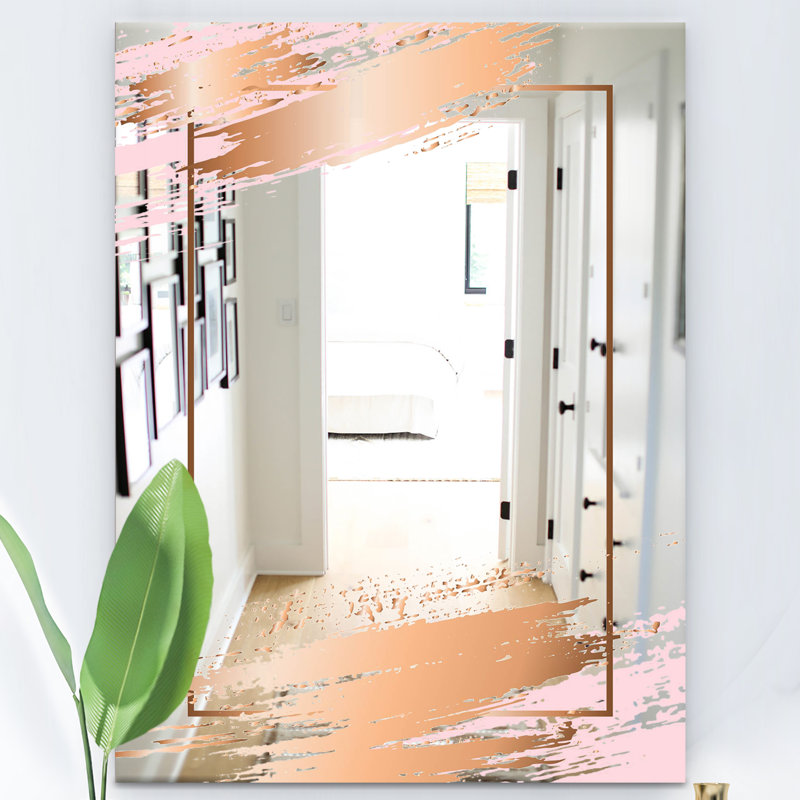 Minimal Modern Glam Frameless Accent MirrorView Details
History of Glam Home Decor:
The roots of glam home decor can be traced back to the early 20th century when Art Deco emerged as a dominant style in design and architecture. Art Deco's opulent and grandiose nature celebrated a departure from the austerity of the post-war era, ushering in an era of luxury and exuberance. This influential movement emphasized geometric patterns, symmetrical designs, and the use of lavish materials such as gold, marble, and exotic woods.
As the decades passed, glam home decor continued to evolve, adapting to changing tastes and design sensibilities. In the 1950s and 1960s, Hollywood Regency emerged as a glamorous and theatrical design style, emphasizing luxurious fabrics, tufted upholstery, and mirrored furniture. During the Mid-Century Modern movement, clean lines and organic forms became more prominent, blending seamlessly with the opulence of glam decor.
Today, contemporary glam interior design represents the culmination of these historical influences, incorporating elements from various periods to create spaces that exude both sophistication and comfort. This timeless trend continues to captivate homeowners and interior designers alike, offering a unique opportunity to craft dream glam living rooms and dream glam bedrooms that transcend time and trends.
As you delve further into this article, prepare to be inspired by a plethora of contemporary glam home decorating ideas, specifically focusing on the exquisite world of wall art. We invite you to discover how these captivating pieces can breathe life into your interiors and transform your space into a haven of elegance and allure. So, keep reading to unveil the secrets of contemporary glam wall art and unlock a treasure trove of design inspiration that awaits you. Happy decorating!
As you continue reading, you will discover an array of contemporary glam home decorating inspiration ideas that will leave you awe-inspired. From breathtaking color schemes and luxurious fabrics to unique furniture pieces and lighting fixtures, our curated collection of ideas will help you create your dream glam living spaces.
In summary, contemporary glam decorating ideas have transcended time and continue to inspire those seeking a touch of luxury in their homes. With an emphasis on wall art, this article explores the history and allure of glam home decor, taking you on a journey through the evolution of this captivating trend.
Are you eager to transform your space into a contemporary glam oasis? Keep reading to unveil the enchanting ideas that await you in the rest of this article. Get ready to be inspired and create your own dream glam living room or bedroom that will leave guests in awe. Happy decorating!
Refined Elegance: Crafting a Sanctuary with Contemporary Glam Living Room Ideas
Infused with a sense of timeless sophistication, the contemporary glam living room featured in this photo is an epitome of opulence and elegance. A defining characteristic of contemporary glam interior design ideas is the tasteful blend of modern elements with a touch of glamour. The muted color palette, accentuated by plush textures and exquisite furnishings, creates a luxurious and inviting atmosphere in this living space.
At the heart of this contemporary glam living room is a magnificent, cream-colored tufted sectional sofa. This stylish centerpiece is adorned with an array of sumptuous cushions in subtle hues of pink and mauve, embodying the cozy, luxurious vibe that is synonymous with contemporary glam decorating ideas. The elegant curves of the sofa, contrasted with the modern, clean lines of the white coffee table, evoke a balanced fusion of classic and modern aesthetics.
A striking chandelier, with its cascading gold accents and crystalline details, hangs majestically from the ceiling, casting a warm, inviting glow throughout the room. This is a quintessential element in contemporary glam interior design ideas, serving both as a focal point and as an infusion of luxury.
Wall decor plays a significant role in augmenting the charm of this living space. The contemporary glam wall art, showcased by an understated yet chic round mirror with a gold frame, adds depth and a touch of sparkle. The wall moldings and panels, painted in a crisp white, evoke an added layer of sophistication, seamlessly integrating with the living room's glamorous motif.
An important feature in this contemporary glam living room is the sumptuous use of textiles. The flowing pink drapes that frame the tall, arched windows soften the space while simultaneously amplifying its opulence. This harmonizes with the room's graceful color scheme, lending a sense of continuity and coherence.
The flooring features a gray and cream geometric patterned rug, which not only contributes to the comfort and warmth of the space but also complements the other elements of the room.
Accessories, such as the gold and black side table, vases, and decorative books, are artfully placed to enhance the luxe appeal. A pair of contemporary glam wall art sconces flanking the mirror further elevates the elegance.
In essence, this photo illustrates the endless possibilities that come with incorporating contemporary glam decorating ideas. By blending modern furnishings with luxurious fabrics, opulent lighting, and sophisticated wall art, this living room is transformed into a space that is both enchanting and inviting.
As we traverse the immaculate space and make our way through the abode, the grandeur gracefully escorts us to the next haven of luxury – the master bedroom.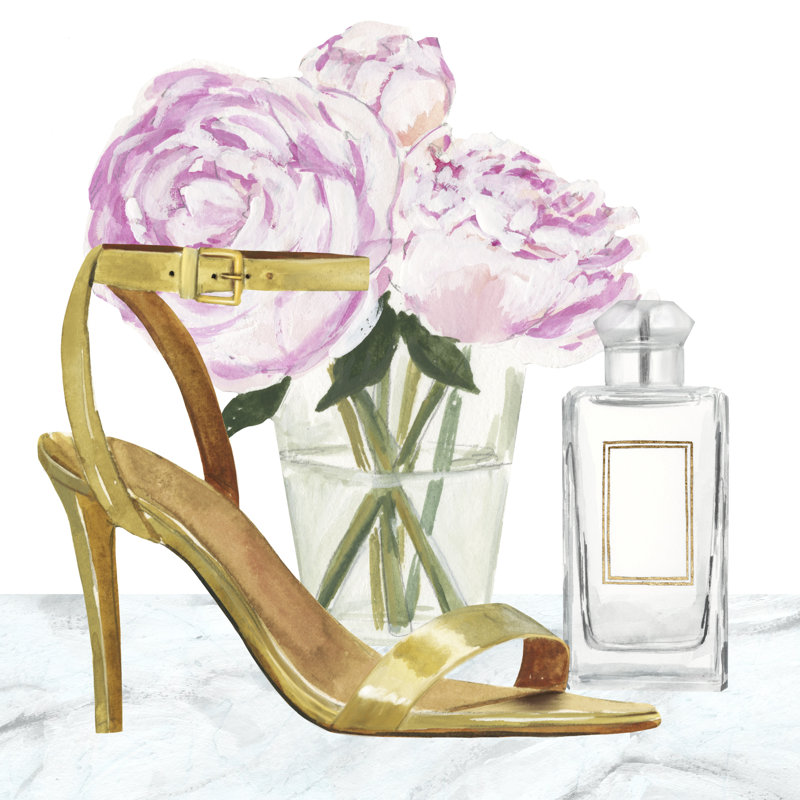 Get Glam VII On Canvas by Victoria Borges PrintView Details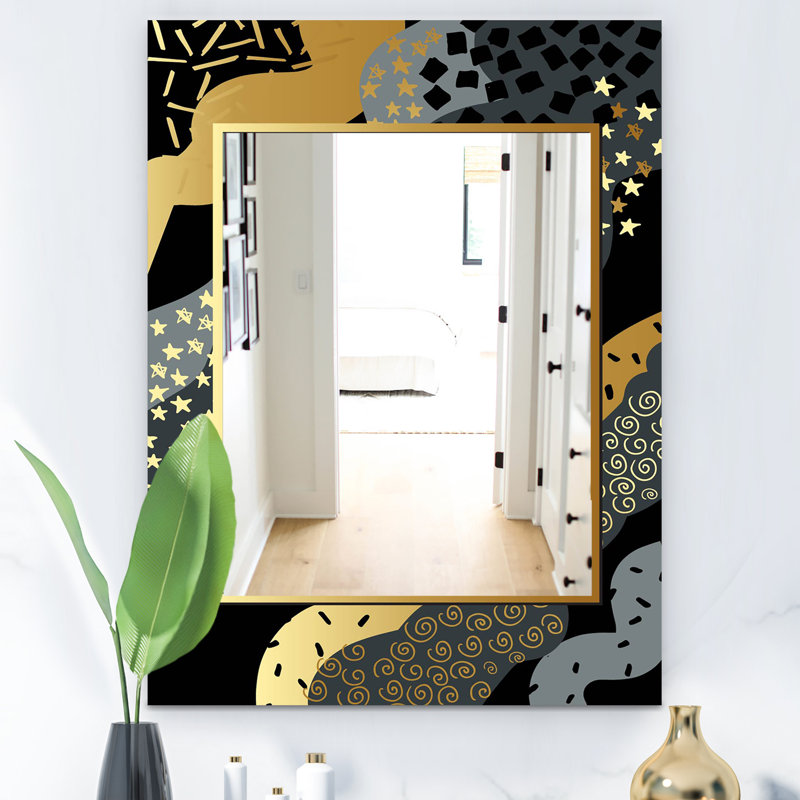 Glam Wall Decor – Playful Modern Glam Accent MirrorView Details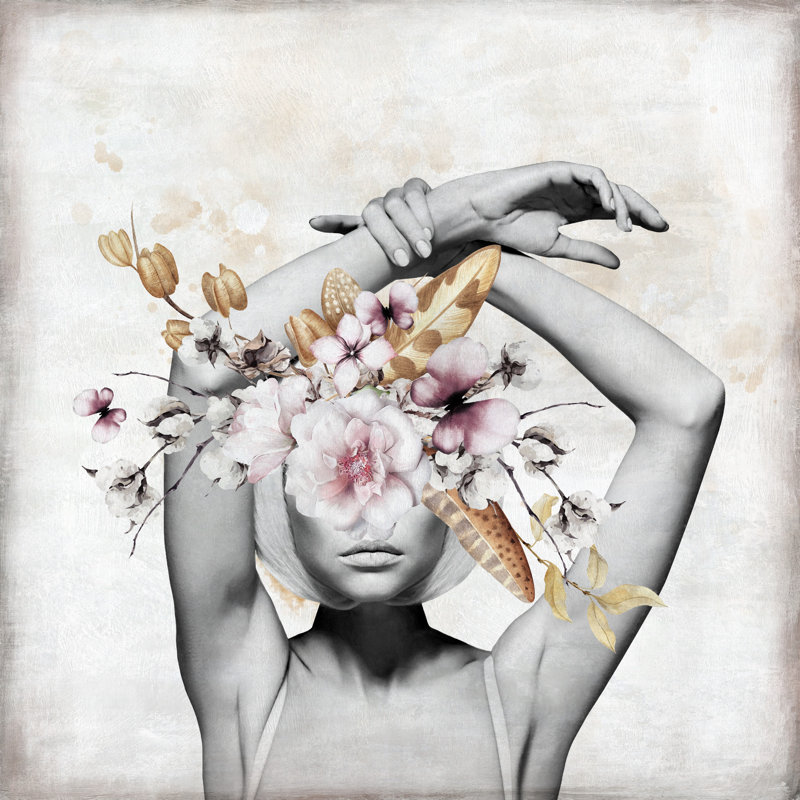 Glamorous On Canvas by Marmont Hill Graphic ArtView Details
glam wall art – Stillings Rectangle Wall MirrorView Details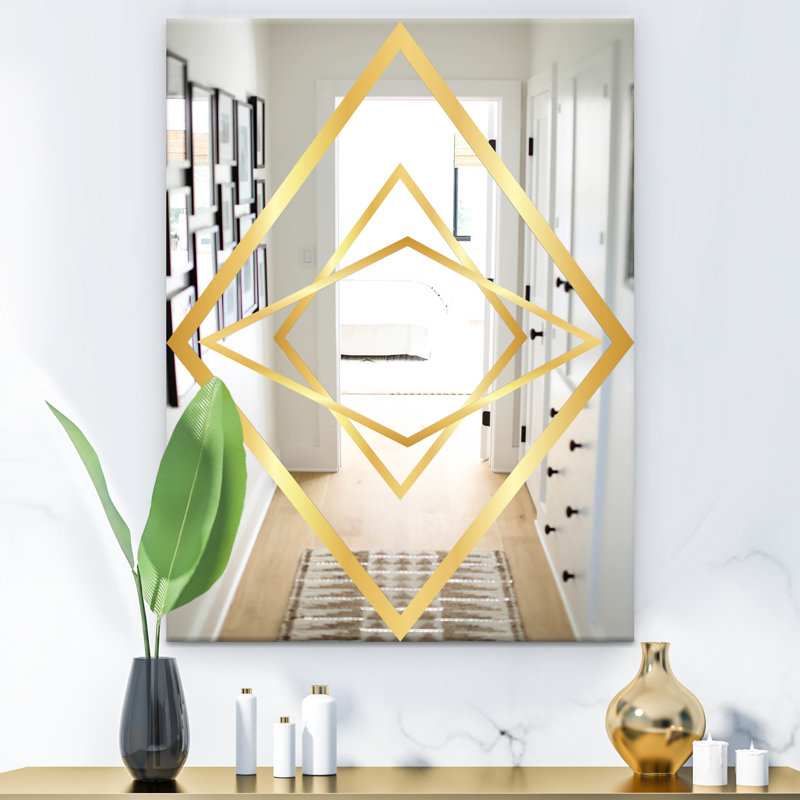 Capital Glam Accent Mirror – contemporary glam wall artView Details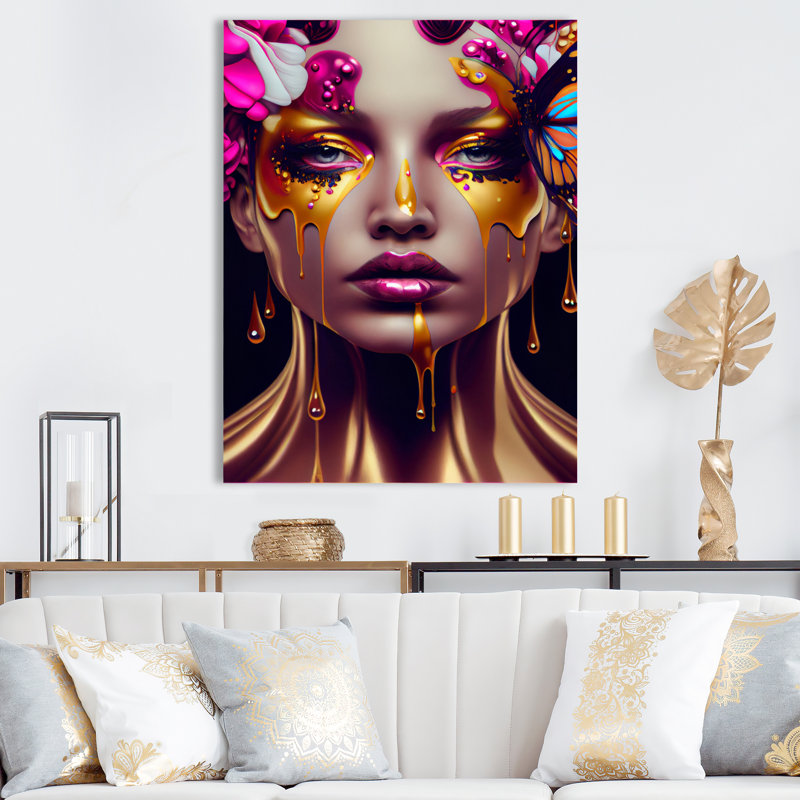 Sensual Woman With Colorful Butterfly IV On Metal Graphic ArtView Details
Serenade of Style: Unveiling the Splendor of a Contemporary Glam Master Bedroom
Stepping into the realm of this contemporary glam master bedroom, we are greeted by a symphony of elegance and grace. The delicate harmony between hues, textures, and elements creates an ethereal sanctuary that radiates with sophistication – a testament to the marvels of contemporary glam decorating ideas.
The centerpiece of this master bedroom is an exquisite tufted headboard in a plush ivory fabric, set against a background of muted grey walls. The headboard's sophisticated silhouette is both timeless and modern, an attribute often sought in contemporary glam interior design ideas. The luxurious bedding, adorned with an assortment of opulent throw pillows in blush pinks and gold, resonates with plush elegance, inviting you to surrender to its comfort.
Suspended above is a mesmerizing chandelier, embodying the essence of contemporary glam. Its circular, gold framework embraces a cascade of crystal droplets, casting a soft, enchanting luminescence that envelops the room.
The windows, framed by floor-length blush-pink drapes, infuse an air of romance and softness. The drapes' fabric cascades gracefully, complementing the room's sumptuous appeal. Adjacent to the bed, a stunning mirrored nightstand reflects light and adds dimension, while also serving as a functional and stylish element.
Contemporary glam wall art is brilliantly executed here. A pair of gold-framed mirrors, with their arches and ornate crests, add a touch of regal charm. Above the nightstand, a gold wall sconce with crystal accents harmonizes beautifully with the mirrors, further illuminating this sumptuous space.
A lush, faux fur throw elegantly draped across the foot of the bed adds texture and warmth. Beside the bed, a posh blush-pink ottoman with gold legs aligns perfectly with the room's palette, providing additional seating and an extra dash of luxury.
The opulent furnishings, harmonious color palette, and sumptuous textures manifest the quintessential contemporary glam master bedroom. It's a space that exudes luxury and comfort while being both personal and inviting, encapsulating the best in contemporary glam decorating ideas.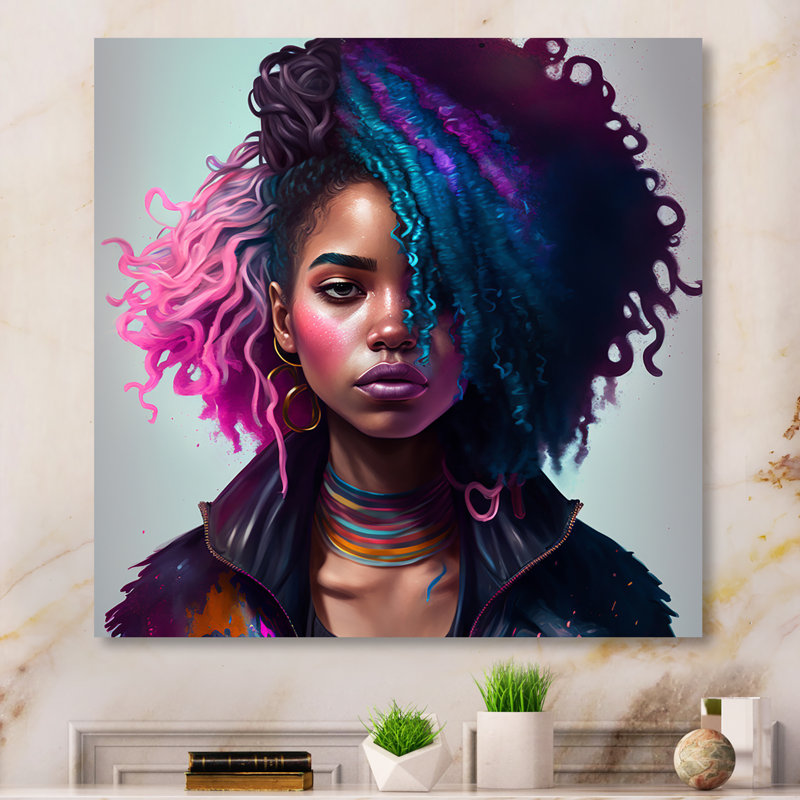 Fashion Hip Hop Girl In Pink And Blue I On Metal PrintView Details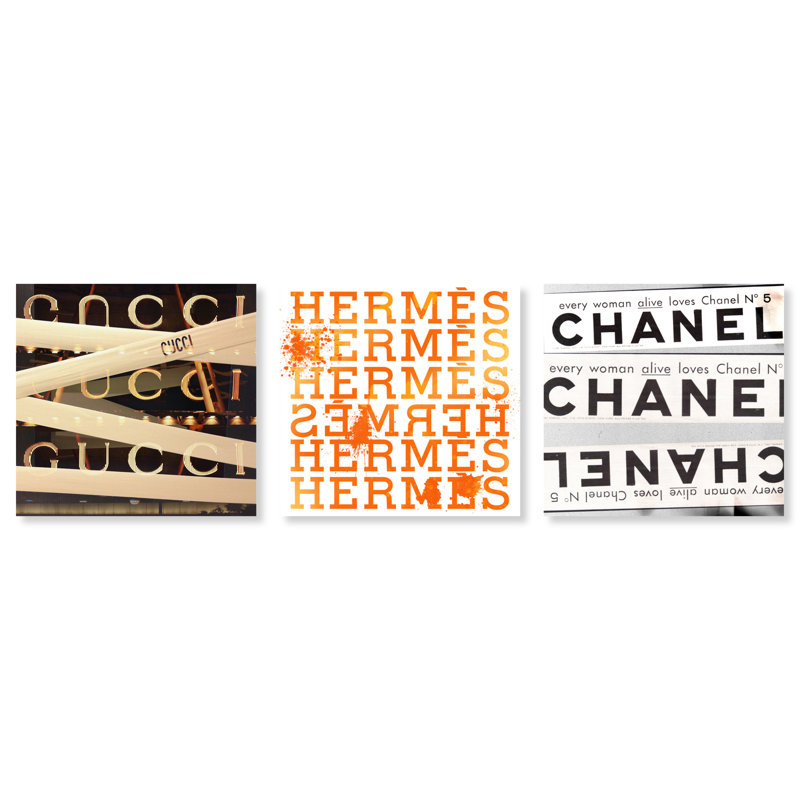 Glam Glam Logo Texture Modern WhiteView Details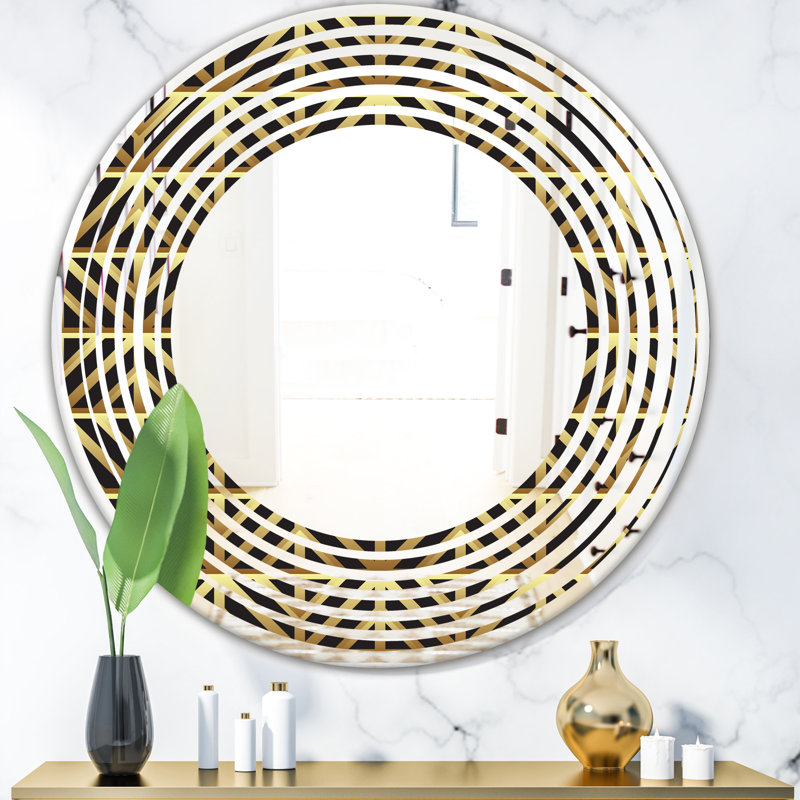 Metallic Geometrics XIV Wave Contemporary Wall MirrorView Details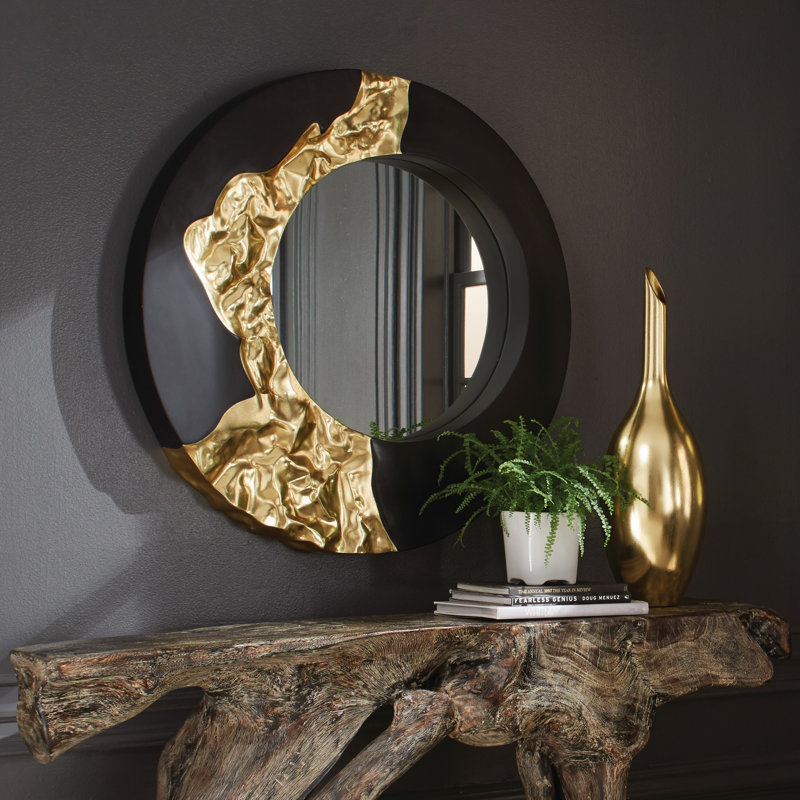 Mercury Sleek & Chic Modern Accent MirrorView Details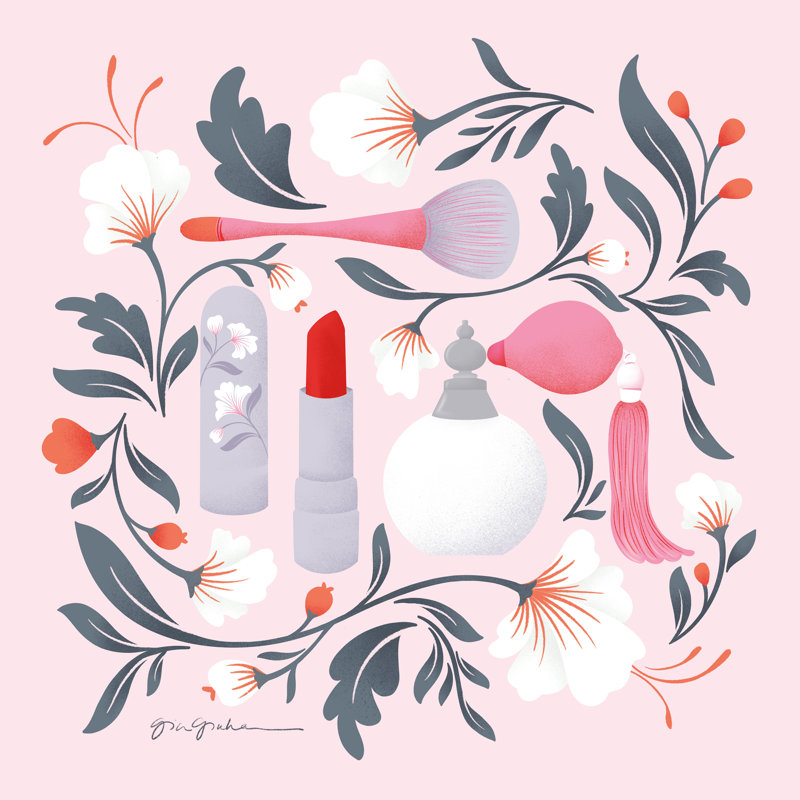 Glam Squad II On Canvas by Gia Graham PrintView Details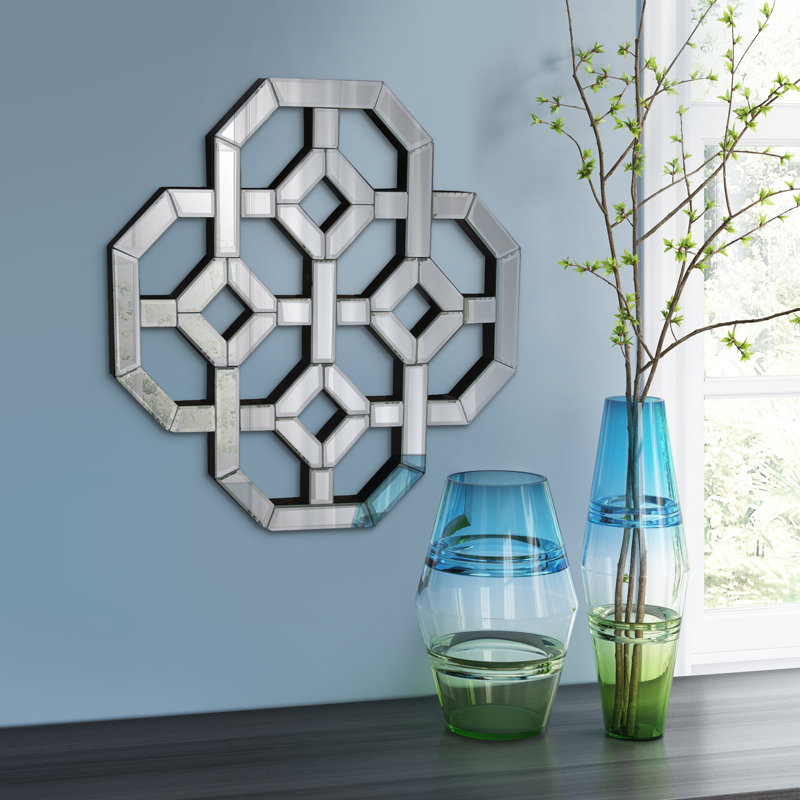 Contemporary Glam Wall Art – Asymmetrical Wall MirrorView Details
Infusing Charm into the Heart of the Home: The Contemporary Glam Kitchen
As we transition from the master bedroom laden with sumptuous fabrics and glistening accents, let us now indulge in one of the most breathtaking contemporary glam decorating ideas for the kitchen. The Contemporary Glam Kitchen is where culinary magic meets aesthetic splendor.
This stunning space is an epitome of taste and elegance. The wall, adorned with contemporary glam wall art, becomes an instant focal point. This custom-made piece is a mosaic of shattered mirrors and glints of gold, intertwined with delicate leafy motifs. The mix of shapes and reflective surfaces gives a dynamic and captivating touch to the area.
Complementing this wall art is the open shelving, which showcases an array of gold-toned kitchenware and accessories. The shelves themselves are a marriage of practicality and opulence, with their sleek lines and glimmering gold finish.
The color palette embraces blush pink, white, and gold, which resonates with the contemporary glam interior design ideas. Plush pink chairs encircle a marble-topped table, their golden legs mimicking the metallic touches found throughout the kitchen. The blush drapes soften the area and provide a romantic backdrop to the picturesque window.
Above the dining area hangs an exquisite chandelier. Its intricate gold leaf design reflects light throughout the space, creating an ambiance of warmth and luxury. This pendant is a testament to the attention to detail that contemporary glam decorating ideas demand.
The countertops and island feature pristine white marble, which pairs beautifully with the gold fixtures. The kitchen sink and faucet exemplify style and utility with their bold gold finish, echoing the luxurious theme.
The flooring further enhances the contemporary glam kitchen feel, with its light wooden texture that adds a hint of natural charm to the setting. This neutral base allows the pink and gold elements to take center stage.
In this kitchen, form and function walk hand in hand. Every piece, from the contemporary glam wall art to the smallest golden accessory, is thoughtfully selected to create a cohesive and luxurious environment.
This space is not just a kitchen; it is a testament to the endless possibilities that contemporary glam interior design ideas offer when creativity knows no bounds.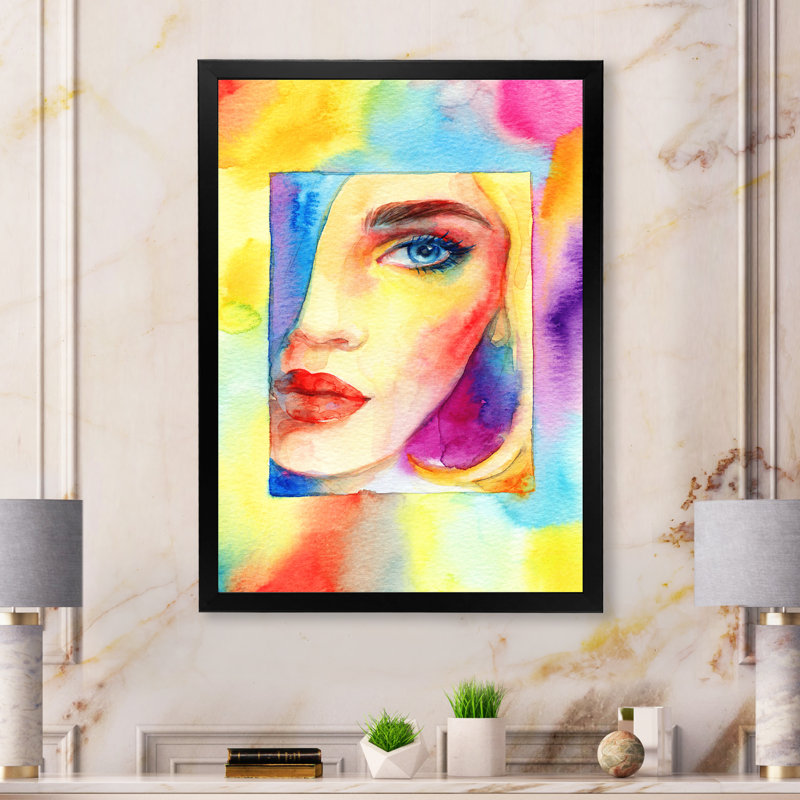 Fashion Model With Vivid Make Up XI Framed On Canvas PrintView Details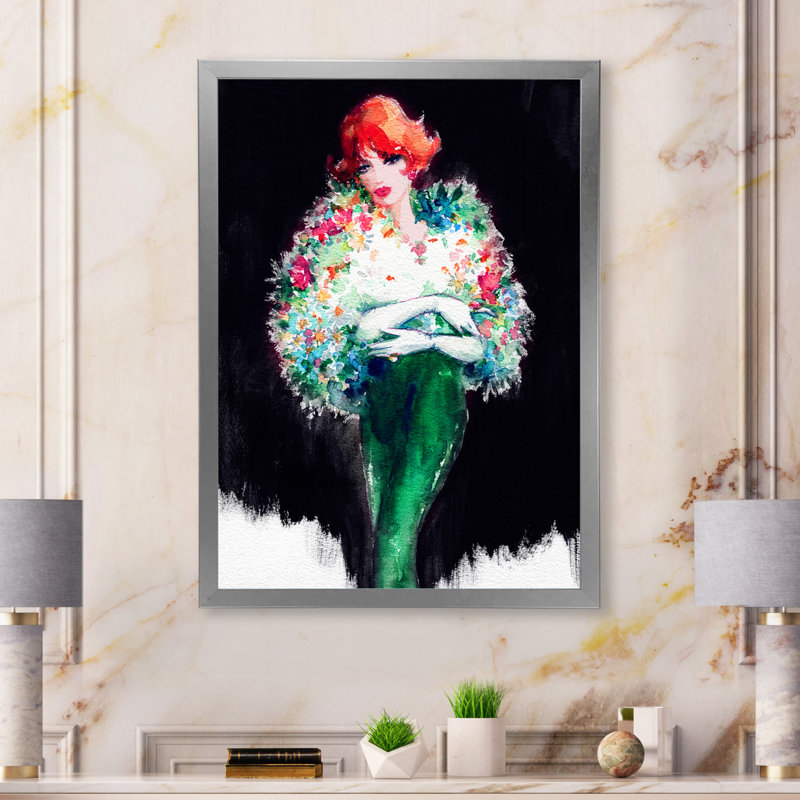 Stylish Fashionista In Vibrant Colors IV On Canvas PaintingView Details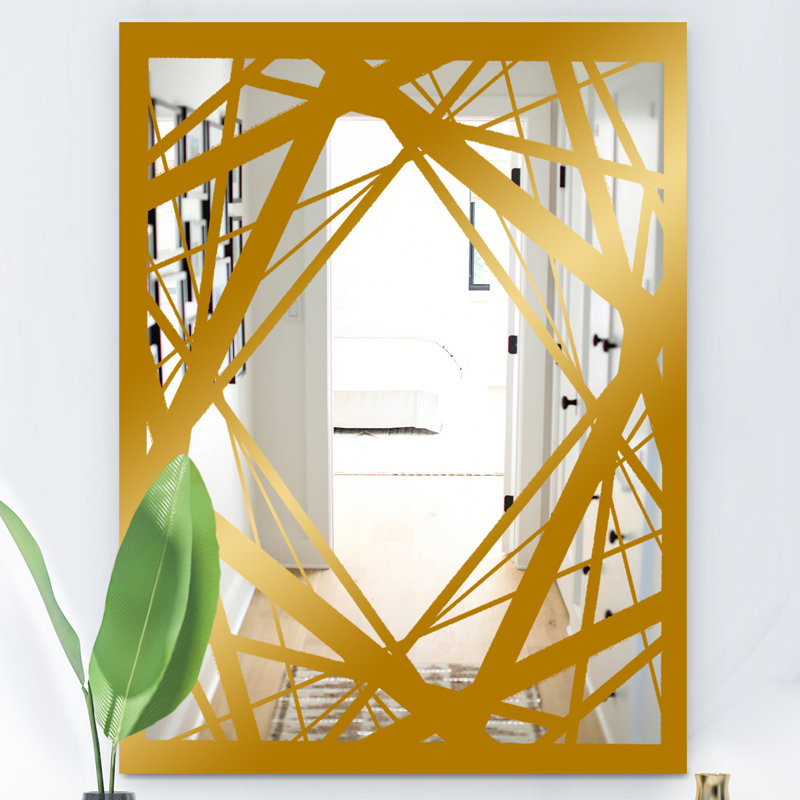 Capital Jangle Glam Modern Frameless Accent MirrorView Details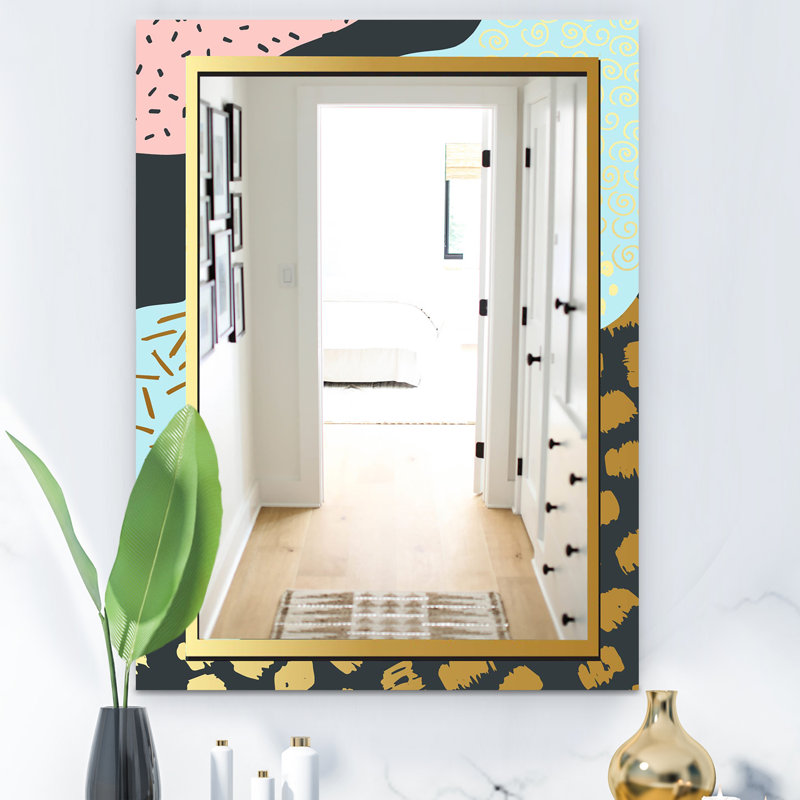 Playful Glam Accent Mirror – Contemporary Glam wall artView Details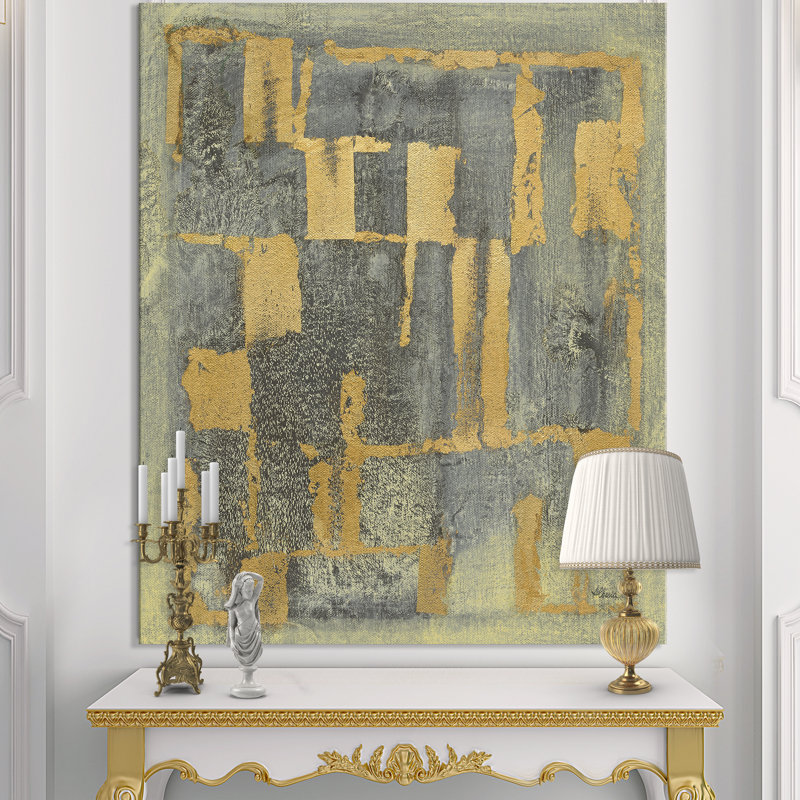 Contemporary glam wall art – Glam Form II On Canvas PaintingView Details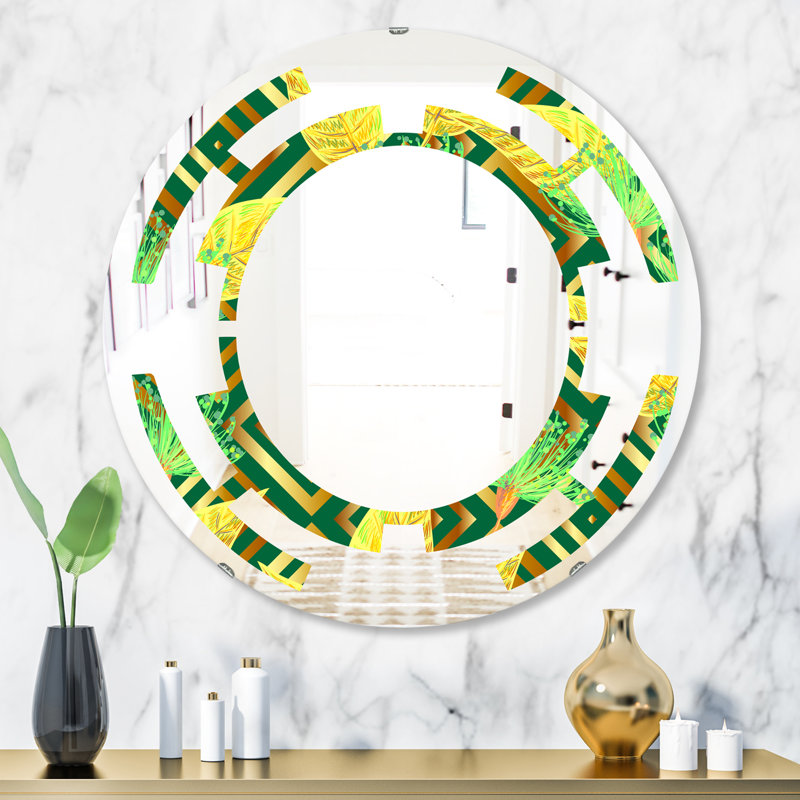 Space Luxury Pattern II Glam Frameless Wall MirrorView Details
A Sanctuary of Sophistication: The Contemporary Glam Bathroom
As we meander through this abode of elegance, the allure of the contemporary glam kitchen gives way to an equally resplendent retreat – The Contemporary Glam Bathroom. This space is the epitome of serenity and sophistication, combining functionality with exquisite contemporary glam decorating ideas.
Immersing yourself in this bathroom feels like stepping into a luxurious spa. The color scheme revolves around muted blush, gold accents, and pristine whites, which is an ode to contemporary glam interior design ideas.
One of the standout features is the awe-inspiring chandelier that cascades from the ceiling. This piece is adorned with shimmering crystals, casting a star-like glow across the room.
Below the chandelier, a sumptuous freestanding bathtub beckons. Its sleek white contours are accented with gold fixtures, embodying opulence. Adjacent to the bathtub, a petite blush-colored chaise lounge with gold legs offers a space to recline in pure luxury.
The bathroom vanity is a masterpiece. The white surface is embraced by gold faucets and accessories, while the drawers feature gold handles. Above the vanity, the mirror is framed by built-in light sconces and an intricate gold overlay, adding depth and texture.
Contemporary glam wall art plays a significant role in elevating the aesthetic. The mirrored walls are accented by panels with golden lines, providing a backdrop to an arrangement of blush pink flowers in crystal vases. These elements add a touch of nature's beauty and fresh aromas to the space.
The flooring is a white marble with soft grey veining, adding a timeless classic touch. The combination of marble and gold is a tried and true pair in contemporary glam decorating ideas.
A touch of whimsy is brought to the floor by a golden woven stool, flanked by a plush blush bath mat, which adds texture and warmth.
From the cascading chandelier to the sumptuous bathtub, and the contemporary glam wall art, every element in this bathroom is curated with meticulous attention to detail. This contemporary glam bathroom is not just a space for personal grooming, but an opulent retreat that speaks to the senses.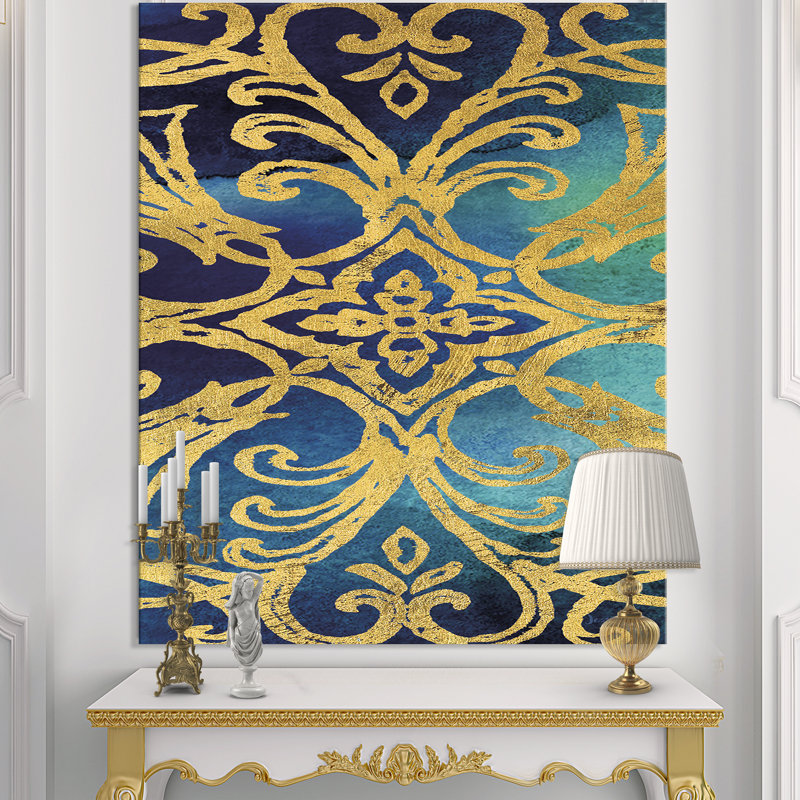 Contemporary Glam Wall art – Glam Indigo Form I On CanvasView Details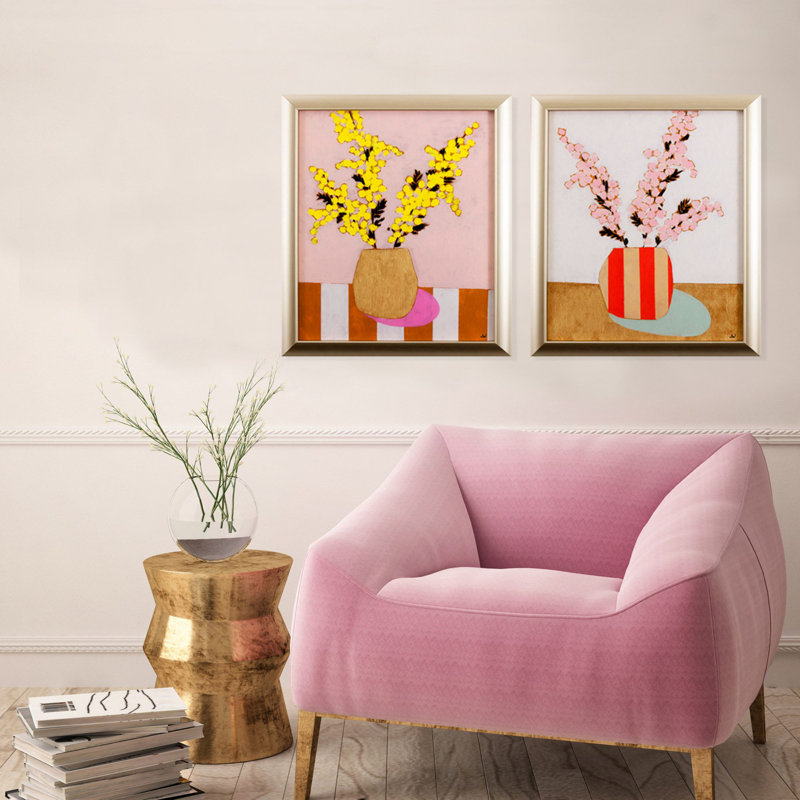 Glam Chic Framed On Paper 2 Pieces by Wehkamp PaintingView Details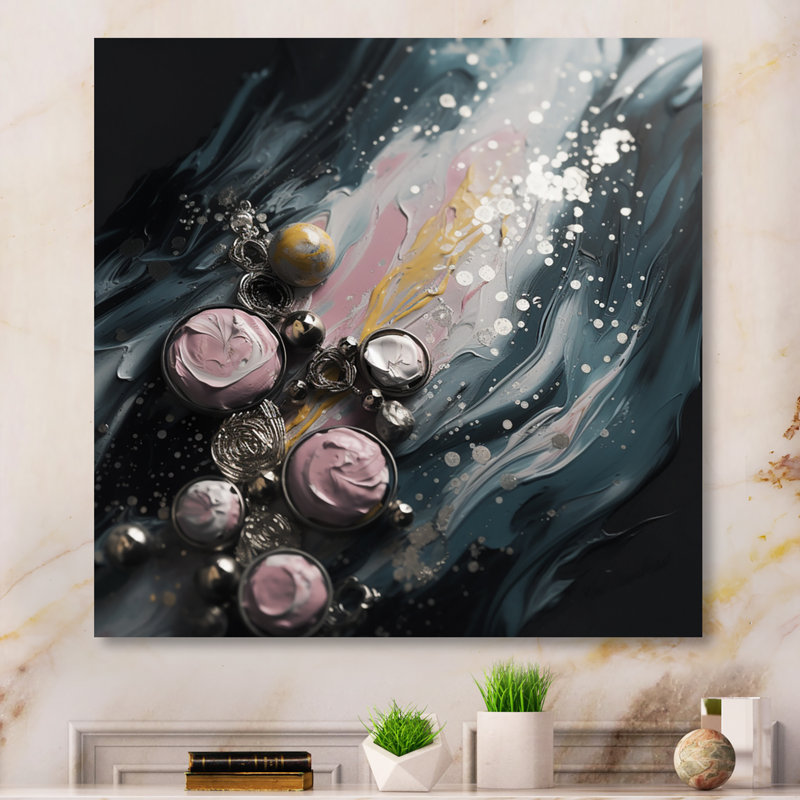 Glam Pink And Silver Shapes III On Metal Graphic ArtView Details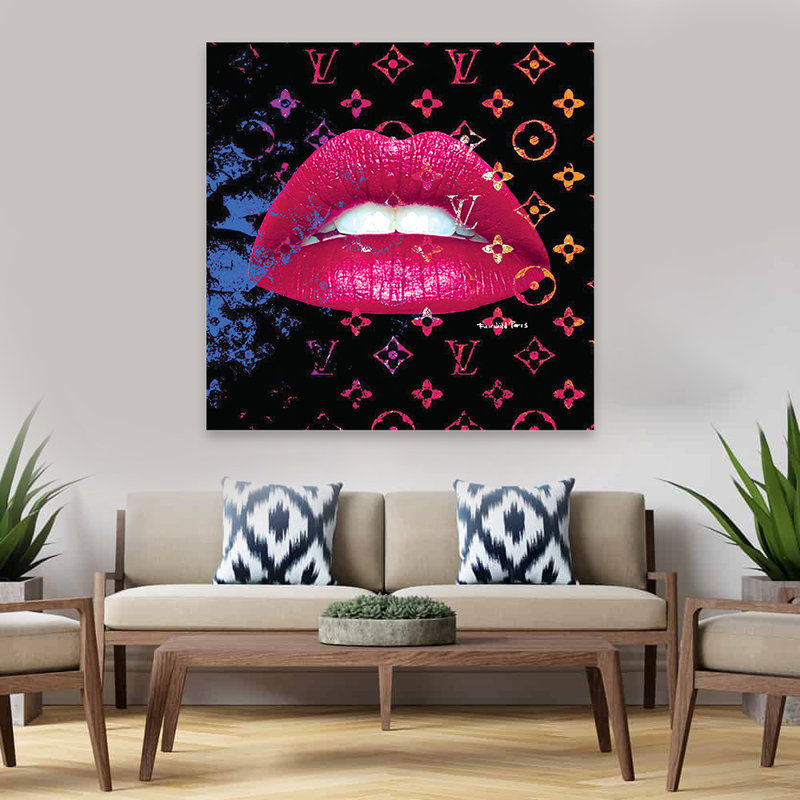 Contemporary Glam – Fairchild Paris On Canvas Graphic ArtView Details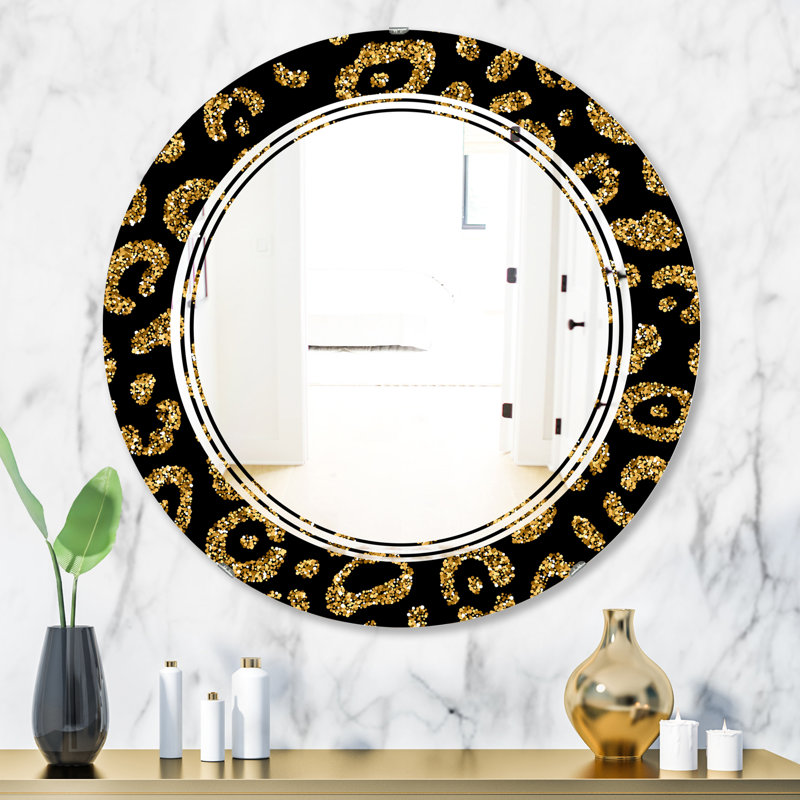 Leaves Geometrical Minimal VI Glam Wall MirrorView Details
Fashion Indian Woman In Pink And Blue V On Metal PrintView Details
Haven of Elegance: The Contemporary Glam Bedroom
As we transition from the captivating elements of contemporary glam decorating ideas in the bathroom, let's step into a realm that combines comfort with grandeur – the Contemporary Glam Bedroom. It is here that the day both begins and ends; thus, it should be nothing short of magnificent.
Imagine waking up in an environment that is both plush and trendy. The image above beautifully captures a space that perfectly exemplifies contemporary glam interior design ideas. The elegant palette of soft pinks and whites, combined with lustrous gold accents, immediately draws the eye.
The walls, adorned with contemporary glam wall art, have chic vertical panels in a subtle pink shade, which add depth and interest. Graceful mirrors with gold trim not only add to the opulence but also give the room a more spacious feel. The breathtaking chandelier with cascading crystals lends a dramatic and luxurious vibe.
Now, let's address the pièce de résistance of this photo, which can easily be integrated into your contemporary glam bedroom. This is the stunning vanity area. The pristine white cabinetry, with stylish gold handles, paired with a marble countertop, is a match made in heaven.
Fancy a seat? The modern, cozy chair with its luscious pink fabric and gold legs offers not just comfort but also an extra layer of sumptuousness. With every glance, you can witness the intricate balance of modernity and glamour.
Floral arrangements in the room provide a fresh and lively atmosphere, their delicate pinks beautifully complementing the color scheme.
Furthermore, the gold accents – from the elegant taps and ornate light fixtures to the small end table – unite the room with a warm, opulent glow.
For those looking to take it a step further, contemporary glam wall art could include pieces with intricate golden frames or abstract designs that blend seamlessly with the color palette and bring in an artistic touch.
Ultimately, when you combine these elements, you create a sanctuary that is not just chic but also exudes an air of royalty. The contemporary glam bedroom is where modern design meets opulence, ensuring a luxurious escape within the comfort of your home.
Remember, your home is your canvas, and with contemporary glam decorating ideas, you are the artist who can paint a perfect picture of sophistication and elegance.
Contemporary Glam wall art – boudoir reflection ii PEZHMANView Details
red couture valentino dress with evening bagView Details
Contemporary Glam – rebirth SVETLANA MELIK – NUBAROVAView Details
Contemporary Glam wall art – see ya later DEREK GORESView Details
Contemporary Glam wall art – dove tale MISS ANIELAView Details
cover, georges lepape iii GERMAN VOGUE COLLECTIONView Details
A Symphony of Sophistication: The Allure of the Contemporary Glam Bedroom
As we gracefully cross the threshold into the epitome of grace and sophistication, our hearts skip a beat. The contemporary glam bedroom, featured in this image, is where elegance meets tranquility. This oasis is where you can wrap yourself in luxury as you retreat from the hustle and bustle of the day.
First, let us appreciate the tasteful choice of colors that paint this enchanting space. The gentle blush of pink and the rich sophistication of gold are harmoniously complemented by the soothing neutrals. This delicate palette is the perfect backdrop for all the contemporary glam decorating ideas that have been brought to life in this bedroom.
The exquisite wallpaper grabs attention with its subtle floral design. The enchanting wall pattern provides a soft and romantic aura, accentuating the contemporary glam interior design ideas. The plush tufted headboard, upholstered in a velvety fabric, demands admiration and ensures that the bed remains the focal point of the room.
Positioned around the bed are quirky and stylish mirrors with gold accents, an essential part of contemporary glam wall art. The mirrors not only magnify the grandeur but also reflect the opulence of the room, making it appear even more spacious and well-lit.
Now, take notice of the elegant chandelier, which cascades from the ceiling like a waterfall of crystals. It is a stunning statement piece, and its glimmering lights bathe the room in a soft, warm glow.
The cozy reading nook, with its plush chair and soft cushion, is perfect for those moments when you wish to escape into the pages of a book. The side table is adorned with golden ornaments and a vase of fresh pink flowers, which adds life and vibrancy.
The bed is inviting with its sumptuous layers of textured throws and a variety of cushions that offer depth and richness. The soft fabrics beg you to sink into them and drift away into a serene slumber.
Another awe-inspiring feature is the elegant ottoman at the foot of the bed. It is not only practical but also adds an additional touch of sophistication.
Every detail, from the golden bedside lamps to the luxurious drapes, is meticulously chosen, echoing the essence of contemporary glam.
Finally, let's not forget the practical elements that blend seamlessly with the décor, such as the elegant dressers that offer ample storage without compromising on style.
In this contemporary glam bedroom, every piece of furniture, every accessory, and every shade is part of a larger symphony – a symphony that plays the sweet tunes of elegance, luxury, and peace. This is a place where dreams are born.
cover, harriet meserole GERMAN VOGUE COLLECTIONView Details
Fashion And Glam Jaguar Glam Fashion FramedView Details
Metallic Geometrics IV Whirl Glam Frameless Wall MirrorView Details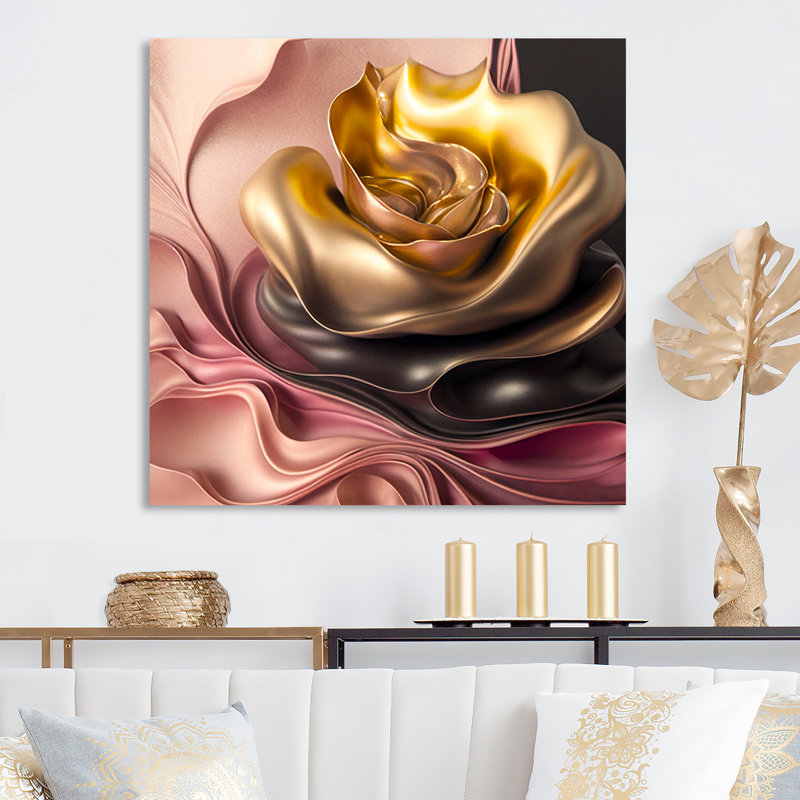 Stylish Glam Flowers In Gold And Taupe IView Details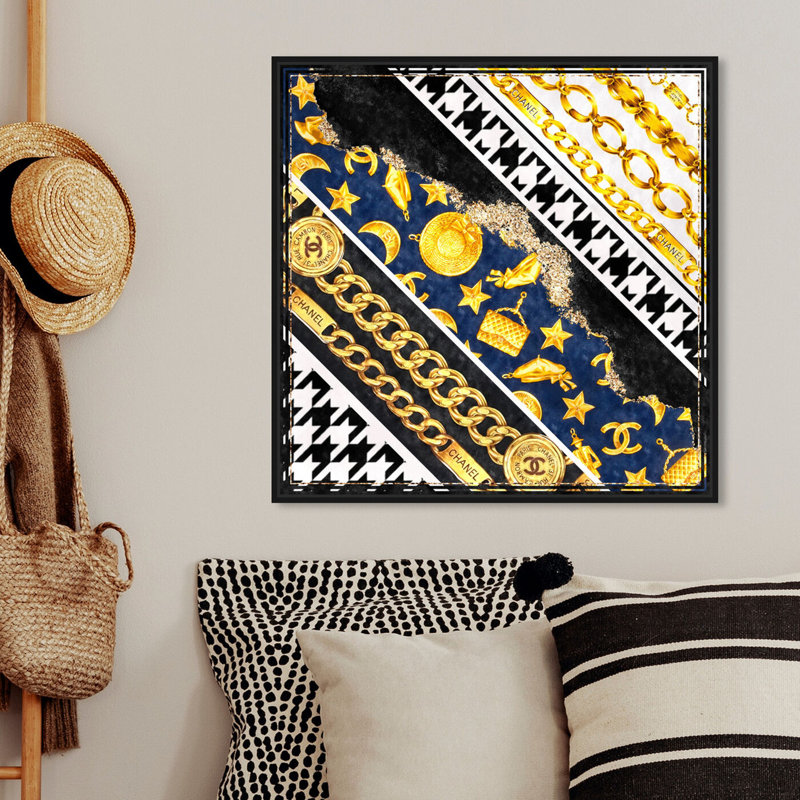 Grand Royal Fashion II, Glam Luxury Patterns Modern GoldView Details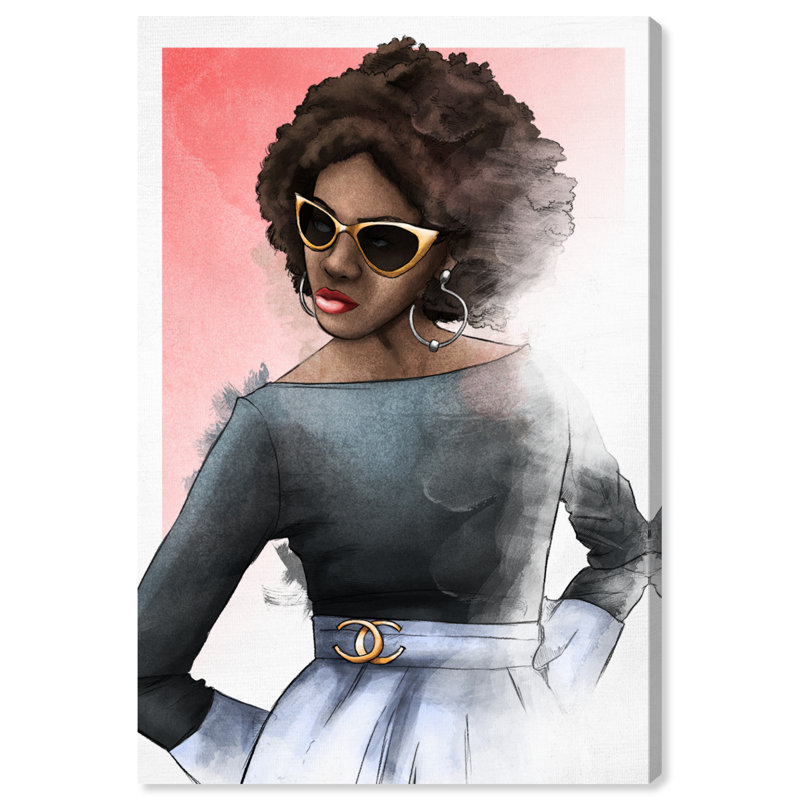 Contemporary Glam Wall Art – Chic Glam On Canvas PaintingView Details
From the Bedroom to the Workspace: Contemporary Glam Home Office Library
After immersing ourselves in the opulence of the dream contemporary glam bedroom with its plush textures and glistening decor, let's gracefully transition to another vital space – the home office library.
When we talk about contemporary glam decorating ideas, it's essential not to overlook the spaces where creativity and productivity thrive. The contemporary glam home office library in the picture effortlessly integrates functionality with an alluring sense of style.
The space is enveloped in tender shades of pink and rose, creating an air of sophistication. Tall windows are adorned with elegant draperies that cascade down, kissing the dark wooden floors. The combination of these curtains with the soft, ambient natural light that streams through the windows forms an ethereal backdrop for contemporary glam wall art. One such piece is a sensuous golden sculpture on a shelf, which looks as though it's dancing against a backdrop of intricately patterned rose-colored wallpaper. This type of wall art adds a level of depth and character to the space.
One cannot help but notice the imposing chandelier that hangs overhead. Its golden frame and crystal pendants mimic droplets of sparkling nectar, embodying the essence of contemporary glam interior design ideas.
An expansive white bookshelf with golden accents houses an array of books and ornamental artifacts. The golden tones are mirrored throughout the space, notably on the slender yet sturdy legs of the furniture.
The workspace is made up of a sleek white desk which stands out with a touch of golden glamour in its leg design. The office chair is upholstered in creamy white fabric, with tufted details for an extra dash of elegance.
To add warmth and hominess to the ambiance, there's a tufted pouf placed on a geometrically patterned rug. Fresh flowers in a vase on the desk breathe life into the space, ensuring that the glam doesn't overshadow the welcoming atmosphere.
Conclusion: Your Dream Contemporary Glam Sanctuary
We've traveled through spaces adorned with glitter, plush fabrics, and elegant hues. These seven dream contemporary glam decoration ideas start with a sumptuous bedroom, pass through a luxurious living area, embrace the mystique of an elegant bathroom, feast in a posh dining room, unwind in a plush entertainment space, and culminate in the stunning home office library we just explored. Each space carries its distinctive character under the Contemporary Glam umbrella – combining modern elements with overtones of luxury and grace. Whether it's through intricate contemporary glam wall art, rich textures, or a carefully chosen color palette, each room is a statement of your taste and a sanctuary for your soul.
Home Wall Art Decor Index