Modern French Country decorating has become a beloved interior design trend for its unique blend of rustic charm and contemporary elements, capturing the hearts of homeowners worldwide. This style exudes comfort, sophistication, and a touch of nostalgia that appeals to a broad audience. In this article, we will explore the reasons behind its enduring popularity and provide tips on incorporating Modern French Country decor into your home. Additionally, we'll discuss the significance of Modern French Country wall art in elevating the ambiance of your living spaces, and offer a teaser for captivating examples of such artwork.
Why Modern French Country Decor is Popular:
Modern French Country decor's widespread appeal can be attributed to its ability to strike a perfect balance between old-world simplicity and modern refinement. By blending the warm, cozy elements of traditional French country interiors with contemporary touches, this style creates a welcoming and inviting atmosphere suitable for both urban and rural homes. The use of natural materials like wood, stone, and wrought iron establishes a strong connection with nature, fostering a sense of tranquility in the living space.
Incorporating Modern French Country Decor:
Neutral Color Palette: Opt for soft and neutral colors such as cream, beige, pale blue, and muted pastels to create a serene backdrop that complements the overall aesthetic.
Mix Vintage and Modern: Combine antique or vintage pieces with modern furniture and decor elements for an eclectic yet harmonious look.
Emphasize Texture: Introduce various textures like weathered wood, distressed finishes, linen upholstery, and plush fabrics to add depth and visual interest to your decor.
Elegant Lighting: Choose elegant chandeliers, wrought iron light fixtures, or vintage-inspired lamps to enhance the sophisticated ambiance.
Floral Accents: Infuse floral patterns and fresh flowers into the decor to capture the romance and natural beauty reminiscent of the French countryside.
The Importance of Modern French Country Wall Art:
Wall art plays a vital role in interior design, and Modern French Country decor is no exception. Thoughtfully chosen wall art can elevate the overall aesthetic, evoke emotions, and tie the entire look together. Modern French Country wall art focuses on capturing the essence of rural France, often featuring landscapes, floral motifs, or vintage-inspired illustrations. These art pieces serve as visual focal points and add a touch of history and cultural significance to the living space.
Imagine adorning your walls with charming pastoral landscapes that transport you to the idyllic French countryside or delicate botanical prints that celebrate nature's beauty. In the upcoming section, we will showcase captivating examples of Modern French Country wall art that will undoubtedly elevate your home's ambiance, infusing it with timeless elegance and character.
Indulge in a Tapestry of Timeless Beauty:
Serene Landscapes: Step into the tranquil world of the French countryside with landscape wall art that captures the essence of rolling hills, blooming meadows, and picturesque villages. These breathtaking artworks infuse your living spaces with a sense of peace and harmony, transporting you to a place where time seems to slow down, and nature's beauty takes center stage. Whether you opt for vibrant depictions of sunflowers dancing in the breeze or misty morning scenes over lavender fields, these landscape artworks will create a serene ambiance that perfectly complements your Modern French Country decor.
Enchanting Floral Prints: Celebrate the allure of the French countryside with enchanting floral prints that evoke a sense of romance and elegance. Delicate blossoms, lush bouquets, and botanical illustrations breathe life into your walls, adding a touch of freshness and sophistication. Imagine your living room adorned with a series of vintage-inspired botanical prints, or create a captivating accent wall with a large floral canvas that exudes timeless beauty. The charm of floral wall art lies in its ability to effortlessly blend with your interior color scheme while infusing your space with an enchanting allure.
Vintage Illustrations: Infuse your home with the nostalgia of a bygone era through vintage-inspired illustrations that celebrate the elegance of the past. These artworks often feature classic French motifs, such as vintage bicycles, iconic Eiffel Tower silhouettes, or antique teacups. Embracing vintage illustrations in your Modern French Country decor allows you to pay homage to the timeless charm of France while adding a touch of whimsy and allure to your living spaces.
Rustic Architectural Prints: For those with an appreciation for architectural beauty, rustic architectural prints offer a splendid choice. Showcase the timeless charm of quaint cottages, rustic farmhouses, or vineyards to add a sense of cultural depth and heritage to your home. These prints not only celebrate the artistry of traditional French architecture but also serve as captivating conversation starters, making them perfect additions to your Modern French Country decor.
By incorporating Modern French Country wall art into your interior design, you embark on a journey of timeless beauty, where each brushstroke and detail intertwine to create an inviting and harmonious atmosphere. Serene landscapes, enchanting floral prints, vintage illustrations, and rustic architectural artworks hold the power to evoke emotions, tell stories, and enrich your home with character and charm.
As you explore the captivating beauty of Modern French Country wall art, let your walls become a canvas that transports you to the enchanting world of the French countryside. The elegance of the past seamlessly merges with modern sensibilities, creating a sanctuary filled with enduring style and allure.
So, if you're ready to elevate your living spaces with the magic of Modern French Country wall art, we invite you to browse our exclusive collection. Discover the captivating pieces that resonate with your heart, and watch as your home blossoms into an elegant haven that celebrates the timeless allure of the French countryside. Welcome to the timeless journey of Modern French Country decorating!
And here, dear readers, is a spellbinding example of how the Modern French Country aesthetic can come to life through careful curation and an eye for detail. In this photo, we are presented with a corner of an opulent and intricately decorated bedroom. The setting emanates a sense of luxury and charm that is reminiscent of a classic French chateau.
A Whimsical Retreat: Blending Classic Elegance with Vibrant Flair in a Modern French Country Bedroom
Starting from the top, the ceiling is painted in a muted teal shade which is also reflected on the walls. Crown moldings in white line the edges of the ceiling, adding a touch of sophistication.
A striking chandelier is suspended from the ceiling. This light fixture is an elegant blend of a wrought iron frame with hanging crystal ornaments. The ironwork is dark and curvaceous, which contrasts beautifully with the delicate crystals that adorn it.
One of the most eye-catching elements in this photo is the large window with arch detail at the top. The window is framed by stunning floor-length curtains that feature a floral pattern in an array of bright colors including reds, oranges, and pinks.
Beside the window, there's an elaborate, vintage wall sconce made from brass with two arms, each holding a lamp with a white lampshade.
The bed is arguably the focal point of the room. It features a dramatically ornate headboard with an off-white, almost grey finish. The headboard boasts intricate carvings, and a luxurious tufted upholstery in a rich teal color that complements the walls. The bed is laden with an abundance of pillows that bear a resemblance to the floral pattern on the curtains, and a few solid-colored ones for contrast.
To the side of the bed is a long bench with a coral cushion. The bench, like the headboard, features ornate carvings and a white finish.
Next to the bed, there is a nightstand with similar carving details and finish as the bed's headboard. On the nightstand, there are several decorative items including a vase with a bouquet of vibrant flowers, a porcelain pitcher, and a collection of framed photographs.
The floor is adorned with a pastel-colored area rug with floral patterns that echo the fabrics used in the room.
Overall, the room exudes an atmosphere of romantic opulence with its rich colors, lavish fabrics, and ornate furnishings, all of which are characteristic of a classic, luxurious French design style.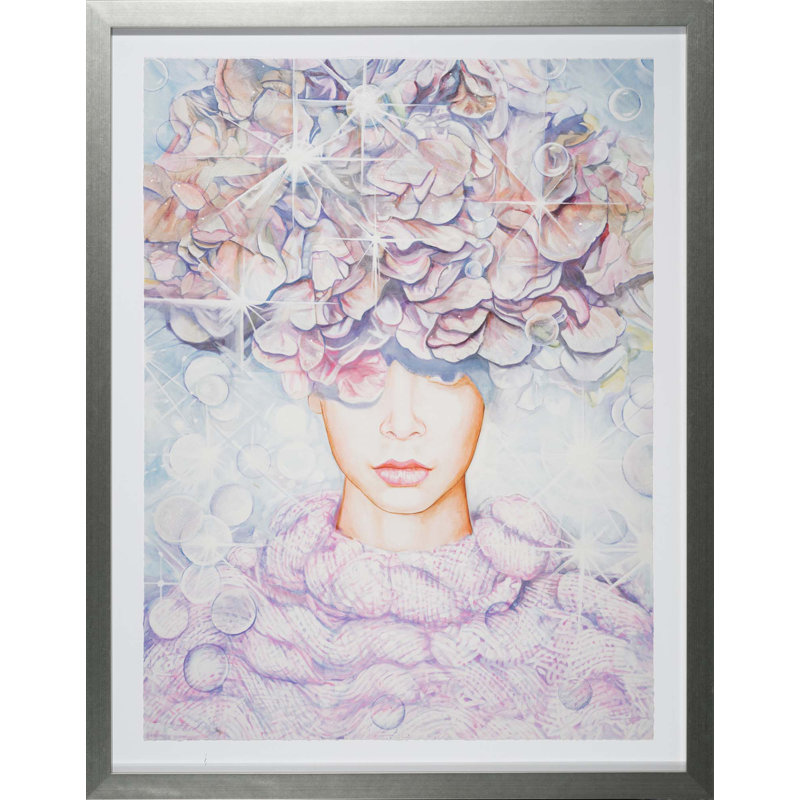 Jeff Schaub Hydrangea Framed On Paper by Jeff SchaubView Details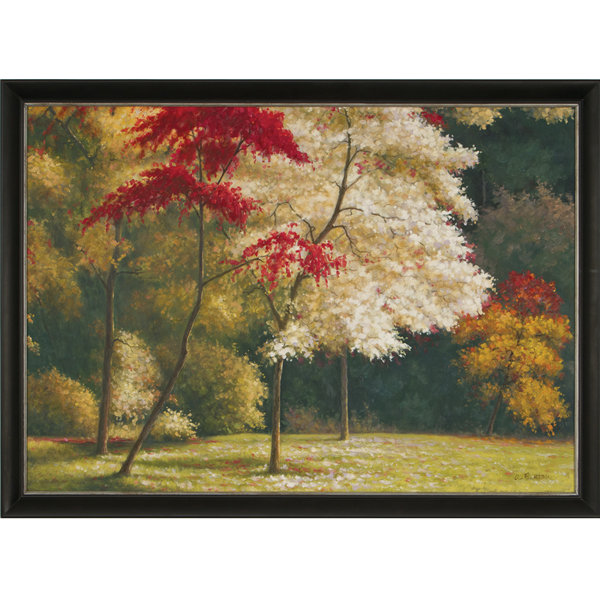 A.Benton Laced Leaves Framed by A.Benton PaintingView Details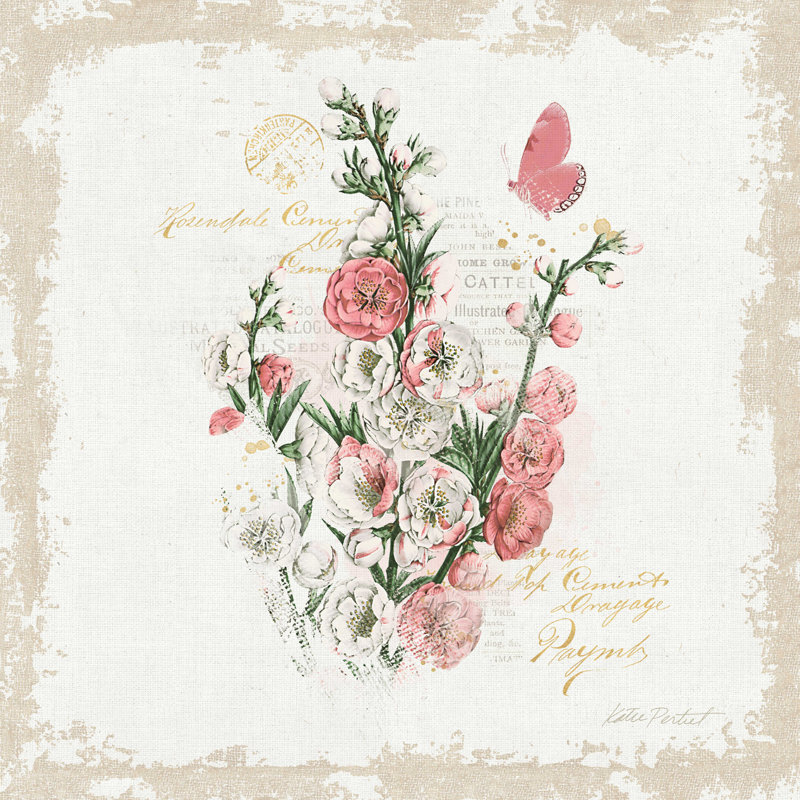 French Romance III Distressed On Canvas by Katie Pertiet PrintView Details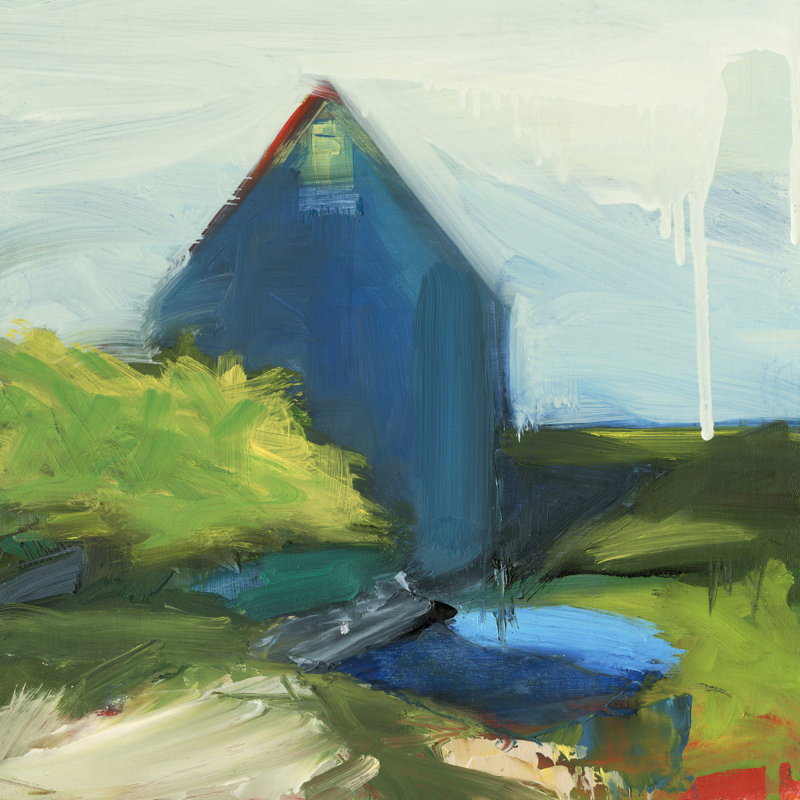 Shoreline Blue Country House On Canvas by Lillian August PaintingView Details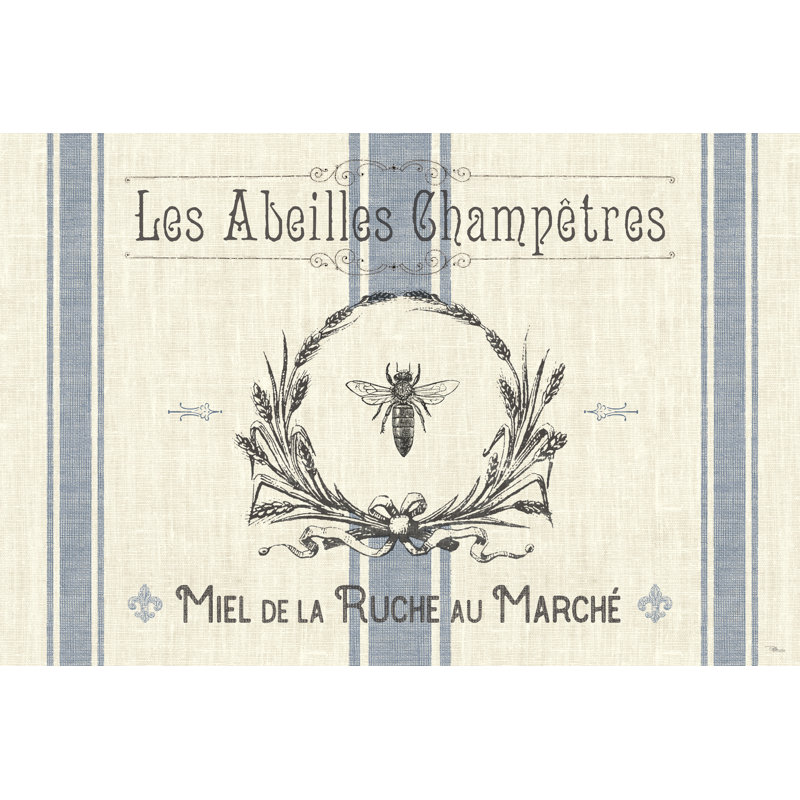 Modern French Country Wall Art – French Farmhouse IView Details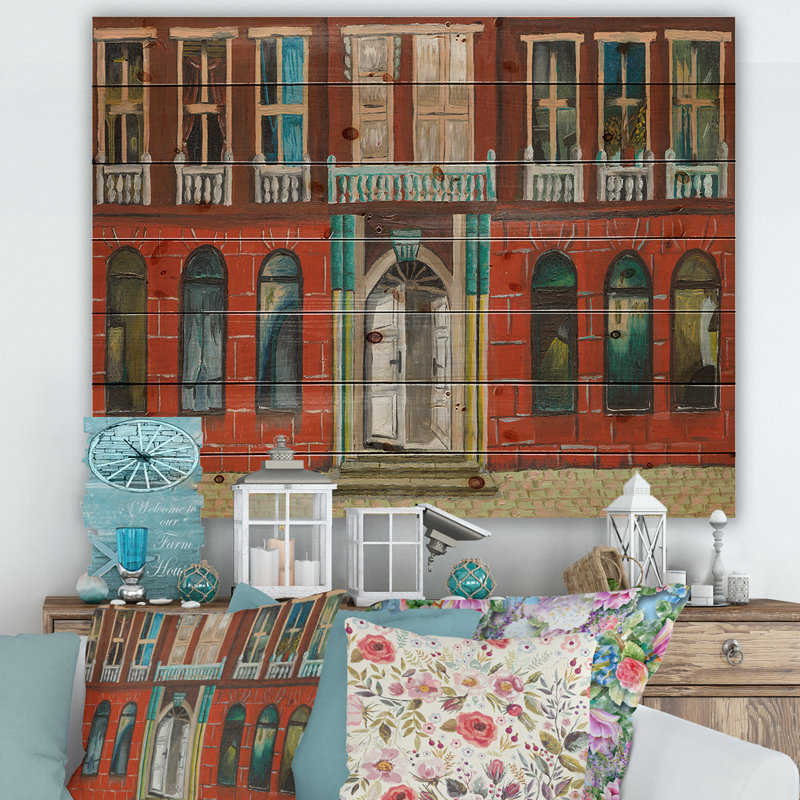 Red Facade Of Shop In Paris II On Wood PaintingView Details
Moving on from the romantic opulence of the classic French design, let us immerse ourselves in the inviting allure of the Modern French Country Living Room, as showcased in the photo.
Modern French Country Living Room – A Breath of French Countryside
This room, which is a seamless blend of classic French elements with country-inspired touches, can be titled "A Breath of French Countryside".
One of the first things that catch the eye in this Modern French Country Living Room is the brilliant use of color. The soft mint green walls provide a fresh backdrop that contrasts beautifully with the vibrant floral curtains. These curtains, much like the pastel-colored area rug with floral patterns mentioned earlier, have a bright array of colors which bring the room to life.
The furniture in this room evokes classic elegance but with an airy feel. The vintage armchairs are upholstered with floral fabric that harmonizes with the curtains, while the sofa is a more contemporary piece, its neutral color enlivened by an assortment of colorful throw pillows.
An exquisite turquoise hutch is a focal point in the room. This piece captures the essence of French country living, with its rustic charm and a color that reflects the hues of the French countryside.
The coffee table, in a classic French style, features intricate carvings and an elegant distressed finish. This serves to anchor the space and provide a sense of grounded tradition amid the colorful decor.
One cannot help but notice the abundant use of fresh flowers in this room. Arranged in antique vases and pots, they add an element of nature which is so characteristic of the French country style.
The chandelier hanging from the ceiling is another nod to the French aesthetic. With its intricate design, it adds a touch of luxury without overwhelming the space.
Lastly, the ornate mirror on the wall serves not only as a decorative element but also as a means to reflect light and add depth to the room.
In summary, this Modern French Country Living Room beautifully merges the luxurious aspects of classic French design with the warm, nature-inspired elements of country living, creating a space that is both sophisticated and comfortably inviting.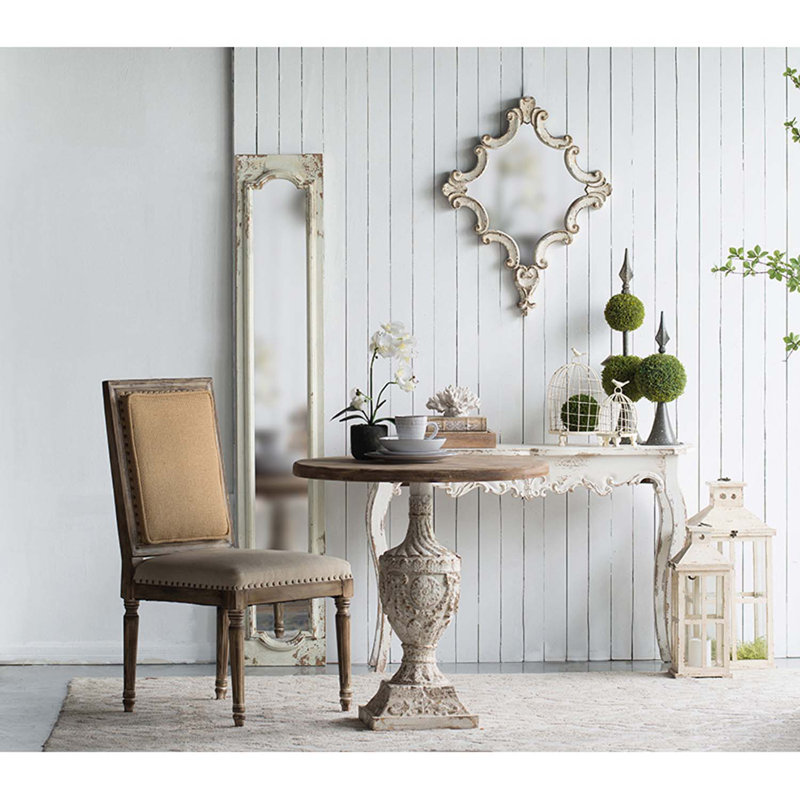 Bilodeau Asymmetrical Wood Wall MirrorView Details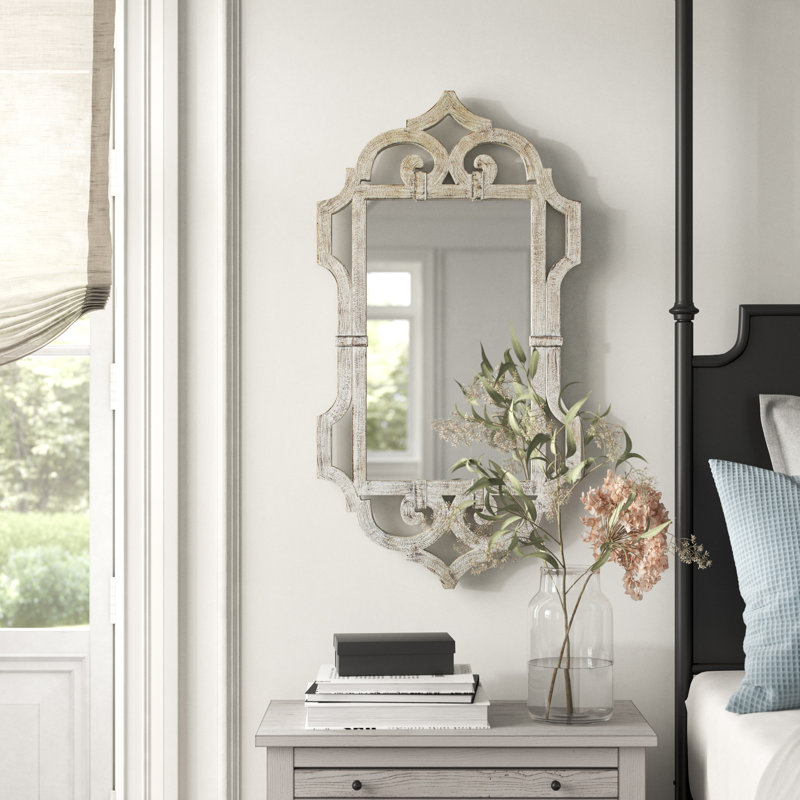 Modern french country wall art -Belle Meade Rectangle Wall MirrorView Details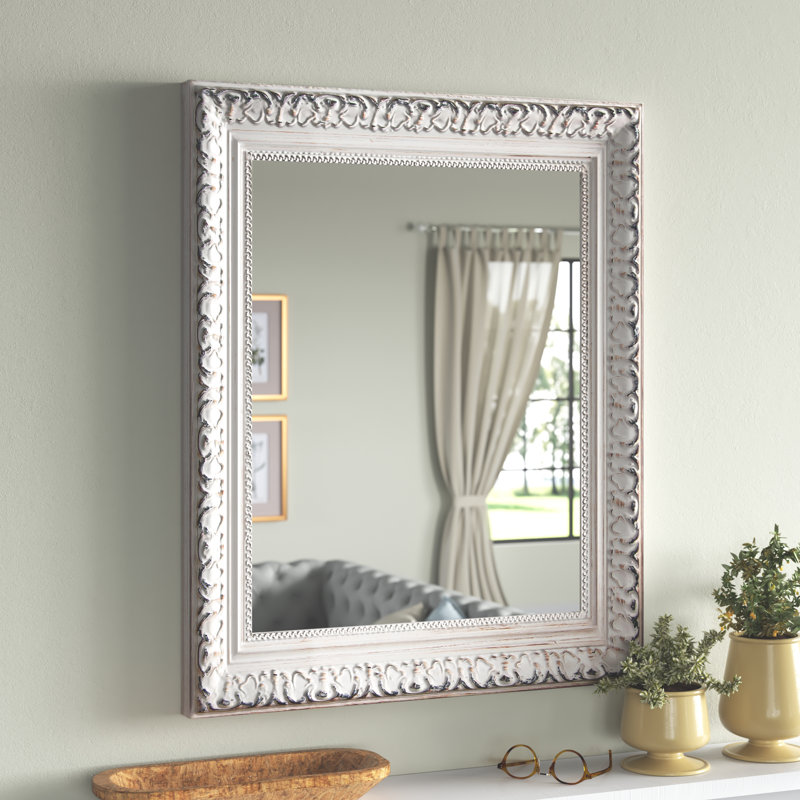 Modern french country wall decor – Neilsen Wood Wall MirrorView Details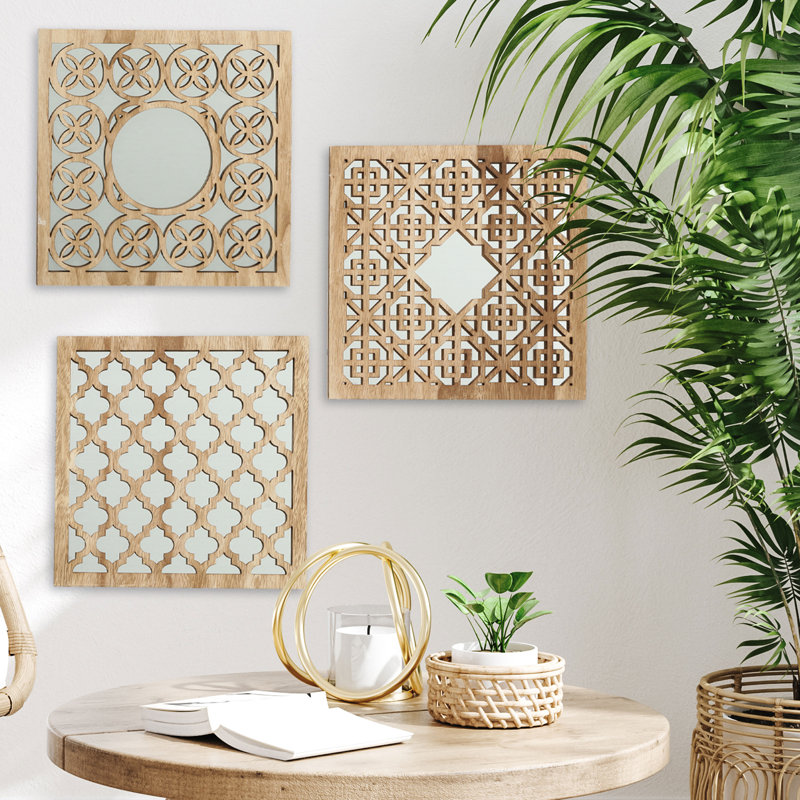 French Country Wall art -Reiff Square Wood Wall MirrorView Details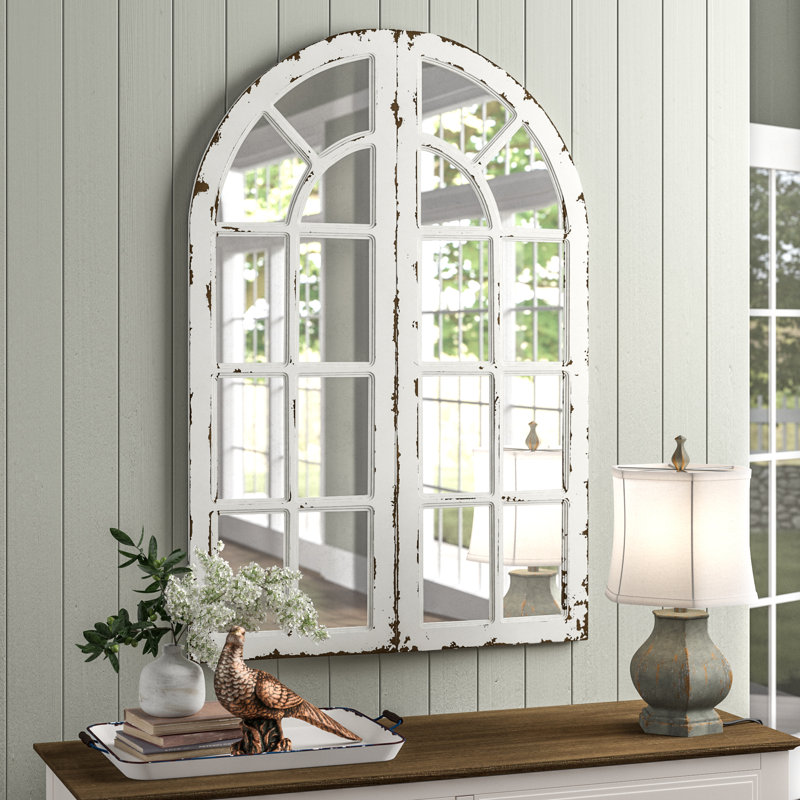 Modern French Country – Adilynn Arch Wood Wall MirrorView Details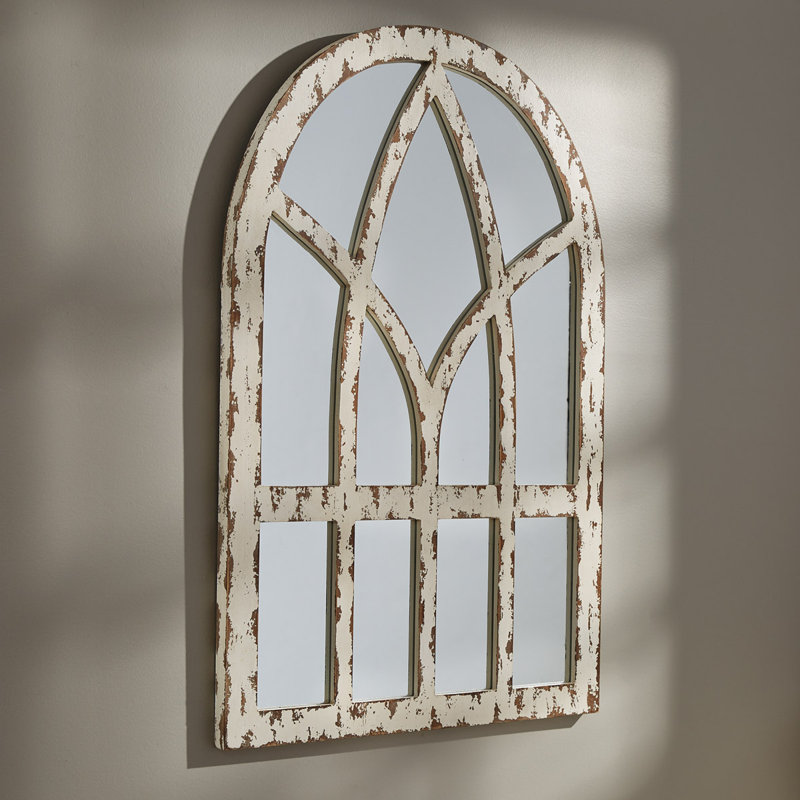 Distressed French Country – Poarch Arch Wood Wall MirrorView Details
As you leave the tranquil embrace of the French Country living room with its warm hues and rustic undertones, you're greeted by a vibrant burst of color that is the Modern French Country kitchen.
Harvest Haven: A Modern French Country Kitchen with a Touch of Whimsy
This kitchen is like stepping into a provincial farmer's market, with an abundance of fresh produce and blooms that seem to have been picked from the sunlit fields just beyond the window. The space is a delightful concoction of tradition and vivacity, reminiscent of the French countryside with a touch of whimsy.
The soft turquoise cabinetry evokes images of clear skies over sprawling vineyards, while the yellow accents on the walls and shelves mimic the sun shining down upon the picturesque landscape. The distressed wood finishes and antique-style hardware on the cabinets capture the essence of vintage French charm.
An archway, accentuated by elegant floral wallpaper, bridges the gap between the old and new worlds, creating a serene backdrop for the ornate dishes and ceramic pots housed on the open shelves. This kitchen would not be out of place in a quaint cottage in Provence, with its delicate teapots and hearty earthenware.
The island in the center of the kitchen is a hub for family gatherings, with its sturdy wooden table and cushioned chairs. It is adorned with a cheerful assortment of fruits in a woven basket, reminiscent of a bountiful harvest.
Floral curtains, matching the wallpaper, frame the windows and let in an abundance of natural light that dances off the retro tiled floor. The kitchen is equipped with modern appliances cleverly integrated into the décor so as not to detract from the rustic ambiance.
The suspended chandelier and pendant lights add an element of sophistication to the kitchen, as if to remind one of the timeless beauty of the French countryside.
Whether you're preparing a family meal or sipping a cup of tea, this kitchen transports you to a haven where life's simplest pleasures are celebrated in the backdrop of rolling fields and vineyards, echoing the romanticism of the French countryside.
As you traverse the delightful kitchen with its bountiful harvest, your senses guide you to yet another French country oasis – "La Salle de Bain Royale". With an enchanting blend of luxurious opulence and pastoral comfort, this bathroom takes the essence of French country living to a regal level not to mention being an excellent modern French country decorating idea.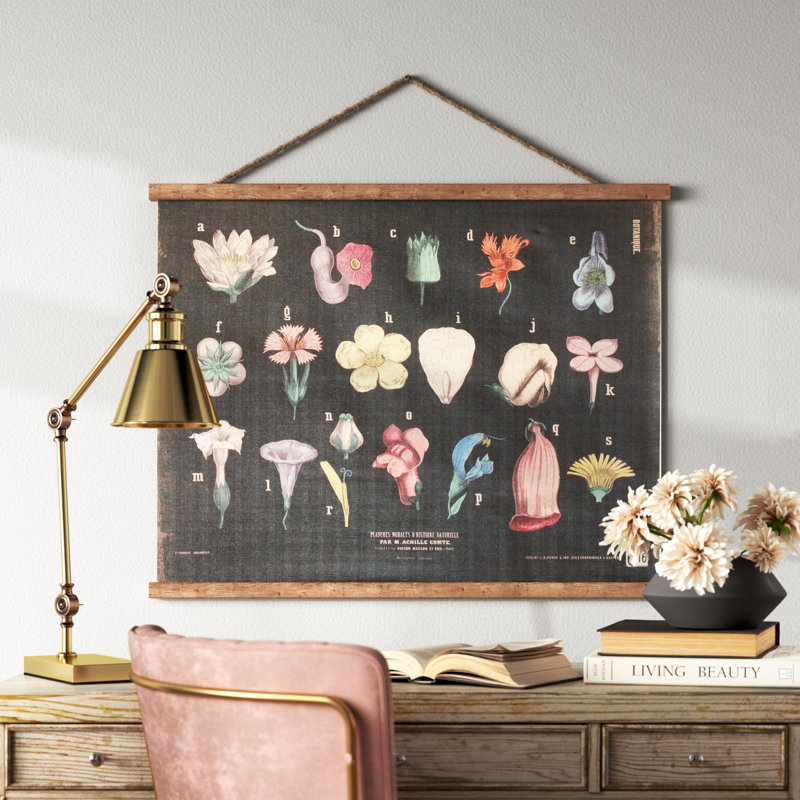 Modern French Country Wall Art – Blended Fabric Hohl WallView Details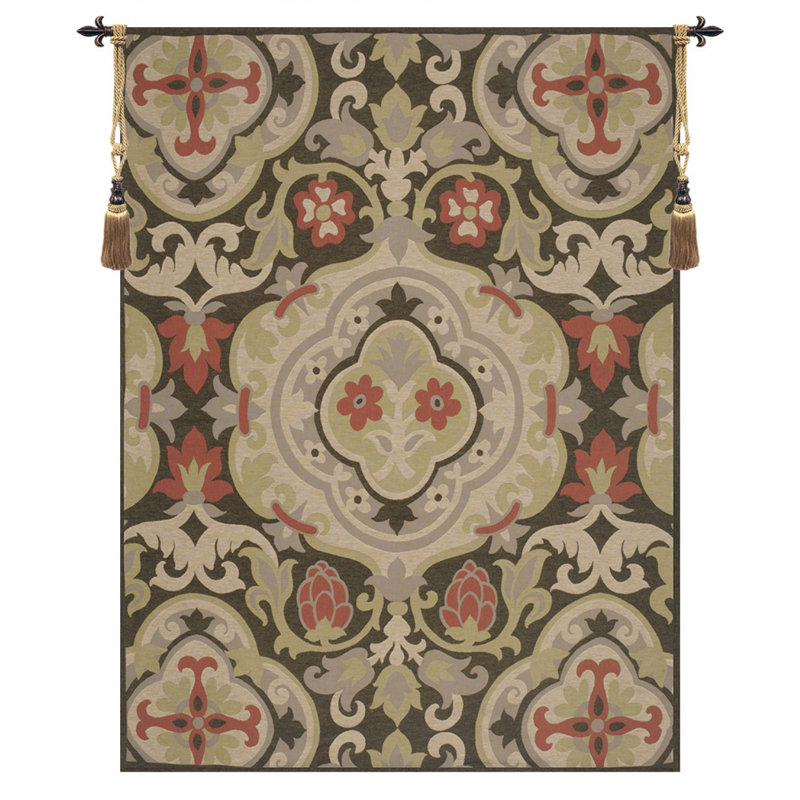 French Country Wall Tapestry – French Antique European TapestryView Details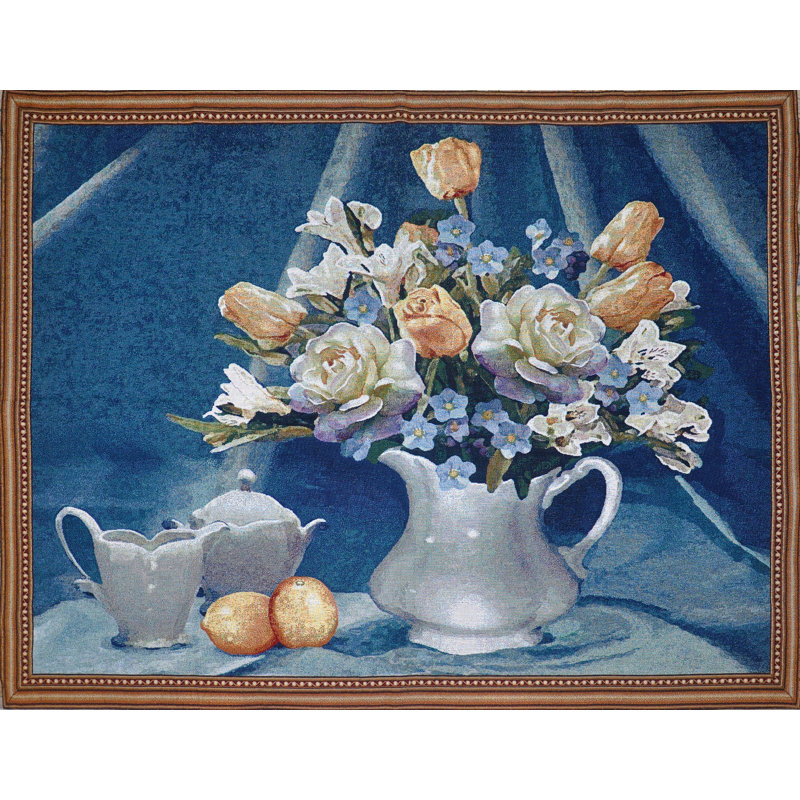 Floral French Country – Cotton Peaceful Country LifeView Details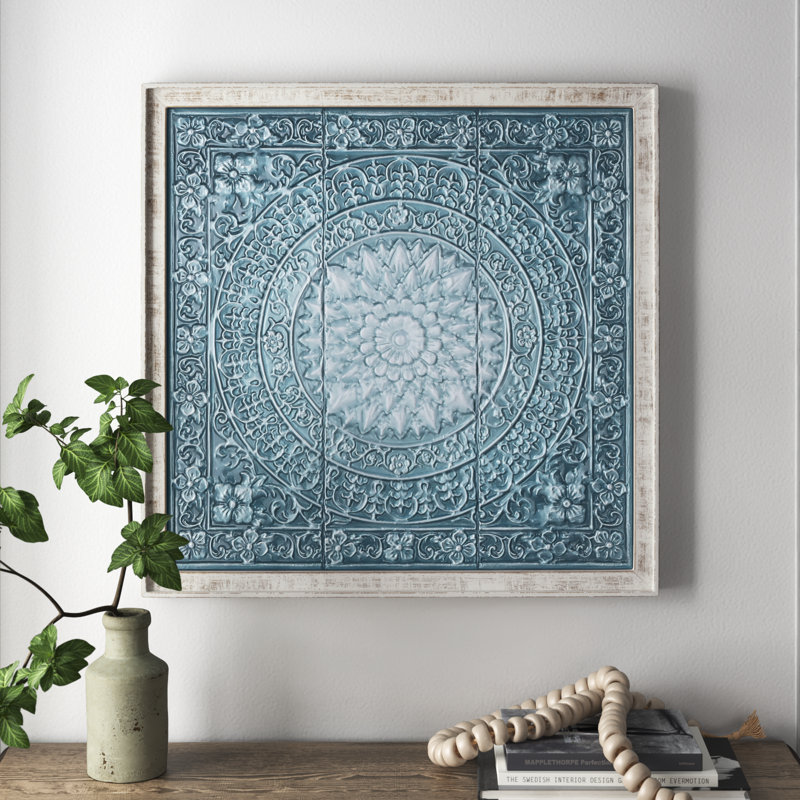 Modern French Country – Metal Floral And Botanical Wall DecorView Details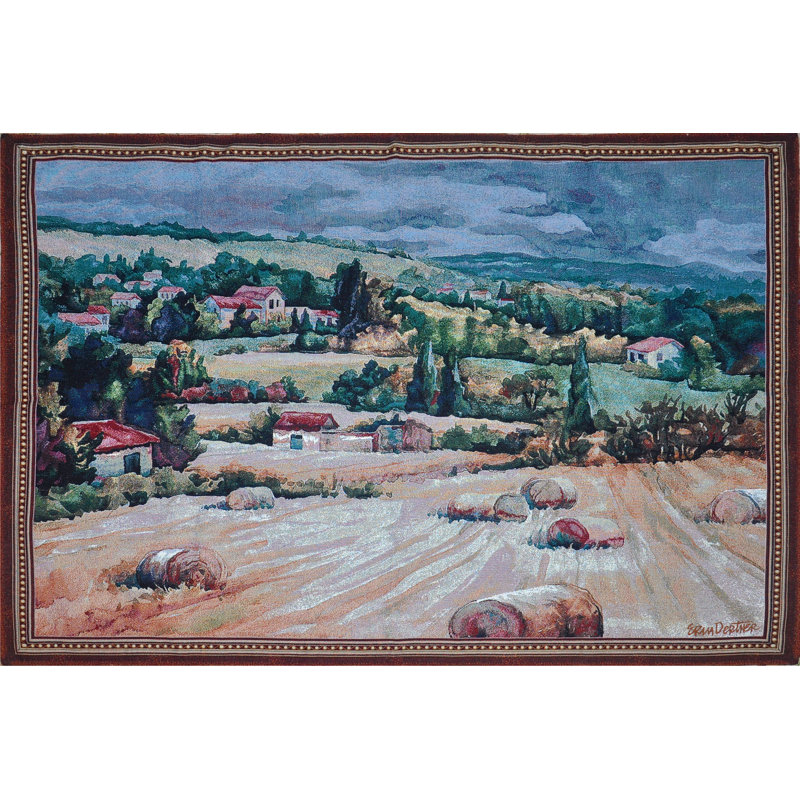 French Country Wall Art – Cotton French Countryside Wall HangingView Details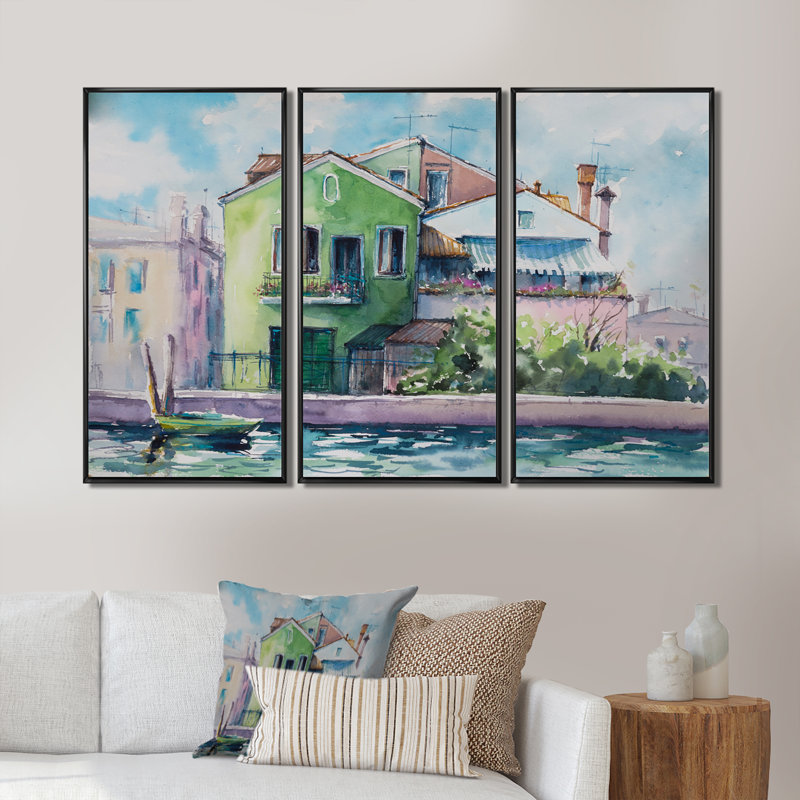 Sunny Day On The Waterfront On The Island Framed On CanvasView Details
La Salle de Bain Royale: A Modern French Country Bathroom with Regal Elegance
Like stepping into the pages of a French fairy tale, La Salle de Bain Royale captures the romance and elegance of a chateau. The walls are adorned with stunning turquoise wood paneling and crowned with golden accents, reminiscent of the splendor of Versailles. The beautiful drapes cascading from above the windows add an air of noble drama with their lush fabrics in shades of pink, red, and gold.
The centerpiece of the room is the freestanding aqua-blue bathtub with its delicate clawfoot details, inviting one to indulge in a decadent soak. Overhead, an ornate crystal chandelier casts a soft glow, illuminating the room with grace.
One of the most striking features in this space is the incorporation of wall art. An elegant floral-patterned wallpaper surrounds the tall arched windows, complementing the natural foliage just beyond the glass. The artful combination of these elements brings the beauty of the French countryside indoors, as the lush greens and vibrant flowers seem to merge with the interior decor.
The vanity, with its white marble countertop and ornately carved wooden base, is a tribute to classic French design. Above it, a gilded mirror evokes the grandeur of a royal palace.
To the side, an upholstered chaise lounge and ornate chairs beckon you to sit and enjoy a moment of quiet reflection, surrounded by the intoxicating scent of fresh blooms that grace the room.
Invite to Check Out Modern French Country Wall Art:
If the wall art in La Salle de Bain Royale has captured your imagination, we invite you to explore more Modern French Country Wall Art to bring a touch of this timeless elegance to your own home. With intricate patterns, pastoral scenes, and classic motifs, French Country Wall Art can transform any space into a haven of charm and refinement. Revel in the romantic allure of the French countryside, no matter where you are by making this modern French country decorating idea uniquely yours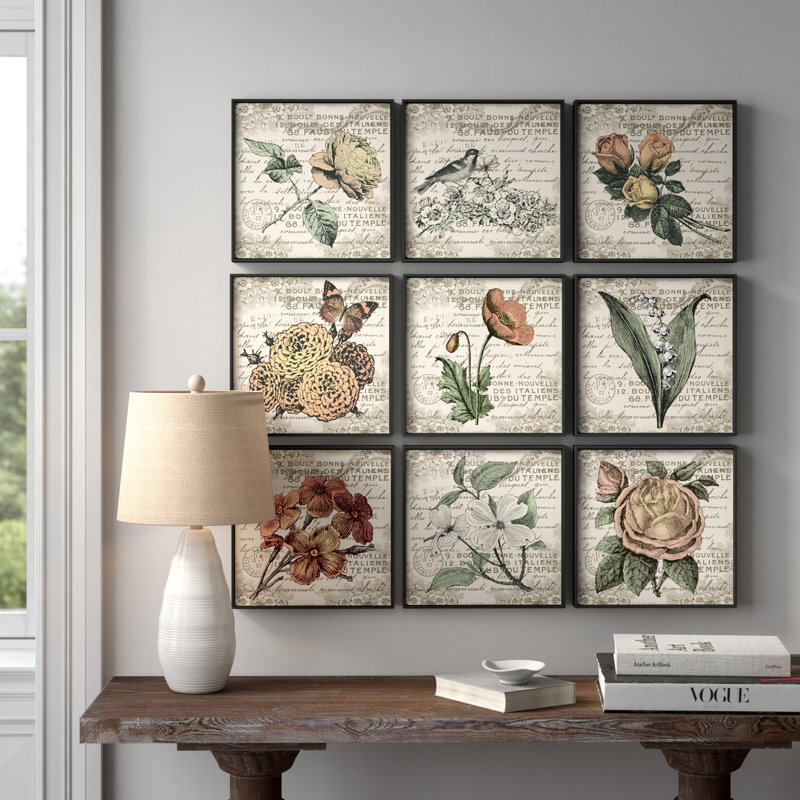 French country wall art – French Botanical IllustrationsView Details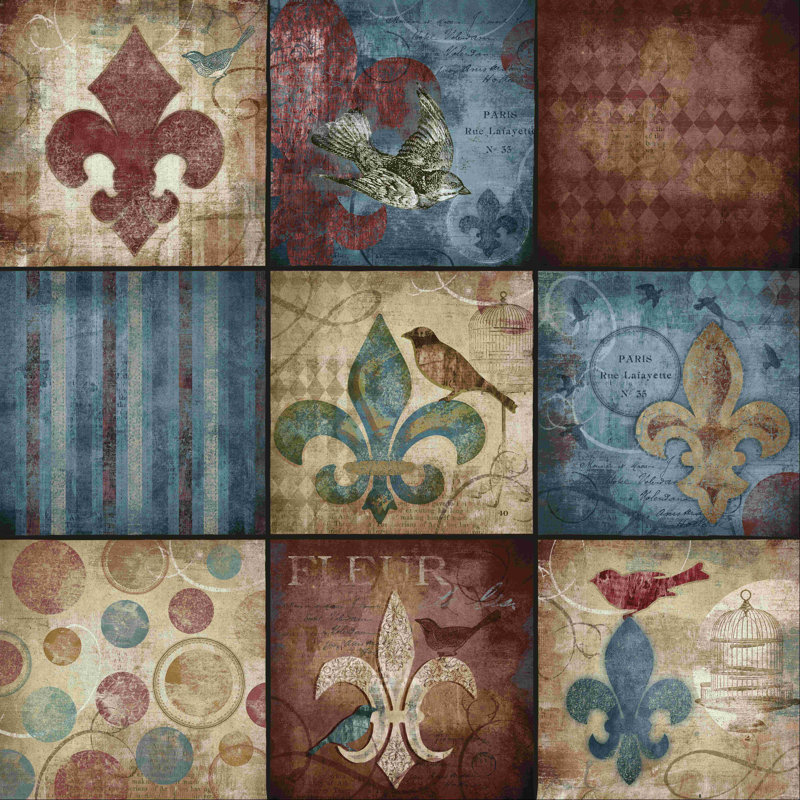 French Moderne by Beth Anne Creative Graphic ArtView Details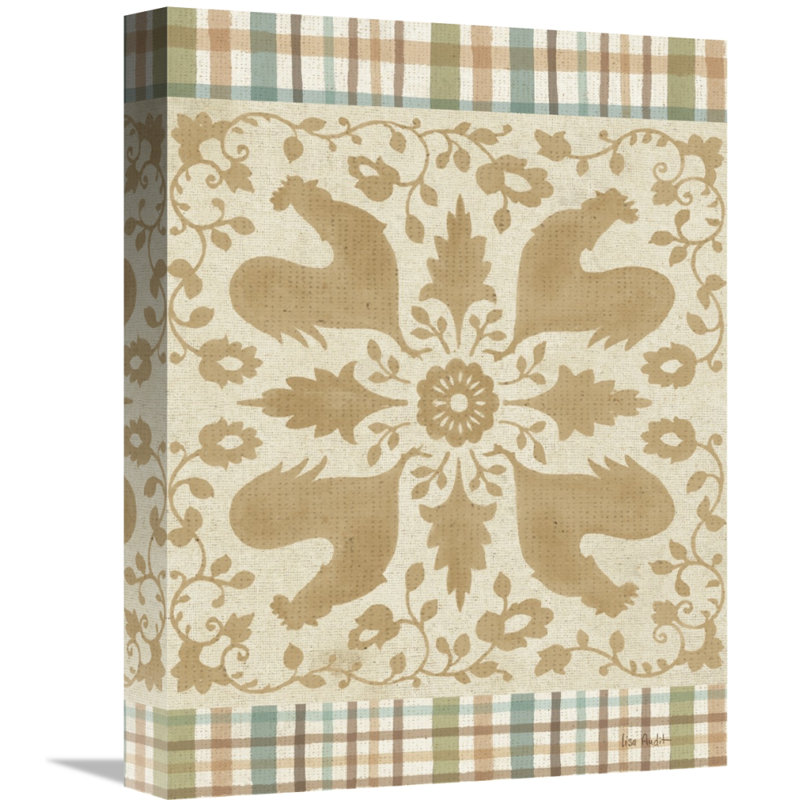 French Country XI On Canvas by Lisa Audit PrintView Details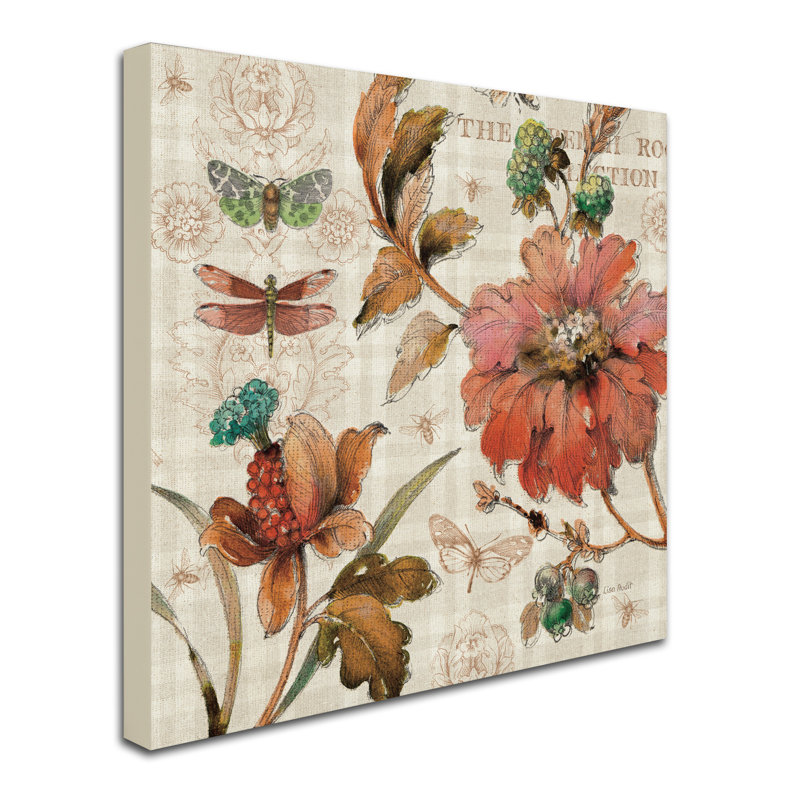 French Country V On Canvas by Lisa Audit PaintingView Details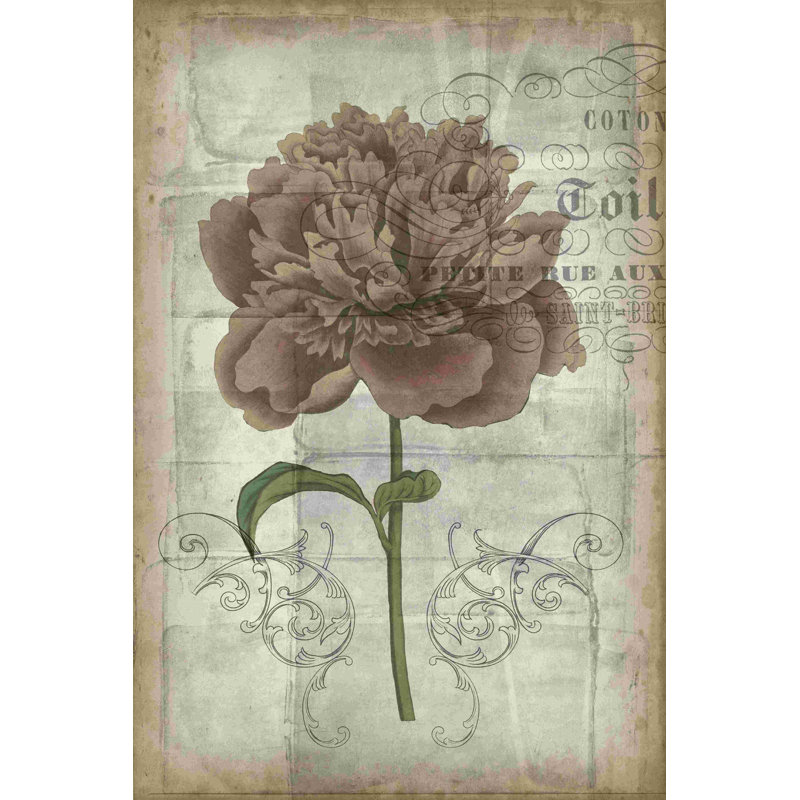 French Floral IV On Canvas by Jennifer Goldberger PrintView Details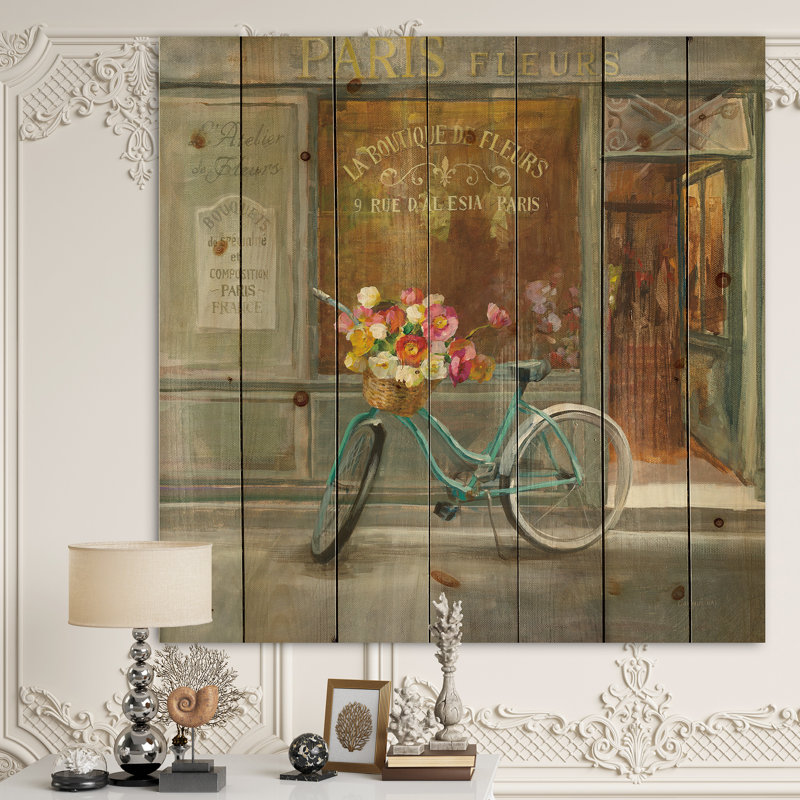 Paris French Flowershop – Traditional on Natural Pine WoodView Details
Moving away from the regal elegance of La Salle de Bain Royale, the home unveils yet another treasure, as you enter Le Bureau Enchanté. This captivating space is where the charm of the French countryside meets the innovation and creativity of a modern office.
Le Bureau Enchanté: A Modern French Country Office Imbued with Creative Charm
Welcome to La Chambre Enchantée, an office space that resonates with the alluring charm of modern French Country design. A truly one of a kind modern French country decoration idea that is alluring and unforgettable!
Indeed, as you step into this enchanting room, you are immediately greeted by the lush vibrancy of florals and the soothing azure of the walls, reminiscent of the Provencal countryside. The room is bathed in natural light, with floor-to-ceiling windows draped in elegant floral curtains. The furniture, such as the antique white writing desk and the sumptuous upholstered chairs in vivid coral and fuchsia, evokes the grace and sophistication of classic French country decor. Notably, the graceful curves in the furniture are a hallmark of French Country design.
The wall art is the pièce de résistance of La Chambre Enchantée. Displayed prominently on the built-in white shelves are a collection of paintings and prints that encapsulate the essence of the French countryside. One of the notable features of French Country wall art is the use of soft, earthy colors and rustic themes. This room's wall art embraces these elements, featuring idyllic rural scenes and natural elements. The art is displayed in ornate frames, which add an extra layer of opulence.
Of particular note is a large painting that exudes French Country charm, depicting a picturesque field of lavender – a quintessential sight in Provence. The lavender, symbolizing grace and calm, adds depth and tranquility to the room. Another remarkable piece is a vintage clock, framed by delicate ornamental details, reflecting the allure of a bygone era.
Modern French Country wall art often incorporates elements that feel personal and homey, often including items like vintage botanical prints and delicately framed pressed flowers. This connection to nature and history makes the space feel grounded, with a touch of romanticism.
In conclusion, La Chambre Enchantée is a captivating fusion of modern aesthetics and classic French Country charm. Its thoughtfully curated wall art captures the essence of a tranquil countryside, bringing serenity and inspiration to those who enter.
We cordially invite you to explore this mesmerizing space and take a closer look at the stunning modern French Country wall art that makes La Chambre Enchantée truly enchanting.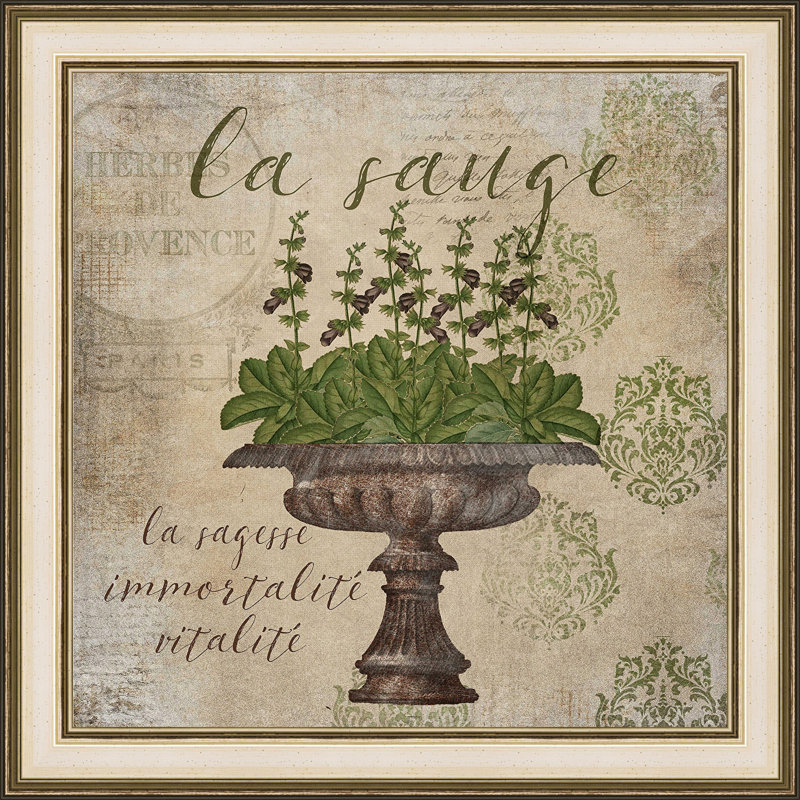 French Herbs La Sauge Framed On Paper Graphic ArtView Details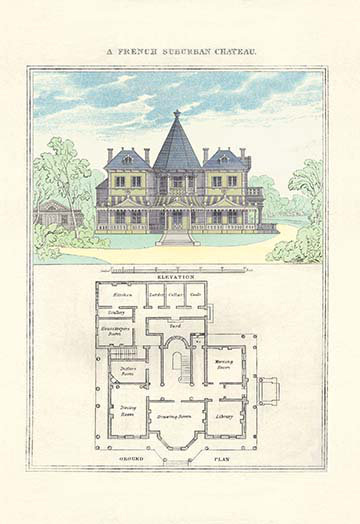 French Country Wall Art – Farmhouse / Country PrintView Details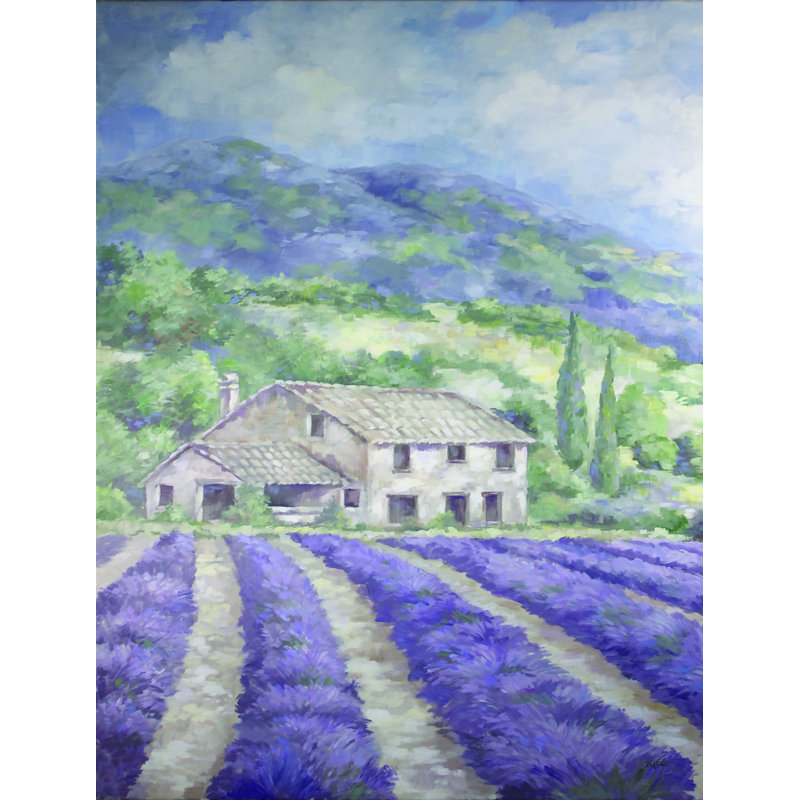 French Farmhouse Lavender On Canvas by Debi Coules PrintView Details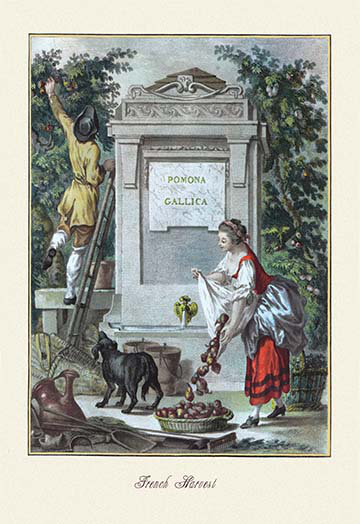 French Country Wall Decor – Modern & Contemporary ArtView Details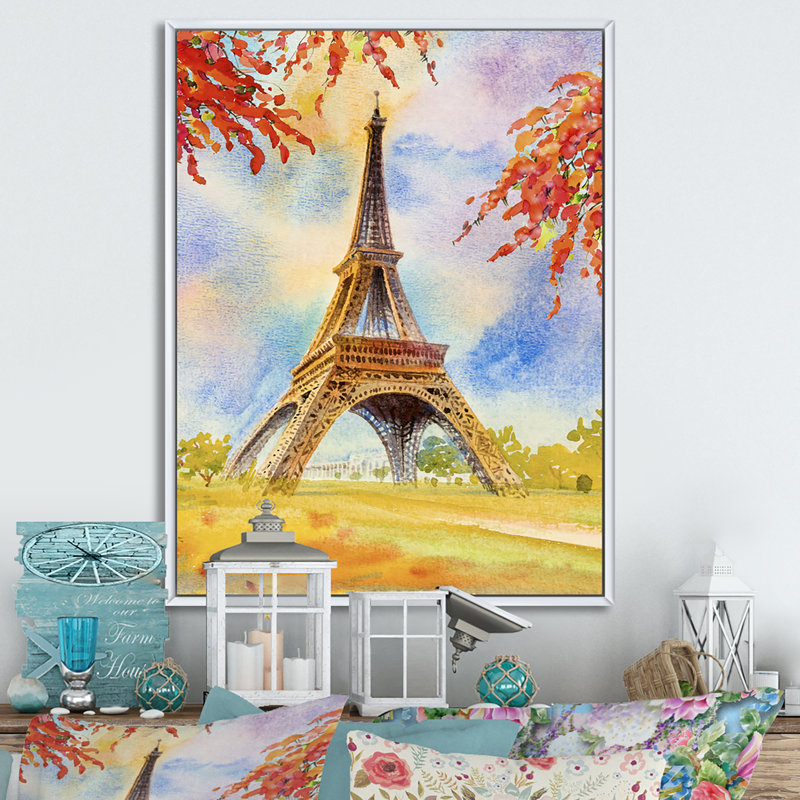 Paris Eiffel Tower In Beaufitul Summer VII On Canvas PaintingView Details
Karlstad Window Pane Wood Wall MirrorView Details
Home Wall Art Decor Index