Bee wall art is buzzing into the realm of home decor with a charming vivacity that's hard to overlook. These delightful depictions are not just adorable; they breathe life into any space, transforming blank walls into focal points of warmth and energy. If you're eager to create a hive of activity and joy in your home, it's time to explore the most trendy bee wall art and bee-themed interior decorating ideas.
As symbols of brightness, community, and personal power, bee decorations infuse your living space with a spirit of vitality and togetherness. Whether it's the springtime when these industrious creatures are most active or the height of summer when gardens are abloom, incorporating bee wall art into your home is a surefire way to encapsulate these energetic seasons all year round.
Why Choose Bee Wall Decor?
Bee wall decorations are a versatile choice that harmonizes with various decorating themes. They find their sweet spot in shabby chic settings where their whimsical nature enhances the vintage charm. In modern homes, bee art adds an organic touch to sleek lines and minimalist designs, bridging the gap between nature and urbanity. For those who adore the coziness of cottage-style abodes, bee-themed art brings the quaintness of a country garden indoors, fostering a space that feels both nurturing and alive.
Gardeners and nature lovers particularly revel in bee wall art's ability to mirror the vibrancy of the outdoors. The sight of bees hard at work is not only inspirational, but it's also a nod to the importance of these pollinators in our ecosystem. By choosing bee wall decorations, you're not just enhancing your decor; you're also paying homage to these essential creatures.
Trendy Bee Wall Art Ideas
When seeking out the latest in bee wall art, consider various forms such as canvas prints, metal wall sculptures, or even handmade paintings from local artisans. Opt for pieces that capture the intricate details of bees, from their delicate wings to the iconic striped pattern that has captured the human imagination for centuries.
For a subtle yet stylish impact, look for bee-themed wall decals or stencils that can add a playful touch to kitchens, nurseries, or garden rooms. Bee illustrations can range from realistic to stylized, giving you a plethora of choices to match your personal decor style. Watercolor prints of bees amid wildflowers make for a soft, pastoral aesthetic, while bold graphic representations of bees can create a modern, statement-making vibe.
Bee-Themed Interior Decorating Tips
When weaving bee wall decorations into your interior, consider complementary elements such as honeycomb-shaped shelves or hexagonal tiles that echo the structure of a beehive. Textiles like throw pillows or blankets featuring bee patterns can tie the room together, while bee-inspired color palettes – think golds, yellows, and blacks – can be incorporated through accessories and paint choices.
Don't shy away from mixing and matching different bee artworks. A gallery wall featuring an assortment of bee prints and photographs can turn a room into an enthralling exhibit. Even in smaller spaces, a single piece of bee wall art can become a conversation starter, capturing the intrigue of guests with its symbolic meaning and aesthetic appeal.
Making Your Home Buzz with Energy
Introducing bee wall decor is about creating an environment that's bright, welcoming, and lively. Place your bee art where it can catch the light or become a natural part of the room's flow. Entryways, living rooms, and even bathrooms can benefit from the cheerful disposition of bee artwork.
When positioning your bee wall decorations, consider the interplay of light and shadow, as the golden hues of bee-inspired art can truly pop when kissed by sunlight. Remember that the placement of your bee decor can influence the ambiance of the room, so aim for spots that help spread the energy and positivity associated with these incredible insects.
In conclusion, bee wall art is more than just a trend; it's a statement of joy, community, and respect for nature's tireless workers. As you look to bring a buzz of life to your interior spaces, let these enchanting creatures inspire your decor. With well-placed bee wall decorations, your home will not only be a celebration of life but a stylish sanctuary that's abuzz with good vibes and the beauty of the natural world.
Crazy Popular Bee Wall Decorations
Chances are you have seen bee wall decorations everywhere from magazines, online and especially on television.  As home decorating shows have shed light and made popular bee wall art once again.
Oh Honey Bee by Lauren Moss, Canvas Wall ArtView Details
Ambesonne Watercolor Flower Decor Tapestry Wall HangingView Details
The Birds, Bees, Butterflies & Blooming Blossoms Wall Art SetView Details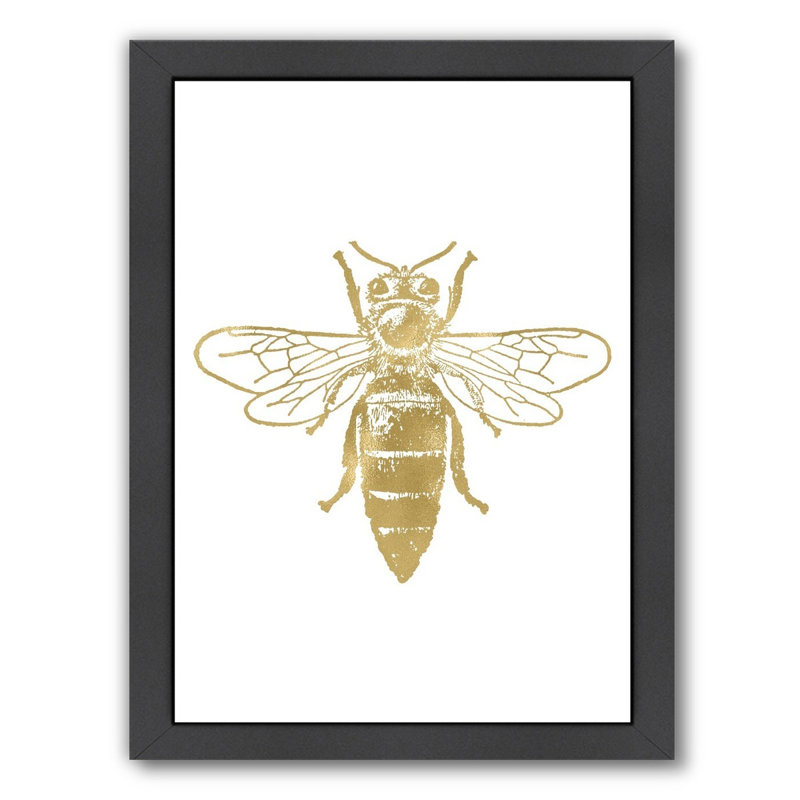 Bumble Bee Wall Decorations – Bumblebee Framed Graphic ArtView Details
Animal Decor Kitchen Curtains, Ladybug Butterfly Bee in ExoticView Details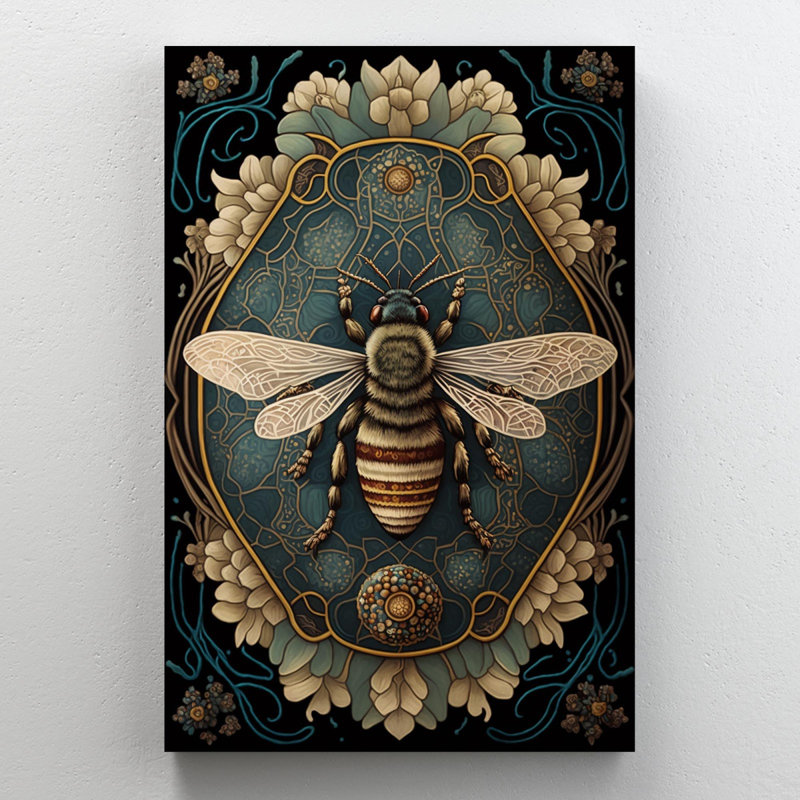 Bee Wall Art: Daisies And Bee On Canvas PrintView Details
Embracing the Buzz: Chic Bee Wall Art
Envelop your living space in the warmth and creativity that Bee-themed wall art brings into your home. Imagine walking into a room where the walls come alive with the vibrant buzz of nature's most industrious creatures. Our Bee wall decor isn't just a visual treat; it's a conversation starter, a statement of love for the environment and its fascinating inhabitants.
Let the walls of your abode speak the language of nature with exquisite Bee wall art that captures the essence of these incredible pollinators. Our selection is more than just decor; it's a celebration of the beauty and importance of bees in our ecosystem. By incorporating such artistry into your home, you become part of a larger narrative—one that values nature's intrinsic beauty and its critters.
Our Bee interior decorating ideas weave the symbolic presence of bees into your daily life, reminding you of the sweetness and productivity they stand for. Let your walls be a canvas to the majestic dance of these winged wonders, with golden hues and intricate designs that elevate your space from mundane to extraordinary.
Elevate your decor to new heights with Bee wall decor that's sure to charm and inspire. From subtle accents to bold focal points, our ideas will help you create a space that's both stylish and meaningful. So why wait? Dive into our curated collection of Bee Wall Art and interior decorating ideas, and let your walls bloom with the beauty of nature.
Creating a Buzz: The Beauty and Variety of Bee Wall Art in Home Decor
Bee wall art is creating a buzz in the world of interior design, offering a whimsical touch to homes that delight residents and guests alike. From the sweet serenity of springtime to the abundant life of summer, bee-themed decorations carry the essence of these seasons into the home all year round. Embracing bee wall art is not only a nod to the aesthetic appeal of nature's busy pollinators but also a celebration of the energy and community they represent. With a variety of styles to choose from, bee wall art can be a charming focal point or a subtle complement to your home's existing decor.
Understanding the Appeal of Bee Wall Art
The humble bee, with its tireless work ethic and role in the ecosystem, symbolizes diligence, community, and life. These traits make bee wall art an uplifting addition to any interior space, imparting a sense of warmth and positivity. The popularity of bee motifs in home decor also speaks to a collective appreciation for nature and the critical role bees play in sustaining it. By incorporating bee wall art, homeowners can pay tribute to these small but significant creatures and bring a touch of the natural world's wonder indoors.
Types of Bee Wall Art
The world of bee wall art is diverse, providing an array of options to suit different tastes and spaces:
Canvas Prints: High-quality canvas prints depicting bees in flight or resting on flowers can be a focal point in any room. These often come in vibrant colors and various sizes, suitable for both large statement walls and more intimate corners.
Metal Wall Sculptures: For a modern twist, metal bee wall sculptures offer a three-dimensional aspect that can add texture and interest to your decor. These can range from intricate, lifelike pieces to abstract interpretations of bees and their hives.
Hand-Painted Artworks: Original hand-painted bee wall art brings a personal and artisanal touch to a space. Whether it's on wood, canvas, or another material, handcrafted pieces are unique and can be custom-made to fit your vision.
Vintage Illustrations: Classic and timeless, vintage bee illustrations can be framed and displayed for a touch of elegance. These works often showcase the anatomical beauty of bees and can be educational as well as decorative.
Modern Graphic Prints: Graphic prints with bees can add a pop of style to a minimalist or contemporary room. Bold lines and colors can make these artworks stand out and command attention.
Wall Decals and Stickers: For a less permanent option, wall decals and stickers are great, especially in children's rooms or rentals. They can range from cartoon-like bees for a playful look to more sophisticated silhouettes for a subtle nod to the theme.
Photographic Prints: High-resolution photographs of bees, whether in macro detail or within their natural habitats, can provide a realistic and striking visual impact. These are perfect for those who appreciate the beauty of photography and the intricacies of insect life.
Mosaic and Tile Art: Mosaics or tiles featuring bees can be used as permanent installations in kitchens or bathrooms, giving a functional art piece that's also a conversation starter.
Mixed Media Pieces: Combining various materials, mixed media bee wall art can incorporate elements like fabric, paper, and natural items to create textured, layered pieces that are visually intriguing and tactile.
Incorporating Bee Wall Art into Your Home
When integrating bee wall art into your home, consider the atmosphere you wish to create. For a tranquil, nature-inspired space, opt for art with softer colors and gentle imagery. If you're aiming for a more vibrant and energetic environment, look for pieces with bright colors and dynamic compositions.
Think about the placement of your bee art as well. Kitchens and dining areas benefit from lively bee illustrations that can evoke thoughts of gardens and natural abundance. Living rooms and entryways are ideal for larger, statement-making pieces that can spark conversations and welcome guests with a warm ambiance. Bedrooms and bathrooms can be enhanced with more subtle bee art, promoting a calming and restful mood.
The versatility of bee wall art also allows for thematic decorating throughout the seasons. Lighter, pastel-toned pieces might be perfect for spring, while warmer, golden-toned artworks can carry the summer's warmth into your home. You can even complement your bee wall art with seasonal decorations, like fresh flowers in spring or amber-hued leaves in fall, to heighten the connection to nature and the changing seasons.
Bee wall art is not just a trend; it's a timeless celebration of one of nature's most vital creatures. Its versatility in style and form means that there's a bee-inspired piece for every home and personal taste. By choosing bee wall art, you're creating an interior space that's both aesthetically pleasing and deeply meaningful, fostering a home
Bee Wall Decorations on Sale
Obviously we all appreciate a good sale and bee wall art is no exception.  Although difficult to find on sale bee wall art can be both beautiful and affordable.
Susie Arts Bees with Flowers Upcycled Vintage Dictionary ArtView Details
Chad Barrett Premium Thick-Wrap Canvas Wall Art Print  Honey BeeView Details
Under the Sun II Wall Decor by Lisa Audit, honey bee wall artView Details
Vintage Bible verse scripture – Kind Words are Like HoneyView Details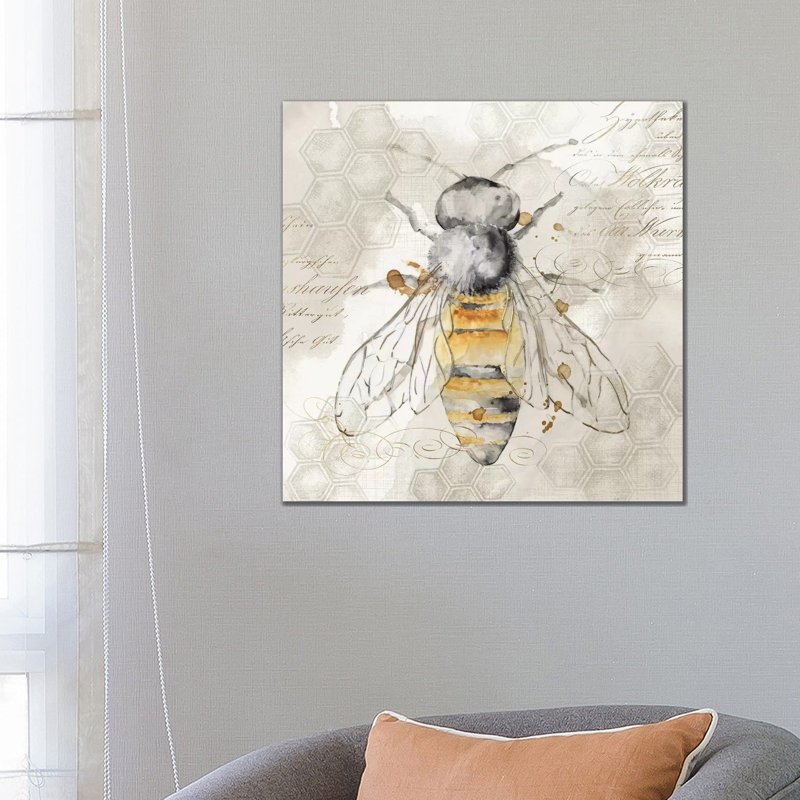 Bee Wall Decorations – Queen Bee II by Eva Watts – Painting PrintView Details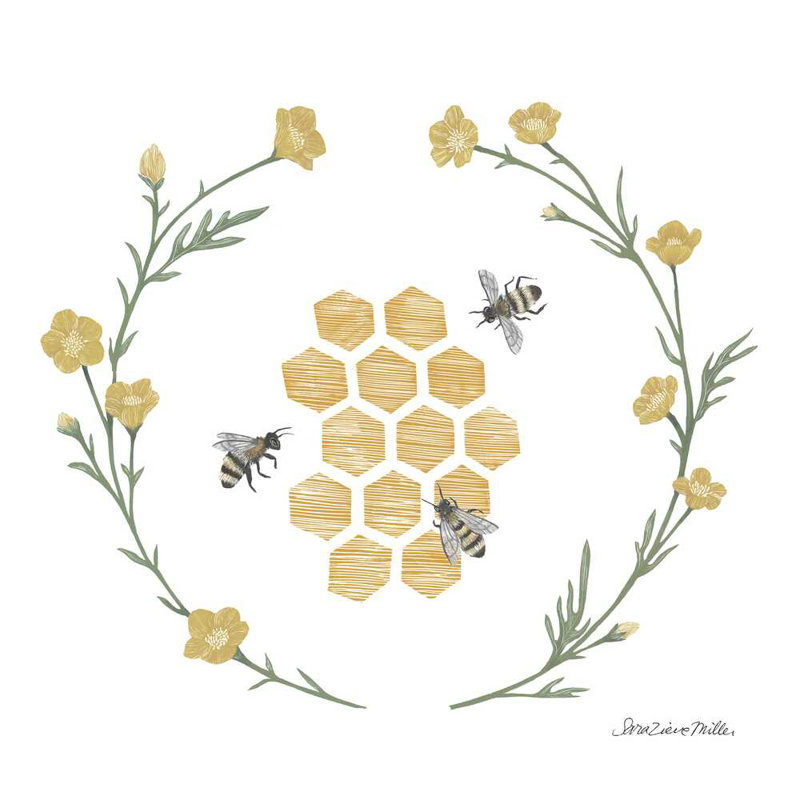 Happy To Bee Home III On Canvas by Sara Zieve Miller PaintingView Details
Harmonious Hues: Color Schemes to Complement Bee Wall Art
When considering the integration of bee wall art into home decor, one must not only appreciate the intrinsic charm of these pollinator-inspired pieces but also the ambiance they create through their associated color schemes. Bee wall art can bring a space to life, resonating with vibrancy, energy, and the symbolism of bees themselves. Choosing the right colors to accompany bee-themed decor can elevate the aesthetic appeal of your home, ensuring that these delightful works of art are displayed in all their glory.
Understanding Bee Symbolism in Decor
Before diving into color palettes, it's essential to grasp the symbolism behind bee wall art, as it influences the mood and tone set by the accompanying colors. Bees symbolize hard work, dedication, and teamwork, owing to their life's work within the hive. They're also emblems of wealth, prosperity, and abundance, as they contribute to the environment's well-being by pollinating plants and producing honey. In home decor, bee motifs can imply a welcoming and industrious atmosphere, promoting positivity and activity.
Color Schemes That Buzz with Bee Wall Art
Bee wall art typically features a mix of yellows, golds, blacks, and browns, and these colors can guide the surrounding decor. Here are color schemes that will harmoniously complement your bee wall art, inspired by the natural habitat and symbolism of bees:
Sunny Yellows and Earthy Neutrals: The quintessential bee color is yellow, reflecting the bee's energetic nature and its association with the sun's vitality. Pairing bee wall art with shades of sunny yellow can brighten a room instantly. Complement these with earthy neutrals like taupe, sand, or soft browns that echo the natural landscapes bees inhabit, creating a balanced and grounded environment.
Golden Hues and Creamy Whites: Gold accents can mirror the richness of honey and the treasure-like quality of bees in nature. These regal tones work beautifully against a backdrop of creamy whites or off-whites, which provide a clean, fresh canvas that makes the golden elements of your bee wall art stand out with a touch of elegance.
Bold Blacks and Charcoal Grays: Incorporating blacks and deep grays can draw from the bee's natural coloring. These stronger tones offer a modern twist and can serve as a sophisticated counterbalance to the typically bright bee art. Charcoal gray can be particularly effective in providing a muted backdrop that allows the yellows and golds to shine without overwhelming the senses.
Lush Greens and Floral Tints: As bees are synonymous with gardens and the outdoors, integrating varying shades of green can evoke the feel of nature within your home. Pair your bee wall art with sage, olive, or even vibrant lime to mimic the foliage found in a bee's habitat. Floral tints like lavender, rose, or soft blues can be sprinkled throughout to represent the flowers that bees frequent, adding a touch of softness and romance.
Rich Ambers and Rustic Oranges: To create a warm, inviting space that resonates with the warmth of a hive, consider a palette of amber and rustic orange hues. These colors can provide a cozy atmosphere that enhances the homely symbolism of bees, perfect for communal spaces like living rooms or dining areas where family and friends gather.
Crisp Whites and Navy Blues: For a more nautical or Hampton-style aesthetic, pair your bee wall art with crisp whites and deep navy blues. This classic combination can give your space a crisp, clean feel, while the navy adds depth and a touch of sophistication, ensuring the yellow tones of the bee art pop.
Tying It All Together
When integrating these color schemes with bee wall art, consistency is key. Consider using textiles, accessories, and even plants that tie in with your chosen palette to create a cohesive look. For instance, cushions, rugs, or curtains in your accent colors can unify the space, while indoor greenery can enhance the natural aspect of the bee theme.
Remember that the colors you choose can also influence the perception of space and light in your room. Lighter tones can make a room feel more spacious and airy, while darker shades can create an intimate and cozy atmosphere.
In conclusion, when paired with thoughtful color schemes, bee wall art can transform a room into a harmonious haven that celebrates the beauty and industrious spirit of these vital creatures. The right colors not only complement bee wall art but also infuse a space with the symbolism of prosperity, community, and the sun's life-giving energy. As you curate your color palette around your bee wall art, let the natural world be your muse, and create a home that's as inviting and vibrant as a summer garden in full bloom.
Check out these awesome home decor posts
Many or all of the products featured here are from My partners who compensate me. This may influence which products I write about and where and how the product appears on a page. This has no bearing on my personal opnion.