Patriotic Wall Art – Americana Interior Design
Infuse your space with a touch of national pride by embracing the essence of Americana design. Evoke warmth and charm by incorporating elements like patriotic clocks, wall hangings, canvas artworks, decorative plaques, and metal pieces.
Draw inspiration from the timeless palette of red, white, and blue to curate a harmonious ambiance. Complement this with iconic motifs such as stars and stripes, the distinguished Uncle Sam imagery, the Statue of Liberty, and classic flag illustrations.
To elevate the authenticity of your space, consider vintage-inspired elements like age-old signs, checkered patterns, and intricately designed patchwork quilts. While these add character, it's essential to strike a balance to maintain a sophisticated serenity in the room. Rest assured, the spirit of patriotic Americana resonates beautifully across various spaces, from cozy living areas and culinary corners to professional workspaces and restful bedrooms.
An Ode to Tradition: Fusing Patriotic Wall Decor with Fall Wall Art in Your Living Room
When the air turns crisp and the leaves begin to change, it's time to welcome autumn into your home. This year, let's seamlessly blend the deep-rooted traditions of our nation with the seasonal splendor by incorporating Patriotic wall decor and Autumn wall art into your living room.
The first impression of this living space emanates from the rich burgundy wall that acts as the perfect canvas. Hanging an American flag as a piece of art on this wall is a declaration of pride and heritage. Opt for a vintage or weathered flag to infuse a sense of history and valor into your space.
Adjacent to this, consider adding a canvas or framed print that showcases Autumn wall art. This could be a serene landscape of amber leaves falling in a park, or an abstract piece that uses the earthy, warm tones of autumn. The juxtaposition of the flag with the Autumn wall art on the burgundy backdrop creates a visual journey through the seasons and history.
Furniture selection is a crucial aspect of bringing your Patriotic interior decorating ideas to life. The vibrant red sofa against the wall not only reflects the stripes of the flag but also the richness of autumn leaves. Accentuate the sofa with cushions in varying textures and patterns, such as stars, stripes or even maple leaves.
Do not let the floor be an overlooked canvas. A quilted patchwork rug in red, white, and blue can be a grounding element. This rug bridges the gap between the Patriotic wall decor and the other elements in the room.
Natural elements should also play a role in your decorating theme. A vase with branches of red berries and golden leaves, or perhaps a floral arrangement with a hint of blue, can bring an organic touch that resonates with the seasonal theme.
The crowning touch to your space would be the inclusion of a classic table lamp with a golden shade. This would cast a warm and inviting glow in the room, enhancing the Patriotic wall art and other elements.
By blending the rich traditions encapsulated in the Patriotic wall decor with the earthy tones of Autumn wall art, this living room becomes more than just a space – it becomes an experience. It tells a story of heritage, pride, and the ever-changing beauty of nature through the seasons.
Popular and Trendy Patriotic Wall Art
Patriotic wall art is no longer just for the 4th of July decoration.  In fact home decor enthusiasts around world are gong wild for Americana wall decorations which can be seen on TV, Magazines and even your friends homes.
American Flag by Patricia Alvez, Red White and Blue Wall ArtView Details
New York – Rustic Vintage Statue of Liberty National MonumentView Details
Breeze Decor  God Bass America Americana Patriotic DecorativeView Details
CANVAS Flag Uncle Sam Don't Wait for the Draft VolunteerView Details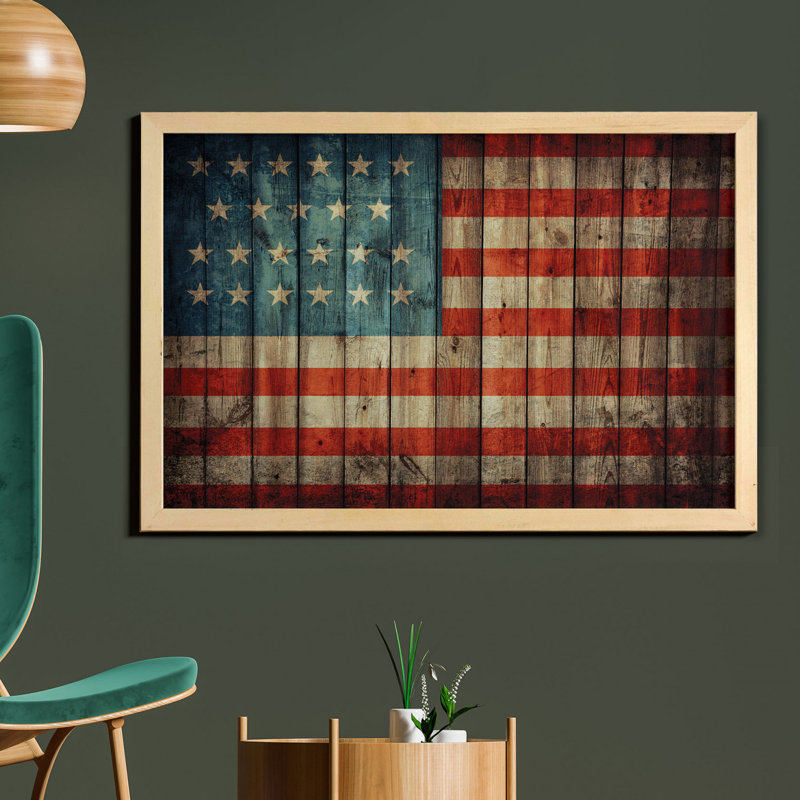 Printed Fabric Poster Framed On Fabric PrintView Details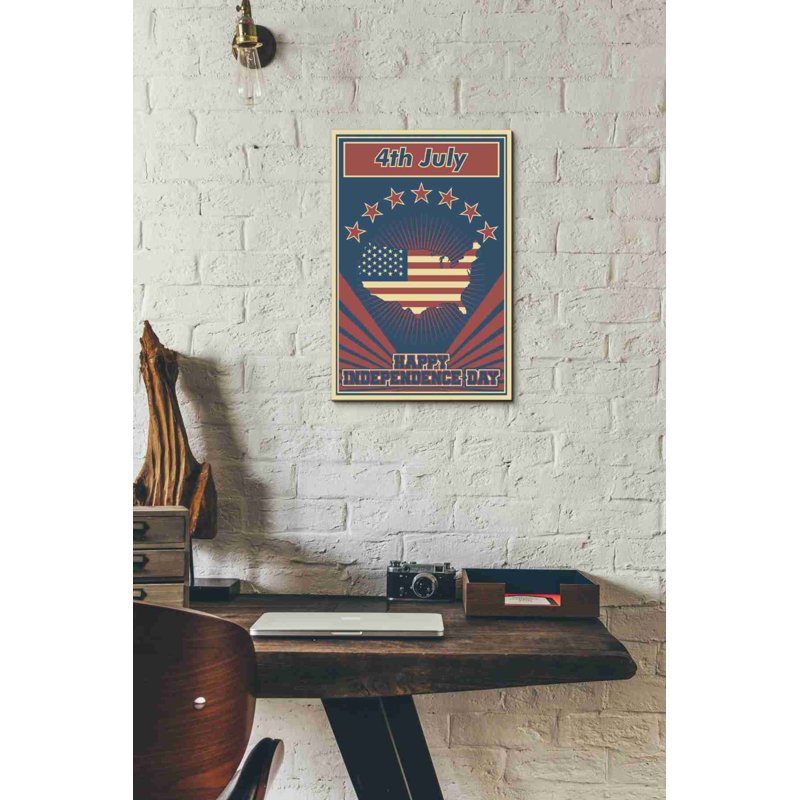 Independence Day USA On by Epic Graffiti Graphic ArtView Details
Rustic Refinement: Weaving Patriotic Wall Decor into an Autumnal Tapestry in Your Living Room
As you set foot into the haven that is your living room, imagine being enveloped by a tapestry of rich, rustic hues interwoven with the proud stars and stripes of the American flag. Here, let's uncover how to seamlessly integrate Patriotic wall decor with Autumn wall art for a living room that's drenched in warmth and history.
Start by paying tribute to the pride of our nation through the strategic placement of Patriotic wall decor. The rustic wooden wall, with its patina reminiscent of a bygone era, is the ideal canvas. Adorning it with an American flag whose cloth has braved winds as mighty as our forefathers, makes a profound statement.
Next, consider bringing in Autumn wall art that complements the earthy tones of the wooden backdrop. Subtle elements such as golden leaves or rural landscapes in autumnal hues will meld with the room's essence. Consider framing this art in reclaimed wood to echo the room's rustic undertones.
Furnishings are key. A comfortable navy-blue sofa resonates with the depth of a clear night's sky, while hints of stars and stripes in cushions summon the Patriotism subtly. Pair this with a robust wooden coffee table that speaks to the heart of Americana.
The Patriotic wall art should have companions. Consider antique side tables with lampshades that feature stars or eagle motifs, and perhaps an antique trunk adorned with a flag or two. These elements, whilst paying homage to our great nation, also envelop the room in a cocoon of warmth.
Of course, natural elements are a crucial addition to this symphony. Arrange bouquets of red, white, and blue flowers in vintage vases, and dot a few pumpkins to herald the arrival of autumn. The harmony between the Patriotic wall decor and Autumn wall art becomes more pronounced with these little touches.
Lighting must be warm, inviting, but stately. Vintage table lamps with warm filaments that glow like the embers of a hearth could be the perfect addition. Their soft light will caress the textures of the wood, the fabrics and the Patriotic wall art, bringing to life every detail.
This rustic yet refined living room, with its perfect confluence of Patriotic wall decor and Autumn wall art, becomes more than just a space – it becomes a tribute, a history book that's lived in, and a warm embrace during the golden months of autumn.
American Flag Wall Art – Americana Wall Art
Embrace your love for the American flag by picking American flag wall art that speaks to you.  Great for offices, living rooms, kitchens and even man caves.
Vintage Fighter Bomber Head Propeller Canvas Prints Wall ArtView Details
Battle Worn American Flag – Torched (30 inches wide)View Details
American Flag, Rustic USA Flag Wall Decor, Custom HandmadeView Details
Symbols Of Heroism by Paul Walsh, 24×32-Inch Canvas Wall ArtView Details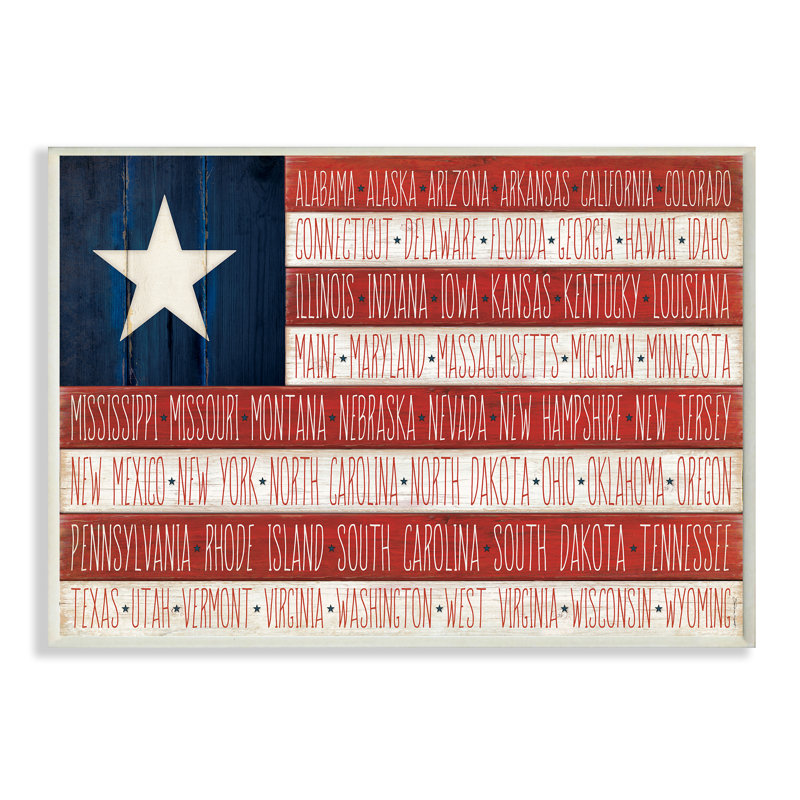 American Flag With States On Canvas Textual ArtView Details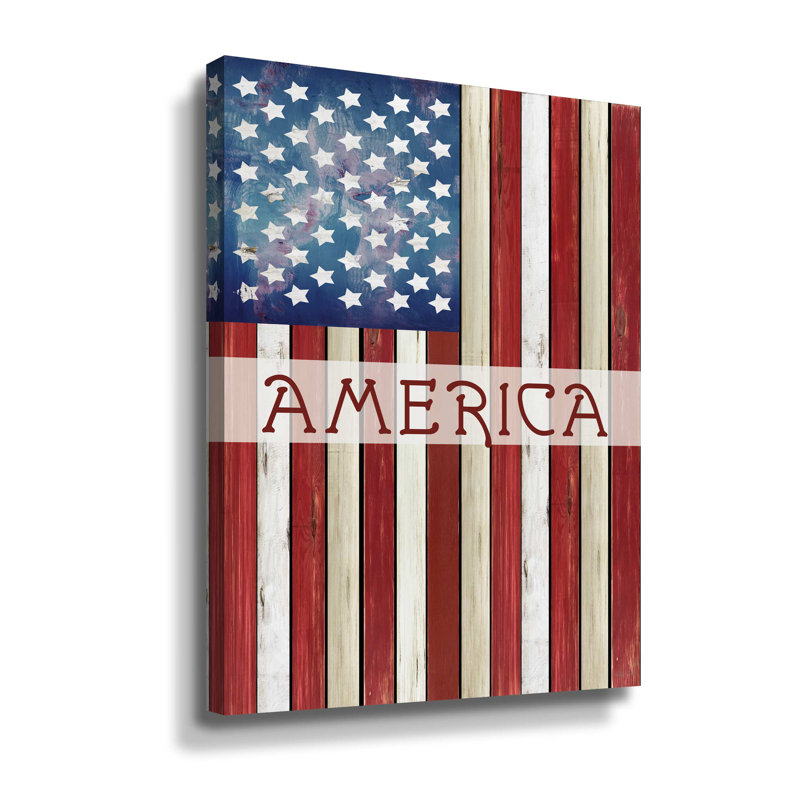 Patriotic Wall Decor – American Flag Framed On Canvas PaintingView Details
Star-Spangled Slumber: A Symphony of Patriotic Wall Decor in a Whimsical Bedroom Oasis
Step into a dreamscape where the fervor of patriotism waltzes with whimsy to create a bedroom retreat like no other. Here, we weave the tale of how you can combine Patriotic wall decor and Autumn wall art into your sanctuary.
The pièce de résistance of this resplendent room is undoubtedly the expanse of the feature wall, where a celestial explosion of red and blue evokes the American spirit. This backdrop is nothing short of a canvas painted with pride, and it calls for a special piece of Patriotic wall decor. A flag hung with reverence serves this purpose. Choose one with a weathered texture to harken back to the flag's storied past.
But let's not forget Autumn, with its golden embrace. To bring in the season, incorporate an elegant artwork on an adjacent wall that captures the essence of Fall. Think amber-hued leaves, a harvest scene, or perhaps a watercolor depicting the tranquility of an Autumn morning. This addition will ensure the room is not just patriotic, but also in harmony with the season.
The bedding is a song in itself. In a room with such a dynamic feature wall, opt for a duvet that complements without competing. A soft, star-spangled blue blanket with red and white pillows will maintain the theme without overwhelming the senses.
An antique white nightstand, as pure as the stars, serves as the perfect counterpart. Top it with a lamp that boasts a classic white shade and vintage base, casting a glow that mimics the moon on an Autumn night.
A woven basket with throws and blankets in rich, autumnal colors can be added for both practicality and charm. Finally, a vase with a bouquet of deep reds and burnt oranges will bridge the gap between the Patriotic wall decor and the Autumn wall art.
This bedroom, with its orchestration of Patriotic wall decor and subtle Autumn wall art, becomes more than a space for slumber. It's a journey through time and tradition, a haven of dreams wrapped in the pride of a nation and the bounty of a cherished season.
Patriotic Wall Hangings –  Large Patriotic Wall Art
Large patriotic wall art such as patriotic wall hangings, patriotic wall sculptures and patriotic wall tapestries are ideal for an open wall space.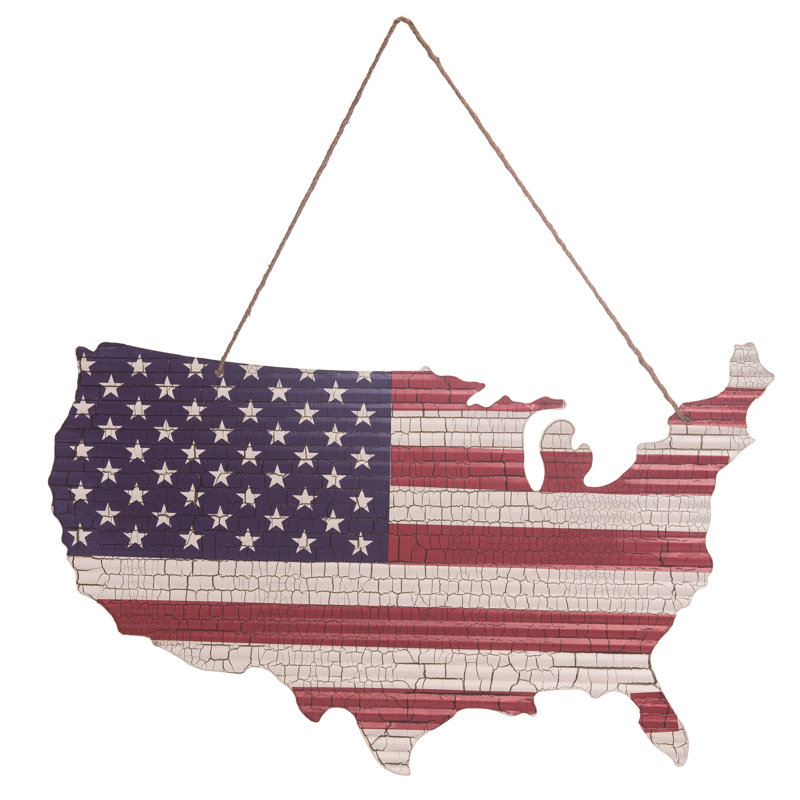 Bodrul 4th of July USA Flag Cutout with Hanger Wall DécorView Details
Toland Home Garden Patriotic Pedals  Decorative ColorfulView Details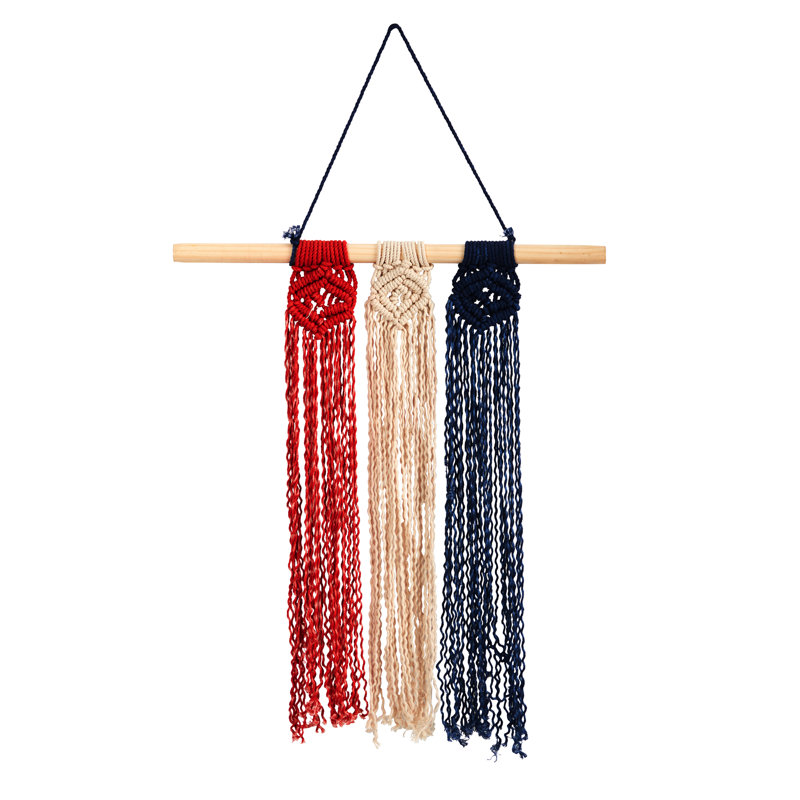 Patriotic wall art – Americana Macrame Art Decor Wall HangingView Details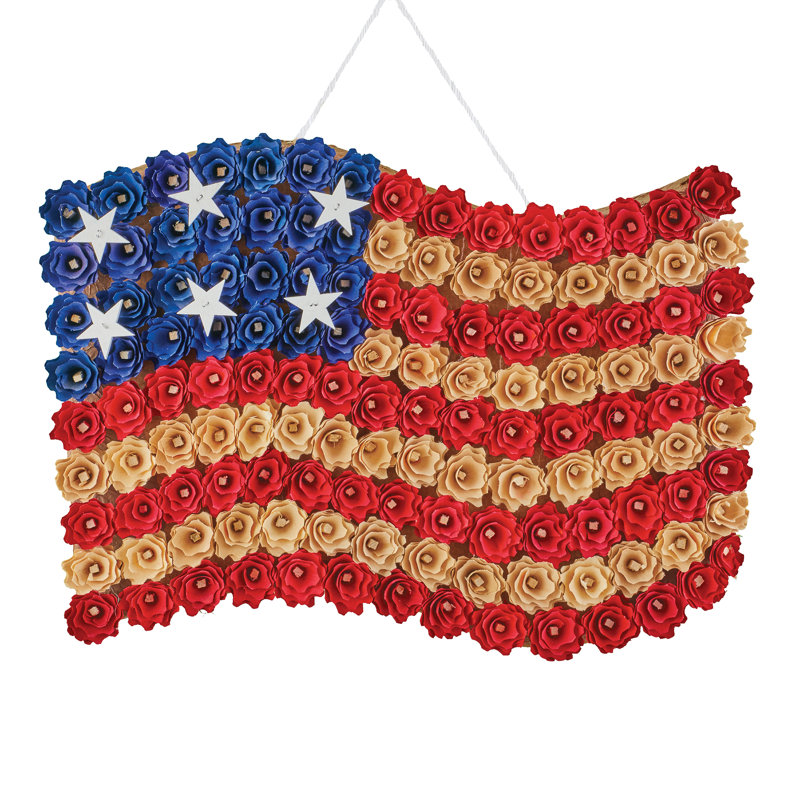 Patriotic Wall Art – Countries Wall DecorView Details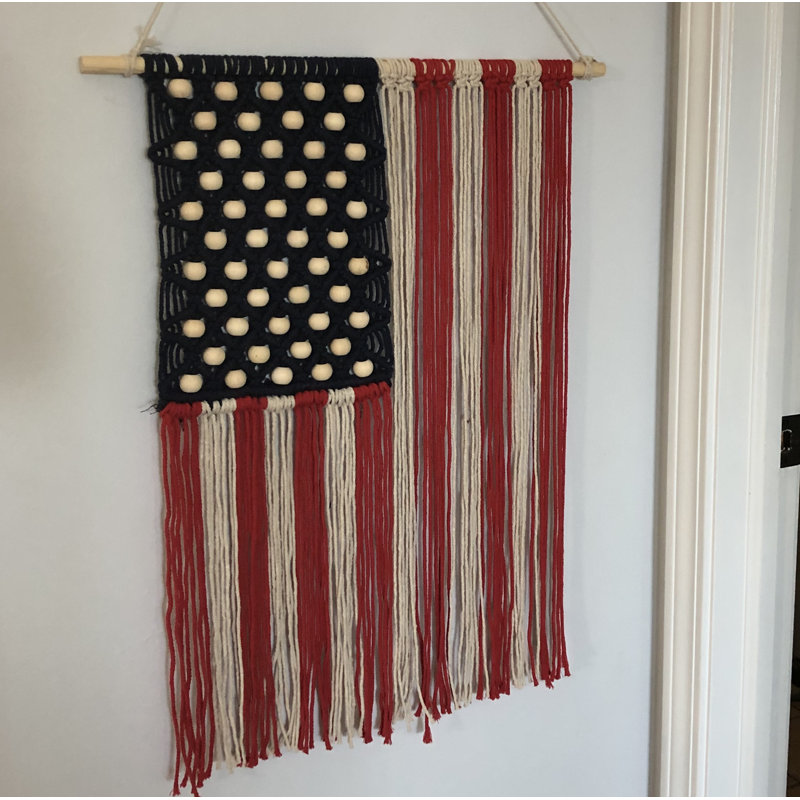 Patriotic wall art – Handmade Fabric No Subject Wall DecorView Details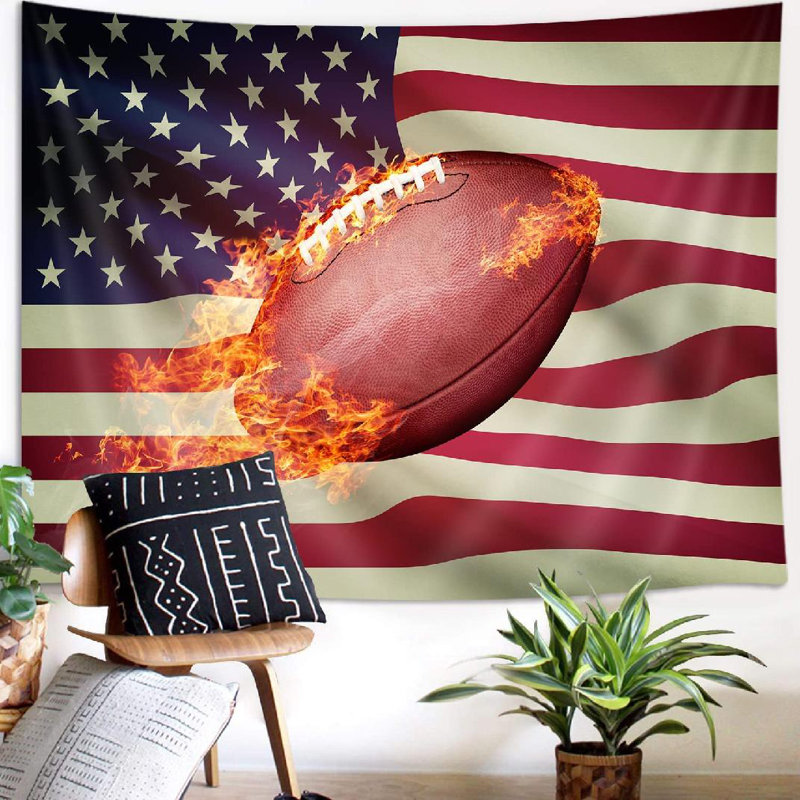 Polyester American Flag Football TapestryView Details
The Patriot's Hearth: A Culinary Stage Adorned with Patriotic Wall Decor and Autumnal Artistry in the Kitchen
Where better to stir the melting pot of Americana than in the kitchen – the heart of the home? Here we set the stage for an exquisite integration of Patriotic wall decor with the gentle caress of Autumn wall art, creating a kitchen that's as warm as a fresh pie.
Begin by setting the tone with color. The deep blue on the walls establishes a sense of calm, reminiscent of the tranquil skies of Autumn evenings. Against this backdrop, a well-placed American flag stands out as a beacon of pride. Choose a flag with rich, vibrant colors that balance the subtlety of the blue walls.
Anchoring the theme is the cabinetry, painted a crisp white as if touched by the first frost of Fall. The golden handles mirror the changing leaves outside, bringing an element of Autumn indoors.
Now, for the artistry. Intersperse your Patriotic wall decor with delicate Autumn wall art. Consider an elegant painting of an Autumn harvest, or perhaps a rustic sign that echoes the sentiments of the season.
Let's not forget the countertops. Displaying a collection of earthenware in the colors of the harvest season creates an unspoken harmony. Juxtapose this with patriotic elements such as stars and stripes dishware, and you have a symphony of themes.
The table, often the gathering place of the kitchen, deserves special attention. A red, white, and blue tablecloth coupled with seasonal fruit and autumnal floral arrangements can marry the themes together effortlessly.
Lighting in the kitchen must be functional but should also evoke warmth. Opt for pendant lights with a brass or gold finish that echo the Autumn leaves. Their golden glow against the backdrop of your Patriotic wall decor will be nothing short of enchanting.
The flooring is the final note in this melody. The checkered pattern, reminiscent of simpler times, ties the space together.
With this delicate fusion of Patriotic wall decor and Autumn wall art, your kitchen becomes more than a culinary space; it's a gathering place that celebrates history, harvest, and the very heart of the home.
Uncle Sam Wall Art –  Cool Patriotic Wall Art
If you truly value freedom, duty and love of country then consider grabbing a couple of pieces of Uncle Sam wall art.  Fantastic for those who have served in the US Armed Forces.  Man caves, dens, smoke rooms, cigar lounges and bar rooms are excellent to hang patriotic wall art like this.
World War II Uncle Sam War Bonds 1942 – patriotic wall decorView Details
Something's Doing Boys! Uncle Sam's at The BridgeView Details
'The Grand Old Gentleman-Uncle Sam' Giclee Fine Art PrintView Details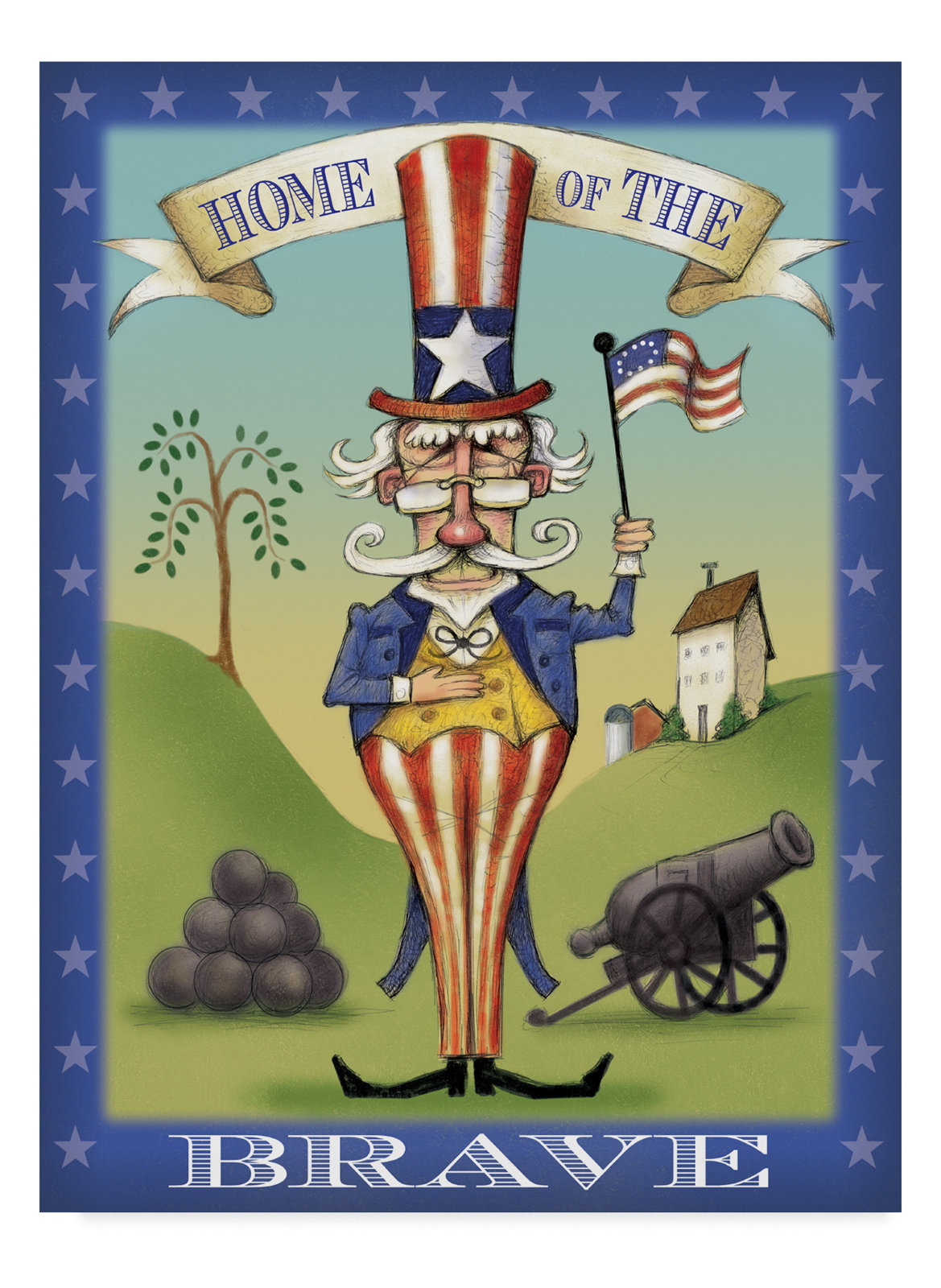 'Uncle Sam Portrait' Acrylic Painting Print on Wrapped CanvasView Details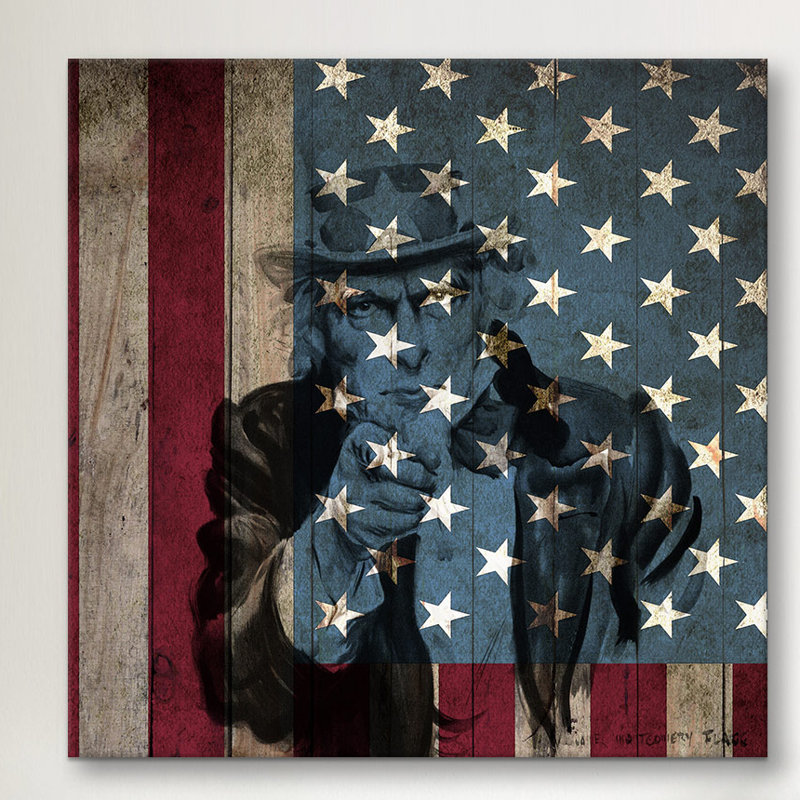 Flags Uncle Sam, James MontgomeryView Details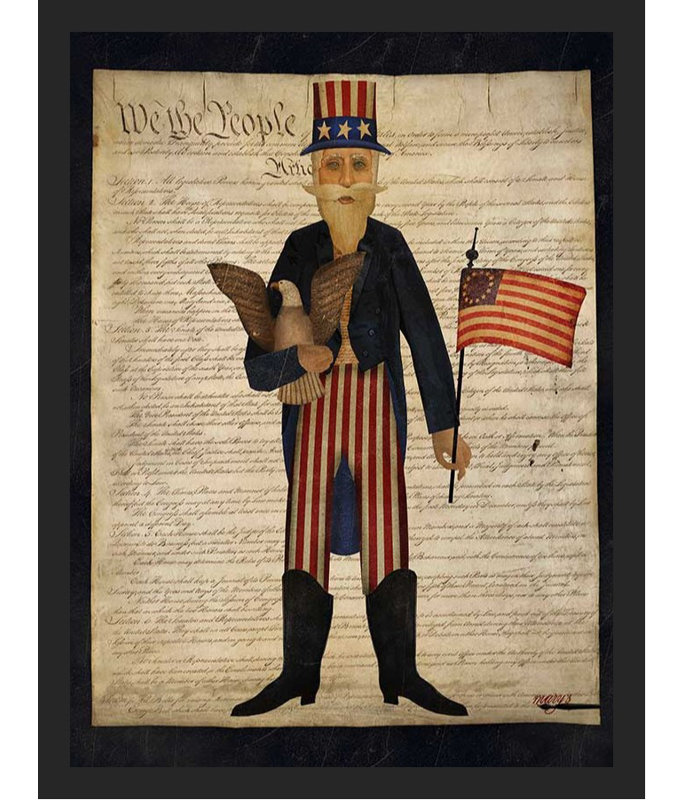 'Uncle Sam' by Beth Albert Framed Vintage AdvertisementView Details
A Salute to Elegance: Weaving Together Patriotic Wall Decor with Autumn Wall Art in a Living Room
As one steps into this living room, it becomes evident that it's not just a room; it's a salute to the fabric of America woven with the subtle beauty of autumn.
The luscious red walls speak volumes as they envelop the space with a sense of warmth akin to an autumn sunset. It is against this rich backdrop that the Patriotic wall decor takes center stage. Draped with grace and history, a pair of vintage American flags hung effortlessly on the walls serve as testament to heritage and pride. These flags, with their delicate wear and tear, narrate stories of yesteryears.
Now, how does one meld this patriotic fervor with the genteel embrace of autumn? Enter Autumn wall art. On a wall adjacent to the flags, hang an elegant wreath made from autumn leaves, berries, and pinecones. The earthy colors of the wreath bring the essence of Fall into the space.
Let's move to the furnishings. Comfortable, plush armchairs in neutral tones provide a gentle contrast to the vivacity of the red walls. The upholstery echoes the same stars and stripes found in the flags, but in a subdued manner. A cozy throw with an impression of a flag, draped over one of the chairs, adds a touch of hominess.
The centerpiece of this space is a rustic wooden coffee table, evoking the feel of the great American countryside. Top it with a vase of fresh autumn flowers – think chrysanthemums or sunflowers – and you have a bridge between the patriotic and the seasonal.
For the final touch, the flooring should be a continuation of the theme. A floor rug with an abstract pattern of the American flag in shades of red, white, and blue, binds the elements together.
In this room, every piece, from the Patriotic wall decor to the subtle Autumn wall art, the cozy armchairs, the rustic coffee table, and the vibrant floor rug, come together to form a symphony. It's a living space where hearts warm, stories are shared, and the spirit of America is celebrated throughout the seasons.
Statue of Liberty Wall Art – Best Patriotic Wall Decorations
Steeped in history , nostalgia and culture, Statue of Liberty wall art is especially appealing to those of us who truly love the liberty of living in America.
Lady by Richard Wallich, Canvas Wall Art- Americana wall artView Details
American Flag Wall Art Morden Statue of Liberty FireworksView Details
Statue Of Liberty wall art 1917 by Vintage Apple CollectionView Details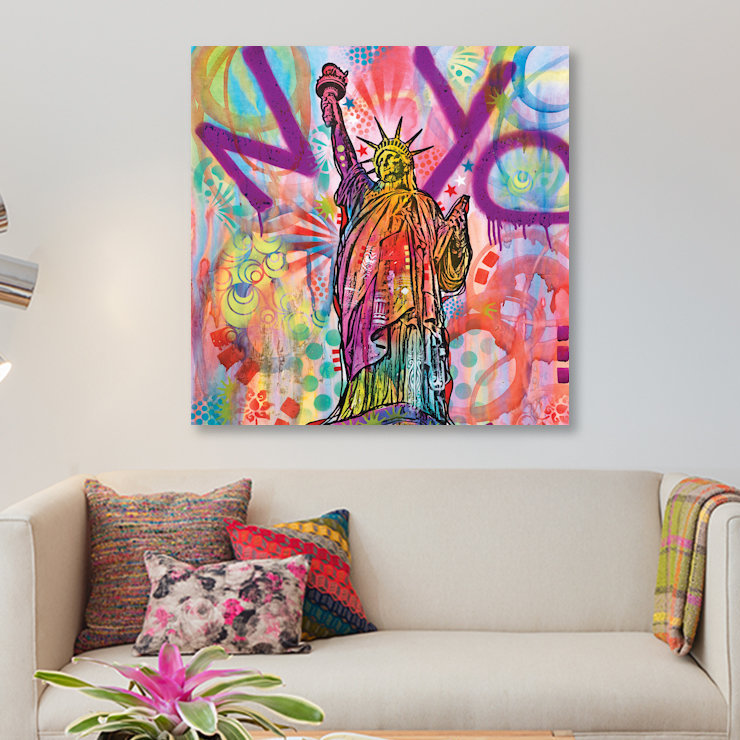 Statue of Liberty Wall Art – 'Statue of Liberty' Print on CanvasView Details
Statue of Liberty Wall Art – Statue Of Liberty Wall Art PrintView Details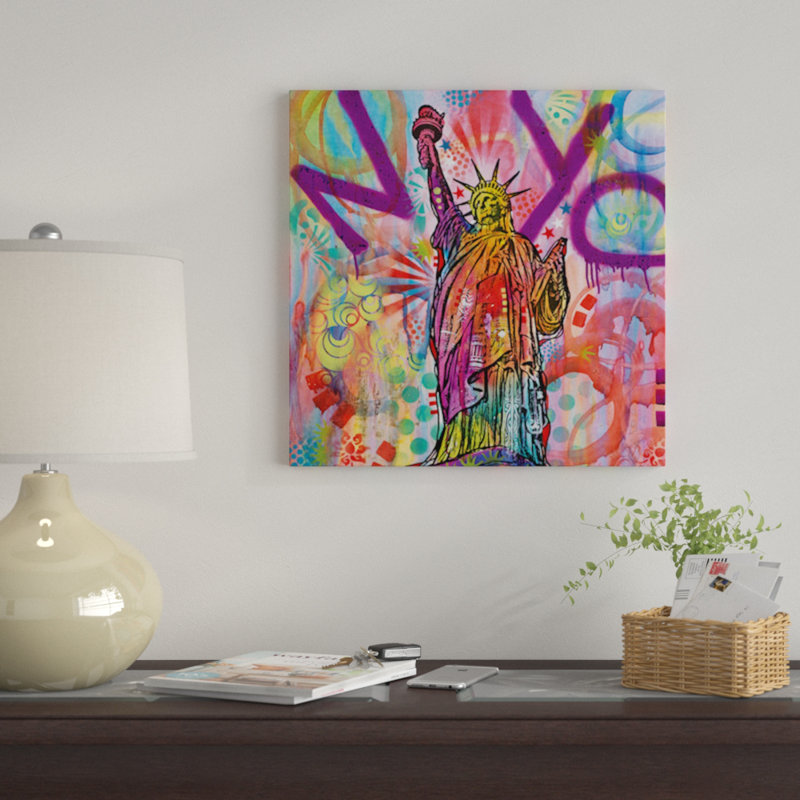 Statue Of Liberty On Canvas by Dean Russo Gallery-CanvasView Details
The Spirit of America: Harmonizing Patriotic Wall Decor with an Autumnal Touch in Your Living Space
Stepping into this living space is akin to immersing oneself in a tableau of American history and heritage, while being cradled by the gentle arms of a rustic autumn landscape.
One cannot help but be captivated by the robust and hearty spirit that fills this room. The wall behind the comfortable seating is adorned with reclaimed barn wood, giving it a sense of history and permanence. It is here that the Patriotic wall decor takes on an identity that is both solemn and joyous. The stars and stripes in the form of flags are showcased, not just as symbols but as living parts of the space. These flags are arranged in varying sizes and positions, creating a dynamic and almost rhythmic flow.
Amidst these flags, one finds the balance with Autumn wall art. A rustic wooden shelf holds an arrangement of flowers in colors that are reminiscent of autumn. Deep reds, soft whites, and subtle blues merge the thematic elements of patriotism with the season. These colors are echoed in the cushions that adorn the seating area.
The furniture here is decidedly rustic. A solid wooden coffee table, rugged yet elegant, anchors the room. It is adorned with smaller arrangements that mirror the larger Autumn wall art, incorporating flags, flowers, and decorative elements that seamlessly blend the themes.
What sets this space apart is its dedication to harmony. The Patriotic wall art doesn't overwhelm; instead, it respects and is enhanced by the autumnal accents. The textures play a significant role; the roughness of the wood, the softness of the fabrics, and the freshness of the floral arrangements speak to a space that is lived in and loved.
Floor-to-ceiling windows bathes the room in natural light, reminding one of the vast landscapes and endless opportunities that lay beyond. The choice of neutral colors for the upholstery ensures that the focus remains on the Patriotic wall decor and Autumn wall art, while still providing a cozy, inviting atmosphere.
This room is more than a living space; it is a testament to an American spirit that is grounded, robust, and deeply connected to its roots. It's a place that encourages reflection, conversation, and a sense of belonging.
Patriotic Metal Wall Art –  Bold Patriotic Wall Art
Consider using patriotic metal wall art when you want to incorporate bold design and texture into your office, kitchen, man cave or bedroom.
United Sign – Free-form Distressed Circular American Flag Wall ArtView Details
Nautical Alphabet with Patriotic Red White Blue StripesView Details
God Bless America Silhouette in Red Americana Saying QuoteView Details
Trademark Fine Art  'American Fox' Canvas Art by Robert FarkasView Details
All American Baseball with Glove Red White & BlueView Details
Freedom Wall – Distressed American Flag on Brick WallView Details
A Regal Embrace: Uniting Patriotic Wall Decor with Autumn Elegance in a Sumptuous Sitting Room
This enchanting space, reminiscent of an opulent bygone era, is the epitome of grace and patriotism merged into one. The grandeur of the walls, with their rich wooden panels, forms the ideal backdrop for an incredible display of Patriotic wall decor.
Suspended against the wood are noble American flags draped in stately splendor, their reds and blues enriching the dark backdrop. The windows are adorned with thick curtains which emulate the essence of the flag, blending seamlessly with the Patriotic wall decor.
Above the luxurious, plush red sofa, there is a crowning jewel of the room: an impressive autumn-inspired wreath. This ornate Autumn wall art encircles an assortment of stars and stripes, creating a regal crest that pays homage to both the nation and the season.
The flora and fauna of autumn are given center stage through stunning arrangements of richly-colored flowers and foliage that cascade down the sides, creating an arresting symphony of textures and hues.
The center of the room is highlighted by a sumptuous sofa, upholstered in a velvety red. The fabric's lushness is a tactile delight and stands as an invitation to relish the embrace of the room. The decorative cushions, with patterns reminiscent of the Star-Spangled Banner, build on the theme.
The floor beneath is adorned with a handwoven rug featuring a pattern of stars. This anchors the space, drawing together the Patriotic wall decor and the Autumn wall art into a rich tapestry.
The stained glass windows flank the room, their colors playing a visual symphony that adds warmth and an additional layer of texture to the space. The natural light dancing through the stained glass paints the room in gentle shades of autumn, casting an intimate glow across the wood.
This sitting room exudes a sense of tradition, of being a custodian of values and heritage. It speaks to a love of country and an appreciation of the beauty found in nature's transformations. Here, Patriotic wall decor is more than just ornamentation; it is a declaration of pride and unity, woven together with the organic elegance of Autumn wall art.
Patriotic Wall Clocks – Timeless Americana Wall Decorations
Timeless and trendy patriotic wall clocks are as American as apple pie.  Which is why it is super easy to decorate any wall with an adorable Americana wall clock.
Vintage Patriotic Statue of Liberty with American Flag Wall ClockView Details
Patriotic Wall Clock  – cool patriotic wall clocks – Patriotic wall artView Details
American Flag Stamp – USA American Flag – Patriotic – Wall ClockView Details
Liberty Flag Patriotic Statue of Liberty with American FlagView Details
Washington Dc Patriotic American Flag with Bald EagleView Details
Stars and Stripes in Red, White, and Blue Wall Clock| PatrioticView Details
Patriotism Adorned: Elevate Your Living Space with Patriotic Wall Decor and Autumn Wall Art
As the season transitions from the vibrancy of summer to the rich, earthy tones of autumn, it's the perfect time to embrace the warmth and pride of our great nation with Patriotic interior decorating ideas. One of the most alluring spaces to transform is the living area. With a myriad of possibilities to draw inspiration from, let's dive into creating an atmosphere that exudes both elegance and honor.
An impeccable way to infuse patriotism into your living space is through the magic of Patriotic wall decor. The reclaimed wood panel backdrop, for instance, can be adorned with an American flag that evokes a rustic charm. This not only pays homage to our heritage but also adds depth and character to the space. Nestled amidst this rustic ensemble, an intricate Autumn wall art piece can be the jewel that ties the colors of fall with American pride. Imagine the golden leaves in your artwork reflecting the stripes of the flag – a dance between nature's treasures and national loyalty.
In addition, having a fireplace in the living area as the focal point, surrounded by the symphony of Patriotic wall art, lends an incomparable warmth and sophistication. Place a large, vintage-style American flag above the fireplace, and arrange smaller flags and patriotic memorabilia on the mantel. The blend of the wood's natural texture with the flag's vibrant hues creates a harmonious balance.
An important aspect of decorating is to not overlook the furnishings. Cozy up the living space with plush sofas and armchairs in neutral colors. Drape throw blankets and scatter cushions that either depict the stars and stripes or incorporate autumnal colors. This ties in beautifully with the Patriotic wall decor and Autumn wall art, creating an inviting space that celebrates both the season and the nation.
In the mix, do not forget about lighting. Table lamps with a soft, warm glow, placed strategically, can accentuate the Patriotic wall decor and highlight the nuances of your Autumn wall art. The amalgamation of soft lighting, rich textures, and patriotic symbols will transform your living space into a haven that resonates with the heart of America.
In essence, by artfully blending Patriotic wall decor with Autumn wall art, you can create a living space that is not only visually stunning but also rich in heritage and pride. Let your space be a testament to the spirit of the nation, where every corner is steeped in love, honor, and the bountiful beauty of autumn.
Patriotic Wall Decorations on Sale
Finally we all appreciate a good sale.  Especially when Americana wall art is so rare to come by in the first place.  With that being said these pieces of patriotic wall art embody all that is love of America.  Therefore check out some of the best patriotic wall decorations on sale and let me know what you think in the comment section below.
Patriotic Flowers Sketch by Sher Sester, 30×47-Inch Canvas Wall ArtView Details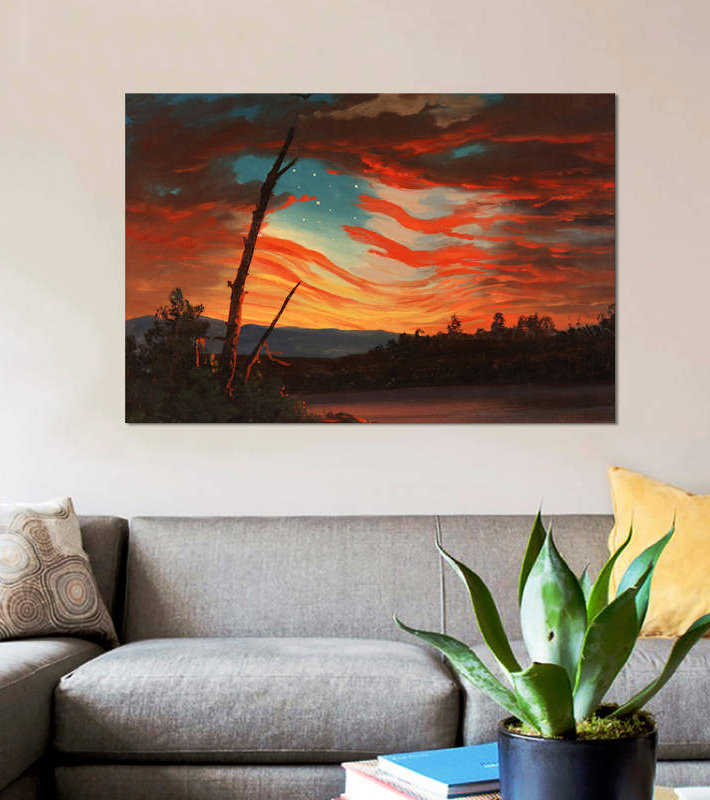 'Patriotic and Symbolic Painting After the Attack on Fort SumterView Details
Retro Patriotic by Jean Plout, – Patriotic wall artView Details
Long may she wave by Marnie Bourque,Canvas Wall ArtView Details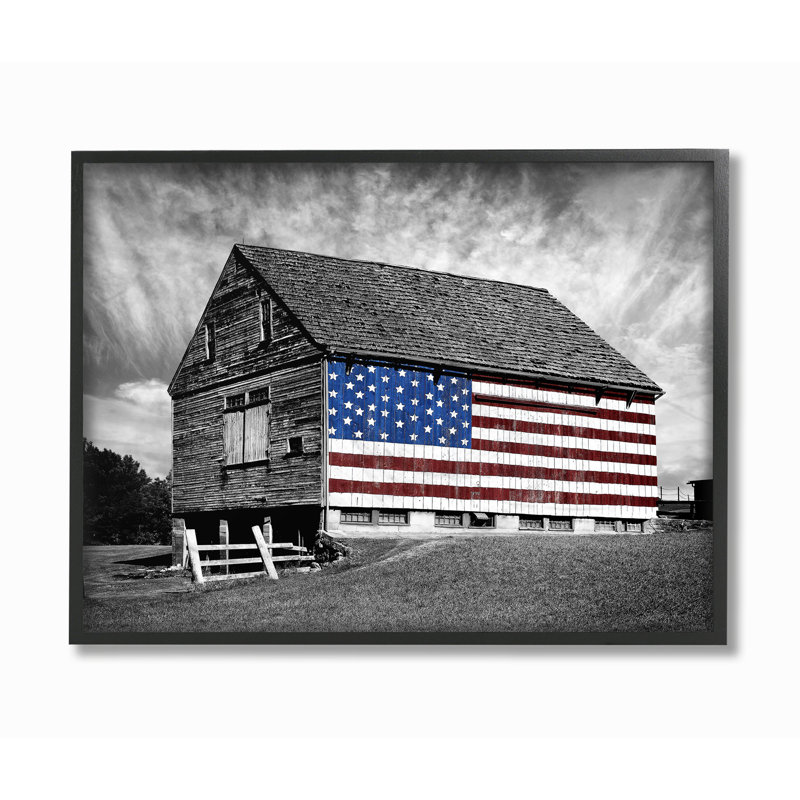 'Black and White Farmhouse Barn American Flag' Graphic Art PrintView Details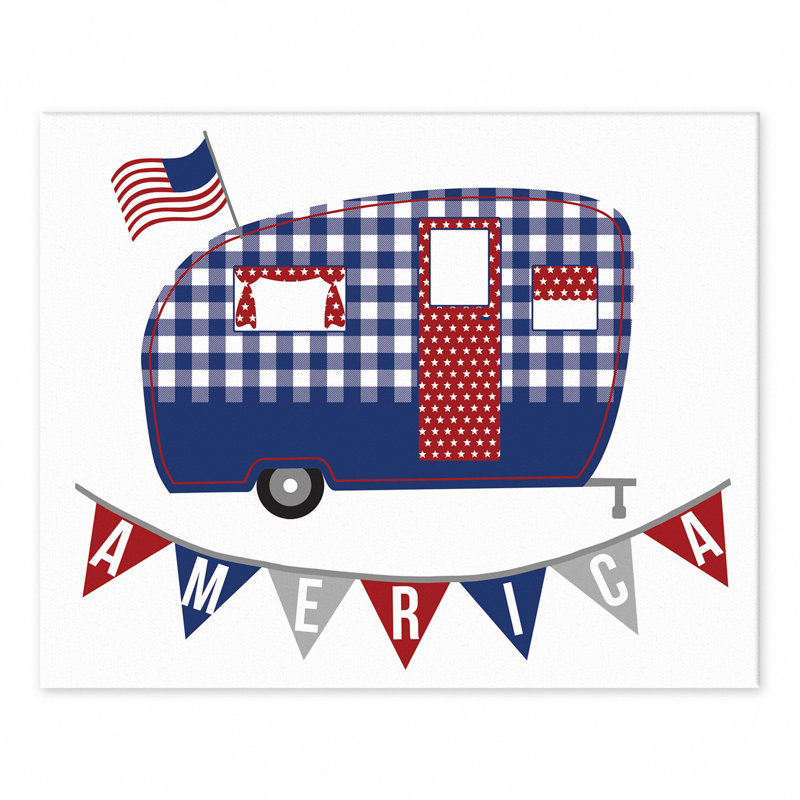 'American Camper Easel Back' Graphic Art Print on CanvasView Details
Check Out some of these awesome Home Wall Art Decor Ideas
Home Wall Art Decor Index