Modern, Trendy and Vintage Large Macrame Wall Hangings
Large macrame wall hangings add depth, color and dimension to any space within your home. Making it easy to elevate your home by using intricate and elaborately knotted rope wall art. In addition to being incredibly beautiful woven wall art like this is incredibly popular especially if you have a Bohemian home decor theme.
In addition to Boho chic, macrame wall decor works well in rooms with shabby chic wall art, rustic wall decorations and even spaces with reclaimed distressed wood wall art. Furthermore macrame wall art is flattering for bedrooms, living rooms, kitchens and dens.
Fortunately, macrame wall decorations come in a huge variety of sizes, colors and materials.  Pick from macrame wall hangings that range from extravagant to funky.  Surprisingly enough these are not your old grandmas antiquated  macrame wall tapestries!  In fact these are refreshingly trendy and unique.
Decorate Your Living Space with Macramé Wall Art: A Guide to Types and Tips
Macramé, the ancient art of decorative knotting, has experienced a renaissance in the world of interior design. Originating from the 13th-century Arabic weavers' hand-knotted excess thread and yarn along the edges of handwoven textiles, macramé has found its way into modern homes as an alluring form of wall art. Here's a guide on different types of macramé wall art, how to decorate with them, and how to create a macramé-inspired living space.
1. Types of Macramé Wall Art
Classic Wall Hangings: These are perhaps the most recognizable type. Intricately woven patterns create a tapestry-like effect, making them the centerpiece in many homes.
Macramé Plant Hangers: Perfect for the nature lover, these allow you to integrate greenery into your wall art. They're often used to hold pots or glass terrariums.
Macramé Banners: A less traditional form, macramé banners might display words, symbols, or other distinct shapes.
Geometric Designs: Modern macramé often incorporates geometric shapes like triangles, squares, and circles to create a more contemporary look.
Dreamcatchers: A blend of traditional dreamcatcher design with the macramé knotting technique, these pieces bring a bohemian flair to any space.
2. Decorating with Macramé Wall Art
Texture & Layering: One of the strengths of macramé is its rich texture. Layer your wall art with other décor elements like mirrors or paintings to provide depth to your wall.
Boho-Chic: Combine your macramé with other bohemian elements such as Persian rugs, poufs, and eclectic ornaments for a cohesive theme.
Accentuate with Lighting: Placing lighting behind or around your macramé can emphasize its intricate details, creating beautiful shadows and highlights.
Color Play: While traditional macramé is often in neutral colors, don't shy away from dyed versions in bold colors or even ombre patterns.
3. Creating a Macramé Living Space
Macramé Furniture: Beyond wall art, consider furniture elements like macramé hammock chairs or even macramé-patterned cushions and throws.
Room Dividers: Larger macramé pieces can act as aesthetic room dividers, adding both style and function.
Macramé Accessories: Think macramé coasters, bowls, or even chandeliers for a full immersion.
Mix & Match: Don't feel constrained by one style. Mix your macramé with minimalistic, rustic, or even industrial themes. Its adaptability is part of the charm.
Macramé, with its rich history and versatile designs, is a delightful addition to any living space. By understanding its various forms and learning how to incorporate it seamlessly, you can achieve a cozy, artistic, and modern ambiance. As with all forms of art, let your imagination guide you, and let your living space tell your unique story. Whether you're a die-hard bohemian enthusiast or just looking to add a touch of handcrafted elegance to your home, macramé offers a world of possibilities. So, take a leap and let the magic of macramé transform your abode!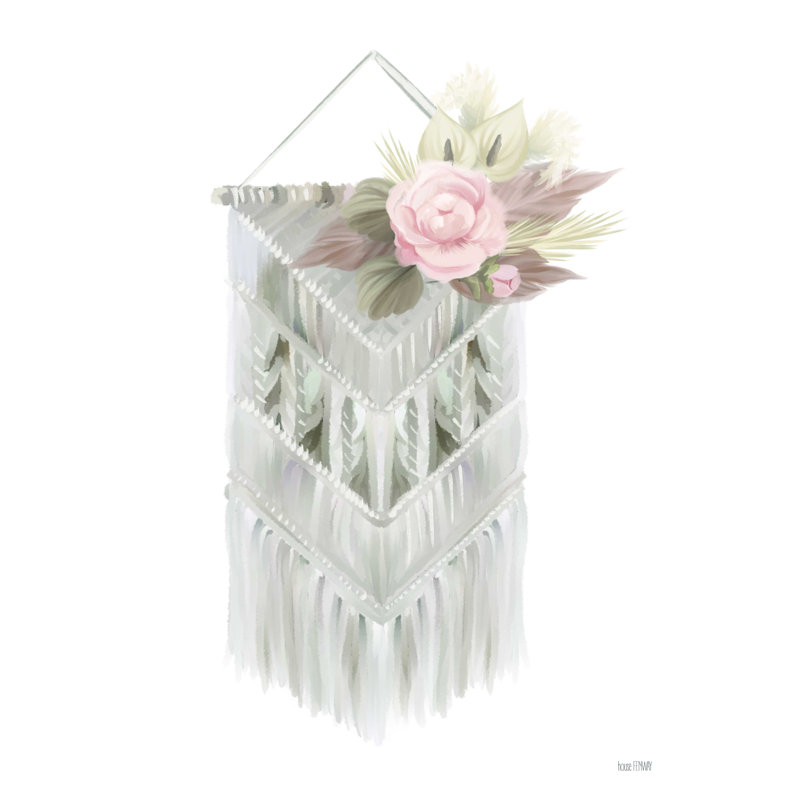 Bohemian Macrame On Canvas by House Fenway PrintView Details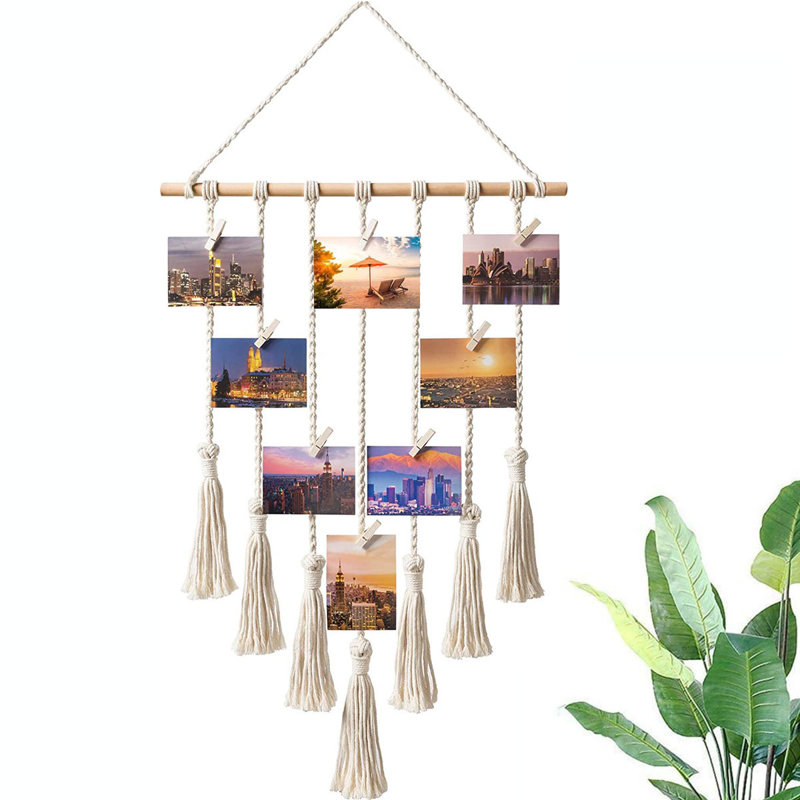 Cotton Wall Hanging: Macrame Wall HangingsView Details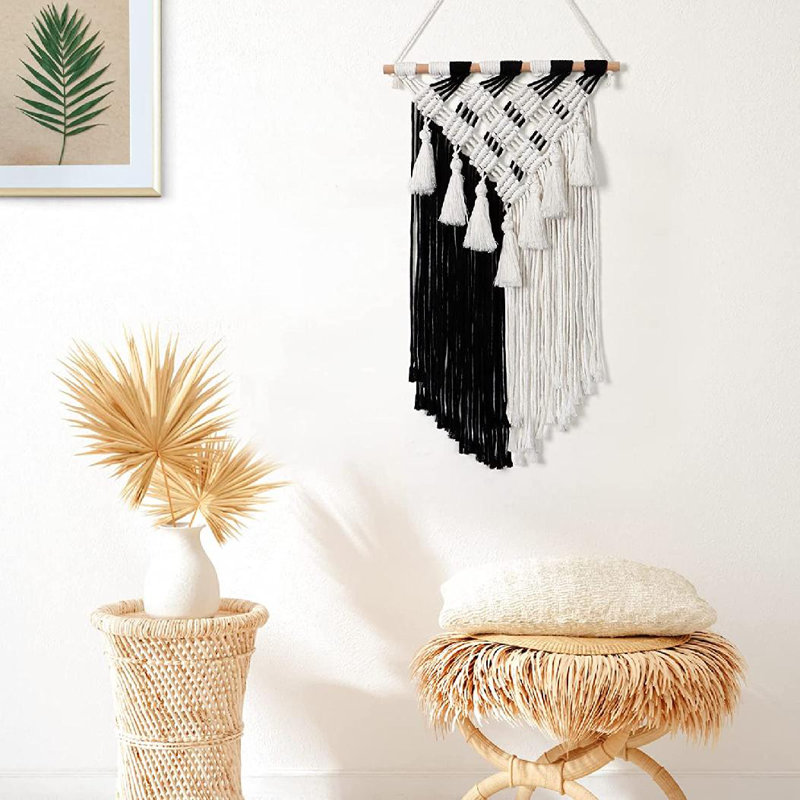 Contemporary Macrame Decor: Cotton Wall HangingView Details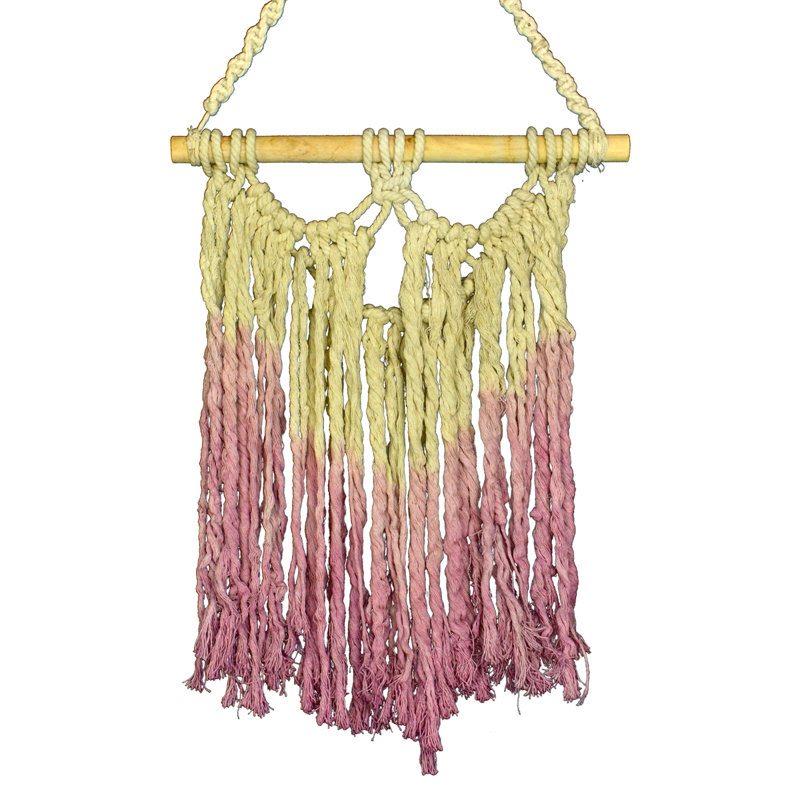 Macrame Wall Art: Macrame Wall DécorView Details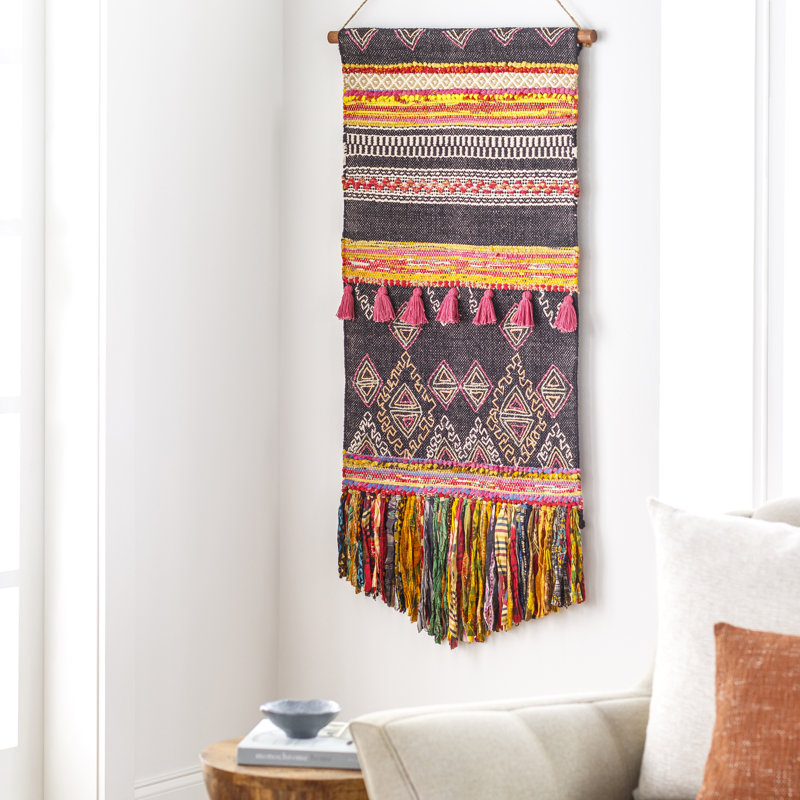 Pink Bohemian Macrame On Canvas PrintView Details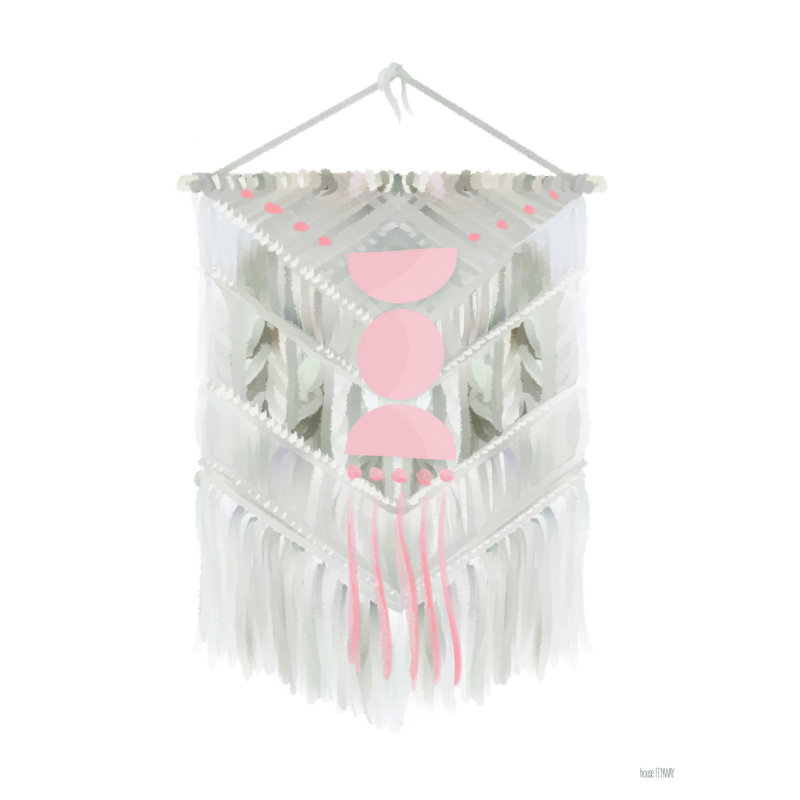 Pink Bohemian Macrame On Canvas PrintView Details
Weaving Dreams: Macrame Wall Decor Ideas for a Bohemian Retreat
In the heart of every room lies the essence of its decor, an epitome of style that manifests through diverse design elements. Among these, the allure of Macrame wall decor stands as a timeless statement. This quaint bedroom intricately weaves the free-spirited charm of bohemian style with the meticulous artistry of Macrame wall hangings, embodying a unique blend of tradition and contemporary aesthetics.
The centerpiece of this room's charm manifests through the intricate Macrame wall art that serves as the backdrop to the tranquil sleeping quarters. The meticulous handwork, characterized by knots and weaves, transforms a mere wall into a canvas of artistic expressions. The deep magenta hues of the Macrame wall decor against the soothing teal wall encapsulate a dialogue between vibrancy and serenity.
Exploring Macrame interior decorating ideas, one finds a rich terrain of creativity and craftsmanship. This decor trend, rooted in ancient traditions, has found a distinctive place in modern interiors, offering a touch of elegance and a whisper of the old-world charm. The Macrame wall hangings, with their fine threads and poised fringes, invite a tactile exploration, engaging not just the eye but also the touch.
Transitioning from the wall to the entire room, the unity between Macrame wall decor and other elements unfolds a scene of harmony. The cozy bed with its vibrant linens, the lush indoor plants, and rustic wooden elements all resonate with the bohemian ethos that Macrame articulates. The myriad textures, from the softness of the fabrics to the roughness of the pottery, compose a multilayered sensory experience.
This room is more than just a sleeping quarter; it's a statement of individuality and artistic preference, an embodiment of the bohemian spirit. Macrame wall art serves as a subtle yet profound cornerstone, imparting a sense of identity and a stamp of uniqueness.
Trendy Large Macrame Wall Art
Once a popular home decorating trend in the 70's, macrame wall decor is is back with a vengeance.  See this for yourself by checking out magazines, home improvement shows and even online.
boho macrame wall decorations- Hanging Macrame wall tapestryView Details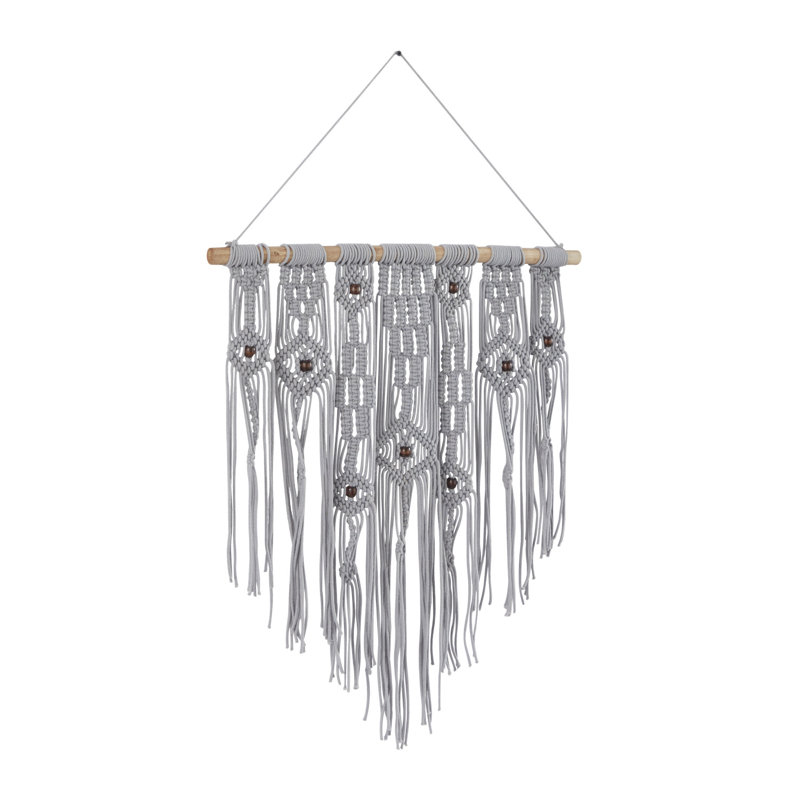 Hand Woven Blended Fabric Wall HangingView Details
XL-Macrame Wall Hanging – woven wall decorationsView Details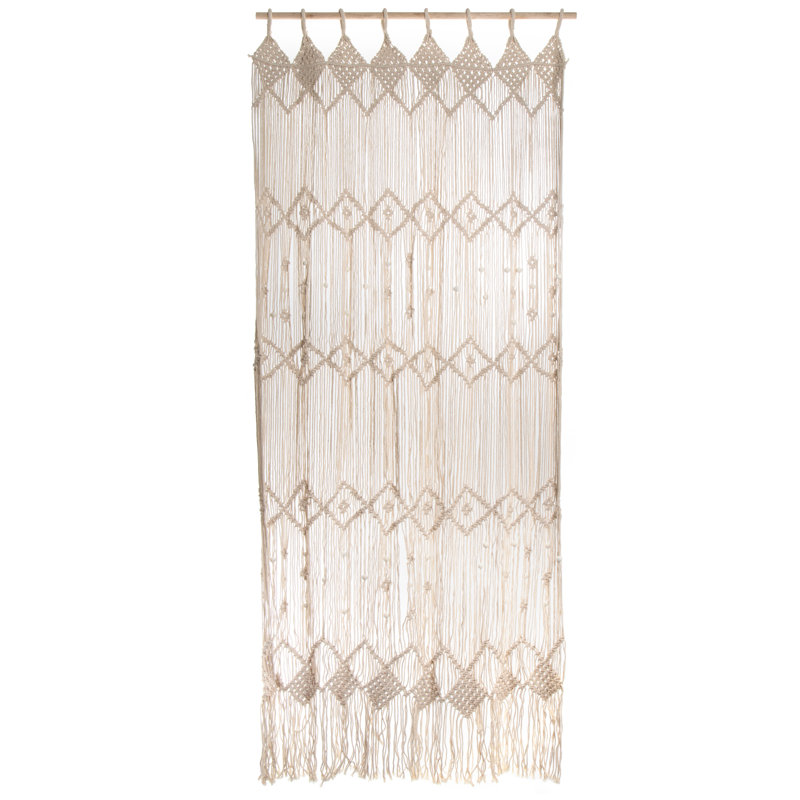 Macrame Wall Decor: Macramé Wall HangingView Details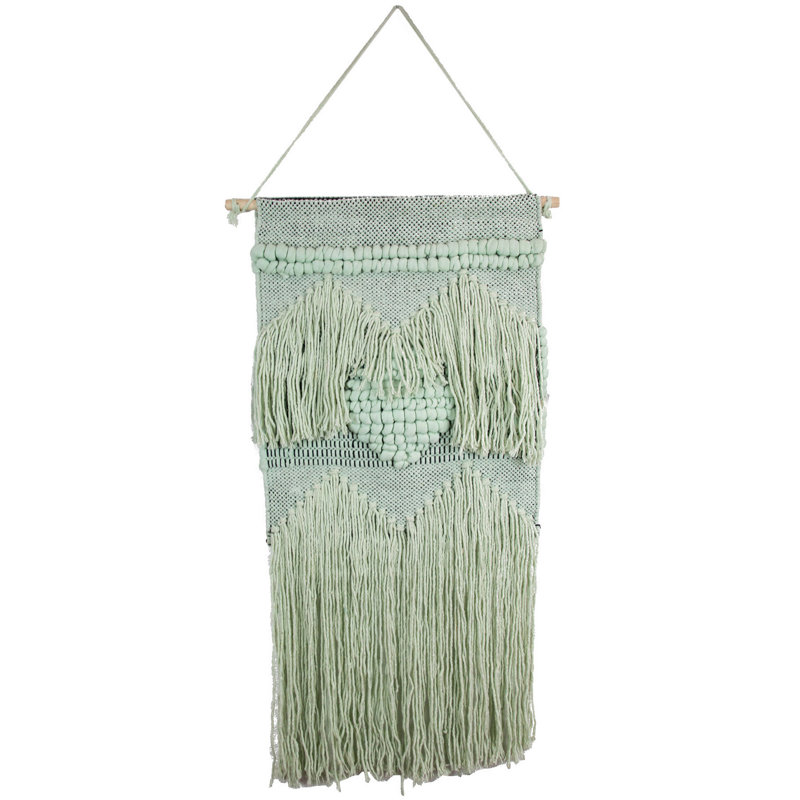 Hand Woven Cotton Tapestry: Macrame wall tapestriesView Details
Macrame Panel Decorative Wall Art Décor By Rosecliff HeightsView Details
Revitalizing Your Space: Enlivening Macrame Wall Decor Ideas
Immerse yourself in the intricate realm of Macrame wall art. The comforting aesthetic of woven textures against smooth walls brings a natural harmony to the living space. As a seeker of unique design elements, the exploration into Macrame wall decor unfolds endless possibilities to embellish your abode with a soft, earthy touch.
Macrame Wall Hangings: A Delicate Artistry The delicate intertwining of threads in Macrame wall hangings presents a juxtaposition of tender craftsmanship and strong aesthetic statement. It's not merely about adorning the wall, but about inviting a piece of artisanal mastery into your home. The image of a finely crafted Macrame hanging against a bold colored wall evokes a sense of rustic charm mixed with modern elegance. The playful tassels and soothing color palettes intertwined in geometric patterns effortlessly embody the home with a cozy, warm spirit.
Adorning with Macrame wall decor is not about filling spaces; it's about creating an ambient aura that resonates with tranquility and modern sophistication. The enthralling image, as seen in the quaint yet stylish bedroom, showcases how a rich, textural Macrame wall decor takes the aesthetic appeal of a room a notch higher. The careful hangings adorned with vibrant tassels not only add an element of color but also an exotic, whimsical vibe that is both refreshing and nostalgic.
Macrame Interior Decorating Ideas: A Nook of Serenity Embracing Macrame interior decorating ideas is about crafting a sanctuary filled with serene vibes. Infuse your home with pieces that echo the whispers of old-world charm yet speak the language of modern-day elegance. A home adorned with Macrame wall decor is a home bursting with character. Every knot, twist, and tassel tells a story, adding layers of texture and visual intrigue to your abode.
Venture into the transformative journey of Macrame interior decorations and unveil the magic that a simple piece of woven artistry can bring to your dwelling. It's a melodic fusion of traditional art form with contemporary living spaces, creating a haven of visual delight and calm.
Beautiful Macrame Wall Hangings –  Sophisticated Woven Wall Art
Enhancing a large space is super easy when you use large macrame wall hangings.   Absolutely ideal for bedrooms and living rooms with a large open area to decorate.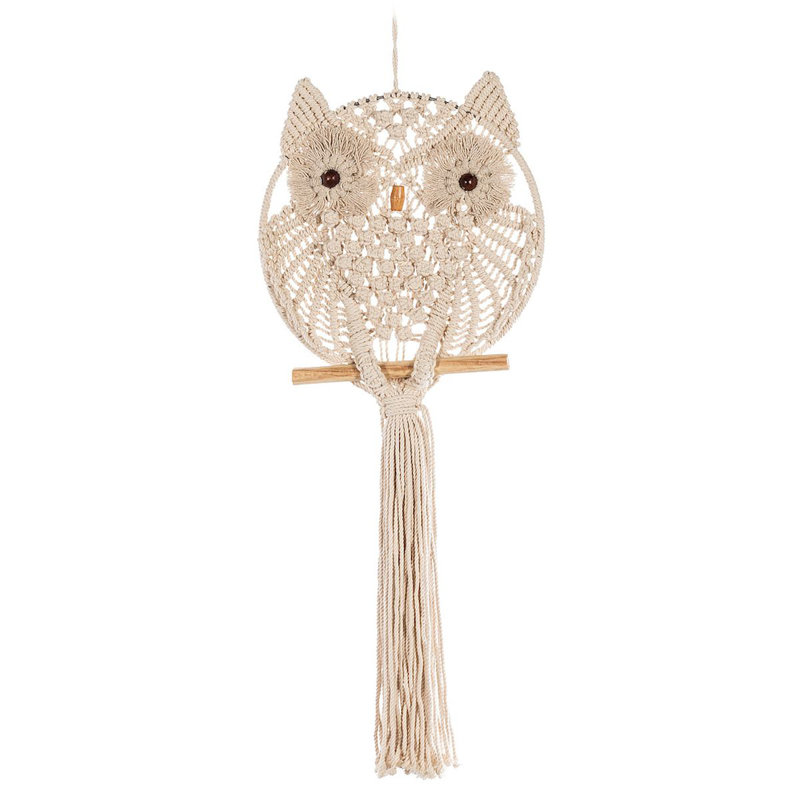 Macrame Wall Decorations: Cotton Owl Macrame Wall HangingView Details
Cotton Dakota Fields Rustic Macrame Wall Hanging with RodView Details
Macrame Wall Hanging Leaves – Wall Hanging Boho Wall DecorView Details
Flber Macrame Wall Hanging Tie-Dye GeometricView Details
Tree of Life Macrame Wall Hanging, HandmadeView Details
Macrame Wall Hanging Large Boho Natural Rope Hand-WovenView Details
Embracing Serenity: A Dive Into Macrame Wall Art Decor
The transcendent charm of Macrame wall decor brings a tone of peaceful elegance to any room. This ancient form of textile, created by knotting instead of weaving or knitting, offers a unique avenue to enhance the look of your living space. Macrame wall art is an expressive way to exhibit texture and color, melding the traditional with the modern, forming an aesthetic that is both classic and contemporary.
Macrame Wall Hangings: More than Decor Embrace the Macrame wall hangings, and you embrace a tradition. As the subtle intricacies of Macrame take over the room, you witness a beautiful, soft geometry coming alive on the walls, creating a heartwarming and harmonious ambiance. The bedroom, being the haven of rest, becomes a canvas to the expressive, calming nature of Macrame. The soft pastel color palettes, typically used in Macrame art, aligns seamlessly with the soothing aura a bedroom seeks.
The gentle embrace of Macrame wall art, featured in the picture, shows a large, heart-shaped wall hanging, softly ruling over the room with its awe-inspiring design and delicate fringes. The matching smaller hangings, one on either side, complete the picture, encapsulating the room in a gentle, loving embrace.
Macrame Interior Decorating Ideas: The Knotty Affair Macrame is an affair of love and patience, as seen in the knotting tradition carried from centuries. It's not just a piece of decor but a testament to the timeless tale of beauty and precision. Every knot, every fringe speaks volumes of the meticulous effort, the creativity, and the traditional integrity preserved through ages.
The Macrame wall decor shown in the image is an epitome of an ethereal bedroom ambiance. The soft blush of pink intertwined with the gentle cream creates a dream-like state, perfect for the bedroom setting. The room feels bigger, fresher with the plush of pastel romance showered by the Macrame wall art.
Macrame is not just an item of decor; it is an experience of comfort, tradition, and aesthetic beauty that keeps giving. As a custodian of art and design, embracing the Macrame interior decorating ideas is a journey back to the roots, a journey every modern home needs.
Exquisite Large Macrame Wall hangings on Sale
Obviously with the drastic rise in popularity, exquisite macrame wall decorations are hard to find.  Making this type of home wall art decor almost impossible to find on store shelves.  Luckily below are an abundance of trendy yet luxurious macrame wall art that will make your room, apartment or home look sophisticated on a basic budget.
Macrame Wall Hanging Tapestry- rainbow wall hangingsView Details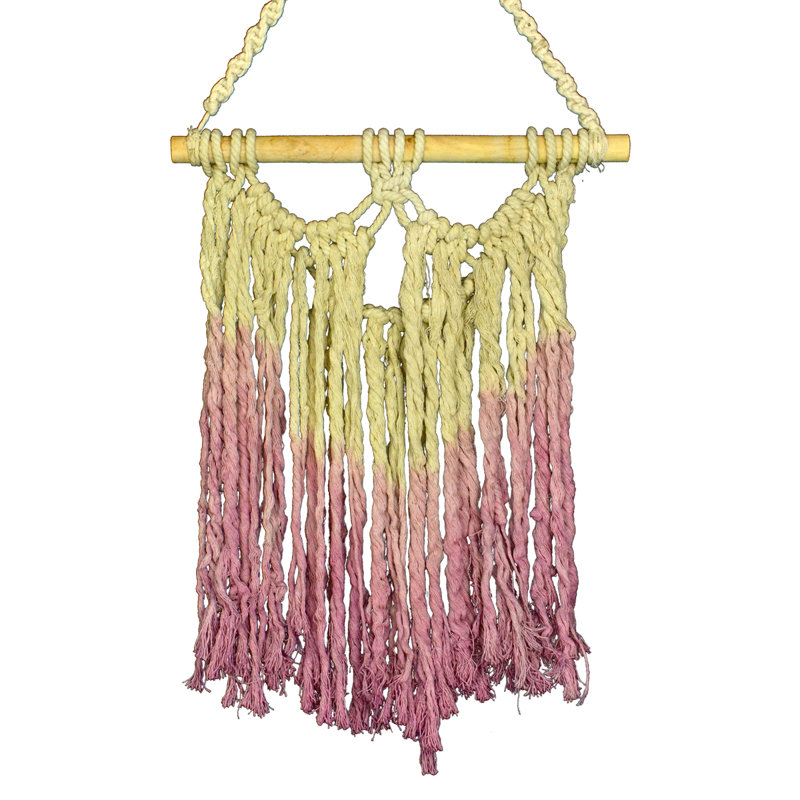 Bohemian Macrame Wall Decorations – Macrame Wall DécorView Details
OWER Large Macrame Wall Hanging Dip-DyedView Details
Macrame Wall Hanging Shelf – Boho Hanging Shelves for WallView Details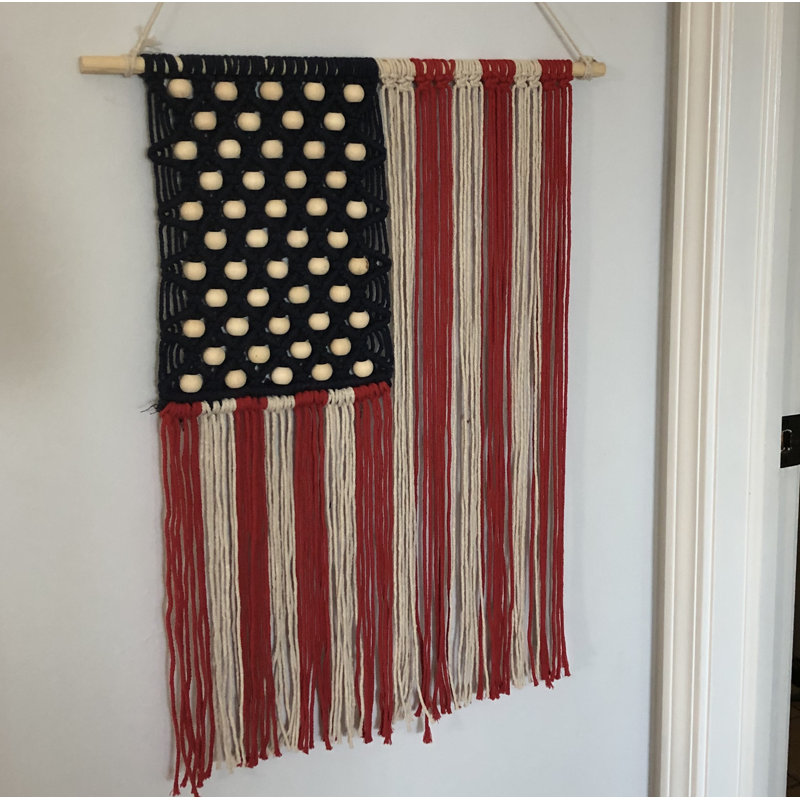 A Macrame American Flag Wall DécorView Details
Large Macrame Wall Hanging Macrame for home MacrameView Details
You also may enjoy these other home wall art decor ideas.
Many or all of the products featured here are from My partners who compensate me. This may influence which products I write about and where and how the product appears on a page. This has no bearing on my personal opnion.