Rustic, Bold and Popular Copper Wall Art
Elevate your interior design game with the captivating allure of copper wall art. It's not just about decorating your walls; it's about infusing your living spaces with a touch of opulence and character. Copper wall art stands out as a unique and mesmerizing choice, thanks to its ability to effortlessly introduce warmth and a spectrum of captivating colors, ranging from the rich, rosy hues of rose gold to the earthy tones of chestnut, hazel, and rustic charm.
While silver wall art leans toward a contemporary aesthetic and gold wall decor tends to exude a more traditional vibe, copper wall decorations display an astonishing versatility that allows them to seamlessly blend into almost any type of home decor theme. This adaptability is a testament to copper's timeless appeal; it bridges the gap between classic and modern, making it a go-to choice for interior enthusiasts looking to create spaces that are as unique as they are inviting.
The beauty of copper wall decorations lies not only in their aesthetic appeal but also in their functionality. They have the remarkable ability to complement virtually any room within your home. Whether you're envisioning a stylish kitchen makeover, a professional and inviting office space, a cozy bedroom retreat, or a vibrant living room, copper wall art has you covered. Its transformative qualities can turn any space into a haven of warmth and sophistication.
Now, let's delve deeper into the world of copper interior decorating. The options are virtually endless, catering to diverse tastes and preferences. If you're seeking a statement piece, consider a copper wall clock, a functional and artistic addition that adds a timeless element to any room. The shimmering copper surface of a well-crafted wall clock can become a focal point, commanding attention and admiration.
For those with a penchant for the artistic and abstract, copper wall sculptures are a fantastic choice. These sculptures range from intricate and thought-provoking designs to bold and geometric arrangements. They breathe life into your walls, evoking emotions and sparking conversations.
But that's not all. If you're looking to create an enchanting ambiance, consider incorporating copper wall sconces into your decor. These charming fixtures cast warm, ambient light, creating an inviting atmosphere that transforms your space into a sanctuary of relaxation.
Intrigued? We're just getting started. Stay with us to explore a wealth of innovative and inspiring copper interior decorating ideas. Discover the finest examples of copper wall art that will not only elevate your home's aesthetic but also infuse it with a timeless elegance that captures the essence of contemporary living. Whether you're a seasoned design enthusiast or embarking on your interior decorating journey, there's something truly captivating about the allure of copper that's sure to inspire you. So, continue reading and let your imagination run wild with the possibilities that copper wall art can bring to your living spaces.
Infusing Warmth and Elegance with Copper Wall Decor
Copper interior decorating ideas have been at the forefront of design trends, embodying a perfect blend of warmth, sophistication, and timeless elegance. This particular bedroom illustrates the magnificent interplay of copper tones against a backdrop of sumptuous colors, showcasing how copper wall decor can elevate a space to new heights.
At the core of this bedroom's design, the Copper wall art acts as a cornerstone that ties all other elements together. The arched copper wall mirrors add a mesmerizing geometric aesthetic, amplifying the space's depth and character. Mirrors have always been a darling in interior design for their ability to make a space feel larger and brighter; however, when wrapped in copper, these mirrors bring a sense of opulence and richness.
In addition, the room displays a stunning integration of copper wall decorations, including copper-framed wall planters brimming with lush flowers. This not only adds a natural element to the room but also complements the copper tones with the vibrant colors of the flowers.
To maximize the use of copper, incorporating various textures and patterns in the copper wall decor is crucial. This can be achieved through embossed or hammered copper wall art, which adds depth and dimension. Pairing copper with other materials such as wood or glass can also bring balance and contrast to the space.
Another ingenious Copper interior decorating idea is the utilization of copper accents in furniture and accessories. This bedroom features copper bedside tables and a copper-accented chaise lounge that echoes the tones on the walls.
When choosing copper wall art, it's essential to consider the scale and placement. Too much copper can overwhelm a space, while too little might go unnoticed. Striking the right balance is the key to achieving a cohesive and well-curated design.
In essence, copper wall decor, when executed thoughtfully, can transform a space into an elegant and warm sanctuary. Its versatility and classic appeal make it a treasured element in interior design.
Trendy Copper Wall Decorations
If keeping up with the latest and greatest home decor trends are important then use copper wall decorations.   A popular home wall art decor trend since 2016 that is still going strong and as a matter of fact picking up momentum!  See this for yourself by taking a look in magazines, friends houses and even on Pinterest.  With that being said you can find some of the most popular copper wall art here.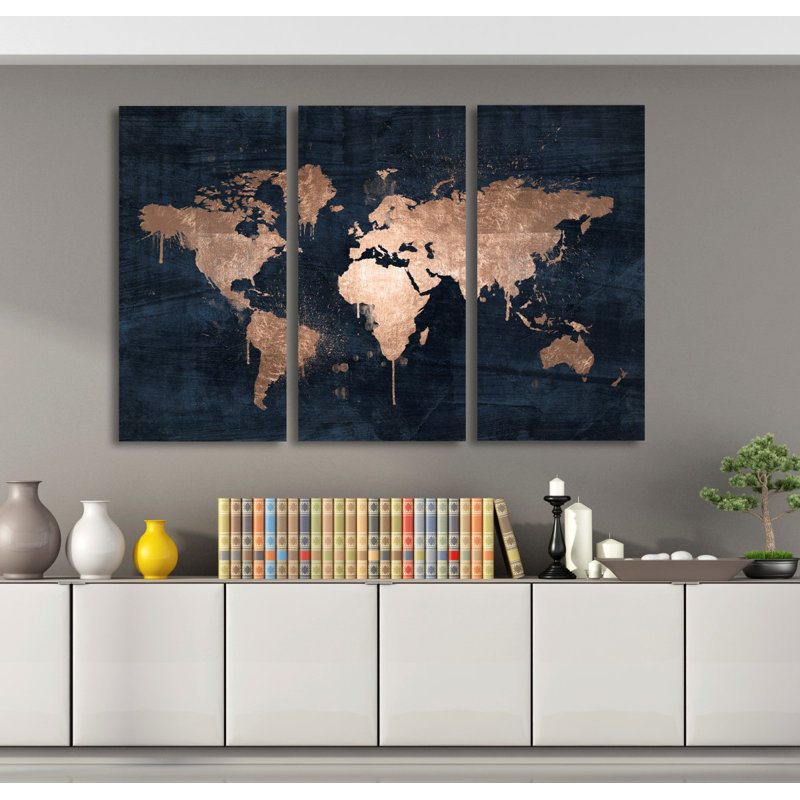 Mapamundi Copper Triptych Painting Print on Wrapped Canvas – Copper Wall Art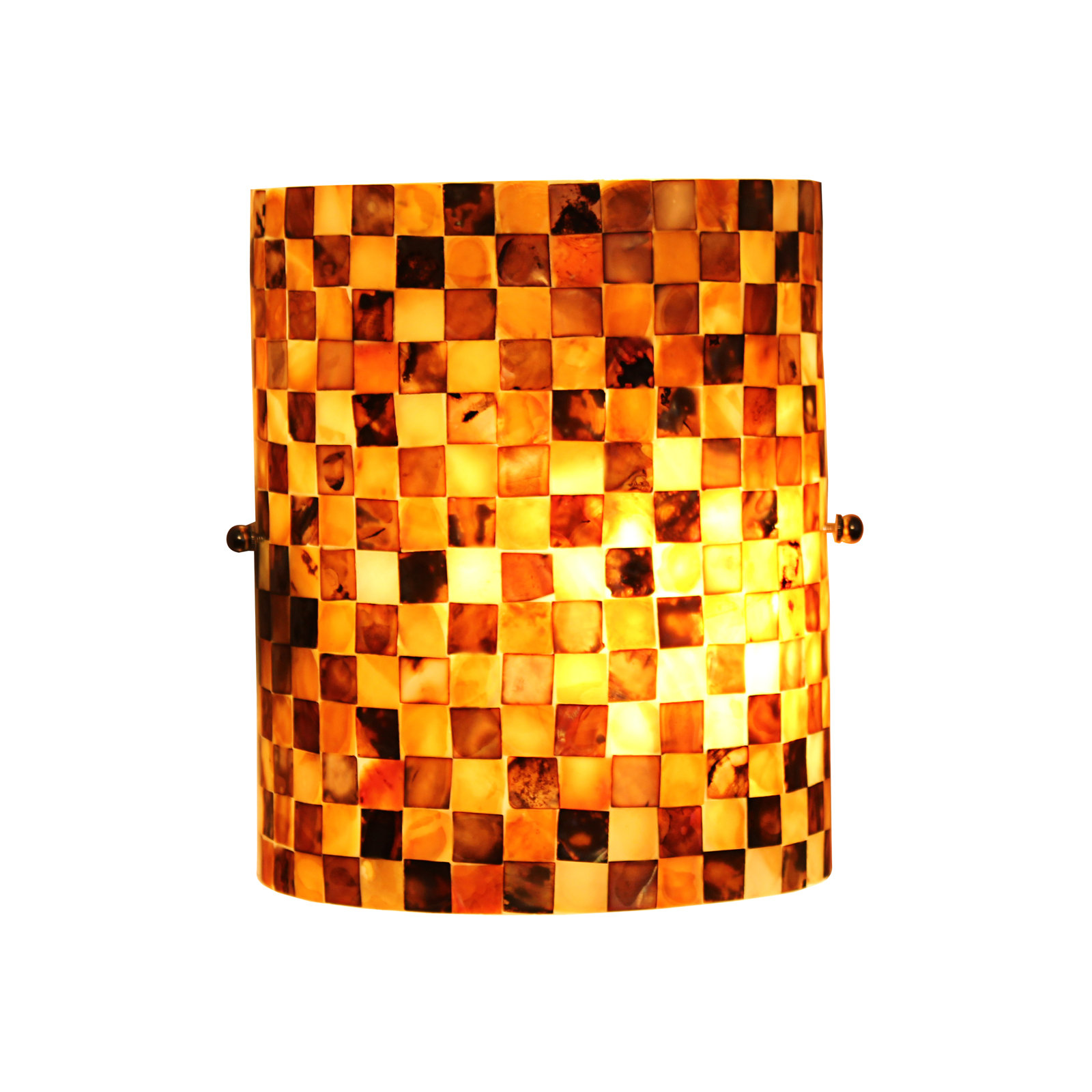 Elgielyn 1 – Light Copper Flush Mount – Copper Wall Decorations
Solid Gold More Copper by Oliver Gal | Modern Premium Canvas Art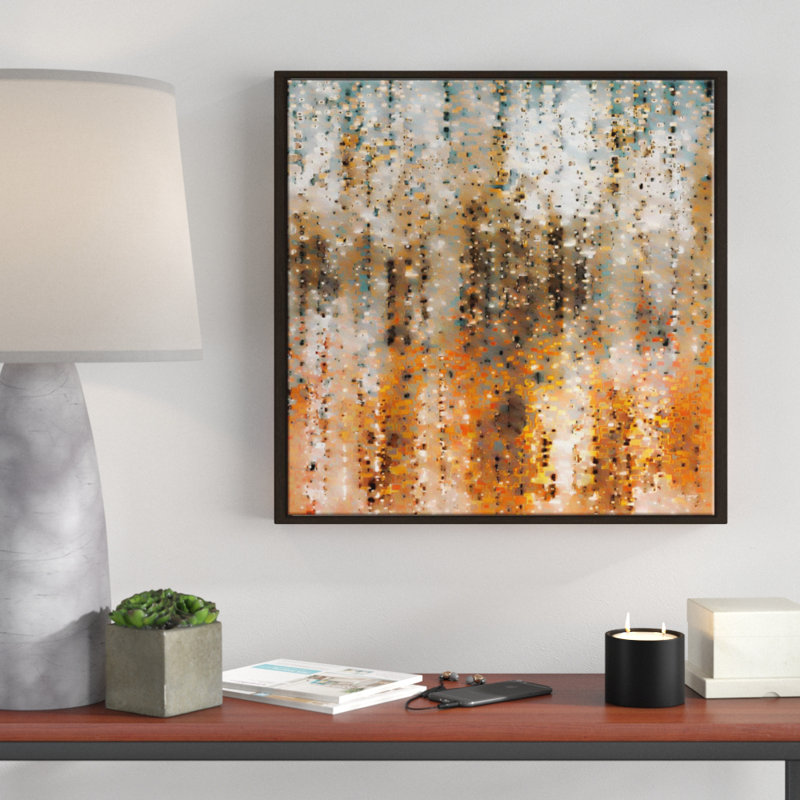 'All Things Through Philippians 4:13' Framed Graphic Art Print on Canvas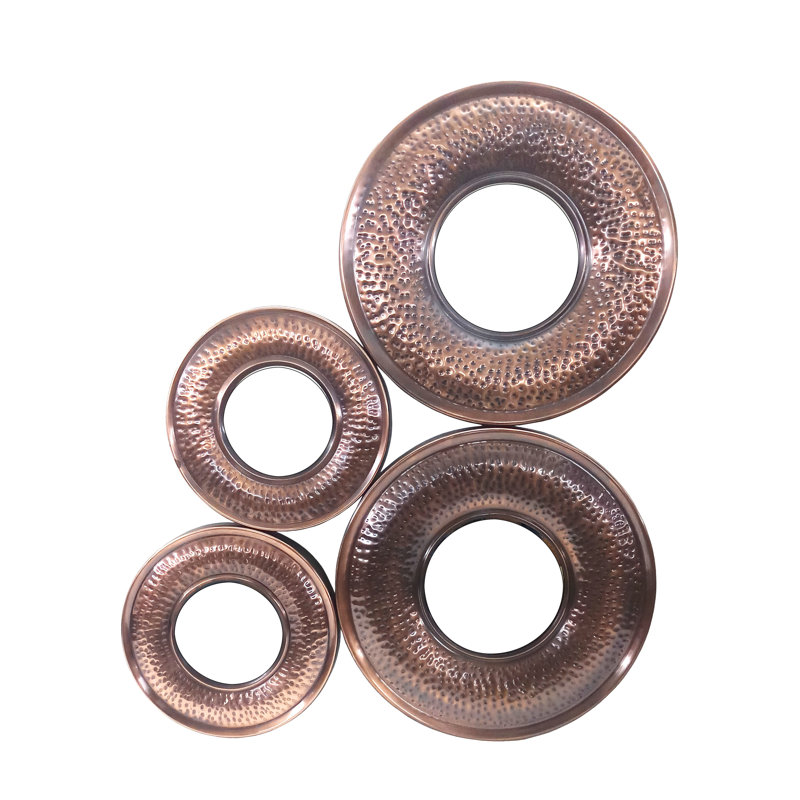 Aged Copper Hammer Mirror Set – Copper Wall Decorations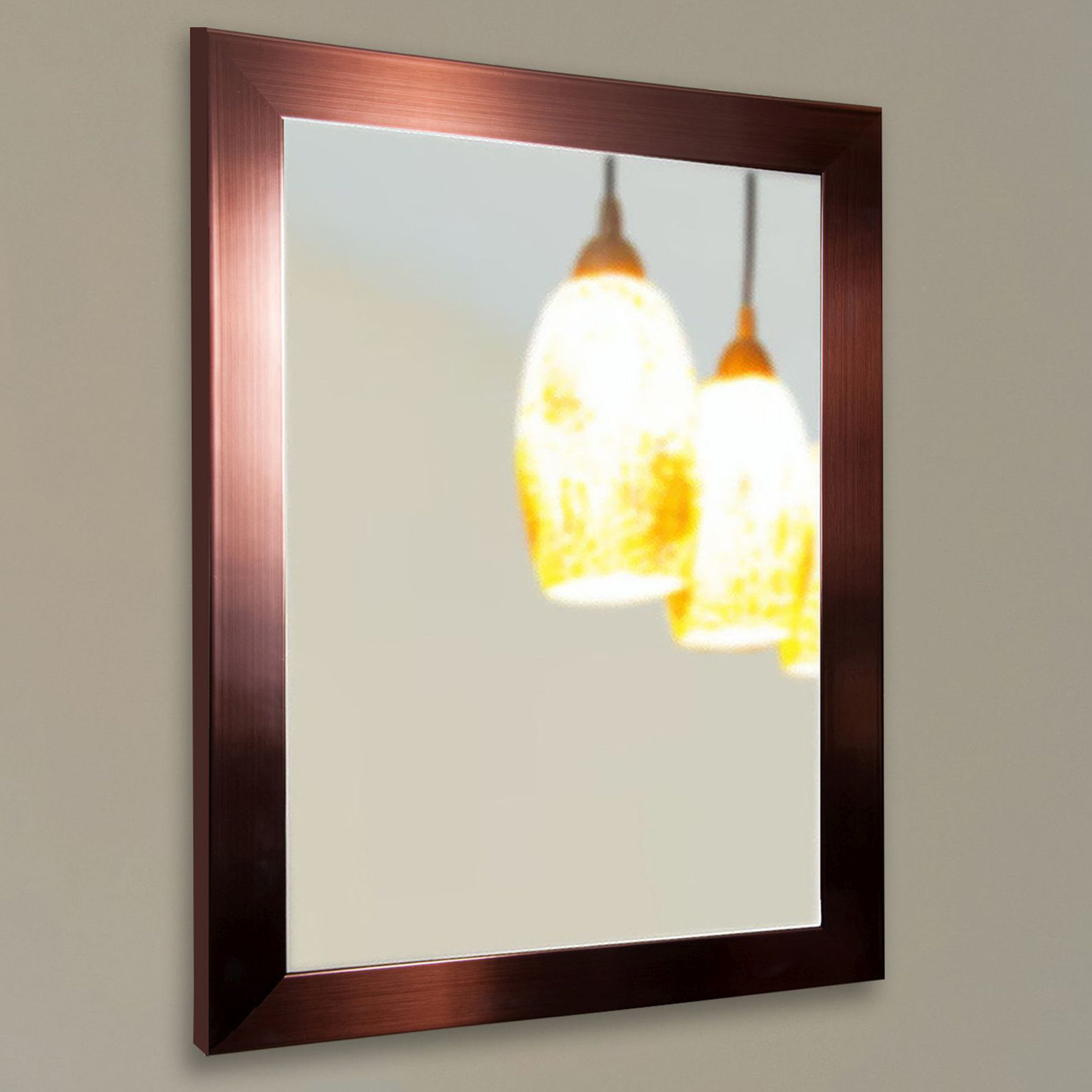 Copper Wall Decorations – Conahan Copper Bronze Accent Mirror
Cultivating a Timeless Oasis with Copper Wall Decor
The enchanting alchemy of copper interior decorating ideas is no secret among those who have an eye for design. Copper, with its warm glow and classic elegance, can bring a touch of magic to any space. In this exquisite living area, copper wall decor and accents are thoughtfully interspersed to conjure an atmosphere that is both inviting and luxurious.
The pièce de résistance in this space is undeniably the copper wall art. The tall, arched windows are framed in copper, with a delicate stained glass pattern that filters the light to cast a warm and inviting glow. These stained glass copper windows do more than just encase the room; they are a testament to artistry and timeless beauty.
Complementing the windows, the room boasts an array of copper wall decorations. The copper-framed mirrors not only enhance the luminosity of the space but also seamlessly blend with the copper theme. They also serve as an excellent backdrop for the sleek copper vase shelves that house lush plants and flowers, adding a fresh dimension to the room.
The furniture in this room beautifully echoes the copper elements. The plush, copper-toned couch is juxtaposed against deep turquoise walls, creating an opulent contrast. Adding to this is the round copper coffee table, which serves as a focal point, pulling together the copper accents spread throughout the room.
Subtle copper accessories like pillows, flower vases, and trinkets can be utilized to add layers to the decor. When working with copper, it is crucial to consider the balance. The warm copper hues should be paired with cool tones, as seen in the turquoise walls, to achieve a harmonious blend.
Additionally, incorporating greenery into the copper interior decorating ideas is a splendid move. The verdant plants set in copper pots bring vibrancy and life to the room. They also create a visual balance, ensuring that the copper elements do not overwhelm the space.
In essence, by employing copper wall decor and complementing it with copper-accented furniture and accessories, one can craft a space that is at once warm, opulent, and timeless.
Copper Wall Sconces & Copper Wall Lamps
Copper wall sconces and copper wall lamps bring an incredible amount of light and warmth into dark hallways, entry ways, and seating areas.   Which is why so many in the know home decor enthusiasts absolutely love to use these throughout their homes.
Maxim Santa Barbara Dark Sky 1-LT Outdoor Wall Lantern,
SW Ceramic copper wall sconce – copper wall decorations
Westinghouse Lighting 6361000 Emma Jane One-Light, Washed Copper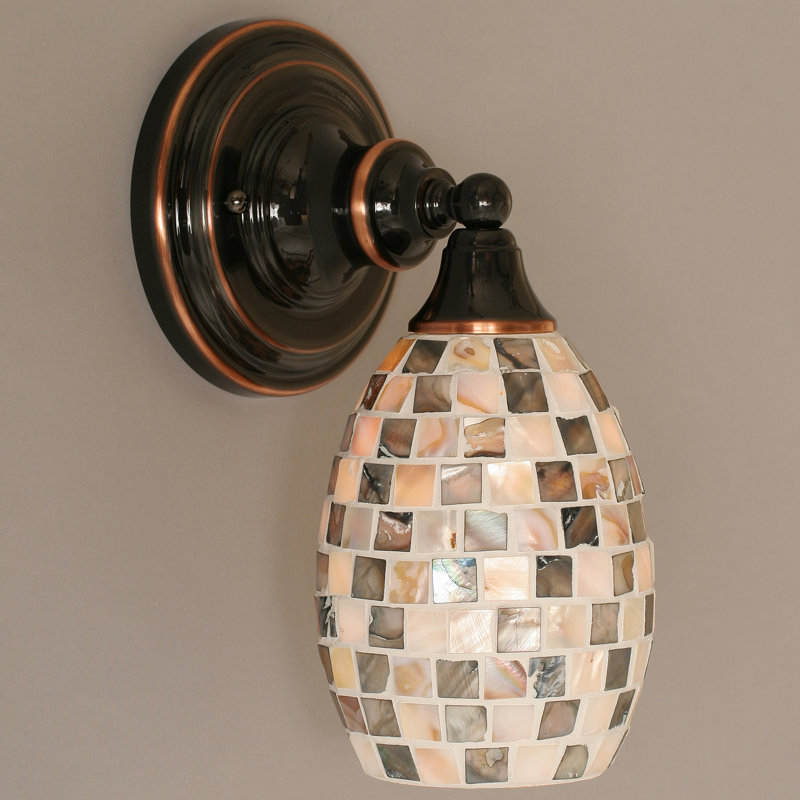 Copper Wall lamps – Poirier 1-Light Armed Sconce
Meyda Tiffany Custom Lighting  Leaping Trout Wall Sconce,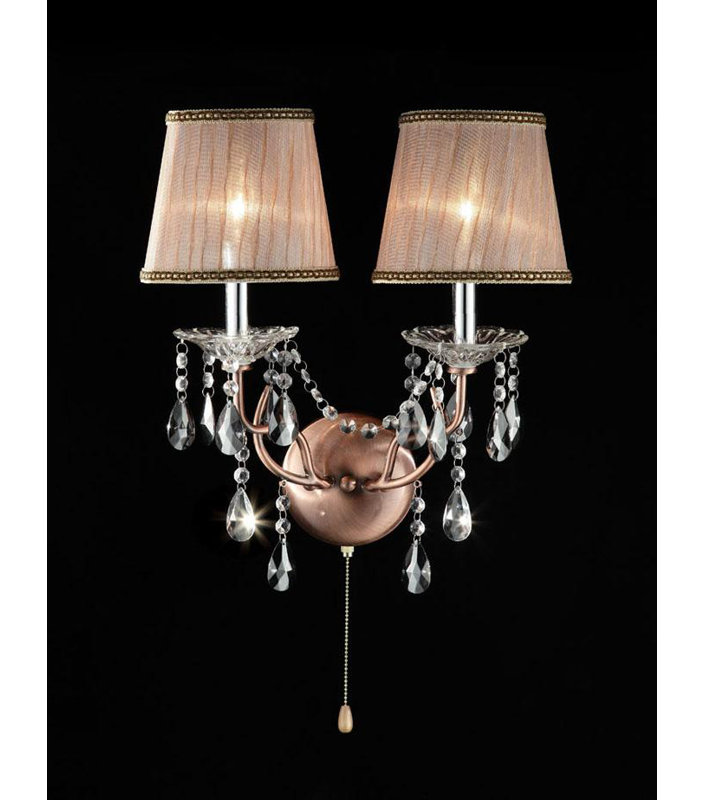 Copper Wall Decorations – Ronning 2-Light Candle Wall Light
Embracing Regal Splendor with Copper Wall Decor in the Bedroom
The gentle allure of copper has been revered through the ages, and when it comes to interior design, copper wall decor holds a special place. This breathtaking bedroom is an epitome of how copper interior decorating ideas can be melded to create a sanctuary that's not just a place to rest but a statement of luxury and sophistication.
The centerpiece of this room is the grand archway encasing the bed, a masterstroke in copper wall art. The copper-toned arch with intricate designs envelops the bed, creating an alcove that's reminiscent of a regal chamber. The soft curves of the arch paired with the straight lines of the copper wall panels evoke a sense of balance and poise.
Accentuating this are the stained glass windows flanking the bed. Framed in copper, they bring an air of old-world charm while reflecting the lustrous warmth of copper hues.
Another striking element in this bedroom is the copper wall decorations. Above the headboard, an abundance of foliage cascades down from copper shelves, giving the room a lush, vibrant feel. This combination of copper with natural elements is essential for breaking the monochrome and introducing an organic aspect to the decor.
The bedding, with its silky textures and copper-colored linens, is in perfect harmony with the copper wall decor. To add a splash of contrast and luxury, teal cushions and a headboard set against the copper backdrop create a rich tapestry of colors.
Copper accents extend to side tables and lamps, adding a cohesive flow through the room. The delicate balance between the opulence of copper and the freshness of the plants makes the room feel both extravagant and welcoming.
In conclusion, this bedroom is a perfect example of how copper wall decor, when artfully incorporated, can transform a space into a sumptuous retreat that feels as good as it looks.
Metal Copper Wall Art  – Copper Wall Decor
Effortlessly bring bold and rich color into any space with metal copper wall art not to mention warmth and depth.  Combine copper wall art with plush fabrics and other stone, glass and metal to create a luxurious space.
Fire Orange – Cosmic Energy copper wall art – Copper wall decor
Heather Ann Creations 4 Square Panel Decorative Metal Wall Art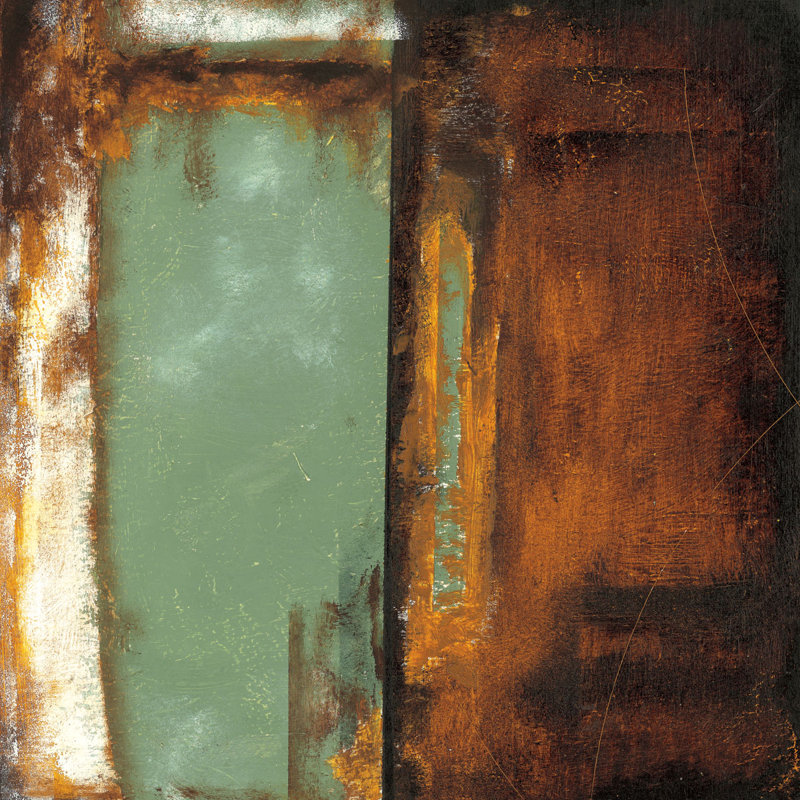 Copper Age I by Marc Johnson Painting Print on Wrapped Canvas
Modern  Abstract Large Metal Wall Sculpture Copper
Reedyville Goods Copper Accents Windowpane Laser Cut Out Faux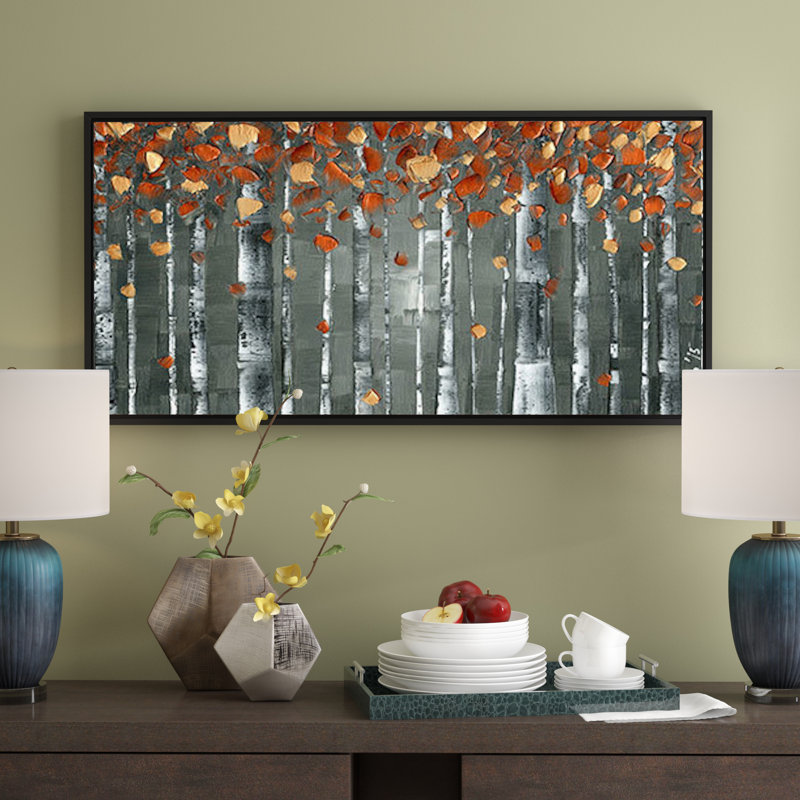 Copper Birch Framed Graphic Art – Copper Wall Decorations
Crafting an Invigorating Culinary Haven with Copper Wall Decor
When it comes to creating a space that's not just functional but also radiates warmth and opulence, copper interior decorating ideas are a treasure trove of inspiration. This kitchen is a testament to how copper wall decor, blended with an assortment of copper accents, can conjure a culinary haven that is both energizing and elegant.
The backbone of this kitchen's decor is the copper wall art. Copper shelving against a rich, copper-hued wall serves not just as storage but also as a canvas for artful display of kitchenware. The play of textures between the smooth copper and rustic wooden elements creates a tantalizing visual depth.
Another remarkable feature is the copper wall decorations. A collection of copper pans and utensils are artistically displayed, transforming functional items into decor elements. The kitchen blooms further with vibrant floral arrangements and lush greenery cascading from copper pots, blending nature with luxury.
The copper theme is seamlessly extended to the cabinetry and appliances. The copper stove and range hood are not merely appliances; they are central pieces that further the copper narrative. The choice of copper finish for the cabinetry carries the theme uniformly throughout the space.
For lighting, copper pendant lights can be introduced to not just brighten up the space but also enhance the copper decor elements. The delicate balance between illumination and shadow plays a pivotal role in creating a cozy yet vibrant ambiance.
The floor can be adorned with a rustic rug that complements the copper hues, and wooden countertops could be integrated to add a touch of rustic charm.
In essence, the artistic amalgamation of copper wall decor, appliances, and natural elements crafts a kitchen that is not just a place to cook but a space that feeds the soul with its warmth and invigorating energy.
Copper Wall Clocks – Copper Wall Art
Larger than life and bold copper wall clocks will capture the attention of friends and family.  Indeed copper wall clocks are incredibly popular in homes around the world.
Patinated Copper Rustic Square Large Wall Clock – Vintage Wall Clock
Whitehall 16 in. Indoor Outdoor Wall Clock in Copper Verdigris
12-inch Copper Square Decor Wall Clock – metallic wall decor
Sunny Copper Diamond Rhombus Wall Clock – Copper Wall Decorations
Oversized Round Copper Rustic Wall Clock – Copper Wall decor
Large Square Turquoise Copper Wall Clock – Rustic Copper Wall Decor
Weaving a Tapestry of Elegance with Copper Wall Decor in the Bedroom
In the world of interior design, the interplay of colors, textures, and materials can conjure spaces that are not just visually pleasing but also evoke emotions. This bedroom is a symphony of such elements, with copper interior decorating ideas being the crescendo. Here, copper wall decor is the golden thread that weaves together a tapestry of elegance and tranquility.
The focal point of the room is undoubtedly the copper wall art. Above the headboard, an opulent copper-framed mirror is surrounded by a halo of copper leaves. This creates a central piece that draws the eye and reflects the warmth of the room. The circular form of the mirror contrasts beautifully with the straight lines of the furniture and paneling.
Complementing the mirror, rich copper drapes frame the windows, adding a sense of depth and luxury. Copper wall decorations also extend to the lighting, with copper-based bedside lamps that add an intimate glow to the space.
The bedding is another spectacle, with an assortment of plush pillows that mirror the copper tones, and a sumptuous velvet throw that adds texture and richness. The dark headboard serves as a backdrop that contrasts and highlights the copper elements.
A dash of color and life is infused into the room with floral arrangements. These not only break the monochrome but also add an organic touch that is both refreshing and calming.
The copper narrative is furthered by the bedside tables and the stunning copper chandelier that crowns the room. This chandelier, with its round form, mirrors the copper wall art, creating a visual harmony that's pleasing to the eye.
The choices of dark tones for the walls and floor serve as a canvas upon which the copper elements can truly shine.
In conclusion, this bedroom illustrates the power of copper wall decor in creating a sanctuary that is elegant, warm, and exquisitely inviting.
Copper Wall Sculptures – Metal Copper Wall Art
Brimming with personality copper wall sculptures make a powerful focal statement.  Therefore a great decorative option if you have a drab wall needing both color and texture.  Overall these metal copper wall art pieces are ideal when wanting to make an unforgettable impression.
Heather Ann Creations Starburst Flower Shaped Modern Metal
Copper Metal Wall Art Decor, 5 Piece Set of Modern Wall Art
NOVICA Archaeological Bronze and Copper Wall Mural,'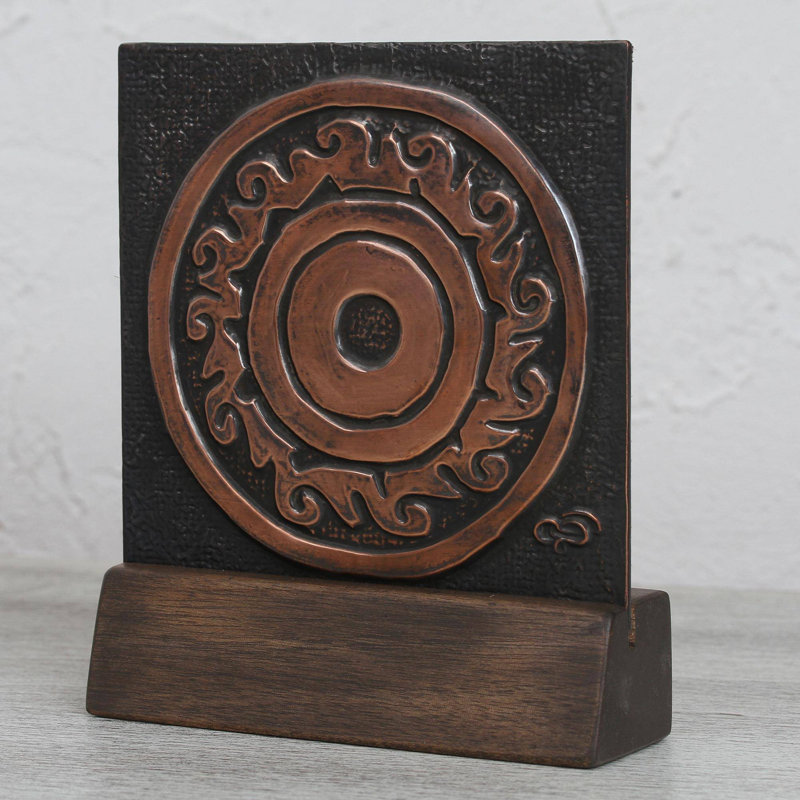 Copper Wall Decorations – Pre-Columbian Sun Copper and Wood Relief Panel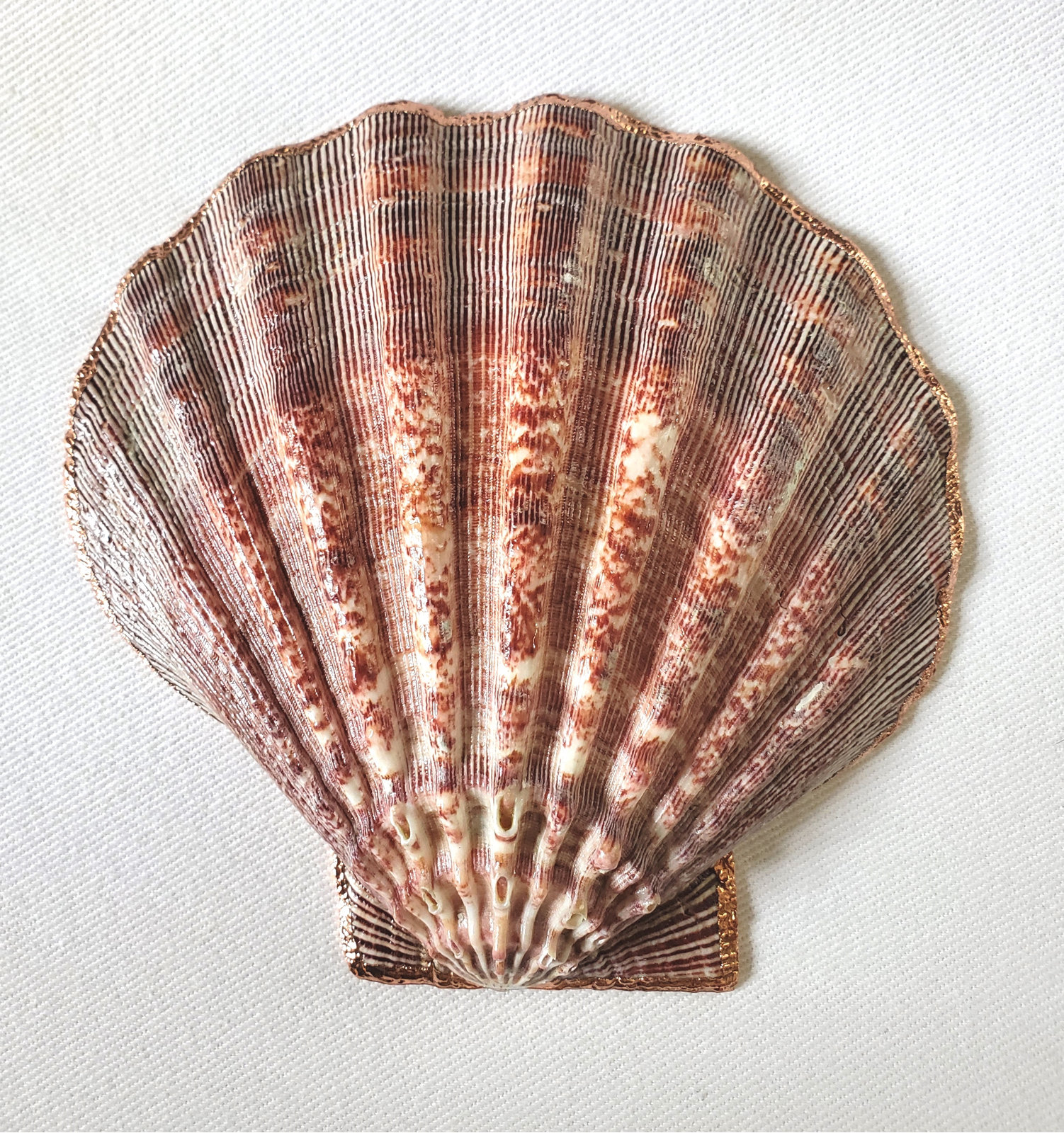 Metallic Copper Wall Decorations – Hibbitts Lions Paw Shell Sculpture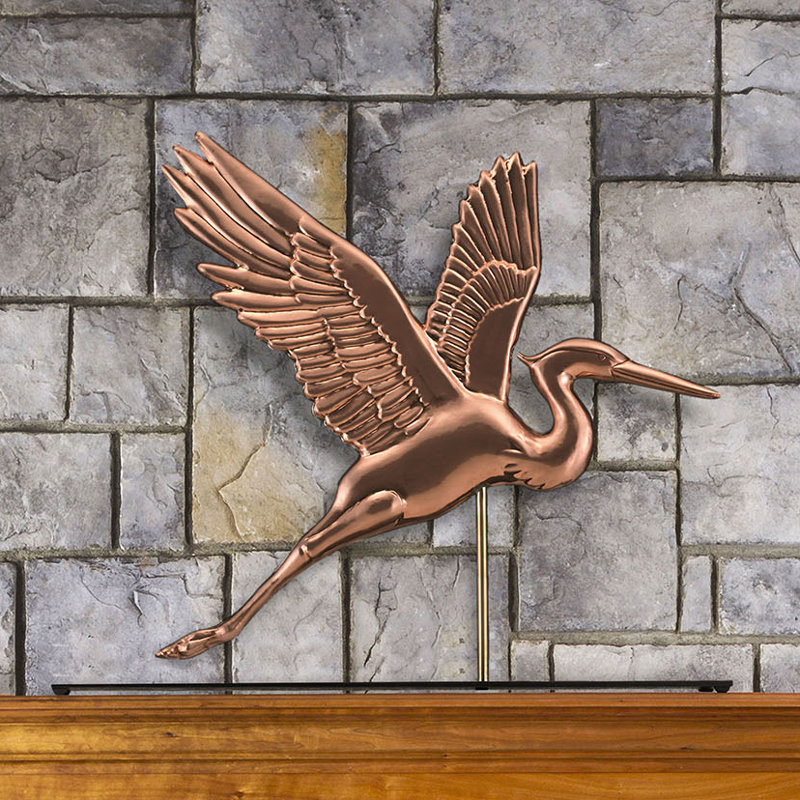 Copper Wall Decorations – Graceful Heron Figurine
Conjuring a Majestic Ensemble with Copper Wall Decor in Living Spaces
In the enthralling domain of interior design, copper interior decorating ideas hold an unwavering appeal for their versatility and opulence. This living room is a mesmerizing example, where copper wall decor seamlessly integrates with vibrant colors and lush florals to conjure a space that is as majestic as it is inviting.
The first stroke of genius in this living area is the copper wall art in the form of stained glass windows. These arched windows, framed in copper, are resplendent with geometric patterns and a medley of hues. The light that filters through bathes the room in a warm, golden glow that is nothing short of enchanting.
Complementing the windows are copper wall decorations in the form of copper-accented mirrors, which amplify the space's luminosity while echoing the copper theme.
The furniture in this room is carefully curated to complement the copper elements. The focal point is the plush velvet sofa in a bold purple, which sets a regal tone. Copper side tables and a coffee table are positioned to enhance the cohesion of the copper narrative.
Accentuating the opulence, a copper lamp with an intricate design adds an exotic touch, while copper vases brimming with lush florals bring life and vibrancy to the space.
The choice of a rich purple carpet echoes the sofa, and the inclusion of copper-hued cushions adds layers to the décor, creating a rich tapestry of textures and colors.
In essence, this living room, with its copper wall decor, vibrant colors, and floral accents, is a majestic ensemble that is rich, inviting, and harmoniously balanced. It is a testament to how copper, when artfully utilized, can transform a space into an awe-inspiring retreat.
Copper Wall Decor Sale – Affordable Copper Wall Decorations
Finally a good sale is extremely hard to find and especially so when it comes to copper wall art.  Copper wall decor is undoubtedly one of the highest sought after forms of metallic wall art which means it sells out fast the rare occasions it can be found.  Fortunately online provides an amazing opportunity to find copper wall decor that is both beautiful and on sale meaning your home will be beautiful and your wallet happy.
Windmill at Zaandam II by Monet Copper Sweep Frame
7055 Inc Warrior Second Shield Metal Wall Sculpture – Copper Wall Decor
Artist Abe Chaotic Craziness Series By Kris Haas Print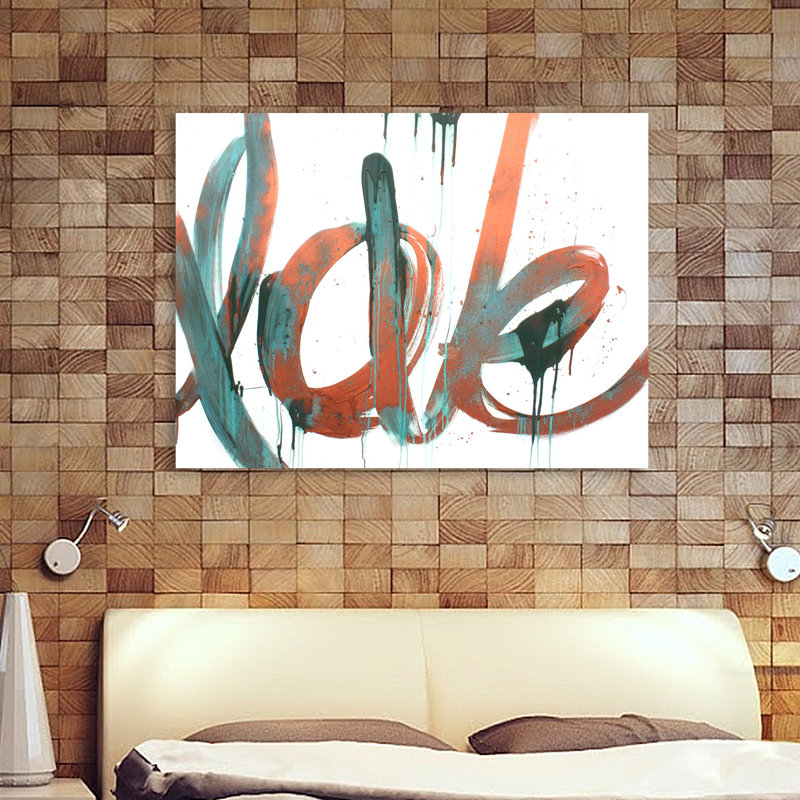 Copper Wall Decorations – 'Copper Love' by Kent Youngstrom Painting Print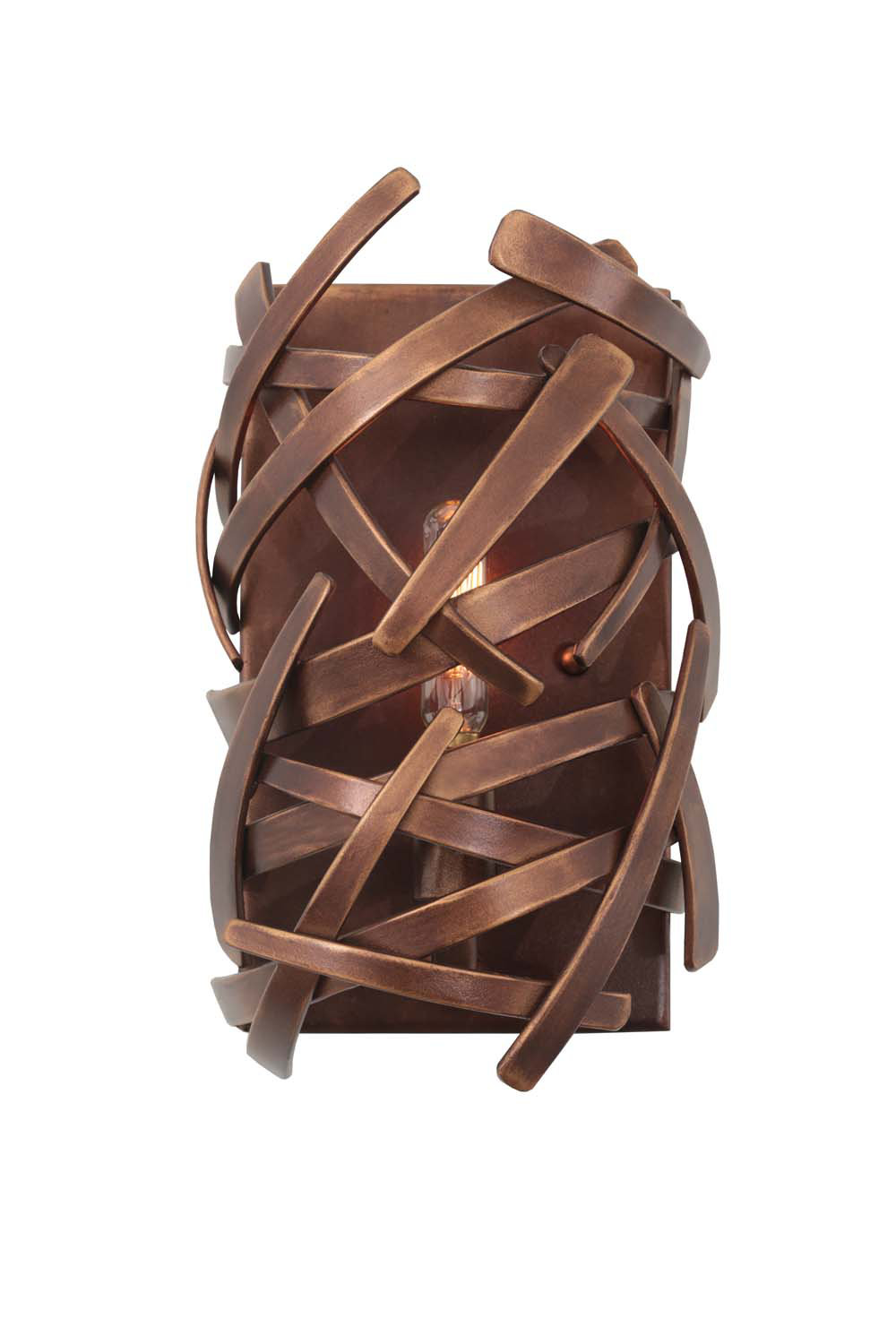 Copper Wall Decor – Findley 1 – Light Dimmable Copper Patina Corner Wall Light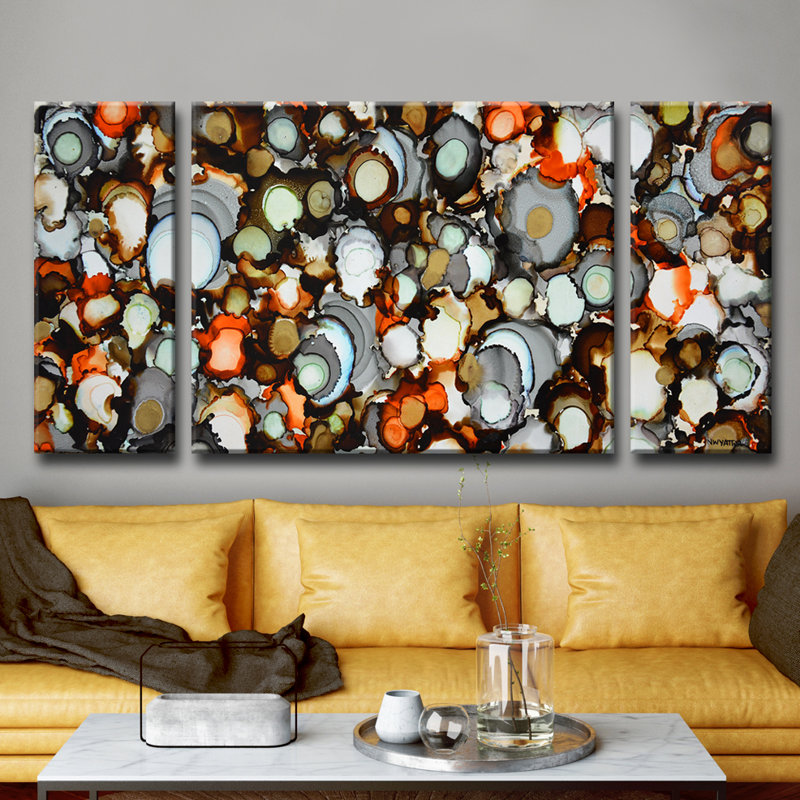 Copper Wall Decorations – 'Copper, Iron, Jade' – 3 Piece Wrapped Canvas Print
You also may enjoy these other home wall art decor ideas.
Home Wall Art Decor Index