Elegant Glass Wall Mirrors
A well decorated home is a balance of both style and function which is why glass wall mirrors make a great choice when it comes to glass wall decor. Although some would argue that having a decorative glass wall mirror is a necessity and I would be one of them.  In fact bathrooms, bedrooms and living rooms are great places for a decorative mirror. Even entry ways, kitchens, halls and seating areas are excellent for placing mirrors.
Along with helping us check our appearance glass wall mirrors also can make any space appear bigger, feel open and more spacious. Equally awesome is glass wall mirrors can also add great decorative flair to any room as they come in many different shapes and even frame options. Easily find any type of wall mirrors from something traditional and elegant to something abstract and funky. It all depends on your decorative taste and the room your decorating.
Furthermore using mirrored glass wall art looks quite charming when used in combination with clusters of wall art. Imagine a beautiful glass mirror surrounded by your favorite photos in your living room or kitchen. Fortunately there are an unlimited amount of options and coming up with something adorable is easy even for first time decorators.
Moreover a large wall mirror will serve as a phenomenal focal point that you can decorate around. This is often ideal when having a large wall area to play with. No matter your space or budget wall mirrors provide unlimited decorating potential to those with an imagination and a desire to create a beautiful space friends and family will enjoy.
Reflections of Elegance: Glass Mirror Interior Decorating Ideas
In the magical realm of interior decor, the Glass Mirror is akin to a shape-shifter, boasting an uncanny ability to transform spaces and create illusions. Glass Mirror wall decor is not just about practicality; it's about adding layers of elegance and light to a room.
In this captivating bedroom, the circular Glass Mirror is the crowning jewel. Glass Mirror wall art of this kind is both functional and high-impact. The sleek, simple frame allows the mirror to blend effortlessly with the backdrop, while the round shape creates a pleasing contrast to the straight lines in the room.
To maximize the impact of Glass Mirror wall decor, positioning is key. Placing the mirror across from a window, as seen here, reflects natural light, imbuing the room with a luminous glow. This not only makes the room appear larger but also adds a dash of sophistication.
Moreover, incorporating glass mirrored furniture or accessories can enhance the elegance. The reflections from these pieces create a cohesive look that seamlessly ties together with the main Glass Mirror wall art.
Lastly, consider the interplay between the mirror and other elements. Here, the Glass Mirror is in harmony with the floral wallpaper, verdant hues, and wooden accents, creating a tranquil and inviting atmosphere.
In conclusion, Glass Mirror interior decorating ideas offer boundless possibilities. Whether you're going for opulence or a contemporary vibe, mirrors are versatile enough to reflect just about any style you can imagine.
Trendy Decorative Glass Mirrors
No matter if you look in magazines, on TV or even online you will notice decorative glass wall mirrors are everywhere.  Heck just take a gander around and notice them even in the homes of your friends and family.  This is because mirrors are an essential part of life and even better if it can be something beautiful to gaze upon.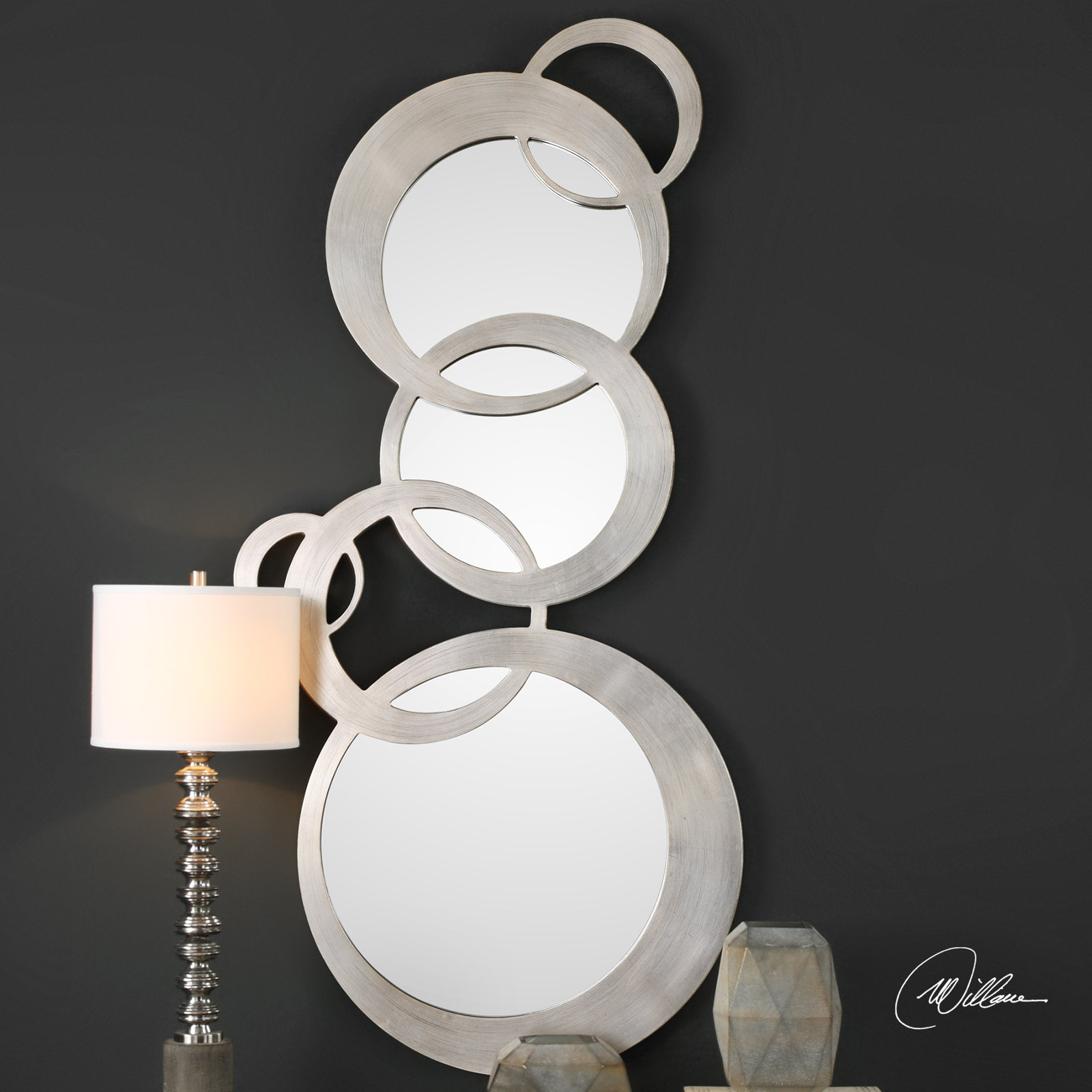 Ponticus Odiana Rings Modern & Contemporary Accent Mirror
Deco 79 Wood Mirror Wall Panel,  – glass wall decor
Design Toscano Madame Antoinette Salon Mirror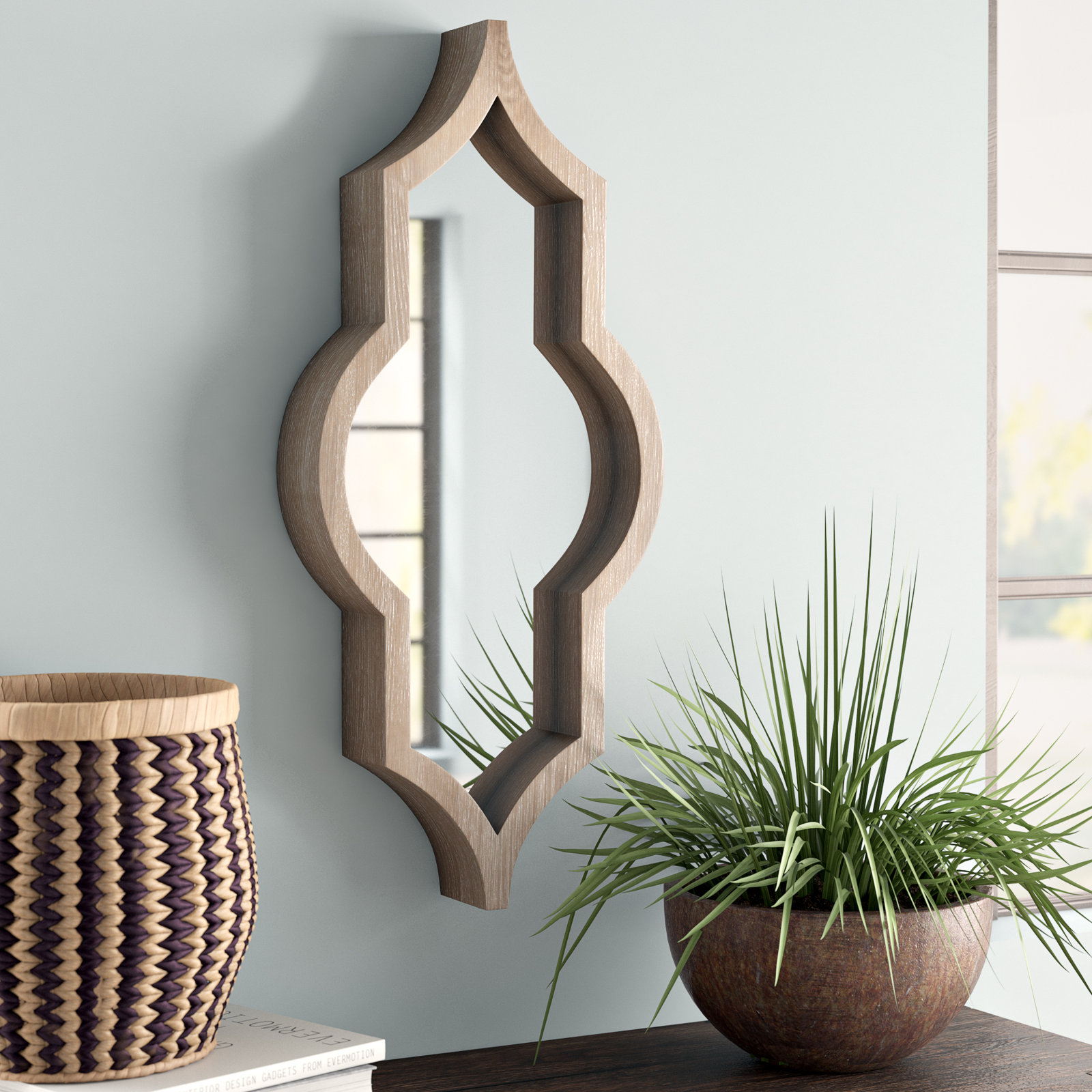 Padang Wood Framed Wall Mirror – Glass Wall Decorations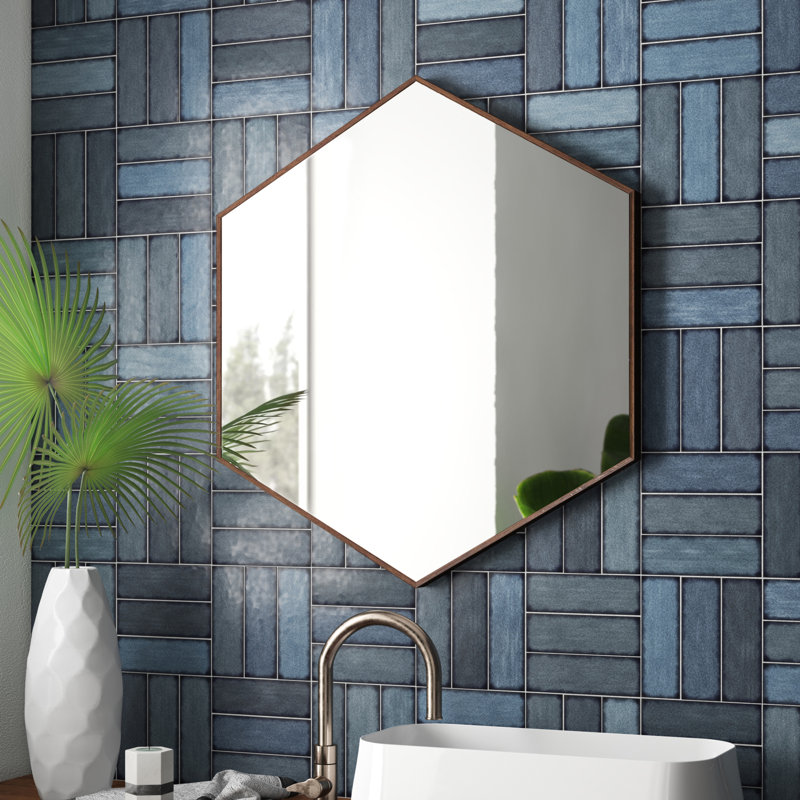 Quinonez Modern & Contemporary Beveled Frameless Accent Mirror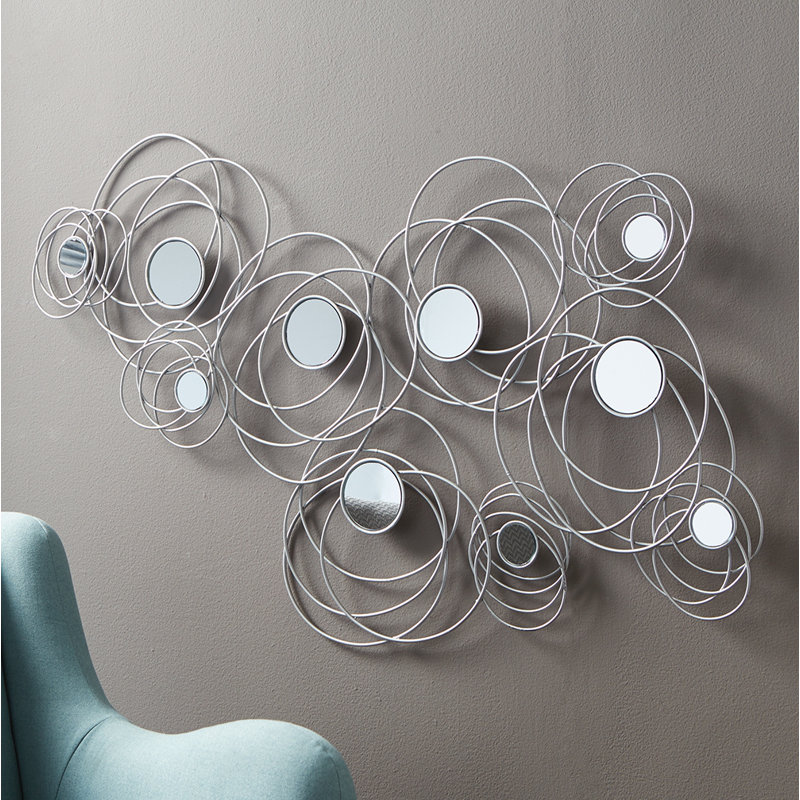 Moesha Accent Mirror – Glass Wall Mirror Decorations
Magnifying Opulence: Glass Mirror Interior Decorating Ideas for Living Spaces
Embarking on a journey through the world of interior design, one cannot overlook the astounding impact of Glass Mirror wall decor. These reflective masterpieces are an interior designer's magic wand, effortlessly bringing light and depth into any space.
Take a glimpse into this living room, a wonderland bursting with color and energy. The incorporation of Glass Mirror wall art is nothing short of ingenious. The mirrors, beautifully framed and perched above the fireplace, not only reflect the enchanting colors but also add an element of verticality. They create an illusion of higher ceilings and a more airy space.
The duality of the mirrors speaks volumes. They are a testament to symmetry, which is an often-overlooked aspect of interior design. Symmetry can evoke a sense of balance and order, which, especially in a room rich with colors and textures, is indispensable.
One can't help but notice how the Glass Mirror wall art becomes a canvas, reflecting the vibrant flowers and lush greenery. The mirrors bring a piece of the outside in, and suddenly the living room feels like an indoor garden.
Now, imagine hosting an evening soiree with the lights dimmed. The Glass Mirror wall decor will mirror the flicker of candles or the twinkle of a chandelier, creating a mesmerizing effect that will leave your guests in awe.
In the grander scheme, Glass Mirror interior decorating ideas should not be limited to wall mirrors. Reflective furniture, like a glass coffee table, can be the perfect accompaniment, providing continuity and further magnifying the room's opulence.
Abstract Glass Wall Mirrors – Using Glass Wall Art
Bring extravagance and playfulness to any room with a funky abstract glass wall mirror.   Notice all the different styles, shapes and colors.
Rustic Sese Wood and Sand Wall Mounted Rectangular Mirror, Hand
Rustic Grey Antique Nautical Maritime Wall  Mirror Ship- Glass Mirror Wall Decorations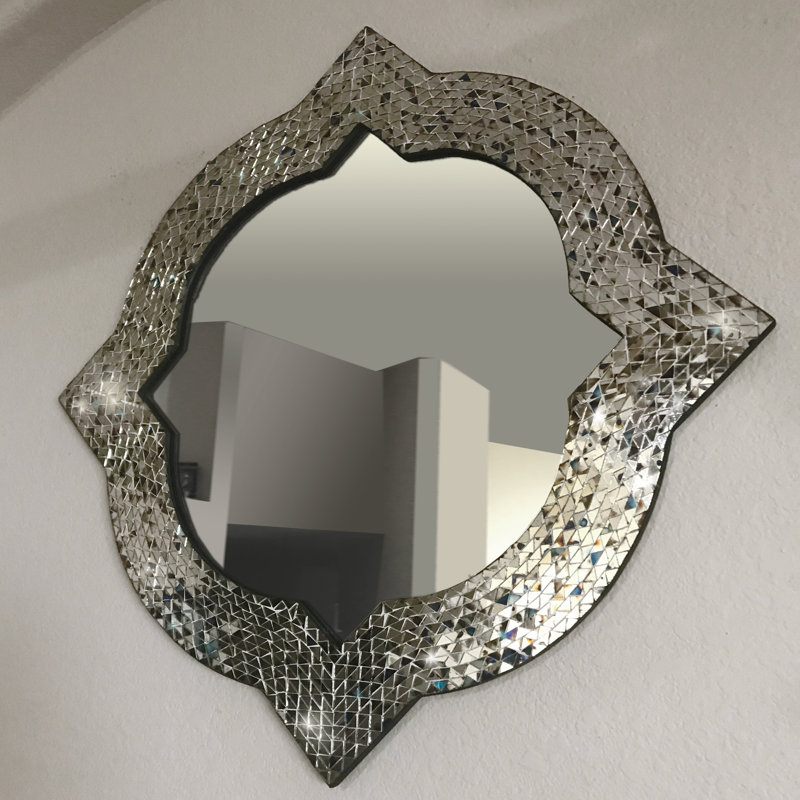 Glass Mirror Wall Decorations -Quatrefoil Contemporary Accent Mirror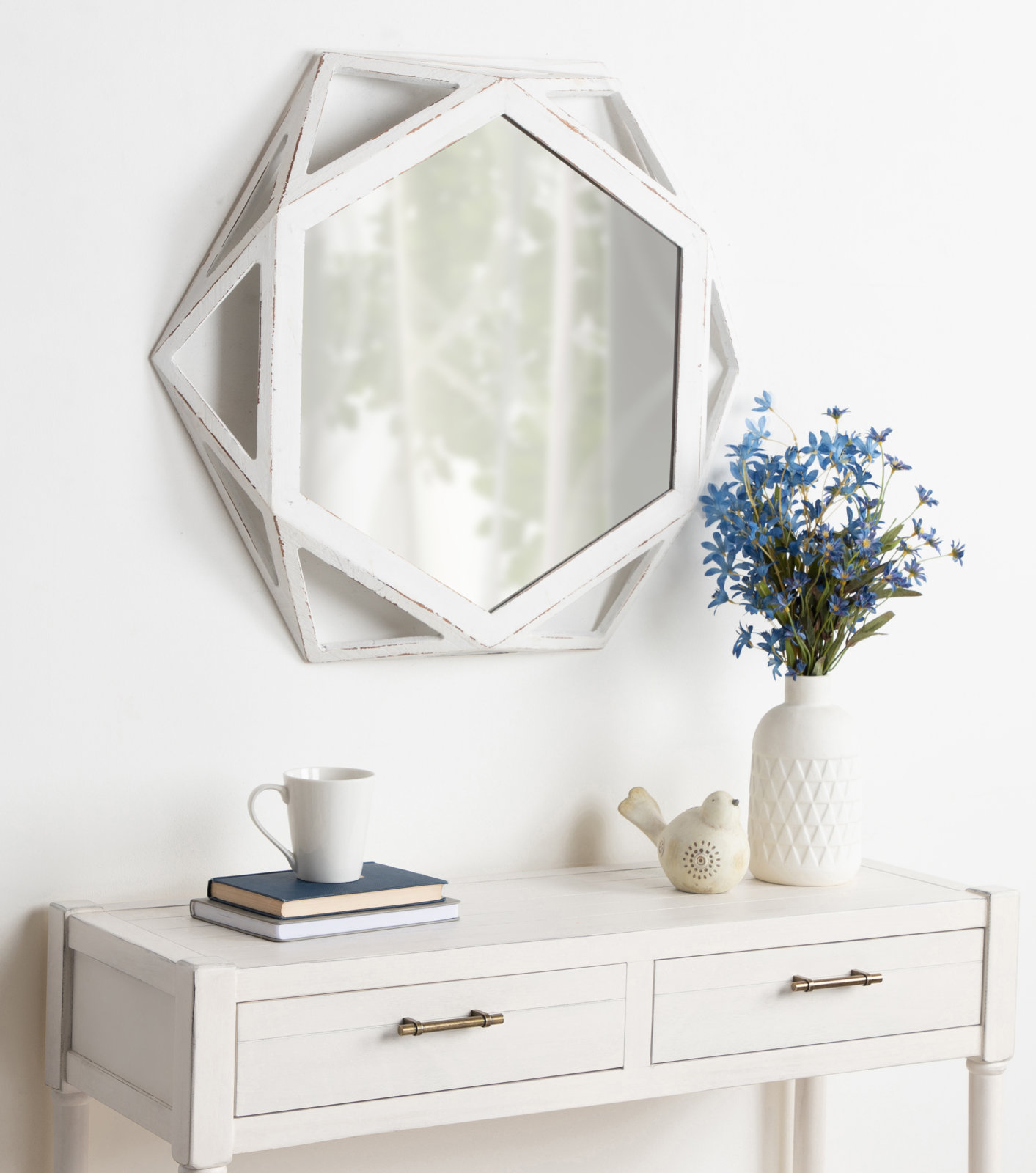 Pretty glass wall mirrors – Julian Geometric Beveled Accent Mirror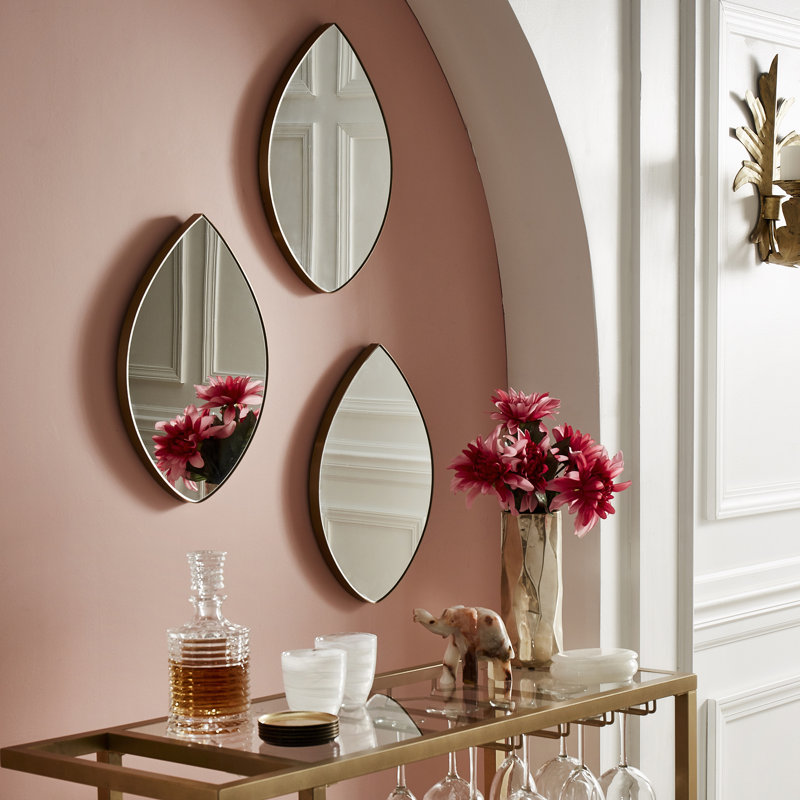 Preiss Teardrop Wall Mirror (Set of 3) – Glass Wall Mirrors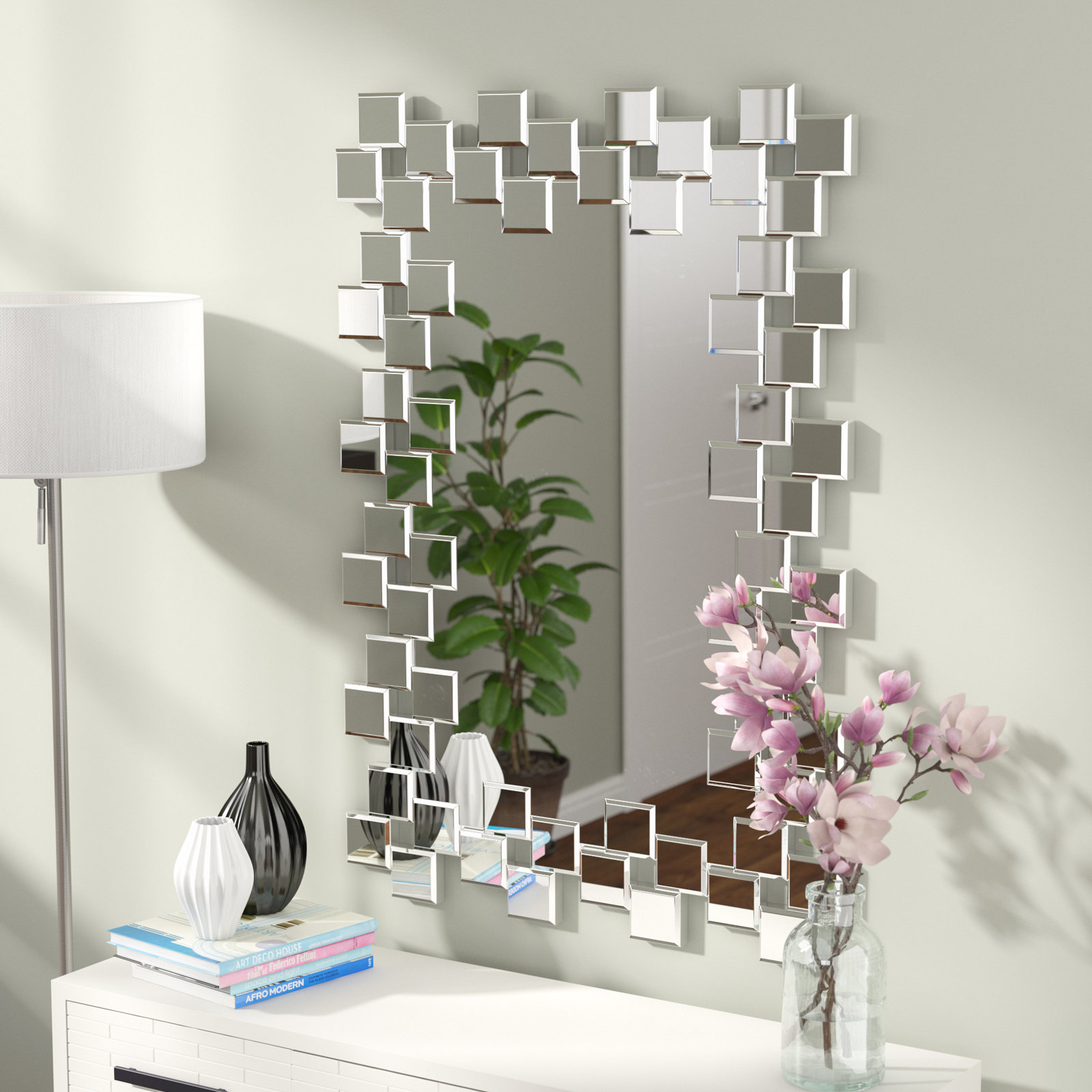 Jacobo Modern & Contemporary Accent Mirror – Glass Wall decorations
Enliven Your Enchanting Oasis with Glass Mirror Wall Decor
An abode is a reflection of one's soul, and decorating it is akin to painting a canvas with the colors of your personality. One timeless trend that stands out in the realm of interior decoration is the incorporation of glass mirrors. Harnessing the charismatic charm of Glass Mirror wall decor, especially in a space as intimate as the bedroom, can spellbind and captivate anyone stepping into the room.
Glass Mirror wall art is not just a decorative piece; it's a statement. The opulent sheen and reflective surface of the glass mirror expand the dimensions of the room while embracing an air of finesse and elegance. Let your creativity take the reins as you infuse life into your bedroom. Curated Glass Mirror interior decorating ideas can lead you into a whimsical world where fashion marries functionality.
In this beguiling room displayed, the reflection of the sun-kissed windows on the Glass Mirror wall art casts a spell on the senses. The blush of the petals, the effervescence of the leaves, and the textures around the room are magnified, creating a ripple effect of splendor. The subtle arches adorned with mirrors usher in an element of depth, making the room feel like an enchanted garden.
Here are a few Glass Mirror interior decorating ideas to transform your bedroom into an ethereal sanctuary:
Mirror Mosaics: Surround your room with an array of mirror mosaics that reflect fragments of beauty. This fragmented reflection adds a touch of mystique and charm.
Vintage Frames: Choose antique frames to house your mirrors. This concoction of old-world charm with reflective mirrors is the recipe for an eternal style.
Artistic Flair: Employ artistically cut mirrors. When these are placed in strategic positions, they not only beautify but also amplify the natural light.
Mirror Gallery: Design a wall with a collection of mirrors in different shapes, sizes, and frames. This Glass Mirror wall art gallery will be the pièce de résistance of your bedroom.
Incorporating Glass Mirror wall decor is like wielding a wand that adds sparkle and elan. The reflections are not just images but narrate stories of elegance, splendor, and luxury that your bedroom deserves.
Round Glass Wall Mirrors – Glass Wall Decorations
Ideal if you love round wall decor, round wall mirrors are great if you have a decent size wall area to decorate.  you can easily pair this will a couple cute wall sconces to set the look off.
Uttermost  Odalis Entwined Circles Mirror,
Deco 79 Heavily Discounted Metal Mirror
Butler Capella Antique Gold Wall Mirror
Howard Elliott 11111 Grace Round Mirror
FMOGE Wall-Mounted Vanity Mirrors
Decorative Mirror European Neo-Classical
Breathtaking Elegance: Harnessing Glass Mirror Wall Decor in Bedroom Designs
n a world where captivating interiors are an art form, the use of Glass Mirror wall decor stands as a testament to class and sophistication. Amongst various styles, Glass Mirror interior decorating ideas breathe life into rooms by expanding spaces and brightening corners.
One prime example is the utilization of Glass Mirror wall art in bedroom spaces. Bedrooms are sanctuaries, and incorporating Glass Mirror wall decor enhances this serene atmosphere. Consider the exquisite round mirrors, as pictured above. Strategically placed, these mirrors not only serve a functional purpose but act as a vibrant centerpiece, drawing the eye with their ethereal elegance.
Furthermore, adding a floral arc around the mirror can make it a majestic focal point. The contrasting colors of the flowers juxtaposed against the dark teal wall create an enchanting atmosphere that is both inviting and mystical. Additionally, a Glass Mirror can be paired with different textures and fabrics on the bed to add layers to the room. This combination makes the space feel warm, comfortable, and luxuriously rich.
Glass Mirror wall art is also a perfect canvas for experimenting with ambient lighting. The reflective surface of the mirror can be used to create beautiful patterns of light and shadow, depending on the type of lighting used. With subtle backlit LED lights, the Glass Mirror wall decor can add a soft, warm glow, perfect for winding down after a long day.
Practicality should not be overlooked. From an interior decorating standpoint, Glass Mirror wall decor has the remarkable ability to make spaces appear larger and more open. Particularly in smaller bedrooms, mirrors can be a saving grace, providing an illusion of a more spacious area.
In essence, Glass Mirror wall decor is an unmatchable and versatile element in bedroom interior design. It marries functionality with beauty and can be tailored to suit any aesthetic, be it modern, traditional, or eclectic. Embrace the magic of mirrors and let your creative imagination run free.
Oval Glass Wall Mirrors – Glass Home Decor
If you have a smaller wall space to decorate with oval glass mirrors can work wonders when it comes to elevating the design of any room and especially bathrooms.   Many people will use an oval mirror in a smaller space such as a bathroom as it elongates the look of the room.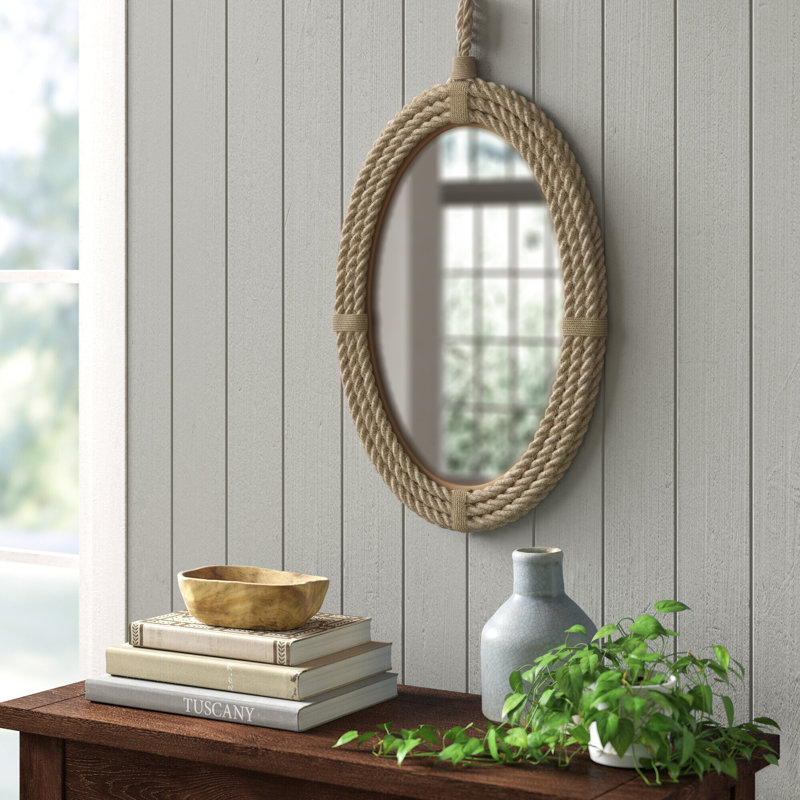 Elizondo Coastal Accent Mirror – Decorative Glass Wall Mirror
Oval Beveled Wall Mirror for Home Decor – Wright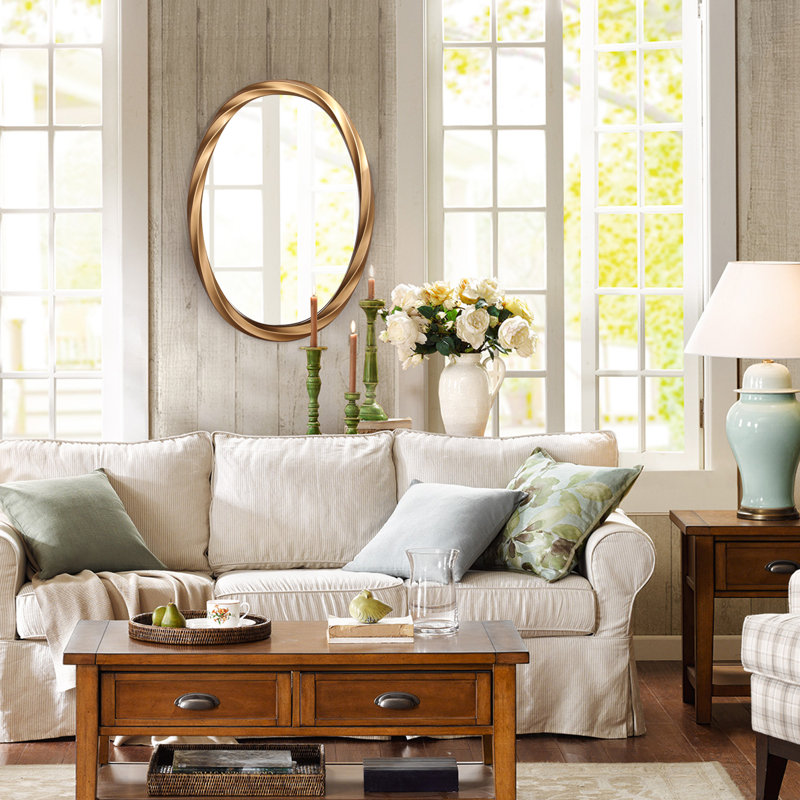 Cool Glass Wall Mirrors – Izaiah Accent Mirror
Spirit of Tutankhamen: Egyptian Wall Sculpture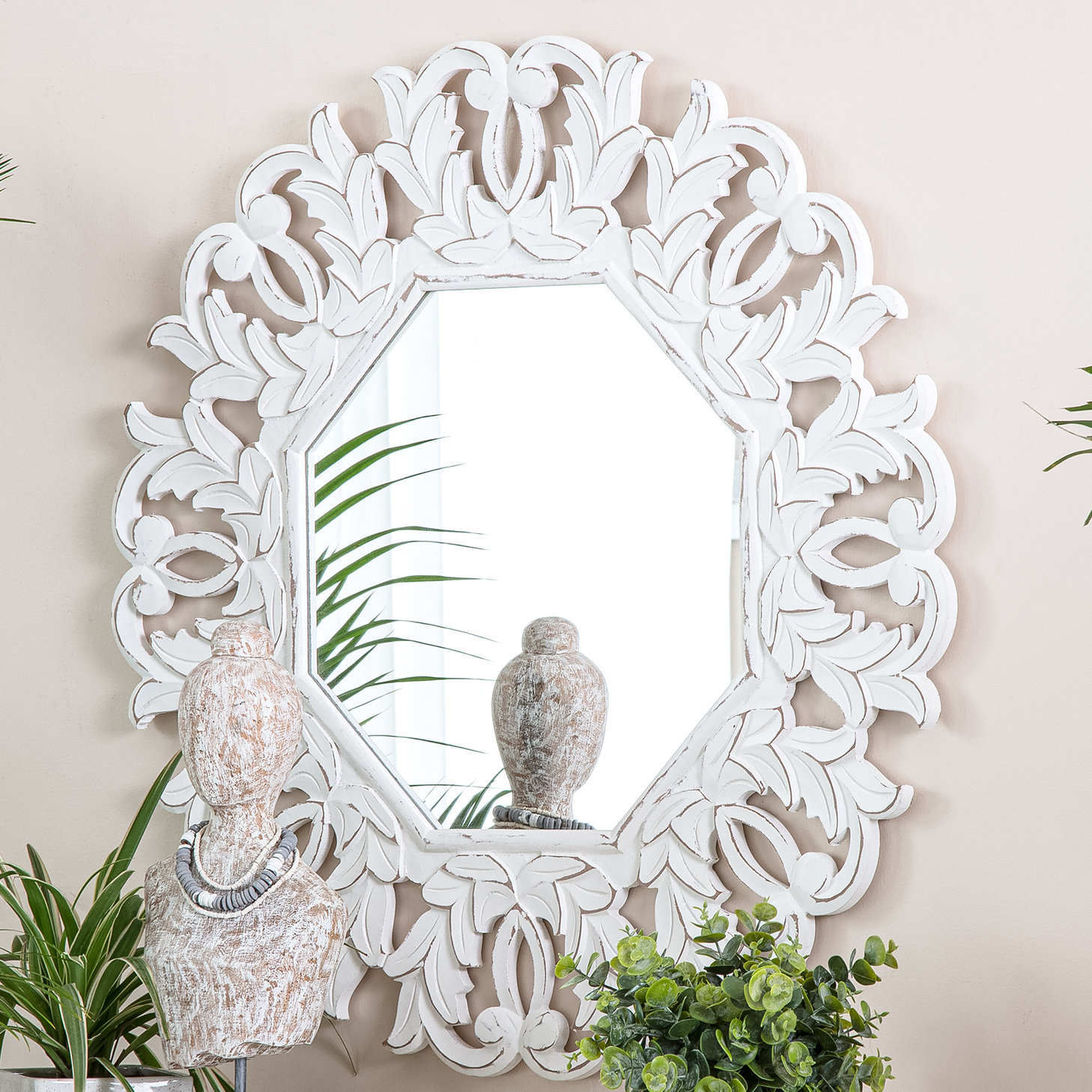 Distressed Glass Mirror – Bibiana Distressed Accent Mirror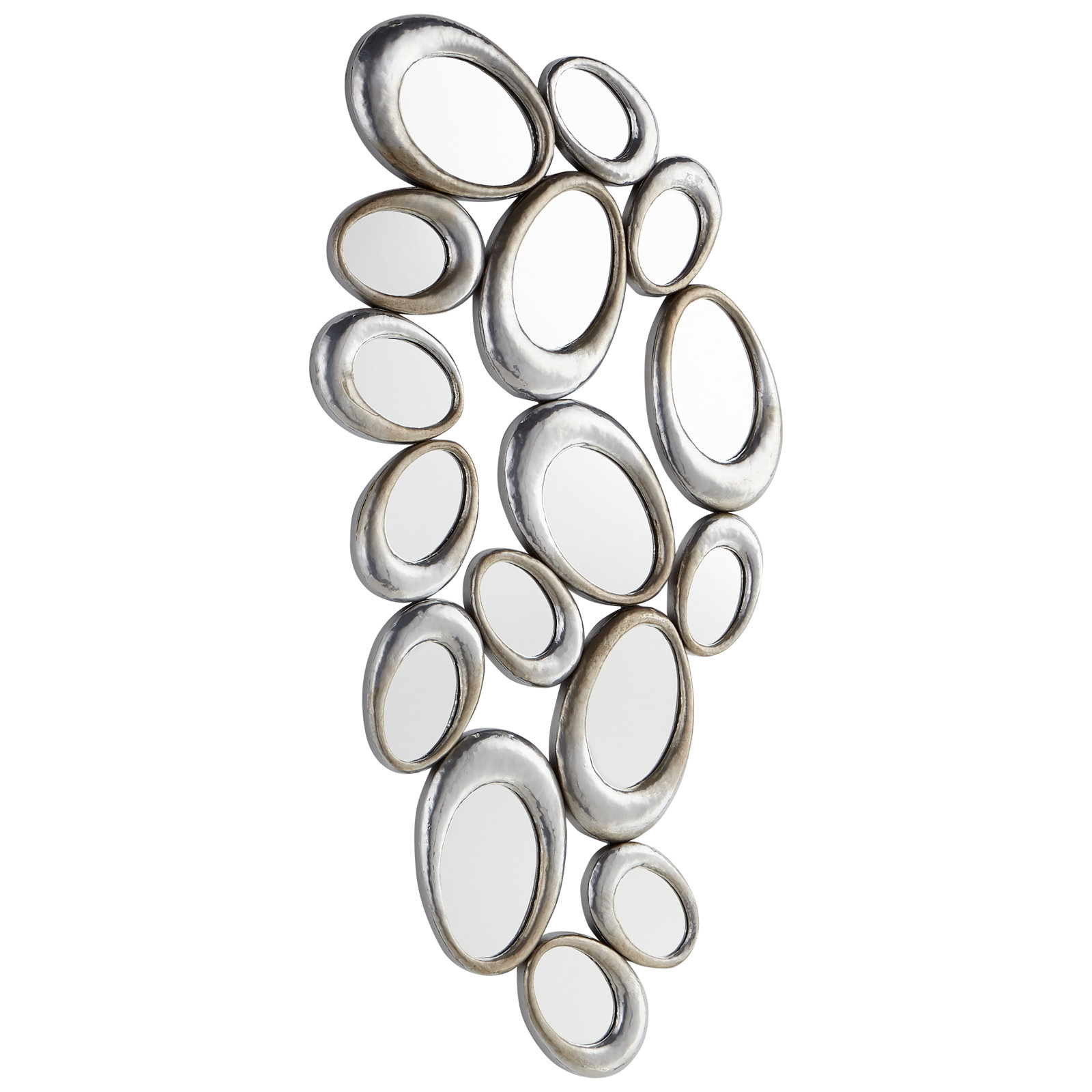 Decorative Glass wall mirror – Accent Wall Mirror
A Symphony of Sophistication: Glass Mirror Wall Decor in Luxurious Bedroom Sanctuaries
The entrancing allure of Glass Mirror wall decor has captured the hearts of many who seek to imbue their bedrooms with an air of opulence and charm. In this tapestry of interior magnificence, Glass Mirror wall art emerges as the crown jewel, infusing spaces with depth, brightness, and character.
Consider the enchanting bedroom pictured above, where the prominent, gracefully arched Glass Mirror takes center stage. The subtle curvature of the mirror elegantly contrasts with the rectangular elements within the room, thereby creating a harmonious balance. The generous proportions of the mirror amplify the room's dimensions, making it appear expansive and airier.
One cannot overlook the beauty of combining Glass Mirror wall decor with a romantic color palette. Here, the luscious plum and soft lilac tones evoke a sense of calm, while golden accents add a touch of regal splendor. This masterful color orchestration sets a perfect backdrop for the mirror, which reflects the room's best features and doubles its magic.
In addition to color, the amalgamation of nature within Glass Mirror interior decorating ideas can be breathtaking. Dainty floral vines delicately framing the mirror make it appear as if the room is part of a fairy-tale garden. This symbiosis of natural elements with mirror surfaces brings the outside in and augments the tranquility of the bedroom.
Drapes and soft furnishings play a significant role in complementing Glass Mirror wall art. Opting for luxurious fabrics in harmony with the room's color scheme creates a sense of unity and richness. Plush cushions, velvety blankets, and flowing drapes add layers of comfort, making the bedroom an irresistible haven.
In essence, Glass Mirror wall decor is akin to a painter's canvas; it has the immense potential to transform a room into a masterpiece. Through careful selection of shapes, thoughtful placement, and harmonious amalgamation with colors and fabrics, Glass Mirror wall art can elevate a bedroom to unprecedented levels of elegance and serenity.
Rectangle Glass Wall Mirrors – Glass Wall Decorations
For spaces you want to appear bigger and more open, go with one of these rectangle glass mirrors.   They are easy to hang and are as fashionable as they are useful.
DecorShore  Glass Mosaic Framed Decorative Wall Mirror,
Large Rectangular Bathroom Mirror, Wall-Mounted Mirror Decor
Aspire Embossed Metal Frame Wall Mirror – Mirror wall art
Mirrors and Marble MAM93248 Commercial Grade 32
Ren-Wil Baton Rouge Wall Mount Mirror by Kelly Stevenson
Deco 79 Contempo Looking Glass Mirror with Cracked Edges
Timeless Romance: Glass Mirror Wall Decor Breathes Life into Sumptuous Bedrooms
Glass Mirror wall decor is akin to a maestro commanding the symphony of an elegantly designed room. The right mirror not only reflects beauty but orchestrates an alchemy of space, light, and style. Particularly in bedroom settings, Glass Mirror wall art assumes a pivotal role in crafting an ambience that is both luxurious and comforting.
Take, for example, the resplendent bedroom in the image above. The harmony achieved through the integration of Glass Mirror wall decor is nothing short of poetic. The expansive mirror behind the floral arrangement augments the bountifulness of the blooms, creating a cascading garden effect. The dark hues of the walls are punctuated by the vivacity of the flowers and the shimmer of the Glass Mirror, crafting a rich tapestry of contrast and brilliance.
Furthermore, the arch of the mirror adds a softness, mirroring the gentle drapery that adorns the room. This continuity of shape and form renders the space coherent and fluid. It is essential to recognize that the choice of mirror shape and form can greatly affect the room's energy and flow.
Adding a Glass Mirror in a bedroom setting is also a magnificent way to bring more natural light into the space. The reflection of light can make a room feel more airy and open, perfect for cultivating a peaceful haven for relaxation and rejuvenation.
Accentuating the Glass Mirror wall art with choice accessories and decor can elevate its impact. For instance, the gold accented side table and light fixtures add a touch of opulence that resonates with the grandeur of the mirror.
In conclusion, Glass Mirror interior decorating ideas, when executed with thoughtfulness and artistic flair, can metamorphose bedrooms into sanctuaries of luxurious comfort. From the selection of the mirror, the complementary elements, to the thoughtful placement, each decision weaves into the next, creating a mosaic of timeless elegance and romance.
Square Glass Wall Mirrors – Glass Wall Art
When less is more consider using a cute decorative square glass wall mirror.  Indeed if you have a busy wall often times adding a simple square wall mirror will compliment your walls.  Conversely if you have a drab room or a large blank space then use a colorful or intricately designed ornate square glass wall mirror.   Recently mosaic wall decor is on an upward trend therefore if decorating trends are important consider using a mosaic wall mirror.
Howard Elliott 92120 Bamboo Mirror, Gold, One Size
Coaster Home Furnishings Country Mirror, White
Spectacular XL Mirrored Wall Art Contemporary
Shabby Chic Wall Mirror – Square Reclaimed Barn Wood Slat Mirror
Citrus Squares – orange wall art – orange wall mirror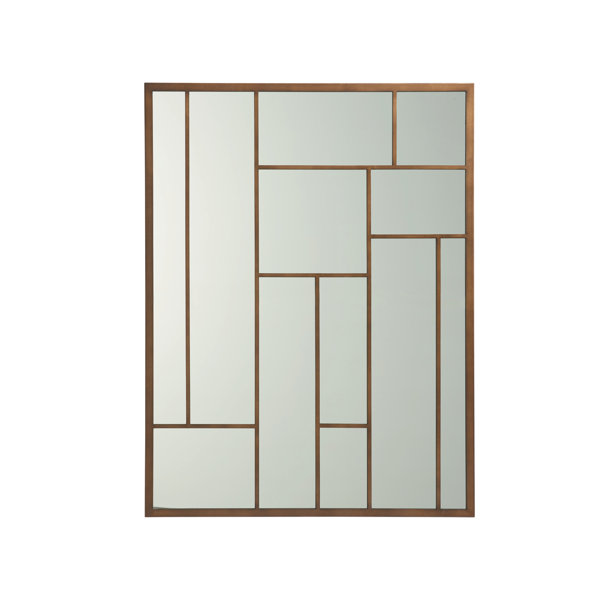 Decorative Wall Mirrors – Rectangle Wall Mirror
Regal Refinement: Unveiling the Majesty of Glass Mirror Wall Decor in Bedroom Designs
As connoisseurs of fine living spaces, it is imperative to embrace elements that resonate with grandiosity. Glass Mirror wall decor unequivocally falls within this realm. Glass Mirror wall art is not simply a reflective surface; it is a canvas that beckons the artisan to paint with light, space, and opulence. In bedroom interiors, this element plays a pivotal role in breathing life into the realms we retreat to for solace and respite.
Let us delve into the luxurious bedroom depicted above, where regality reigns supreme. The Glass Mirror at the room's helm is not just any mirror; its golden, ornate frame is reminiscent of the frames that would encase the portraits of royalty. Such a mirror does more than reflect; it makes a statement. It announces that the room it adorns is one of magnificence.
Furthermore, the Glass Mirror's strategic placement captures the room in its entirety. The resplendent bed, with its rich velvet upholstery, the cascade of sumptuous fabrics, and the explosion of fresh florals – all find a home within the mirror's reflection. This amplifies the room's majesty tenfold.
Glass Mirror wall decor also synergizes with light in a beautiful ballet. The natural light streaming in through the tall windows, or the soft glow of the lamps, dances on the mirror's surface, creating an ambiance that is ethereal and warm.
Additionally, the integration of the mirror with other reflective surfaces, such as the mirrored side table, adds depth and a multifaceted charm to the space. This interplay between different mirrors creates an almost labyrinthine grandeur, which is both intoxicating and enchanting.
In essence, Glass Mirror interior decorating ideas are an invaluable tool in the arsenal of those who seek to transform bedrooms into sanctuaries of opulence. Whether through the careful selection of frames, thoughtful placement, or the artful integration with light and other elements, Glass Mirror wall decor is, without doubt, a maestro of the regal symphony.
A Parisian Affair: Evoking Timeless Elegance with Glass Mirror Wall Decor in Dreamy Bedrooms
When one thinks of Paris, images of enchanting boulevards, the languid flow of the Seine, and timeless elegance come to mind. Bedrooms, akin to Paris, can be sanctuaries where dreams take flight. To cultivate such an ethereal ambiance, Glass Mirror wall decor is an indispensable ally.
In the glorious bedroom shown above, Parisian charm is epitomized. The colossal Glass Mirror, with its intricate golden frame, beckons as if it were an archway into another world. The careful curvature of the frame echoes the romanticism of Parisian architecture, while its golden hue speaks of opulence.
Positioned meticulously, the Glass Mirror captures the room's essence. The sumptuous bed, with its regal hues and plush textures, the delicate drapery that cascades like a waterfall, and the array of blossoms that could rival any Parisian garden – all are mirrored in its reflection. This Glass Mirror wall art serves as a window, not just into the room, but into the soul of the design.
Another layer of depth is achieved through the coordination of the Glass Mirror with other elements. The ornate detailing of the bed, the luxurious upholstery, and even the gold-toned bedside tables – all harmonize with the mirror. This cohesiveness is what makes the space not just a bedroom but an experience.
But, what would a Parisian affair be without light? Glass Mirrors are masterful in manipulating light. Natural light streams through the windows, bouncing off the mirror, bringing warmth and vivacity into the room. At night, the soft glow of lamps is equally enchanting, as the mirror reflects whispers of light.
In conclusion, Glass Mirror interior decorating ideas are akin to the strings of a harp. Each string can be orchestrated to create not just music, but magic. The size, framing, placement, and coordination of a Glass Mirror can convert bedrooms into canvases where dreams are painted with strokes of elegance, much like the streets of Paris.
Sunburst Glass Wall Mirrors – Glass Wall Decorations
Perfect when you want something a little out of the ordinary without going overboard.  Indeed sunburst wall mirrors will elevate any area effortlessly.
Howard Elliott  Chelsea Antique Starburst Mirror, Silver
Large Gold Leaf Sunburst Wall Mirror Beveled  Hammered Metal
Metal Wall Accent,Decorative Starburst Mirror,Sunburst
MONOINSIDE® Small Round Framed Wall Mount Glass Mirror
Howard Elliott  Galaxy Round Mirror, 20-Inch round wall mirror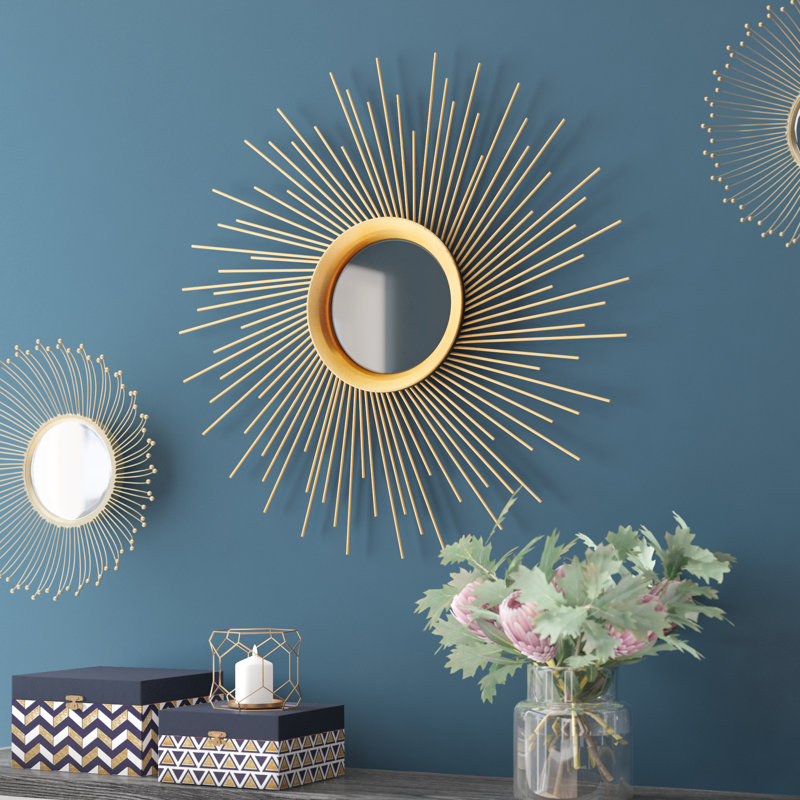 Contemporary glass wall mirror – Dillan Accent Mirror
A Symphony in Purple: Crafting Mystique with Glass Mirror Wall Decor in Lavish Bedrooms
I
n the realm of color, purple has long been associated with royalty, mystique, and imagination. It is within this enthralling shade that Glass Mirror wall decor finds a harmonious ally in creating spaces that resonate with intrigue and luxury.
Behold the resplendent bedroom shown above, where purple reigns supreme, and Glass Mirror wall art plays the role of a skilled maestro. Here, not one, but multiple Glass Mirrors form an arrangement that is as striking as it is unusual. The arched frames of the mirrors emulate the grandeur of cathedral windows, and their presence adds an architectural depth to the room.
These Glass Mirrors serve to amplify the space and bring the lush purple hues to life. The sea of velvety textures, from the opulent bedding to the petals strewn on the floor, is reflected within the mirrors, creating an almost infinite landscape of luxuriousness.
Moreover, the Glass Mirrors' placement is adept in capturing the beauty of the natural elements within the room. The vase with long-stemmed flowers, the small potted plants, and the cascade of petals all find a place within the mirrors' reflections. This brings an organic harmony to the space, which balances the rich colors and ornate elements.
In addition, the mirrors work hand in hand with the elegant chandelier and natural light. The chandelier's sparkle is magnified, and the interplay of light and shadow dances across the room in an ethereal ballet.
One cannot overlook the skillful pairing of the Glass Mirrors with classic wooden furniture. The rich wood tones complement the mirrors and add a timeless elegance to the space.
In essence, Glass Mirror interior decorating ideas such as these serve as a testament to the boundless possibilities at one's disposal. With thoughtfully chosen frames, artful arrangement, and a keen eye for color and texture, Glass Mirror wall decor can be the crown jewel in any bedroom's design narrative.
Decorative Glass Wall Mirror Sale – Glass Wall Decor
Obviously we all love a good sale and especially true when it comes to glass wall art and more specifically glass wall mirrors as the pretty ones are hard to find on a sale display.  Luckily you only have to glance below to find some of the most sophisticated, chic and unique glass wall mirrors available.
Glass Wall Mirrors – Large Wall Mirror Ornate Silver Leaf Frame
Cordele Mirror Wall Decor Set – glass wall decor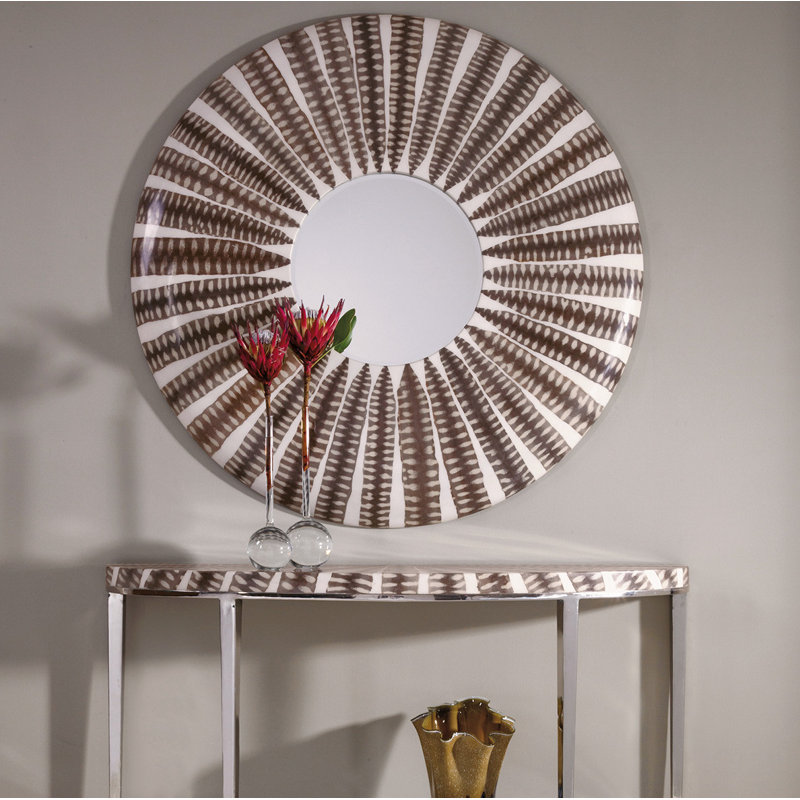 Signature Designs Modern & Contemporary Accent Mirror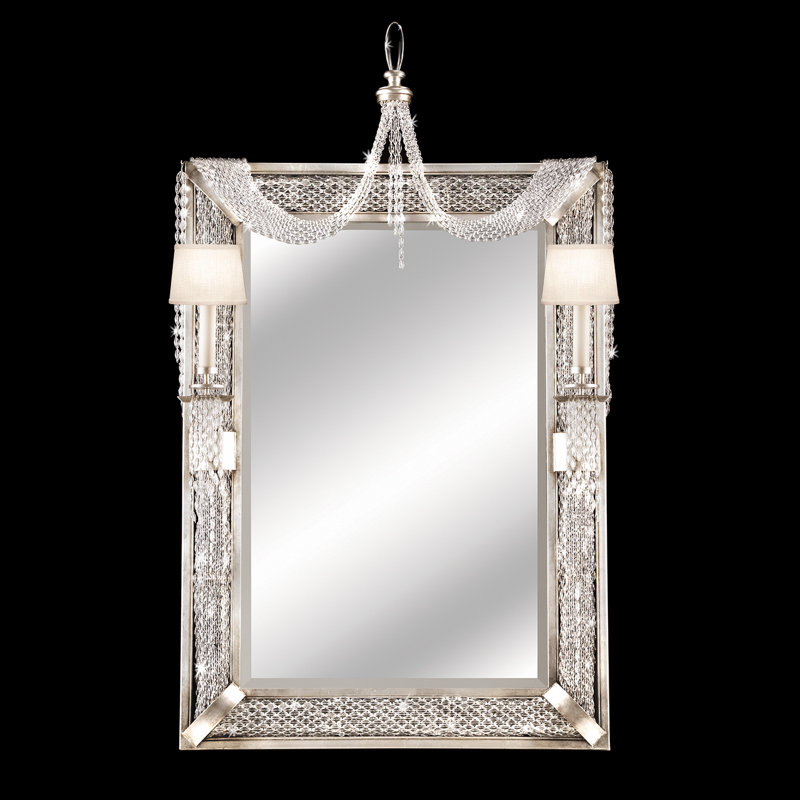 Elegant Glass Wall Mirror – Cascades 58″ Girandole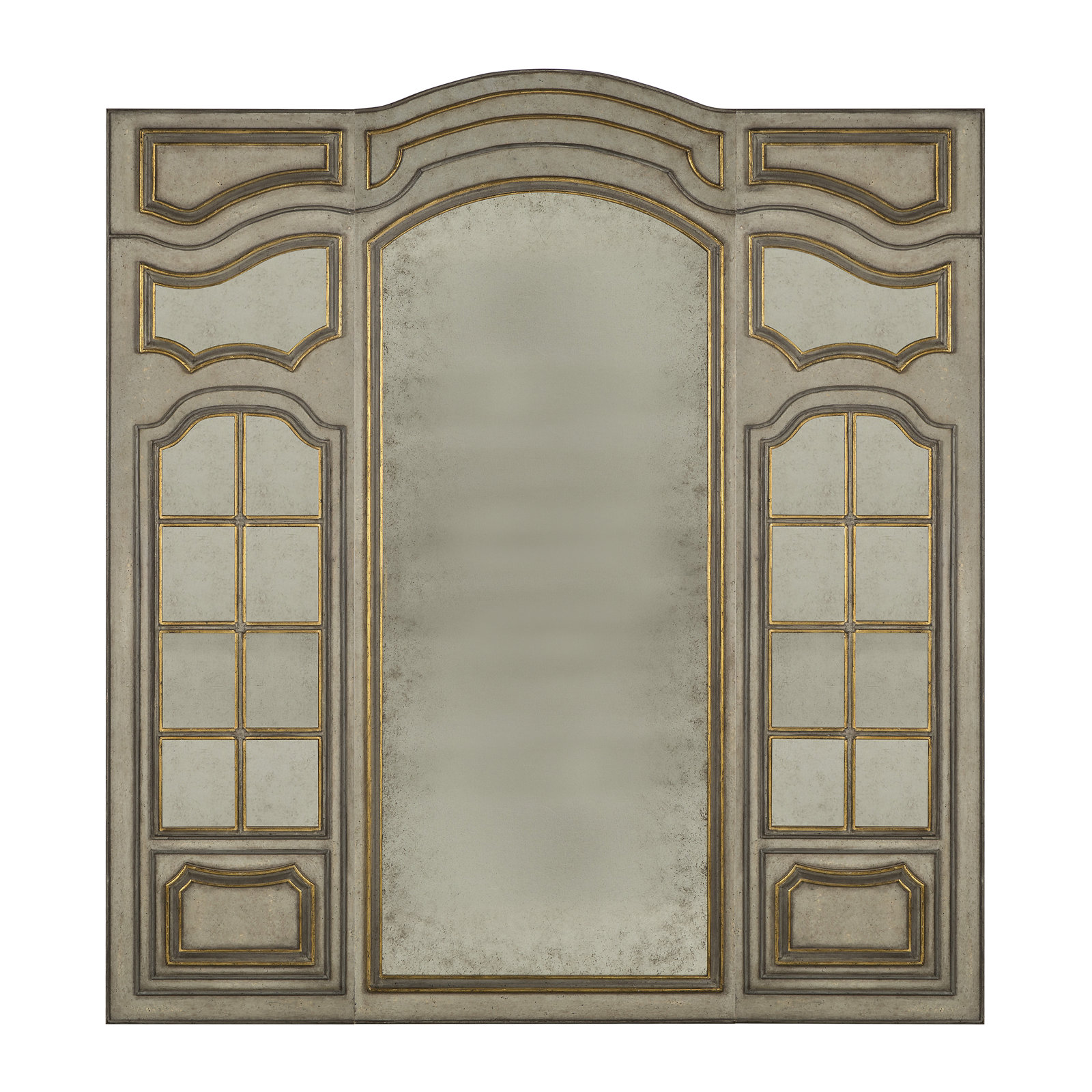 Glass Wall Mirrors – Denby Rustic Venetian Distressed Accent Mirror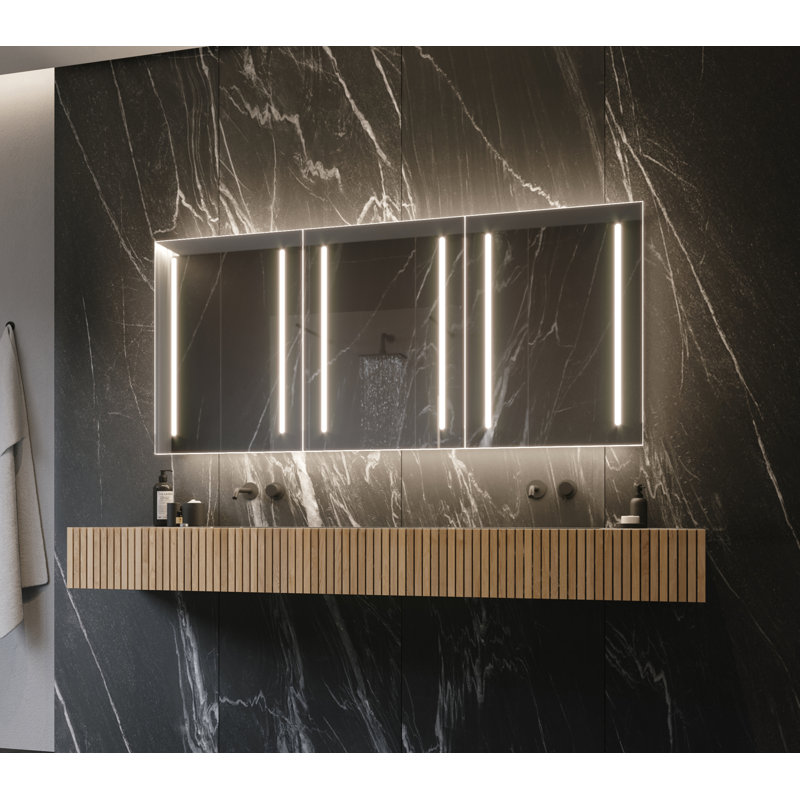 Elegant Wall Mirrors – Dimmable Stella Mirror 60 X 28 3000K
You also may enjoy these other home wall art decor ideas.
Home Wall Art Decor Index