Paris, the city of love and lights, has an unmistakable allure that's beautifully captured in wall art. From the iconic silhouette of the Eiffel Tower to the quaint allure of blooming Parisian flowers, Paris wall art serves as an enchanting focal point in any living space.
The color palette for a Paris-themed room should reflect the romantic and timeless essence of the city. Base colors like black, white, grey, pink, and subtle red capture the classic feel. To add a contemporary twist, accent these with dashes of gold, silver, or even more vibrant hues. Recently, bold colors like lime green have made a splash in Paris-themed decor, adding a modern and fresh dimension. But as with all art, balance is key; it's essential to ensure these bolder choices don't overpower the overall ambiance.
Texture plays a pivotal role in making your Paris wall art truly pop. Creating depth and interest is as simple as integrating elements with varying tactile qualities. Consider adding Parisian wall clocks with intricate detailing, fabric-based wall hangings showcasing scenes from the city, or modern wall sculptures that highlight Paris's blend of the old and new. These choices not only enrich the aesthetic but also add an immersive, multi-dimensional quality to the room.
One of the most appealing aspects of Paris wall art is its versatility. Whether gracing the walls of a bedroom, making a statement in a living room, or inspiring creativity in an office, its elegance is evergreen. It's no surprise that teens and college students, who are often in search of both style and identity, gravitate towards a Parisian decor theme – it's the perfect blend of sophistication and whimsy.
If you're on the lookout for exquisite Paris wall art, there's a plethora of options to choose from. Explore the myriad choices available and immerse yourself in the charm of Paris, right from the comfort of your home. And remember, I'm always here to help you find that perfect piece to transform your space into a Parisian dream.
The Parisian Bedroom: A Symphony of Elegance and Romance
The essence of Paris is more than just the iconic landmarks or the historical boulevards. It's a feeling, a nostalgic blend of romance and elegance that can be captured within the four walls of your bedroom. Introducing Paris interior decorating ideas can transform a simple sleeping space into a luxurious Parisian retreat.
One cannot speak of Paris without mentioning its iconic Eiffel Tower. Incorporating Paris wall art that features this architectural marvel can act as a focal point for the bedroom. But it's not just about the tower; it's about capturing the Parisian skyline, the ambience, and the emotion that the city evokes.
Imagine a large canvas, hanging above the bed, portraying the Eiffel Tower amidst a garden of roses, with delicate petals scattered across a muted backdrop of Parisian streets. This art not only captures the beauty of Paris but also introduces a serene and romantic mood to the bedroom.
Complementing this Paris wall decor, soft dusky pink drapes and bed linens can add a touch of femininity and warmth. The intricate patterns on the pillows and the plush textures of the bedding materials can mimic the intricate details of Parisian architecture and design.
Metallic bedside lamps, reminiscent of Paris streetlights, alongside fresh blooms, are not just accessories; they're storytellers, weaving tales of midnight strolls and twilight rendezvous.
Incorporating Paris interior decorating ideas is akin to composing a love letter to the city. Every choice, from wall art to fabric textures, contributes to a narrative that transports one to the heart of France. It's about creating a sanctuary where dreams are draped in Parisian tales, where every morning one wakes up to the charm of Paris, and every night one drifts into slumber serenaded by its romance.
Paris Wall Clocks – Timeless Paris Wall Art
Timeless and elegant these beautiful Paris wall decor accents are not only beautiful but very functional.  With that being friends and family will go cuckoo for this extravagant Paris wall decorations.
Red Rustic French Wall Clock- Paris Decorative Wall ClockView Details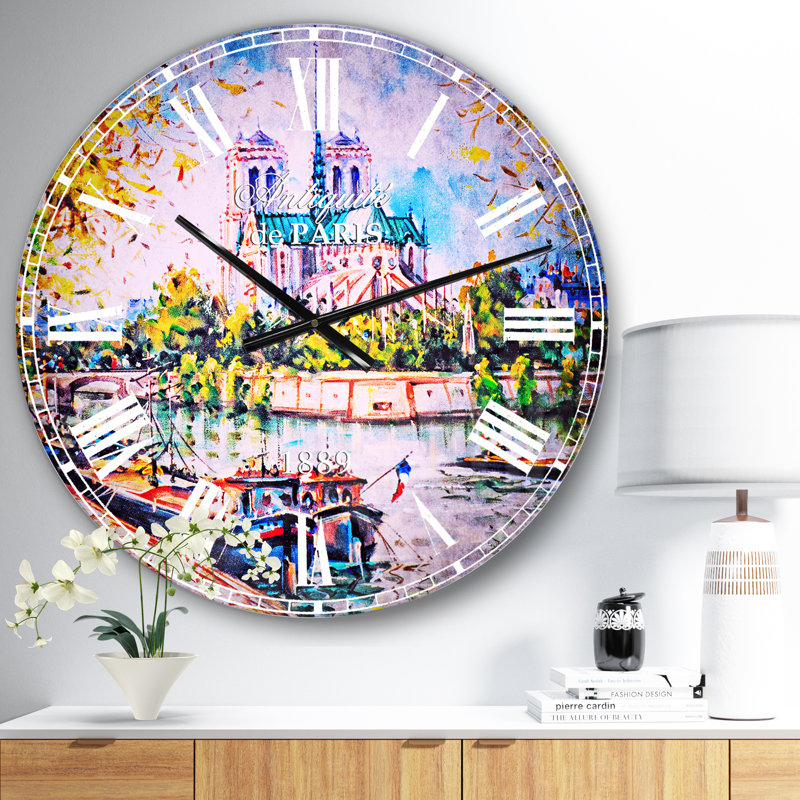 Oversized Farmhouse Landscape Notre Dame Paris Wall ClockView Details
1889 Paris World's Fair Wall Clock, Available in 8 sizes, Most SizesView Details
Springtime in Paris Wall Clock, Available in 8 sizes, Most Sizes SView Details
London, Paris and New York Historical Structures in Deep Red-View Details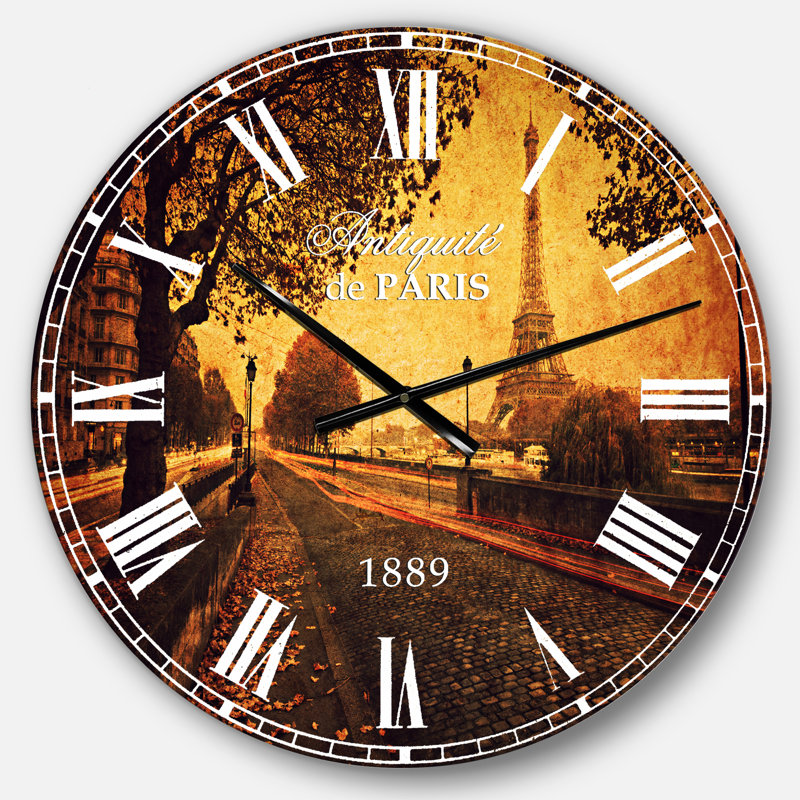 Oversized Farmhouse Landscape View of Paris Wall ClockView Details
Parisian Elegance: Integrating Paris Wall Art into Your Interior Designs
Paris, often referred to as "The City of Love," has been an emblem of style, elegance, and romance for centuries. The city's aesthetic is globally renowned, and many aim to bring a hint of its allure into their own homes. At the heart of this Parisian aesthetic is the art that celebrates its iconic landmarks, streets, and spirit. With Paris wall art, one can effortlessly transport the charm of this French city into any living space.
The very thought of Paris evokes images of winding cobbled streets, the Eiffel Tower standing tall against the horizon, and charming cafés where intellectuals and dreamers once congregated. Such vivid visuals can be your everyday reality with the right Parisian interior decorating ideas.
Understanding the Parisian Style:
Parisian interior design is not monolithic; it ranges from the rustic allure of the French countryside to the sophisticated aesthetics of a chic Paris apartment. Understanding these nuances can guide you towards selecting the right Paris wall art for your space.
French Country: This style hails from the provinces, exuding warmth and rustic charm. Here, the color palette is filled with soft pastels, creams, and earthy tones. To complement this design, consider Paris wall art that depicts the countryside, or vintage prints of the city before it became a bustling metropolis. Weathered frames and canvas prints can augment the rural and antique vibe.
Classic Parisian: This evokes the timeless elegance of old Paris. Think of high ceilings, ornate moldings, and herringbone wooden floors. For this style, black and white photographs of iconic Paris landmarks, or even classic Parisian street scenes, work wonders. The emphasis is on monochrome or sepia tones that resonate with a sense of history and nostalgia.
Modern Chic: For those who prefer a contemporary touch, Paris isn't all about the past. Modern Parisian style is about minimalism meets luxury. Wall art can comprise abstract interpretations of the Eiffel Tower, or bold, colorful depictions of Paris streets. Sleek frames or frameless canvases offer a neat, contemporary look.
Incorporating Paris Wall Art:
Positioning is Prime: Where you place your Paris wall art can make all the difference. For larger pieces, consider making them the focal point of your room – above a fireplace, or on a prominent wall that's first seen upon entry. Smaller artworks can be grouped to form a gallery wall, telling a visual story of Paris.
Choose Complementary Colors: Your wall art should complement the existing color palette of your room. If your space has cool tones, opt for artworks with hints of blue, silver, or green. For warmer spaces, sepia-toned or artworks with gold, beige, or soft pinks can be a delightful addition.
Layer with Other Decorative Elements: Parisian design is all about layers. Think of placing your wall art behind a chic table lamp, or incorporating other French-inspired decor items like a bust or vintage books near the art. This creates depth and makes the design look curated rather than staged.
Frame it Right: The frame can be as essential as the artwork itself. For French Country or Classic Parisian style, ornate, vintage, or wooden frames can add to the aesthetics. For Modern Chic interiors, simple, sleek, and even acrylic frames can be a perfect choice.
Additional Tips for a Complete Parisian Ambiance:
Furniture: Parisian design often involves a mix of the old and the new. Consider antique-looking furniture or, if on a budget, distress newer furniture for that vintage look. Modern designs can include sleek sofas, glass tables, and minimalist chairs.
Soft Furnishings: Add plush cushions, rugs, and curtains in colors complementing your wall art. This not only adds to the visual appeal but also introduces warmth and comfort to the space.
Lighting: Chandeliers can be an excellent choice for the classic Parisian look. For a more modern design, pendant lights or even stylish floor lamps can create the desired ambiance.
In conclusion, while Paris might be miles away, with the right Paris wall art and interior decorating ideas, the essence of this enchanting city can be right in your living room. Whether you're an ardent admirer of the French countryside or the bustling streets of modern Paris, there's wall art and design style perfectly suited for your space. Let your walls echo tales of this timeless city, and bask in the Parisian elegance every day.
Paris Wall hangings – Cool Parisian Wall Decor
When adding elements of softness you can not go wrong with a couple well placed Paris wall hangings.  Ideal for home wall art decor, table clothes and even window coverings.
Paris Cityscape with Eiffel Tower View from A Wooden DeckView Details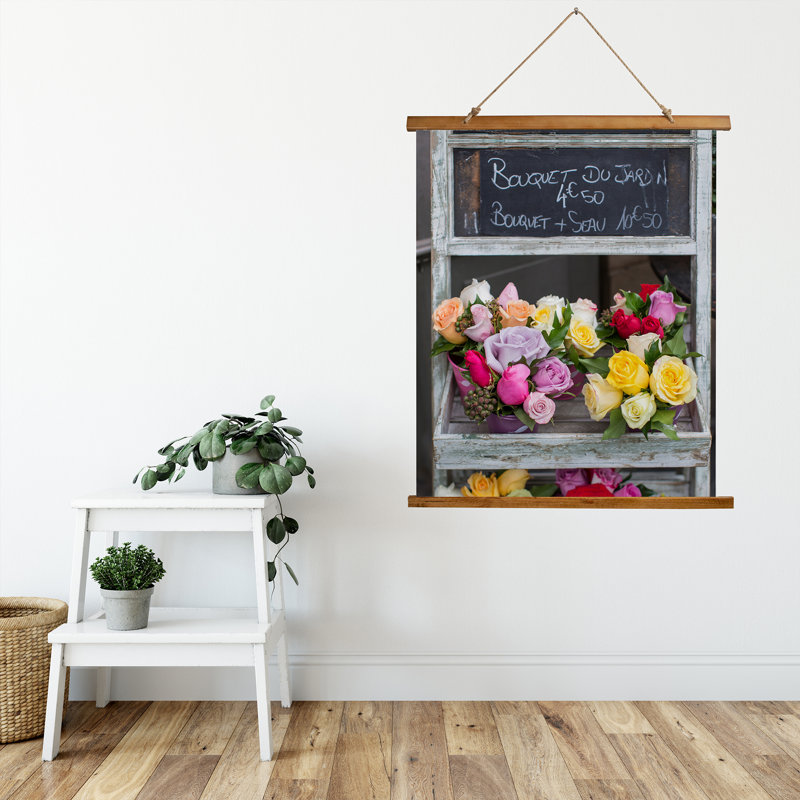 Microfiber Bouquet Du Jardin Roses Paris TapestryView Details
TOMPOP Tapestry Oil Painting Paris European City LandscapeView Details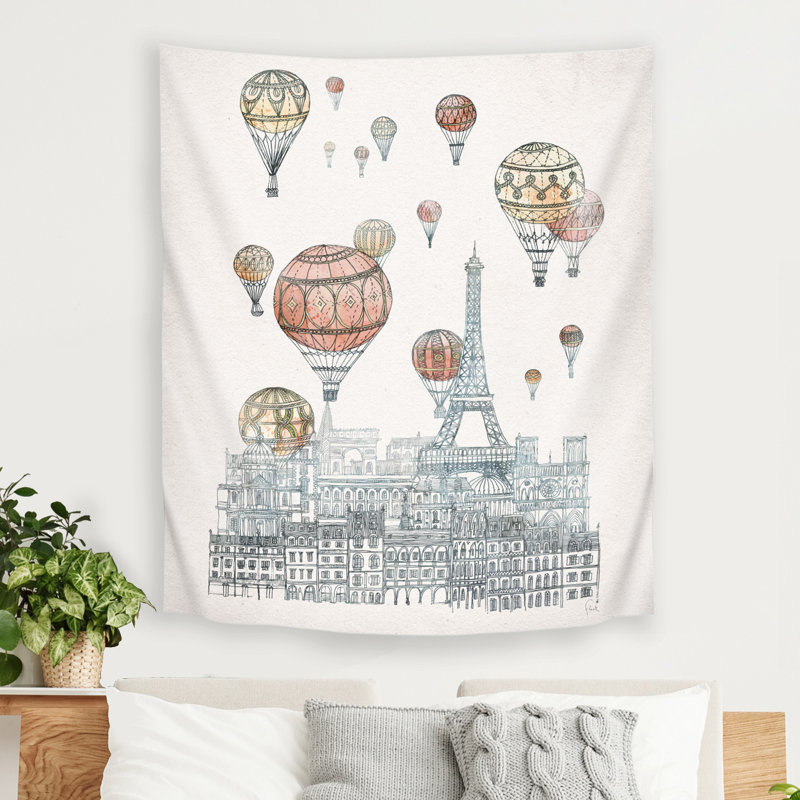 Parisian Wall Decorations – Voyages Over ParisView Details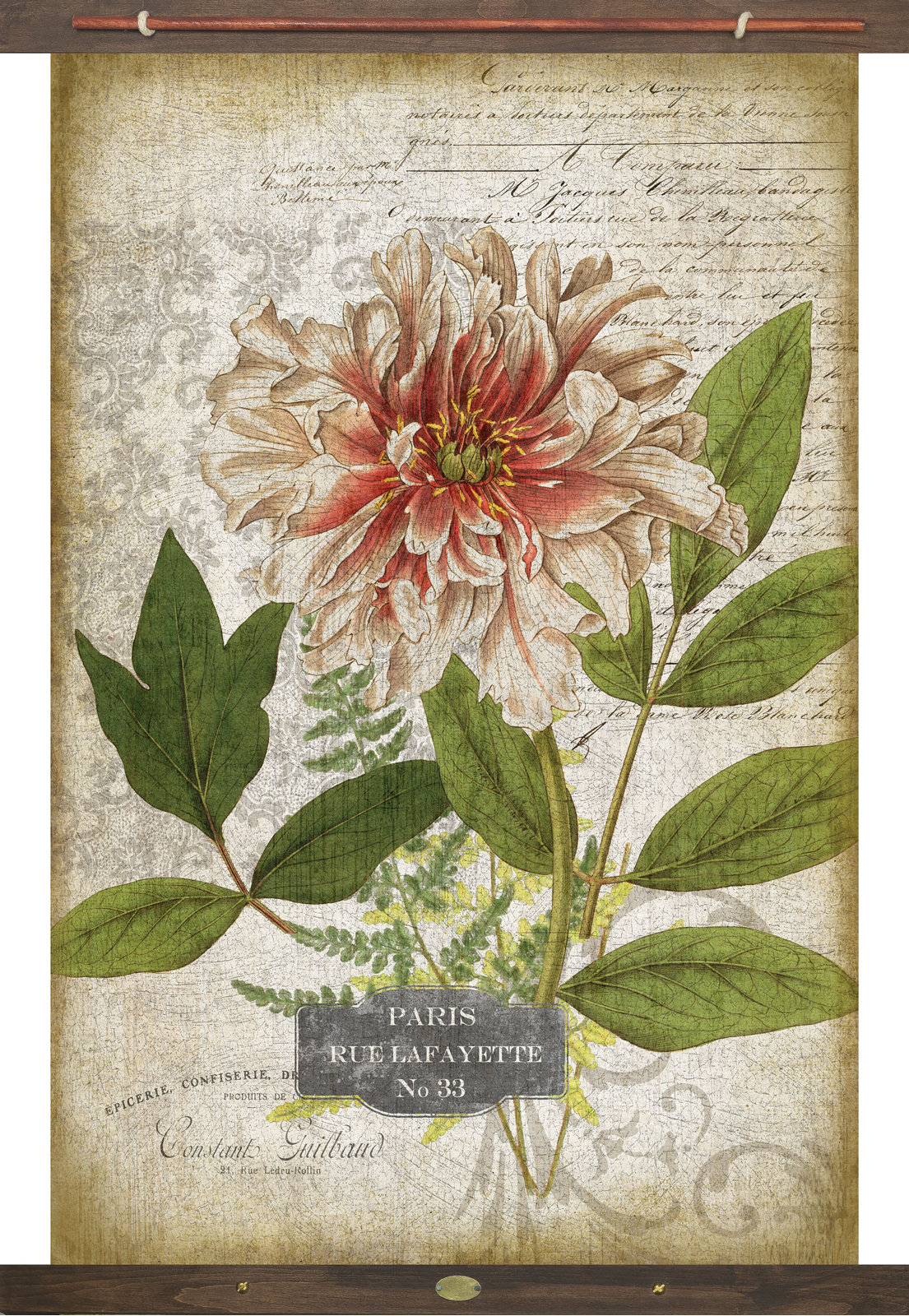 Parisian Wall decor – Paris wall decorationsView Details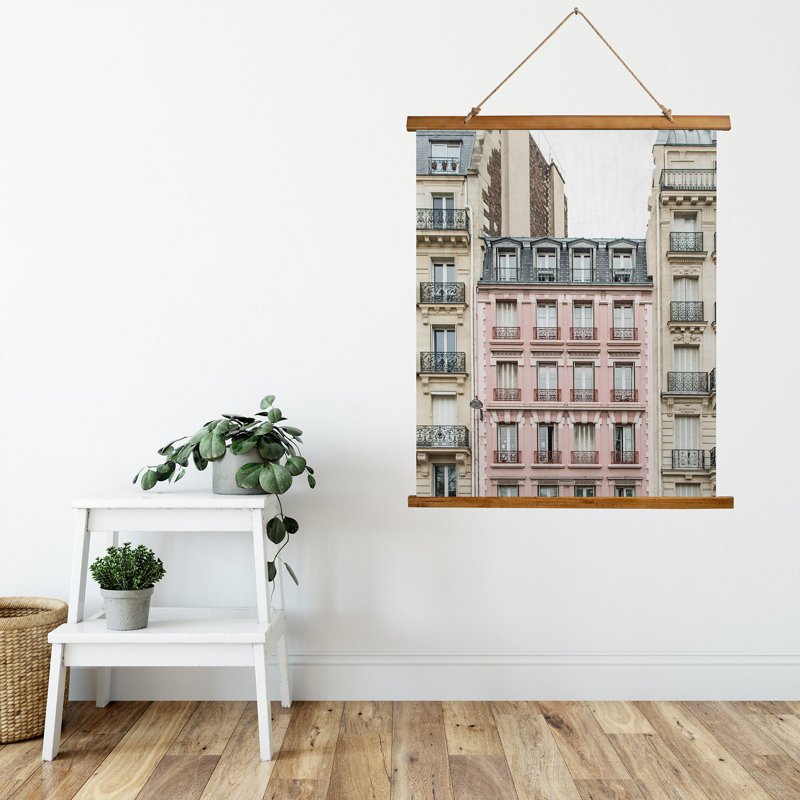 Paris Wall Decorations – Microfiber the Apartment Building,View Details
Paris Through Seasons: Wall Art and Decor
Ah, Paris! A city whose beauty is transcendent, no matter the season. As each new season dawns, Paris dons a different palette, inviting admirers to fall in love with it all over again. From the fragile pink of springtime cherry blossoms to the pristine white of winter snowfalls, the city's transformation is nothing short of enchanting. And what better way to bring this charm into your home than through wall art and decor? Let's journey through the seasons and explore how Parisian aesthetics can imbue your space with timeless allure.
Spring in Paris: Renewal and Bloom
Spring is a time when Paris awakens from its winter slumber. The Seine sparkles a little brighter, and tree-lined avenues burst into a dance of blossoms.
Wall Art Ideas: Photographs or paintings of iconic landmarks like the Eiffel Tower or Notre-Dame, surrounded by flowering trees, can become a focal point in your living space. The famed cherry blossoms or magnolias in the gardens of Paris, such as Jardin des Tuileries or Jardin du Luxembourg, can make for magnificent wall art.
Decor Suggestions: Complement your wall art with vases filled with fresh spring flowers. Pastel-colored cushions, drapes, or rugs can add a soft touch, echoing the colors of spring in Paris.
Summer in Paris: Vibrancy and Festivity
Summers in Paris are lively. The streets are abuzz with cafes setting up outdoor terraces, musicians playing by the Seine, and locals picnicking in parks.
Wall Art Ideas: Consider vibrant artworks showcasing Parisians lounging in parks or those capturing the Fête de la Musique, where musicians perform throughout the city. The radiant summer sun setting behind the Sacré-Cœur is another beautiful depiction.
Decor Suggestions: Bright and breezy is the mood for summer. Incorporate lightweight, airy curtains and sunny-hued accents like yellow or golden throw pillows. Consider adding a French bistro set to your balcony or terrace, reflecting Parisian outdoor cafes.
Autumn in Paris: Elegance and Melancholy
The golden fall brings an air of nostalgia to Paris. The once-green trees turn shades of amber, red, and gold, painting a picturesque scene.
Wall Art Ideas: The boulevards covered in fallen leaves, or the Seine reflecting the autumnal tones, are perfect for encapsulating the essence of Paris in fall. Montmartre, with its cobbled streets and historic charm, looks especially alluring in autumn-themed art.
Decor Suggestions: Earthy tones should be your go-to. Think of rust-colored cushions, amber glass vases, and wooden decor accents. Candleholders with vanilla or cinnamon-scented candles can recreate the cozy ambiance of a Parisian autumn evening.
Winter in Paris: Magic and Serenity
Winter in Paris is when the city turns into a serene wonderland. Snow-covered rooftops, twinkling lights, and the soft glow from cafes create a magical atmosphere.
Wall Art Ideas: Black and white photographs of snow-laden Paris streets or landmarks bring a timeless appeal. The Eiffel Tower on a snowy night, illuminated in all its glory, can be the pièce de résistance of your winter-themed decor.
Decor Suggestions: Plush throw blankets, furry rugs, and velvety cushions in whites and grays can complement your winter Parisian wall art. Metallic accents in decor, like silver photo frames or candleholders, can reflect the twinkling winter lights of Paris.
Invitation to Explore Further
For those of you who've been captivated by the changing moods of Paris and wish to bring a slice of it into your homes, the journey doesn't end here. There's a world of mesmerizing Paris wall art waiting to be explored. Whether it's a sunlit summer scene by the Seine or a misty winter morning in Montmartre, you'll find the perfect piece that resonates with your heart.
Discover and immerse yourself in the unparalleled beauty of Paris through seasons. Check out the exquisite collection of Paris wall art on this page. Allow your walls to narrate tales of this ever-evolving city, and let every corner of your home echo with the enchantment of Paris.
In conclusion, Paris, with its seasonal transformations, offers endless inspiration for interior decor enthusiasts. Each season paints the city in a distinct hue, beckoning admirers from across the globe. And while nothing can replicate the experience of walking down a springtime alley in Paris or watching the first snowfall by the Seine, the right wall art and decor can certainly bring a touch of that Parisian magic into your abode.
Paris Wall Murals and Decals –  Paris Wall Decor
Cute and captivating, Paris wall murals and Paris wall decals make any large space your Parisian paradise.  Imagine how one of these Parisian wall murals would look in your living room or bedroom?  Have a teen that loves the idea of visiting Paris?  Effortlessly bring Paris to your home.
Removable Wall Sticker / Wall Mural – Eiffel Tower in Paris –View Details
SWORNA Nature Series Paris Blue Eiffel Tower Street Lamp FlowerView Details
Amazing Paris – Vintage Clipart – Removable Wall MuralView Details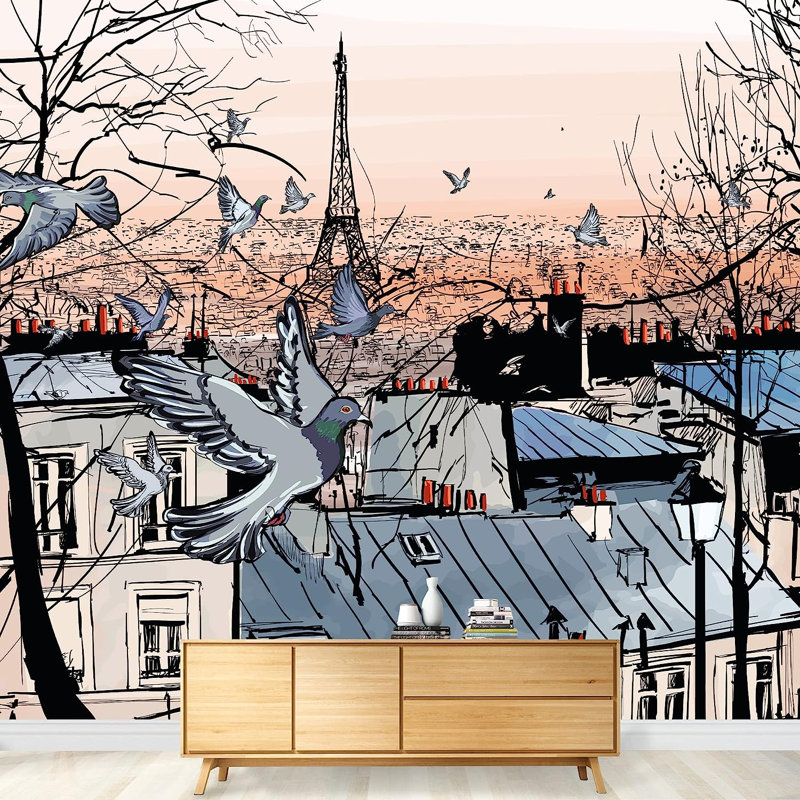 Parisian Wall Decor – Peel & Stick WallpaperView Details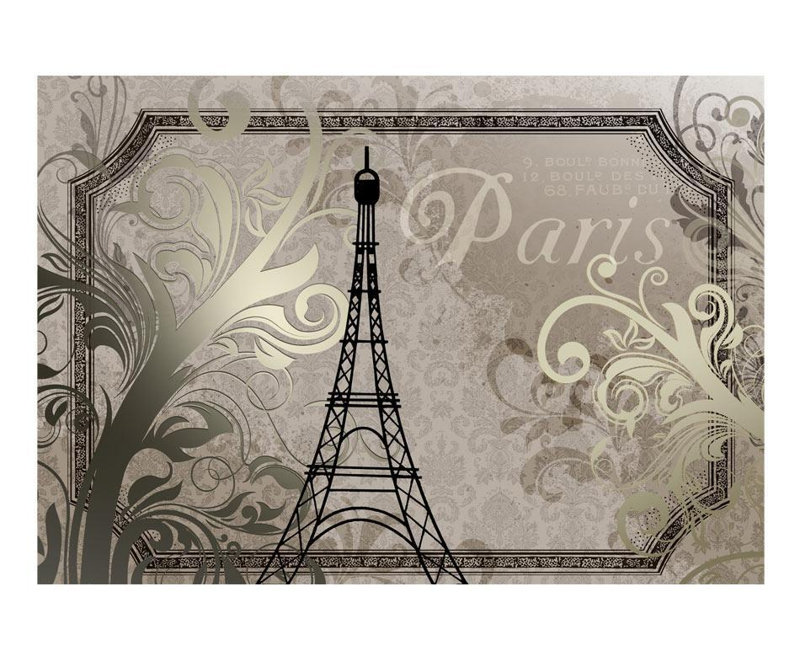 Peel & Stick Wallpaper – Parisian Wall DEcorView Details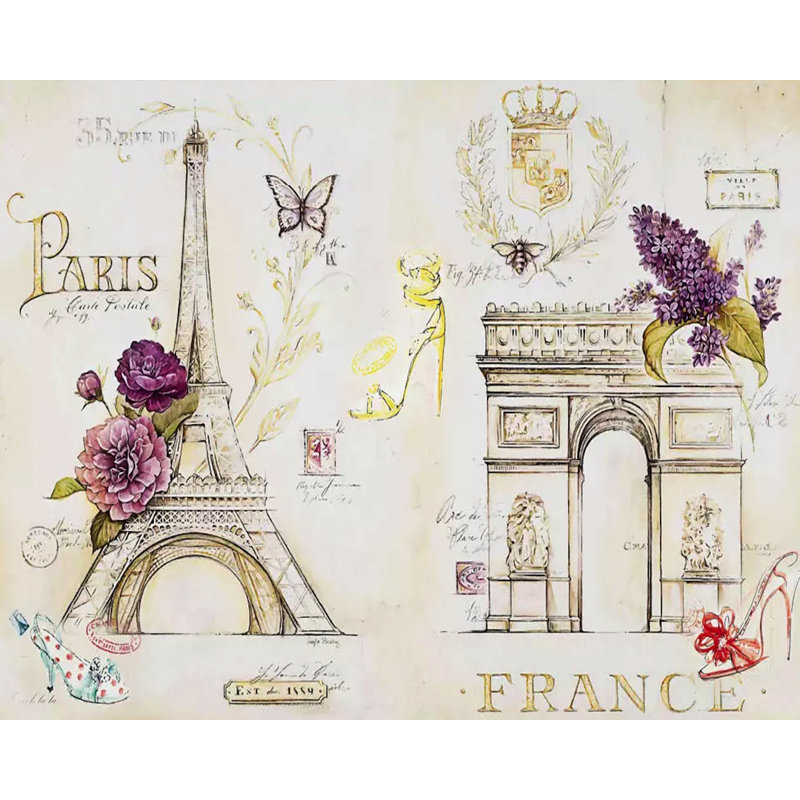 Parisian Wall Art – Draughn Peel & Stick WallpaperView Details
Parisian Panache: Immerse in the Allure of Paris Wall Decor
Nestled in the heart of many sophisticated interiors is the allure of Paris, a city that has for centuries enchanted poets, artists, and designers alike. Central to this allure in modern homes is the use of evocative Paris wall art, a design choice that seamlessly marries elegance with timeless romance.
Think about it: Paris, with its blend of historical gravitas and modern vibrancy, offers a rich tapestry of visual inspirations. As an interior design enthusiast, leveraging this to create spaces that speak of luxury, warmth, and culture becomes a delightful endeavor. Paris wall decor acts as windows, opening up to the city's iconic boulevards, quaint cafes, and architectural marvels, like the Eiffel Tower.
The image of the Eiffel Tower framed against stained glass windows, for instance, isn't merely an art piece. It's a conversation starter, a mood setter. Paired with plush rose-hued sofas, dark wooden accents, and delicate blooms, the room transforms into a Parisian retreat. The play of light through the stained glass, the soft fabrics, and the subtle metallic accents echo the very streets of Paris – shimmering, soft, and always inviting.
When selecting Paris wall art, it's key to consider the broader color palette and theme of the room. If the room is drenched in pastels, a monochrome or sepia-toned Parisian print could offer a stunning contrast. On the other hand, colorful interiors can benefit from equally vivid wall art, capturing Paris in all its vibrant glory.
In essence, to infuse a space with the essence of the City of Lights, one doesn't need to go overboard. With carefully chosen Paris wall decor and complementing elements, any room can be transformed into a Parisian paradise, ready to enchant every onlooker.
Paris Canvas Art –  Decorative Paris Wall Paintings
Wildly popular among savvy decorators as Paris canvas art is one of the easiest ways to create a Parisian inspired home.  Whether you like traditional Paris wall art or modern Paris wall decor you will find something just darling.
Marche de Fleurs II Wall Decor by Lisa Audit,- Vintage Shabby ChicView Details
French Restaurant Bistro Cafe Bar Paris Oil Painting Paris Wall ArtView Details
Contemporary Wall Art Black White and Red –View Details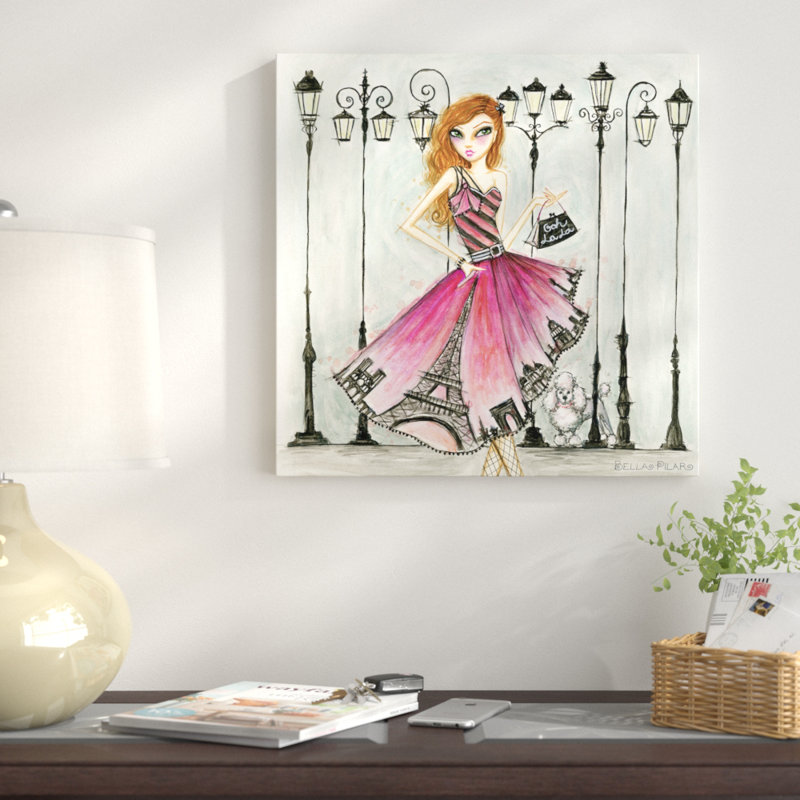 'Travel in Style : Paris' Painting on Wrapped Canvas –View Details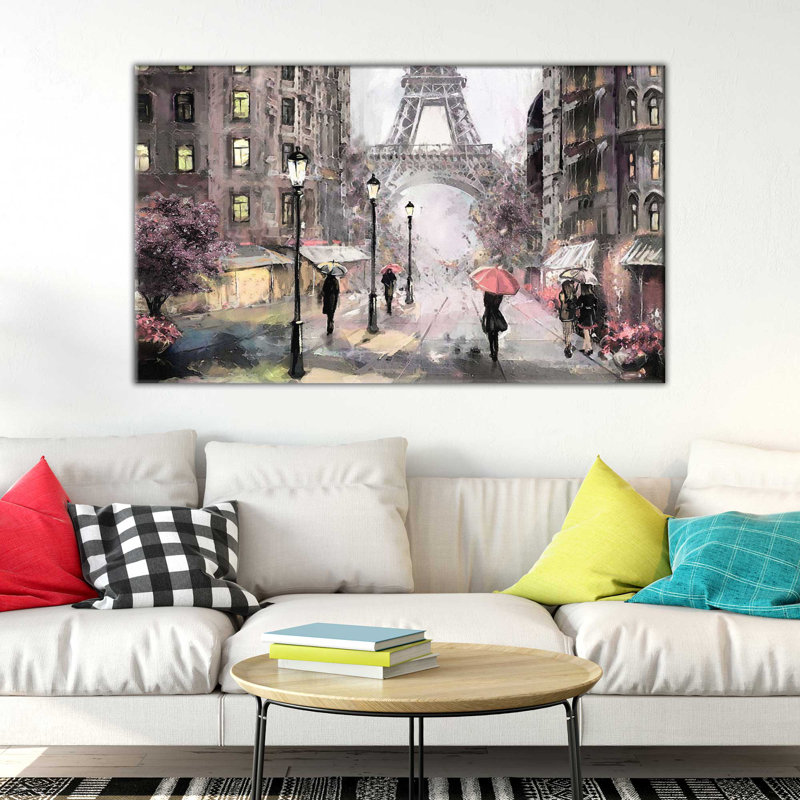 Paris Streets II by Lawrence Studios – Parisian Wall DecorView Details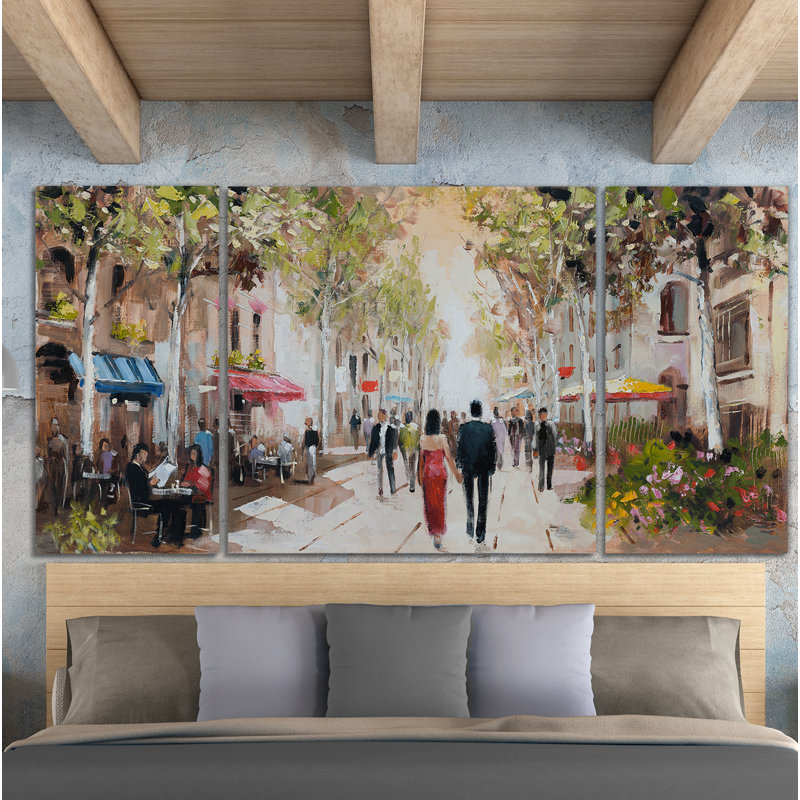 Paris wall decor – Paris Teal III On Canvas PaintingView Details
Enchanting Parisian Interiors: A Celebration of Paris Wall Art
Paris, often christened the 'City of Lights', is not just about its historically rich avenues or the iconic Seine river. It's a feeling, an emotion, and for many, an inspiration for timeless interior decor. One of the most enthralling elements that capture the essence of this city is the charm of Paris wall decor.
Imagine walking into a space where the captivating beauty of the Eiffel Tower looms, intertwined with the subtle hues of Paris streets, all encapsulated within a frame. That's the power of Paris wall art. Such artwork serves not merely as an adornment but as a medium, transporting one to cobblestone streets, alfresco cafes, and the timeless elegance that Paris exudes.
Central to Paris interior decorating ideas is the harmonious blend of the old and new. Classic wooden finishes might juxtapose with contemporary art, but when the art piece is a reflection of Paris, it binds the room together. From a designer's perspective, it's about curating an experience, a narrative that speaks of romantic rain-kissed evenings and sunlit mornings by Montmartre.
To seamlessly weave in Paris wall decor into your space, consider the backdrop. Neutral palettes accentuate the art, allowing it to be the room's focal point. Complement it with soft furnishings, plush textiles, and statement lighting. The idea is to let the art breathe while ensuring it feels intrinsic to the room's design.
So, if you seek a touch of romance, nostalgia, and timeless elegance, let Paris wall art be your muse. It's more than decor; it's a story, a dream, and a journey to the heart of one of the world's most enchanting cities.
Paris Wall Plaques – Decorative French Wall Decorations
Paris wall plaques make the perfect adornment to any room in your home.  Especially when utilized in smaller spaces such as a bathroom.  Also consider using a charming Parisian wall plaque in hallways and even seating areas.
Paris Chic Sign Rustic Shabby Vintage style  Kitchen BarView Details
Paris wall Décor  City Scene Square Wall PlaqueView Details
Paris Chic Sign Rustic Shabby Vintage style Retro KitchenView Details
The Stupell Home Decor Paris This, Parisian Decorative SetView Details
Pretty Glam Paris Vase with Pink Peony Oversized WallView Details
Paris Croissant Sign Rustic Vintage Retro Kitchen Bar PubView Details
Wall Decor Souvenir Metal Tin Sign Poster Plaque (PARIS)View Details
Paris Chic Sign Rustic Shabby Vintage style Retro | Home wall artView Details
Parisian Elegance: The Allure of Paris Wall Decor
The soul of Paris, often referred to as "The City of Love", is not just limited to its iconic landmarks, romantic streets, and culinary delights. It seeps into the world of interior design with an unmatched elegance and grace. And at the heart of Paris interior decorating ideas is the timeless charm of Paris wall decor.
Imagine stepping into a room where the walls speak stories of romantic walks along the Seine, poetic evenings under the Eiffel Tower, and the subtle glamour of Parisian boulevards. This vision is what Paris wall art encapsulates perfectly. It transports one immediately to the quaint cafes, historic museums, and the rhythm of the city that dances between tradition and modernity.
One of the most captivating elements within Paris wall decor is the careful amalgamation of vintage and contemporary styles. Antique mirror frames, for instance, might reflect the iconic Eiffel Tower or the serene beauty of Montmartre. Such wall art doesn't just serve as a decoration; it becomes a window to a world of romance, culture, and timeless beauty.
But how does one incorporate these Paris interior decorating ideas seamlessly into a space? The key is balance. If you opt for a mural or large piece depicting the charm of the city, keep other elements subtle. A grand Parisian wall art could be complemented with muted color palettes, vintage furniture, and soft lighting, bringing out the regality of the art piece while maintaining harmony in the room.
Moreover, remember to play with textures and layers. Velvet cushions, silk drapes, or even rustic wooden elements can add depth to the Parisian theme, making the wall art stand out, yet feel integrated within the space.
In conclusion, Paris wall decor is not just about adding an art piece to your space. It's about imbibing the spirit, elegance, and romance of Paris into every nook and corner. It's an experience, a journey, and a testament to timeless beauty and style. So, the next time you're looking to refresh your interiors, let Paris inspire you. After all, there's nothing quite like the allure of Parisian walls that tell tales of love, art, and dreams.
Paris Wall Accessories  – Paris Wall Decorations
Feel as though you are in Paris by surrounding yourself with some of the prettiest most sought after Paris wall decor.  Enjoy all types of styles from floral Paris wall decor to Cafe Parisian wall decor.
Cafe in Europe I Wall Decor by Lisa Audit –View Details
Pela Studio Premium Thick-Wrap Canvas Wall ArtView Details
Oriental Furniture 6 ft. Tall Paris Room DividerView Details
Paris Bistro III by Color Bakery, Canvas Wall ArtView Details
Paris Eiffel Tower Blossoms Decorative TravelView Details
Danhui Nai Thick-Wrap Canvas Wall Art PrintView Details
Checkout these other cool home wall art decor pages
Many or all of the products featured here are from My partners who compensate me. This may influence which products I write about and where and how the product appears on a page. This has no bearing on my personal opnion.